Singapore Turf Club - One Unique Venue for Every Occasion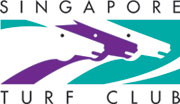 Lotus Room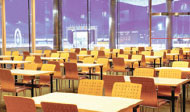 Located adjacent to the Winning Post, this floor-to-ceiling glass-paneled building offers you the opportunity to witness the victorious moments of the winning horses and listen to the roar of cheers from the Grandstand.

It is fully air-conditioned, equipped with betting booths and closed circuit TV monitors, a private bar and a lounge area for pre-dinner cocktails. This room is ideal for seminars, product launch, cocktail and staff functions.

Seating capacity:150 persons

Package price starts from $40 per person for a minimum of 80 persons (price inclusive of room rental and buffet).

The Marquee

The Marquee is the Clubís latest installment, a floor-to-ceiling glass paneled installment located next to the race tracks, which boasts an unparalleled experience of the magnificent power and energy of the race horses as they draw close to the finishing line, from the comforts of a private viewing deck and two fully air conditioned room.

This venue is suitable for wedding receptions and large groups requiring cocktail, buffet lunches or dinners.

Package price starts from $50 per person for a minimum of 50 persons (price inclusive of room rental and buffet).

Seating capacity:400 persons

Corporate Boxes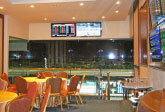 Our newly refurbished Corporate Boxes can accommodate up to 30 persons and is available at $800 per race day, with the exception of Singapore Airlines International Cup Day at $2000. All charges are subject to 7% GST.
All boxes have excellent views of the race track and come complete with television monitors for a close-up view of the races. Catering for lunch, high tea, dinner and a la carte are also available.

Corporate Boxes are best suited for private small groups or social celebrations where wine and dine is available throughout the races.
---
AVAILABLE FROM 4 JUNE 2012 ONWARDS

Casuarina Room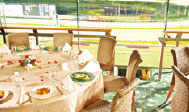 This splendid room located at level 4, offers a spectacular view of the racecourse and is reserved for sponsors and also rented for corporate functions or seminars.
Besides being fully air conditioned, it is equipped with plasma TV monitors and a private bar. Guests will enjoy a bird-eye view of the entire race tracks whilst watching the races in comfort and style.
Seating Capacity : 120 persons

Bukit / Orchid Box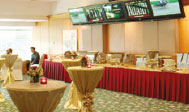 Located also at level 4 of the Grandstand, Bukit / Orchid Box each offers the perfect view of the winning post and naturally, the racecourse. It comes fully air-conditioned and is equipped with plasma TV monitors to watch a close up of the races.

Both boxes are ideal for all who enjoy the thrills of racing as the final moment of each race is captured by your own vision before the results are announced.

Seating Capacity: 50 persons each box.

For more information on reservations and package charges, please contact the Club's Marketing and Facilities Department at (65) 6879 1715 / 6879 1718, fax to (65) 6879 1730
or email marketing@turfclub.com.sg .

Top

Related Page


Singapore Property Pictures - Surf this section for more than 5,000 maps, pictures and descriptions of apartments, condominiums and houses in Singapore. Featuring interior, exterior, facilities and amenities of Singapore properties.

Expat Forum - Staying, Living in Singapore - Ask about cost of living, housing, schools, travel, etiquette & lifestyle. Share experience & advice with Singaporeans & expat staying in Singapore.

Expat Forum - Relocating, Moving to Singapore - Ask our regular expats in Singapore questions on relocation and their experience here. Ask about banking, employment pass, insurance, visa, work permit, citizenship or immigration issues.

House Hunt Guide - Accommodation and house hunting guide focusing on price, location and expatriate housing choice like an apartment or house.

Relocation to Singapore - Guides on relocation, staying and living in Singapore, information and tips when relocating to Singapore. Including culture shock, cost of living and others. All information an expat or would be expat needed to know.

Search for Property - Singapore Online Property Classifieds - Search for Residential and Commercial Property for rental or sale. Residential Property - Apartment, condo, house, flats. Commercial Property - Factory, office, shop or warehouse.