Mongolian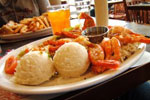 Singapore Expats comprehensive restaurant listings in Singapore power by hungrygowhere.com, includes address, contact number, type of cuisine, reviews.
Please contact us to advertise.
I have left some from my indonesia trip. Let me know.



Posted in General Discussions
Batam got such courses. I know the therapists / masseurs who teach. 1 female and 1 male from different places.



Posted in Beauty, Health & Fitness
@sundaymorningstaple I did try to search, not only on this forum but on others as well and the longest I've seen is almost 14months. I wouldn't be asking here had I seen any similar timeframe to mine.

@jay1979 Glad yours worked out!

I'm curious how many others have similar wait times. I thought .....



Posted in PR, Citizenship, Passes & Visas for Foreigners
Re: Average salaries in Singapore
It really depends on your lifestyle and location of where you stay. Places that are further from town tend to be alot more affordable. My child studies at Tanglin Trust and after several years we moved further away and living costs were a lot more manageable. xo
Top



Posted in Careers & Jobs in Singapore
I have some masks left from my Indonesia trip yesterday. If you need them, let me know.



Posted in Beauty, Health & Fitness