ISS International School

The popular musical 'Wicked' was used as an experiential platform for ISS International School (ISS) students to learn drama and to examine real-life concepts of identities and relationships in an integrated manner.
ISS International School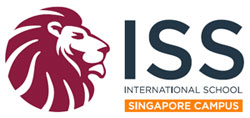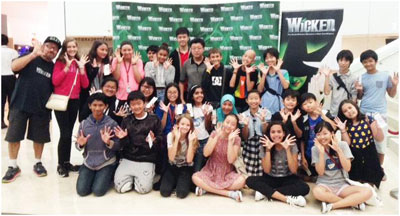 ISS students went to see the musical, Wicked!
The Broadway musical 'Wicked' had already thrilled millions of viewers around the world when it debuted in Singapore. Viewing it with an enthralled audience was ISS International School teacher, Mr. Bruno Alen Lebon, who was leading his group of Arts Drama students down a different yellow brick road.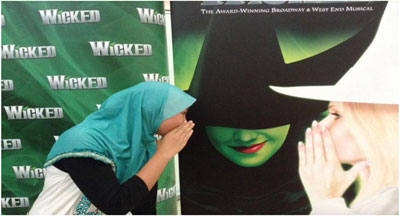 ISS students enjoyed watching the musical, Wicked!
Under his guidance, these Middle School students were observing the practical aspects of staging such a large-scale musical production – from the stunning production sets, musical scores, choreography and special effects to the roles of the actors, directors and producers.
"The teaching of Drama goes beyond imparting the theoretical aspects of the theatre and performing arts," explains Mr. Lebon. "The practical and experiential learning from researching and studying a performance like 'Wicked' brings the concepts we teach to life."
Also brought to life was a deeper study into the relationship of the two main witch characters – the wicked Glinda and the good Elphaba. In this unlikely friendship between the two opposing personalities, there were clashing viewpoints and rivalries. Students had to reflect on the bearing these caricatures brought to their own observations of school life, inclusiveness, conflicts and friendships.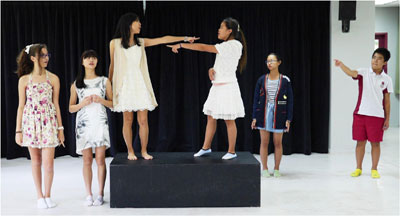 A very passionate rendition of "What is this feeling? (Loathing)" from Wicked
An integral part of the International Baccalaureate (IB) programme, the study of 'Identities and Relationships' is built into Drama classes for the Middle Years Programme level. By navigating IB learner profiles and delivering such concepts in an integrated manner across many different units of the curriculum, the teacher guides the students in internalising and building a stronger understanding of valuable life skills that prepare them to be reflective and critical thinkers.
As Mr. Lebon describes: "ISS International School goes beyond traditional learning to focus on the IB learner profiles where we integrate values such as inclusiveness, open-mindedness and communication in the classroom. The beauty of this programme is that the teacher can teach by concept and create the delivery of the curriculum in a student needs-focused approach."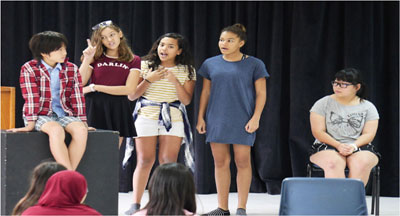 "Let us teach you how to be popular!" from Wicked the musical
All IB learner profiles are covered and no two semesters of Music and Drama are the same. Mr. Lebon taps on available productions running in the local theatre scene at any one time to customise his lessons. He also sources opportunities for the students to stage their own performances and put what they learn into practice.
After watching the 'Wicked' the musical, the class had to stage its own 20-minute mini-production to be presented in the global context of 'Performing to Heal'. The student work was then shown at the MUSICFEST event at the Singapore General Hospital in October and will be repeated at the Singapore Eurasian Association Christmas lunch for the elderly in December.
Some of the students also travelled to Sok Sabay, a charity home in Phnom Penh, Cambodia, where they shared their knowledge of Arts Drama with the children and worked jointly on staging skits and mini presentations, as part of their community service work.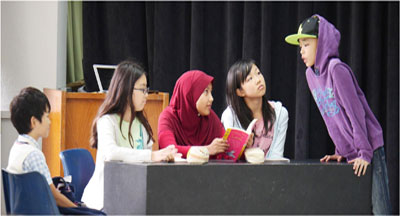 Performing their very own skit on bullying.
The underlying intent of all these fun activities is two-fold. It not only forms a critical part of the IB programme's emphasis on community action and service; it also serves to strengthen the students' understanding of this concept of 'Identities and Relationships' in an experiential manner.
"The entire learning process integrates the ideals of the IB to help students realise their potential and to be constructive global citizens," explains Mr. Lebon. "I get to know my students very well, and am able to shape their learning process, which is only possible in a small school like ISS International School."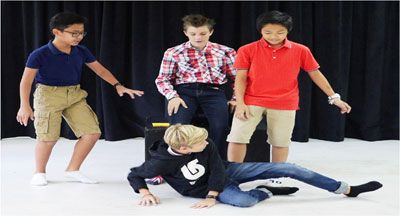 The middle schoolers performing their very own skit on bullying.
At the end of the semester, students shared their reflections of what they had learnt in written journals. Some students observed in their journals that there was a need, as an actor, to be dynamic and adjust oneself to be in harmony with other actors. On their personal development, some students saw themselves growing as communicators and better team players as they learnt to accept the ideas of their classmates to improve a production. Others found their social and self-management skills improving by the end of the semester.
The diversity of reflections clearly shows that each student has navigated his or her own yellow brick road. As individuals, they have to create their own understanding of the role of Arts Drama and to consider other learnings that help them make sense of the world around them. As one student quite aptly summarised: "These experiences have given me the insights into the joy that drama and music bring to others. It has given me the resolve to continue to act and perform and continue to help others."
If you would like to find out more about our IB School (K1 to G12) curriculum, please write to admissions@iss.edu.sg or call 6653 5602. Click here to visit ISS's official website.