Property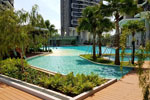 In this page you can find all about Condo Websites, Property Launches, Property Agents, Property Agencies.
Please contact us to add your services to this directory.
Condo Websites
NewFuturaProject.net
New Futura is a high end freehold condo by City Developments Limited sitting at the top of Leonie Hill Road in prestigious district 9, Singapore. Of the 25 units offered for sale during its launch on 18 January 2018, 18 units were sold. These are predominantly the larger 3 and 4 bedroom units.
Currently, Singaporeans account for one-third of the sales at New Futura, with the rest being bought by Permanent Residents and foreigners.
Designed by Skidmore, Owings & Merrill, one of the most renowned architectural firm in the world, this CDL project is destined to stand tall in Singapore's increasingly busy skyline.
On our website, you can find more details of New Futura Condo, including the location, floor plan, facilities, unit mix, prices and more. And if you are interested in securing a unit there, we can help.
For Merchants

If you would like to advertise your products or services, please contact us
Yes, many thanks. CMPB would be a better body to contact than Mindef proper.

I'll head over in person if an email doesn't suffice.



Posted in Strictly Speaking
Re: How to convert your motorcycle license into a Singapore one
Pomwi - nothing wrong with the Duke 390. I had one for a few years. Very fast and safe ride.



Posted in Drivers Licence
If MS doesn't respond then start by directly contacting CMPB.

https://www.cmpb.gov.sg/web/portal/cmpb/home/about-us/contact-us



Posted in Strictly Speaking
Hi all, especially MS if he's still frequents this board.

I have a relative who emigrated several years ago, and now they all have citizenship there. Her son is approaching the age of 13 and the time has come for them to commence the process of proper deferment and eventual renunciation of his .....



Posted in Strictly Speaking


Hi guys, I did my medical on 21 Aug. Anyone know how long do you have to wait for the acknowledgement email ?


I think it depends on availability and how .....



Posted in Airline Careers