Property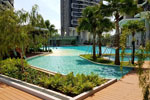 In this page you can find all about Condo Websites, Property Launches, Property Agents, Property Agencies.
Please contact us to add your services to this directory.
Condo Websites
NewFuturaProject.net
New Futura is a high end freehold condo by City Developments Limited sitting at the top of Leonie Hill Road in prestigious district 9, Singapore. Of the 25 units offered for sale during its launch on 18 January 2018, 18 units were sold. These are predominantly the larger 3 and 4 bedroom units.
Currently, Singaporeans account for one-third of the sales at New Futura, with the rest being bought by Permanent Residents and foreigners.
Designed by Skidmore, Owings & Merrill, one of the most renowned architectural firm in the world, this CDL project is destined to stand tall in Singapore's increasingly busy skyline.
On our website, you can find more details of New Futura Condo, including the location, floor plan, facilities, unit mix, prices and more. And if you are interested in securing a unit there, we can help.
For Merchants

If you would like to advertise your products or services, please contact us
Re: Moving company from Singapore to USA
Thank you, this is useful information for me. We are also moving our business to USA and we need any recommendations on this topic. So we need a trusted company to help us with the move.



Posted in General Discussions
Re: question regarding Form IR8A if working remote

Thanks Dragon - good info. Did you enjoy the transition to the new trump tax forms?


Are those the new forms where you just send them your whole paycheck and they send back what they don't need?

My tax reporting life has become .....



Posted in Careers & Jobs in Singapore
Re: question regarding Form IR8A if working remote

Thanks to you both again for your contributions. A couple of quick follow up questions which I think I know the answers to but will ask anyway
1. Bank account interest, dividends, capital gains from stock sales. Assuming all done from .....



Posted in Careers & Jobs in Singapore
Anyone apply for the application around 6 Feb and have gotten the video interview already? Let me know if u have or haven



Posted in Airline Careers
Hello there! I've passed my interview on 11th Jan but was KIV-ed due to weight and skin issues. Not sure if anyone here with the same timeline has received any email for review yet? The lady told me she'll call me up for review around March but I've yet to receive any updates!



Posted in Airline Careers