Recommend an Agent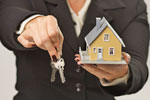 Make your home search simple, reliable and stress-free. Leave the tedious process to our recommended professionals, while you enjoy touring for a great home.
Property Agent Recommendation
Why you SHOULD have an agent to represent you?
Here's a few reasons why you should have a property agent to represent you:
The recommended agent will represent you and protect your interest
Avoid the pitfall of venturing into house hunting without anyone to represent you. The recommended agent shall be obligated to represent you and protect your interest, negotiate for a better deal, ensure the contract is reasonable, condition of the property is acceptable, etc.

Proven Track Record
They are experienced with proven track records of servicing expatriate tenants with after-sales service even after you move in.

Problem Solving
They will be able to recommend solutions to your home-related issues.

Find a Home in the Shortest Time Possible
Provide them with pertinent information pertaining to your needs and wants on your new home and they will be able to shortlist the most suitable location, apartment or house in the shortest time possible.

Their Commitment
Your commitment to them will equate to their commitment to you. They will know your likes and dislikes and thus be able to be more spot-on on what you need.

Stress Free
Spend your day with them so they can take you to the various viewings. Doing it all by yourself would mean you would need to take a cab or look at the maps for directions which can be extremely daunting and time consuming.

Familiarity
The apartments and locations are within their fingertips. Engage their expertise to find your dream home.

Minimize repetitive viewings
Viewing with them will minimize the chance of a repetitive viewing as they will verify the information before scheduling an appointment.

Enjoy the Process
Finding a home should be an enjoyable and stress-free experience.

It's Free if it's a 2-year lease and monthly rental above S$3,500!
You pay nothing for this service if it is a 2-year lease provided the monthly rental is above S$3,500! Service fee for the recommended agent will be paid by the co-broke agent representing the landlord / seller.
Ninja van price is 3 - 3.50sgd per pack.
Singpost - could be normal mail or registered mail. Also depends on the weight of the product.

Cost wise, and if your item is a bit heavy, Ninja van could be a better option



Posted in Business in Singapore
Do you want to activate AVG antivirus with the activation key? While purchasing the subscription, you are provided with this key to enable the software. Have a look at the process of using to complete the process of .....



Posted in General Discussions
Re: Transferwise do cheap transfers but more important can provide US, UK and Aus bank accounts
Other than Transferwise there are other banks too. There are some pros and cons, just need to do a lot of research to it. Like which banks to transfer to or comparing the rates to remit.
Just found this website and it helps me a lot, quite easy and helpful. https://remit.cashchanger.co/



Posted in General Discussions
Les chaussures Naturalizer pour femmes font partie des collections les plus chics, qui contiennent également des orteils peep, des bottes à la cheville et des sandales à lanières. Mais les .....



Posted in Careers & Jobs in Singapore
Il y a beaucoup de mythes et tout ce  genre de conneries et le problème est que chaque fois que vous ajoutez une petite augmentation, les gens vont dire «oh mais vous retirez le pied du sol, donc vous allez le rendre .....



Posted in Careers & Jobs in Singapore