Recommend an Agent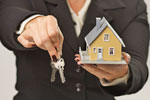 Make your home search simple, reliable and stress-free. Leave the tedious process to our recommended professionals, while you enjoy touring for a great home.
Property Agent Recommendation
Why you SHOULD have an agent to represent you?
Here's a few reasons why you should have a property agent to represent you:
The recommended agent will represent you and protect your interest
Avoid the pitfall of venturing into house hunting without anyone to represent you. The recommended agent shall be obligated to represent you and protect your interest, negotiate for a better deal, ensure the contract is reasonable, condition of the property is acceptable, etc.

Proven Track Record
They are experienced with proven track records of servicing expatriate tenants with after-sales service even after you move in.

Problem Solving
They will be able to recommend solutions to your home-related issues.

Find a Home in the Shortest Time Possible
Provide them with pertinent information pertaining to your needs and wants on your new home and they will be able to shortlist the most suitable location, apartment or house in the shortest time possible.

Their Commitment
Your commitment to them will equate to their commitment to you. They will know your likes and dislikes and thus be able to be more spot-on on what you need.

Stress Free
Spend your day with them so they can take you to the various viewings. Doing it all by yourself would mean you would need to take a cab or look at the maps for directions which can be extremely daunting and time consuming.

Familiarity
The apartments and locations are within their fingertips. Engage their expertise to find your dream home.

Minimize repetitive viewings
Viewing with them will minimize the chance of a repetitive viewing as they will verify the information before scheduling an appointment.

Enjoy the Process
Finding a home should be an enjoyable and stress-free experience.

It's Free if it's a 2-year lease and monthly rental above S$3,500!
You pay nothing for this service if it is a 2-year lease provided the monthly rental is above S$3,500! Service fee for the recommended agent will be paid by the co-broke agent representing the landlord / seller.
Hey. I had an experience to work with many car transport companies which is shipping cars to between countries.
The best way would be to google best of them
Usually, you need to use one company that move your car to the nearest port across the country.
Then you need to use a port company for moving .....



Posted in Importing, Buying and Selling Cars & Other Vehicles
Re: "Entry only if essential international travel" (Tourism is dead!)
If you look at Matina Bay Sands website you will see reservations from August 1rst. I am sure 1000 plus rooms are not going to fill with Singapore staycations. The same for Resorts World Sentosa. I am not so sure if MBS is going to get that many guests who are going to quarantine for 2 weeks no .....



Posted in Travel & Holidays
Re: 529 eateries shut from Feb to April 2020
Oddly enough, more closed during the same period in 2019 than this years but I reckon by the end of the mid-point of 2020 it's really going to be a bloodbath if the phase one fails.



Posted in Entertainment, Leisure & Sports
Re: Looking for 3 months max accomodation in Singapore

Thanks! I just contacted them...thanks a lot Pal
Regards

Rachid


How does it work? they've assign agents for you to search your home?



Posted in Property Talk, Housing & Rental
Re: PR approval chance in 2020
Hi, appreciate an evaluation of my chances. Thanks!

Primary Applicant
Age : 42
Race : Indian
Gender : Male
Marital Status : Married
Education : MCA, University in India
Current Field of Work : Information Technology
Length of stay : 6 Years
Salary : Basic 90K
Pass : EP

Applied in 2017 and that .....