About Singapore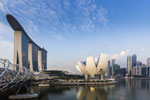 We will introduce you all you need to know about Singapore. Our history, facts, climate and location, culture and language.
There is so much you can learn about Singapore. We hope this interesting read will help you know more about this exciting island city.
Introduction
Though physically small, Singapore is an economic giant. It has been Southeast Asia's most modern city for over a century. The city blends Malay, Chinese, Arab, Indian and English cultures and religions. Its unique ethnic tapestry affords visitors a wide array of sightseeing and culinary opportunities from which to choose. A full calendar of traditional festivals and holidays celebrated throughout the year adds to its cultural appeal. In addition, Singapore offers luxury hotels, delectable cuisine and great shopping! The island nation of the Republic of Singapore lies one degree north of the Equator in Southern Asia. The country includes the island of Singapore and 58 or so smaller islands. Because of its efficient and determined government, Singapore has become a flourishing country that excels in trade and tourism and is a model to developing nations. The capital city, also called Singapore, covers about a third of the area of the main island.
Located at the tip of the Malay Peninsula, Singapore's tropical climate welcomes both leisure and business travelers year round. The island republic's excellent infrastructure enables visitors to enjoy its many sites and attractions in a safe, clean and green environment. Award winning Changi Airport provides airlinks to major cities around the world. The train and subway systems are clean, fast and efficient. In addition, its state-of-the-art cruise terminal has established Singapore as one of the premier cruising centers of South East Asia and an exciting port of call on any Asian cruise itinerary.
In the city, there is no need for a car. Public transportation is excellent and walking is a good way to explore the city . All major attractions are also accessible by tour bus. Since the city is only 60 miles (100k) from the equator, the tropical temperatures do not vary much. Rainfall is fairly evenly distributed through the year. No matter when you choose to visit, warm weather will be abundantly available. The visitor is struck immediately by Singapore's abundance of parks, nature reserves, and lush, tropical greenery.
Singapore's progress over the past three decades has been remarkable, yet the island has not been overwhelmed by development. Visitors will discover a wealth of historical treasures from the past, in the beauty of older buildings, values and traditions that have survived in the face of profound social and geographical change.
Lacking any noteworthy natural resources, Singapore's early prosperity was based on a vigorous free trade policy, put in place in 1819 when Sir Stamford Raffles first established it as a British trading post. Later, mass industrialization bolstered the economy, and today the state boasts the world's second busiest port after Rotterdam, minimal unemployment, and a super efficient infrastructure. Almost the entire population lives in upscale new apartments, and the average per capita income is over US$12,000. Singapore is a clean, safe place to visit, its amenities are second to none and its public places are smoke-free and hygienic.
Forming the core of downtown Singapore is the Colonial District. Each surrounding enclave has its own distinct flavor, from the aromatic spice stores of Little India, to the tumbledown backstreets of Chinatown, where it is still possible to find calligraphers and fortune tellers, or the Arab Quarter, whose cluttered stores sell fine cloths and silks.
North of the city, are two nature preserves, Bukit Timah and the Central Catchment Area, along with the splendid Singapore Zoological Gardens. The east coast features good seafood restaurants set on long stretches of sandy beach. In addition there are over fifty islands and islets within Singaporean waters, all of which can be reached with varying degrees of ease. Day trips are popular to Sentosa, the island amusement arcade which is linked to the south coast by a short causeway and cable car. Music, theater, nightlife: all are abundant in this remarkable city. Singapore used to be considered a "stop over" on the way to larger Asian cities. This is no longer true! Visitors seek out Singapore for business and finance and also for a fascinating and satisfying vacation for the whole family.
Singapore is both an island and a country, but perhaps its best description is that of city-state. Like the great city-states of the past, it offers civilization and order in the highest degree. Its combination of Western-style development and Eastern-style calm seems to present the best of both hemispheres: It's a modern metropolis where you feel safe walking the streets, and it's an Asian business center that's a model of efficiency. Singapore is also a multicultural city, and close to one-quarter of its population are expatriates or foreign workers from all over the world. Known for its desire to become the technology hub of Asia, Singapore is the most wired country in the region.
Singapore shares another trait with historical city-states: Its authorities strongly believe that they can safeguard the status quo with regulations against almost anything and everything that - in their view - could possibly upset the sense of tranquility. In reality, visitors will find the place is not as restrictive as the long lists of hefty fines for such things as littering and jaywalking suggest. Some visitors to Singapore leave singing the praises of a society that "works," while others feel the government's near-compulsive fixation on cleanliness and order makes Singapore sterile in every sense of the word.
Brief History

Brief introduction of Singapore history, independence and growth in the last century.
Climate & Location

Information on climate and location of Singapore, includes Singapore weather, geographic location and others.
Facts at a Glance

Information and statistics of Singapore, includes events and holidays in Singapore, population, land size and others.
Culture & Language

Information on culture & language, religion of Singapore and also Singlish.
Events & Festivals

Information on some of the most widely celebrated and highly anticipated events and festivals in Singapore.

Opinions are like buttholes, all have them and almost always they stink.

It was common knowledge that along with CECA, Indian Nationals created virtual enclaves in quite a few of the Condos out in the Changi area (Near to the .....



Posted in PR, Citizenship, Passes & Visas for Foreigners
Re: School enrollment for a single term - is it possible?


The real question is, from a parental perspective, is this really the best choice for your daughter? Will she be able to adapt quickly enough? Is it even worth .....



Posted in Primary & Secondary Schools
Re: School enrollment for a single term - is it possible?




The other question raised is relevant. I assume academics are secondary and that you just want the kid to have a school environment to go to (socialise with other kids)? Could someone just homeschool the kid based on .....



Posted in Primary & Secondary Schools