Restaurants in Singapore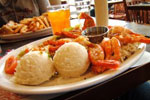 Singapore Expats comprehensive restaurant listings in Singapore power by hungrygowhere.com, includes address, contact number, type of cuisine, reviews.
Please contact us to advertise.
Re: Which legal status for what professional activity?

I think another of our readers is also having a similar problem. The problem is, when people find a loophole, they cannot help but brag about it, which causes the government to immediately close the loophole. Can't blame them .....



Posted in Business in Singapore
Relocating domestic helper to Singapore who is over 50
Me and my family are moving from HK to SG and are desperate to retain our domestic helper - she is amazing and our daughter is very attached to her. However, she is over 50 years old, and I understand Singapore MOM only allows you to apply for a FDW permit if the domestic helper is under 50. Does .....



Posted in Relocating, Moving to Singapore
Re: HELP - Relocating our Domestic Helper from HK to SG
Hi,

We are also looking to bring our foreign domestic helper from HK to Singapore, but she's over 50 years old so she does not meet the MOM requirements. I was just wondering if you were successful in obtaining an exemption?



Posted in Relocating, Moving to Singapore
I was employed to my company last June if 2018. At that time of my commencement and signing of contract I was informed of A $500 deduction to my salary in which it would be done monthly at $50 per month for 10 months. I've signed this employment clauses and agreed to it. It also .....



Posted in Careers & Jobs in Singapore
Re: Applying for EP and DP for spouse outside from Singapore

The recruitment company is trying to shirk their obligations because it puts them on the hook as sponsor but you are there only because they need to subcon you out to their client. That is why they don't want to sponsor your .....



Posted in Relocating, Moving to Singapore