Insurance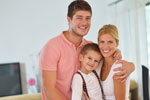 Insurance gives some financial protection or coverage against a range of events which could cause you or your dependants some financial loss.
In this page you can find all about Insurance Companies which provide insurance packages such as Expats Insurance, Health & Medical Insurance, Life Insurance, Contents & Valuables Insurance, Business Liabilities Insurance and Travel Insurance.
Please contact us to add your services to this directory.
Insurance
AIG
78 Shenton Way #07-16
Singapore 079120
Tel: 64193000
Web: www.aig.com.sg
AXA
8 Shenton Way
#24-01 AXA Tower
Singapore 068811
Tel: 18008804888
Web: www.axa.com.sg
EQ Insurance
5 Maxwell Road
#17-00 MND Complex Tower Block
Singapore 069110
Tel: 62239433
Web: www.eqinsurance.com.sg
Email: marketing@eqinsurance.com.sg
Etiqa Insurance
16 Raffles Quay
#01-04A Hong Leong Building
Singapore 048581
Tel: 68878777
Fax: 63392109
Web: www.etiqa.com.sg
Email: customer.service@etiqa.com.sg
Liberty Insurance
51 Club Street
#03-00 Liberty House
Singapore 069428
Tel: 18005423789
Web: www.libertyinsurance.com.sg
MSIG
4 Shenton Way
#21-01 SGX Centre 2
Singapore 068807
Tel: 68277602
Web: www.msg.com.sg
Prudential Singapore
30 Cecil Street
#30-01 Prudential Tower
Singapore 049712
Tel: 18003330333
Web: www.prudential.com.sg
QBE
1 Raffles Quay
#29-10 South Tower
Singapore 048583
Tel: 62246633
Fax: 65333270
Web: www.qbe.com.sg
Email: info.sing@qbe.com
Tokio Marine Life
20 McCallum Street
#17-01 Tokio Marine Centre
Singapore 069046
Tel: 65926100
Fax: 62239120
Web: www.tokiomarine.com
Email: lifesolutions@tokiomarine-life.sg
Zurich Insurance
50 Raffles Place
#20-01 Singapore Land Tower
Singapore 048623
Tel: 62362210
Fax: 63279820
Web: www.zurich.com.sg
Email: glenquiry.sg@zurich.com
For Merchants

If you would like to advertise your products or services, please contact us