Climate and Location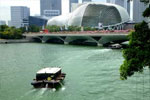 This page covers useful information on the tropical climate, weather and the geographical location of Singapore. Some facts and statistics are included.
Singapore Weather
Like most of Southeast Asia, Singapore is generally hot and humid. It's warm and humid year round, with the temperature almost never dropping below 20°C (68°F), even at night, and usually climbing to 30°C (86°F) during the day. Recent times, it even reached till 35°C. Humidity is high, mounting over a 75% mark.
November and December is the rainy season. June-August is considered to be the best time to visit, but even then it rains often. Don't let the climate stop you from going, however. Most buildings are air-conditioned (to the point that you may want to take a sweater), and pains have been taken to make everything as comfortable as can be, all things considered. When it does rain, it's generally only for a short period.
For those who enjoy the sun and the beach, Singapore is an ideal place for beach lovers, as you get the hot hot sun throughout the year. So when you're in Singapore, just bring along your cooling apparels and hats.

Singapore Geography
Singapore's strategic location at the southern tip of the Malaysian peninsula has ensured its importance, which is greater than its size might seem to justify. Singapore consists of the island of Singapore and some 63 islets within its territorial waters. The main island is about 26 mi/42 km from west to east and 14 mi/23 km from north to south. It's a mostly undulating country with low hills (the highest, 540-ft/166-m Bukit Timah Hill, is to the northwest of the city).
Singapore's Central Business District actually spreads across both the central and southern parts of the island (you'll know when you're there - it boasts striking high-rise structures). You can get a good visual orientation to the city as you cross the Benjamin Sheares Bridge on the East Coast Parkway, which links the airport to the city center. The Singapore cityscape looks magnificent, particularly at night when buildings are brilliantly lit. Offshore, there appears to be another city all lit up because of the many ships anchored there - Singapore is one of the busiest seaports in the world.
Many of the city's attractions are clustered closely together. Orchard Road, the shoppers' haven, is located in the northern part of the city center. Chinatown, where you'll find Boat Quay, is just to the southeast of Orchard Road, while Little India is northeast. Sentosa Island, with its many amusements, is directly to the southwest of the city center. These frequently visited neighborhoods, as well as more suburban areas, remain a bustling hive of pedestrian activity well into the evening.
Location: Southeastern Asia, islands between Malaysia and Indonesia
Geographic coordinates: 1 22 N, 103 48 E
Area: total: 647.5 sq km
Land: 637.5 sq km
Water: 10 sq km
Land boundaries: 0 km
Coastline: 193 km
Elevation extremes:
Lowest point: Singapore Strait 0 m
Highest point: Bukit Timah 166 m
Terrain: lowland (undulating central plateau with water catchment area and nature preserve)
This isn't your company. Someone else owns it and they hired you. This is an arm's length transaction and is completely different from you forming your own pte ltd, then attempting to work for it.

Consider: In this company there are already active citizens, PR's, or EP's who are in a role that .....



Posted in PR, Citizenship, Passes & Visas for Foreigners
Hello @Strong Eagle,

I'm curious about your comments, so writing my own experience to share with everyone.

30 Male, Bangladeshi
Married SC (Chinese), PMLA Approved, Currently on LTVP
7 years of finance / consulting experience. Lived and studied in Europe before.

After moving to SG, I got an .....



Posted in PR, Citizenship, Passes & Visas for Foreigners
You are hereby notified that under section 29 of the enlistment act (CAP.93) you are exempted from :
A) Full-time national service
B)Operationally ready national service
C) Duty to obtain an exit permit

If he is 'exempted' from all three, then there is no reason he cannot renounce .....



Posted in Strictly Speaking
Re: Citizenship application status still pending



Too early to expect a result..Mine took 1 year and 3 months.


Hi, may I know how you found out about your citizenship results? Is it online .....



Posted in PR, Citizenship, Passes & Visas for Foreigners
Good day everyone,

I would like to get some advises from you guys, I'm currently Spass holder and will marry my SC boyfriend soon. We already applied for PLTVP.
Since we going to apply LTVP after we official marry, I'm not intend to renew my spass ( which will be expired in Dec this year) , i .....



Posted in Relocating, Moving to Singapore