Entertainment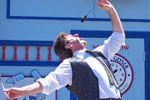 In this page you can find all about Magicians, balloon sculptors, toddlers' play equipment, party furniture and party decorators.

Please contact us to add your services to this directory.
For Merchants

If you would like to advertise your products or services, please contact us
Re: Couple that ran off with $32m
I don't see the logic of paying for something you don't see...if you don't see it to buy it, don't buy.



Posted in Latest News & Current Affairs
You can email at ICA_PR@ica.gov.sg



Posted in PR, Citizenship, Passes & Visas for Foreigners
Starbucks in educational institutions are also slightly cheaper than the stores outside. Just walk in and buy and you enjoy the price.

A pity the school canteens had to raise their prices twice this year. Once before the Ukraine war, and another after. 6 years ago I could have 6 pieces of yong .....



Posted in General Discussions