Singapore Expats
One-stop residential Singapore property guide, renting procedure and information directory for expatriates living or relocating to Singapore.
Rent Singapore property, apartment or house has never been easier. Our Singapore Property Classifieds provide one stop property search for apartment, condo or house for rent or sale in Singapore. Expatriate or would-be expat can also exchange tips and ideas in our Expat Forum.
Singapore Property Search
Highlights

Canadian International School Virtual Chat and Tour
- Discover the unique CIS ethos and experience with a personal vritual chat and tour with our friendly admissions team. Learn more about the school's rigorous IB programme, their broad range of language, arts, sports and service opportunities and community. Have all your questions answered.
Register now
.

AVIS
- Drive the roads of Singapore with peace of mind. Car rental and leasing available from daily to yearly arrangements. Leave the road tax, maintenance, servicing and more to us; giving you more time on enjoy yourself with your loved ones.
Learn more
.

One World International School
- One World International School offers an excellent international education to children from the age of 3 to 18 in a nurturing multi-cultural environment at an equitable fee point.

Since 1956,
Singapore American School
has made tremendous strides in its vision to be a world leader in education, cultivating exceptional thinkers prepared for the future.

Condos Near MRT
- Detail list of condominiums and apartments near MRT station in Singapore. Must read if you are looking for housing near certain MRT station.

Events, Gatherings, Making Friends
Hot!
- Join our expat community to organise an event, gathering, meetup, party. Search for expats from your country, sports partners or meet new friends here!

International Schools in Singapore
- A comprehensive list of International Schools in Singapore. Read and find out more about International Schools and find the most suitable school for your child.

Service Apartments
- A comprehensive list of service apartments in Singapore. An ideal choice for the busy professional or if you are looking to rent on a short term. Browse through the service apartments available.

Singapore Property Pictures
- Surf this section for more than 10,000 maps, pictures and descriptions of apartments, condominiums and houses in Singapore. Featuring interior, exterior, facilities and amenities of Singapore properties.
New Property Launch
The Landmark - Experience luxury city living on an elevated elegance where a plethora of modern luxuries has been harnessed into one residential development. There is only One. The Landmark.
Featured Property Listings
S$ 3,400 / month
Direct Owner / Tenant
The upper floor of a very spacious and beautiful penthouse with a great...
S$ 3,600,000
Direct Owner / Tenant
The "Aditya Palm" it's an essence of plot in Bangalore region. Close to...
S$ 2,800 / month
Direct Owner / Tenant
Located between Aljunied MRT Station and Paya Lebar MRT Station (both...
Popular Singapore Property Districts
Condo / Apartment near Central Business District
Condo / Apartment near Orchard, Holland, River Valley
Condo / Apartment near Bukit Timah
Condo / Apartment near Bukit Timah
Condo / Apartment near East Coast
Condo / Apartment near Newton, Novena
Bungalow / House near Orchard, Holland, River Valley
Bungalow / House near Bukit Timah
Bungalow / House near East Coast
Bungalow / House near Newton, Novena
New Articles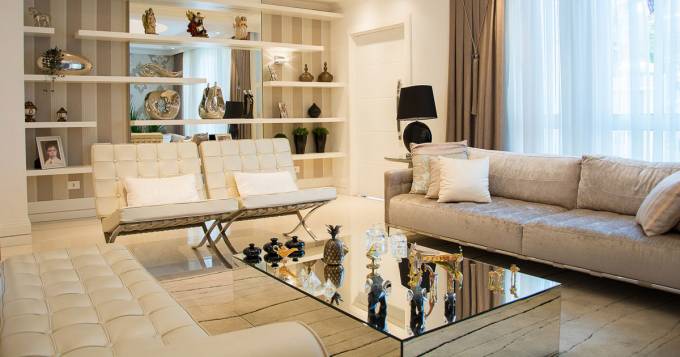 The living room is where we spend most of our time, be it to unwind & relax on a quiet Sunday evening or catch up with friends & family over dinner. So, it makes sense to have a living room that is cozy and comfortable yet functional and well-designed. But finding the right balance isn't always easy, especially when there are countless living rooms design you can explore and choose from.
If you're also on the lookout for some stand-out living room ideas, you're at the right place, as... More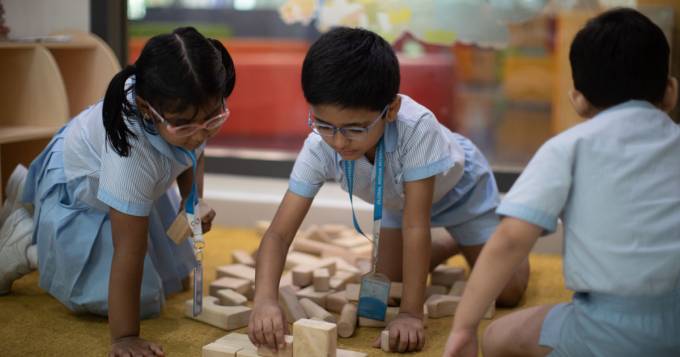 Your child's brain will develop more in the first five years than it will during any other stage throughout life. This is why it's so important to nurture curiosity in early learners. Fortunately, Global Indian International School (GIIS) is taking strides to meet this challenge. GIIS, Singapore has recently commenced a day-long preschool option for students aged 2.5 to 5 years old at both its SMART... More
Property News & Promotions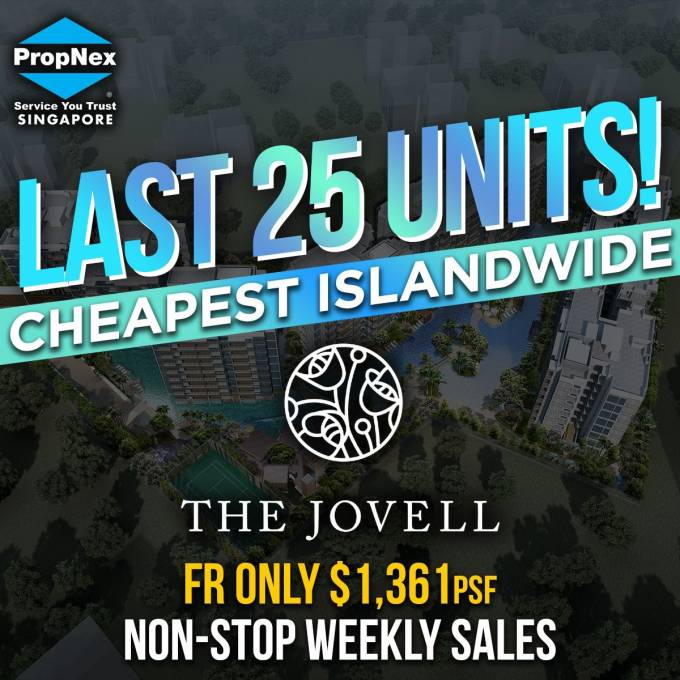 THE JOVELL
LOOKING FOR UNDERVALUE PROPERTY⁉️
😍 Undoubtedly, it has to be The Jovell - A Private Condo Selling at ECs Price!!! Cheapest Condo Island-wide
🌟 IRRESISTIBLE PRICE FOR LAST 29 UNITS FROM $1361 PSF ONLY 🌟
2️⃣BR from $955,100
2️⃣+S from $957,700
4️⃣BR from $1,729,000
🌈 WHY THE JOVELL
✅ Nestled amidst the private landed enclave and Tranquil environment
✅ Choice of 2/2+S/3/4 BR
✅ Well Connected to Major expressways such as ECP, TPE & PIE
✅ Mins' drive to Changi Airport
✅ Shopping Conveniences from White Sands Shopping Mall, East Point Mall, Tampines Mall & Century Square
✅ Short drive to Loyang Point, Pasir Ris West Mall, Elias Mall, White Sands & Jewel at Changi Airport.
✅ Good School nearby include White Sands Primary, East Spring Primary & Sec, Japanese School, Dunman Sec.
✅ Good Tenant Pool from Changi Business Park, Changi Airport & Expo
✅ Irresistible Price Quantum one of the Lowest now! Selling at ECs Price!
NEARBY MRT
🚇 Upcoming Pasir Ris East MRT
🚇 DT33 Tampines East MRT
🚇 DT34 Upper Changi MRT
🚇 EW2 Tampines MRT
🚇 EW1 Pasir Ris MRT
Contact us now!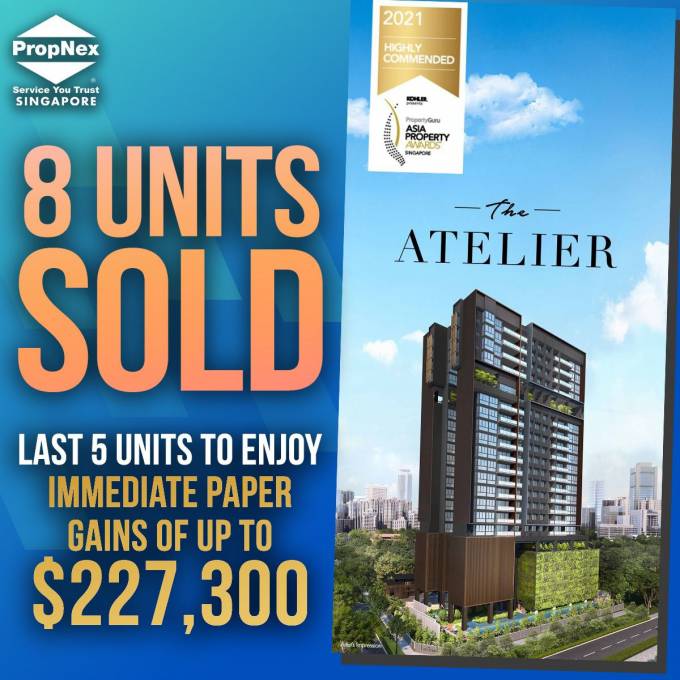 🏆𝐓HE ATELIER 🏆
💵𝐈𝐌𝐌𝐄𝐃𝐈𝐀𝐓𝐄 𝐏𝐀𝐏𝐄𝐑𝐒 𝐆𝐀𝐈𝐍 𝐔𝐏 𝐓𝐎 $𝟐𝟐𝟕,𝟑𝟎𝟎💵
𝐁𝐔𝐘 𝐅𝐇 𝐃𝟗 𝐂𝐂𝐑 𝐟𝐫𝐨𝐦 $𝟐,𝟓𝐱𝐱𝐱𝐩𝐬𝐟!😱😱😱
🕋 𝐌𝐨𝐬𝐭 𝐚𝐟𝐟𝐨𝐫𝐝𝐚𝐛𝐥𝐞 𝐅𝐇 𝐧𝐞𝐰 𝐥𝐚𝐮𝐧𝐜𝐡 𝐢𝐧 𝐃𝟎𝟗 𝐚𝐭 𝐭𝐡𝐞 𝐦𝐨𝐦𝐞𝐧𝐭.💙
✅ 𝐂𝐡𝐞𝐚𝐩𝐞𝐬𝐭 𝐢𝐧 𝐏𝐫𝐢𝐜𝐞
✅ 𝐂𝐡𝐞𝐚𝐩𝐞𝐬𝐭 𝐢𝐧 𝐏𝐒𝐅
✅ 𝐋𝐚𝐫𝐠𝐞𝐬𝐭 𝐢𝐧 𝐒𝐢𝐳𝐞
✅ 𝐅𝐥𝐞𝐱𝐢𝐛𝐥𝐞 𝐋𝐚𝐲𝐨𝐮𝐭𝐬
𝐀𝐯𝐚𝐢𝐥𝐚𝐛𝐥𝐞 𝐮𝐧𝐢𝐭 𝐭𝐲𝐩𝐞𝐬 𝐚𝐧𝐝 𝐩𝐫𝐢𝐜𝐞 𝐠𝐮𝐢𝐝𝐞:

🌈 𝟏𝐁𝐑: 𝟓𝟒𝟗𝐬𝐪𝐟𝐭 𝐰𝐚𝐬 $𝟏.𝟓𝟐𝟕𝐦𝐢𝐥
𝐍𝐎𝐖 $𝟏,𝟒𝟓𝟎,𝟔𝟓𝟎 ($𝟐𝟔𝟒𝟐𝐩𝐬𝐟)

🌼 𝟐𝐁𝐑: 𝟖𝟕𝟐/𝟖𝟖𝟑/𝟗𝟏𝟓 𝐬𝐪𝐟𝐭 𝐰𝐚𝐬 $𝟐.𝟑𝟖𝟕𝐦𝐢𝐥
𝐍𝐎𝐖 $𝟐,𝟐𝟔𝟕,𝟔𝟓𝟎 ($𝟐𝟔𝟎𝟏𝐩𝐬𝐟)

🌺 𝟑𝐁𝐑: 𝟏𝟏𝟕𝟑/𝟏𝟏𝟖𝟒/𝟏𝟐𝟖𝟏𝐬𝐪𝐟𝐭 𝐰𝐚𝐬 $𝟑.𝟏𝟓𝟑𝐦𝐢𝐥
𝐍𝐎𝐖 $𝟐,𝟗𝟗𝟓,𝟑𝟓𝟎 ($𝟐𝟓𝟓𝟒𝐩𝐬𝐟)

🌟 𝟒𝐁𝐑: 𝟏𝟒𝟗𝟔 𝐬𝐪𝐟𝐭 𝐰𝐚𝐬 $𝟒.𝟒𝟐𝟔𝐦𝐢𝐥
𝐍𝐎𝐖 $𝟒,𝟐𝟎𝟒,𝟕𝟎𝟎 ($𝟐𝟖𝟏𝟏𝐩𝐬𝐟)
📚 𝐰𝐢𝐭𝐡𝐢𝐧 𝟏𝐊𝐦 𝐭𝐨 𝗔𝗖𝗦 (𝗝𝘂𝗻𝗶𝗼𝗿), 𝗔𝗖𝗦 (𝗕𝗮𝗿𝗸𝗲𝗿), 𝗦𝗝𝗜 𝗝𝘂𝗻𝗶𝗼𝗿
☘️ 𝐓𝐮𝐜𝐤 𝐚𝐰𝐚𝐲 𝐟𝐫𝐨𝐦 𝐦𝐚𝐢𝐧 𝐫𝐨𝐚𝐝 𝐭𝐨 𝐞𝐧𝐣𝐨𝐲 𝐭𝐡𝐞 𝐩𝐞𝐚𝐜𝐞 𝐚𝐧𝐝 𝐭𝐫𝐚𝐧𝐪𝐮𝐢𝐥𝐥𝐢𝐭𝐲
🚝 𝐌𝐢𝐧𝐬 𝐭𝐨 𝐍𝐞𝐰𝐭𝐨𝐧 𝐌𝐑𝐓 𝐒𝐭𝐚𝐭𝐢𝐨𝐧
🌟 𝐄𝐱𝐜𝐥𝐮𝐬𝐢𝐯𝐞 𝐎𝐧𝐞 𝐓𝐨𝐰𝐞𝐫 𝐰𝐢𝐭𝐡 𝐭𝐨𝐭𝐚𝐥 𝟏𝟐𝟎 𝐮𝐧𝐢𝐭𝐬
🎁 𝐂𝐮𝐬𝐭𝐨𝐦𝐢𝐳𝐞𝐝 𝐥𝐚𝐲𝐨𝐮𝐭 𝐰𝐢𝐭𝐡 𝐜𝐨𝐦𝐟𝐨𝐫𝐭𝐚𝐛𝐥𝐞 𝐬𝐢𝐳𝐞 𝐨𝐟 𝟏 𝐭𝐨 𝟒 𝐛𝐞𝐝𝐫𝐨𝐨𝐦 𝐮𝐧𝐢𝐭𝐬
Don't wait, contact us today!
Moving and relocating to Singapore
Rent property, apartment, house in Singapore made easy. Singapore Property Classified listings for apartment, condominium, house and commercial properties.
Information, resource guide and FAQ for Singapore expat. Including living, housing, staying and working in Singapore.
housing rental guide, travel and transport guides in Singapore.
Expat Singapore relocation, moving services, lodging, accommodation, property and housing rental guide.
Guides on shopping, fine food, sports, places of interest, entertainment and clubbing in Singapore.
Search apartments and houses in Singapore in our Singapore Property Classifieds or view our collection of Singapore Property Pictures.
Join the friendly Expat Forum and share tips and opinions with fellow expatriates.
Renting or Selling property in Singapore
Submit your property listing - apartment, condo, house, flats rental or sale to the most comprehensive property listings database in Singapore.
Most complete Singapore property classifieds - residential and commercial.
Number 1 expatriate & property portal in Singapore.