Best Singapore Condominium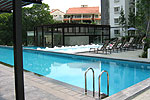 Singles Condo
Singapore Expats has compiled a list of top condos in Singapore from our realtors' recommendations. The list is divided into 4 categories, namely - Prestige Condo, Family Condo, Singles Condo and Waterfront Condo. The condos consist of developments from East Coast and Central area of Singapore. Feel free to contact us for any feedback or review regarding condos in Singapore.
Select

PRESTIGE CONDO
|
FAMILY CONDO
| SINGLES CONDO |
WATERFRONT CONDO
BEST SINGAPORE SINGLES CONDO
Re: i'm in town to cast my vote, boys!

this very tiring -hk-sg trip is deeply deeply dissatisfying for me during a pandemic.

i believe MY vote matters, or i wouldn't have made this damn .....



Posted in Leisure Chat, Jokes, Rubbish
Re: BTT for license conversion
u'll have to go get your eyesight tested in person at some point, so... just go?



Posted in Drivers Licence
Re: i'm in town to cast my vote, boys!
PNGMK, I think you mean taxico don't you? Welcome back taxico. It's been quite a while. Sorry about what is becoming a regular occurrence around here.



Posted in Leisure Chat, Jokes, Rubbish
Re: PR approval chance in 2020
Let's see if we will go back to the aftermath of the 'watershed' 2011 general elections.





Posted in PR, Citizenship, Passes & Visas for Foreigners
Re: PAP vs WP. WP now hold 10 seats.
At least WP is not or doesn't appear to be as hardcore anti-FT, anti- immigration as PV and SDP who outright ask for FTA to be abolished or renegotiated. But with 10 seats in the house, they know the expectation is there for them to challenge the PAP on this.

Will be interesting to see what .....



Posted in General Discussions