Best Singapore Condominium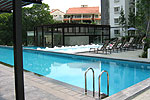 Singles Condo
Singapore Expats has compiled a list of top condos in Singapore from our realtors' recommendations. The list is divided into 4 categories, namely - Prestige Condo, Family Condo, Singles Condo and Waterfront Condo. The condos consist of developments from East Coast and Central area of Singapore. Feel free to contact us for any feedback or review regarding condos in Singapore.
Select

PRESTIGE CONDO
|
FAMILY CONDO
| SINGLES CONDO |
WATERFRONT CONDO
BEST SINGAPORE SINGLES CONDO
Re: PR Approval Probability 2022

...
I wont drag this anymore.

Hi, understand how you may feel. If I understand correctly, you guys came here on the back-end of prior times and since perhaps the road ahead/dynamic has changed.

Nevertheless, what I can say is .....



Posted in PR, Citizenship, Passes & Visas for Foreigners
Re: Dependent pass - Police clearance
when i applied DP for my husband last year, ICA only required cert of his highest education, passport copy and his latest employment information (company name and title).



Posted in PR, Citizenship, Passes & Visas for Foreigners
Re: PR Approval Probability 2021