Best Singapore Condominium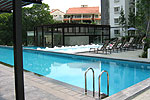 Singles Condo
Singapore Expats has compiled a list of top condos in Singapore from our realtors' recommendations. The list is divided into 4 categories, namely - Prestige Condo, Family Condo, Singles Condo and Waterfront Condo. The condos consist of developments from East Coast and Central area of Singapore. Feel free to contact us for any feedback or review regarding condos in Singapore.
Select

PRESTIGE CONDO
|
FAMILY CONDO
| SINGLES CONDO |
WATERFRONT CONDO
BEST SINGAPORE SINGLES CONDO
Is it that extremely rare one born in Singapore with majority of her or his life lived in this country is not granted PR? For the parents being non-PR, non-SC, I would expect is a norm. So what is all this in news-excitement about concerning Elena T?



Posted in PR, Citizenship, Passes & Visas for Foreigners

Read the article but didn't watch the video interview of the Russian woman born in SG. Both her parents are not PR or SC, they were in OandG industry and were frequently at sea. Her mother's ship happened to be close to SG when she .....



Posted in PR, Citizenship, Passes & Visas for Foreigners

You'll be fine regardless Mal. I sold my stock portfolio last night. I don't entirely trust the GOP not to screw up the debt ceiling deal.


Market timing is one of main reasons investors underperform the market. I honestly .....