Singapore Travel Guide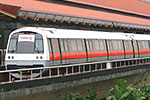 This page covers our tips and guides on Singapore travel and transportation, motoring. Includes MRT, bus and taxi, car ownership.
We also includes a MRT route map and detailed information of buying a car in Singapore. Select from our recommended Mighty Minds Publications for Singapore Travel Maps, Street Directory & Transport Guides now!


Singapore's land transport policy strives to provide easy-flowing traffic for the convenience of people and goods within the constraints of limited land. This is done by minimising travel time through systematic town planning, facilitating easy access by constructing an extensive and comprehensive network of roads, expressways and promoting a viable and efficient transport system which integrates the train system called Mass Rapid Transit (MRT), Light Rapid Transit (LRT) and our bus services. A multi-usable card can be used for travel on the MRT, LRT and buses and even used for purchasing of goods and services in some retail and food outlets. To curb congestion, the growth and use of vehicles are also closely controlled and monitored.
Private transportation especially cars are expensive in Singapore and to further curb road congestion, an Electronic Road Pricing (ERP) system was introduced on 1 April 1998.
Public Transportation
Apart from the private-hire car like Uber and Grab, Singapore's main public transports are the buses and trains (MRT) and taxis. Therefore, if your daily mode of transport is public, you might want to situate yourself nearer to the train station, or somewhere which is near your workplace. Rates for buses and MRT are relatively cheap, so traveling around in these wouldn't cost you much.
For more information on public transportation, please contact:

SBS Transit Limited
Toll Free: (65) 1800 - 287 2727
Email : info@delgro.com.sg
Website : www.sbstransit.com.sg

Singapore MRT Ltd
Toll Free: (65) 1800 336 8900
Website : www.smrt.com.sg
Buses are also a common mode of transportation here in Singapore, all buses now are air-conditioned and some even have mobile televisions installed, making rides a pleasant one. The bus system covers all of Singapore with sometimes more than one bus plying the same route. Bus services are regular and inexpensive and most of the buses are air-conditioned. There are many types of buses, from mini-buses to double-deck to super-long buses that can take 110 passengers. Bus-Plus - a special "customised" public transport mode are small capacity luxurious buses which usually ply from housing estates to the Central Business District (CBD).
With passengers taking over 3.8 million rides in 2015 and with two new service providers joining the long established ranks of SBS Transit and SMRT Buses in 2016, it's safe to say that this mode of transportation remains extremely popular today. Tower Transit Singapore officially commenced operations on 29 May 2016, while Go-Ahead Singapore (we kid you not about the name) was the newest operator to join the group on 4 September 2016.
There are many benefits that arise from taking the bus. The buses are well-maintained, clean and prompt in arriving at regular timings and intervals. Even if you are taking a bus on an unpopular route during a non-peak period, the longest you'd ever have to wait for a bus should be about 20 minutes or so. Shorter waiting periods of five to ten minutes are common, especially for feeder buses that ply certain neighbourhoods. For those with reduced mobility, many buses in Singapore are wheelchair accessible, where the driver will personally set down a ramp as and when anyone with a wheelchair wishes to board or disembark.
Special services are also available throughout the island. The NightRider and Nite Owl buses, run by SMRT and SBS respectively, provide late night services on weekends and the eves of public holidays. Premium bus services are run by both public and private bus companies, and these are commonly taken by commuters who need to travel in and out of the Central Business District during peak hours or to office compounds located in isolated neighbourhoods. For a flat fee between $2.70 and $7.00, passengers taking the Premium service are guaranteed a seat on board and a comfortable ride to their destination. Fast Forward buses, like their namesake, are another example of a special bus service as these buses allows passengers to enjoy a shorter commute to and from high-traffic areas during peak hours by eliminating numerous stops along the way.
There are also feeder bus services which provide loop services from bus terminals to housing estates. The services are regular and cheap with a flat fare irrespective of distance traveled.
A special "customised" public transport mode called Bus-Plus supplies luxurious but small capacity air-conditioned buses from housing estates to the CBD.
Bus fares vary according to the distance traveled. You must have exact fare ready as all buses are One-Man-Operated where the driver does everything and does not give change. It is therefore, important for you to know your route and fare beforehand. The bus guide is a good source of information and it is available at all leading bookstores or SBS Head Office.
Certain groups of people are entitled to special rates when they travel on buses or MRT. Senior citizens, children below 1.2 metres in height and students with concession cards are given concessionary rates.
Details of bus route and fare
TransitLink fare cards
The TransitLink fare card system can be used for both bus and MRT travel and enjoy rebates with valid transfers made between bus and MRT or between buses within the time allowed.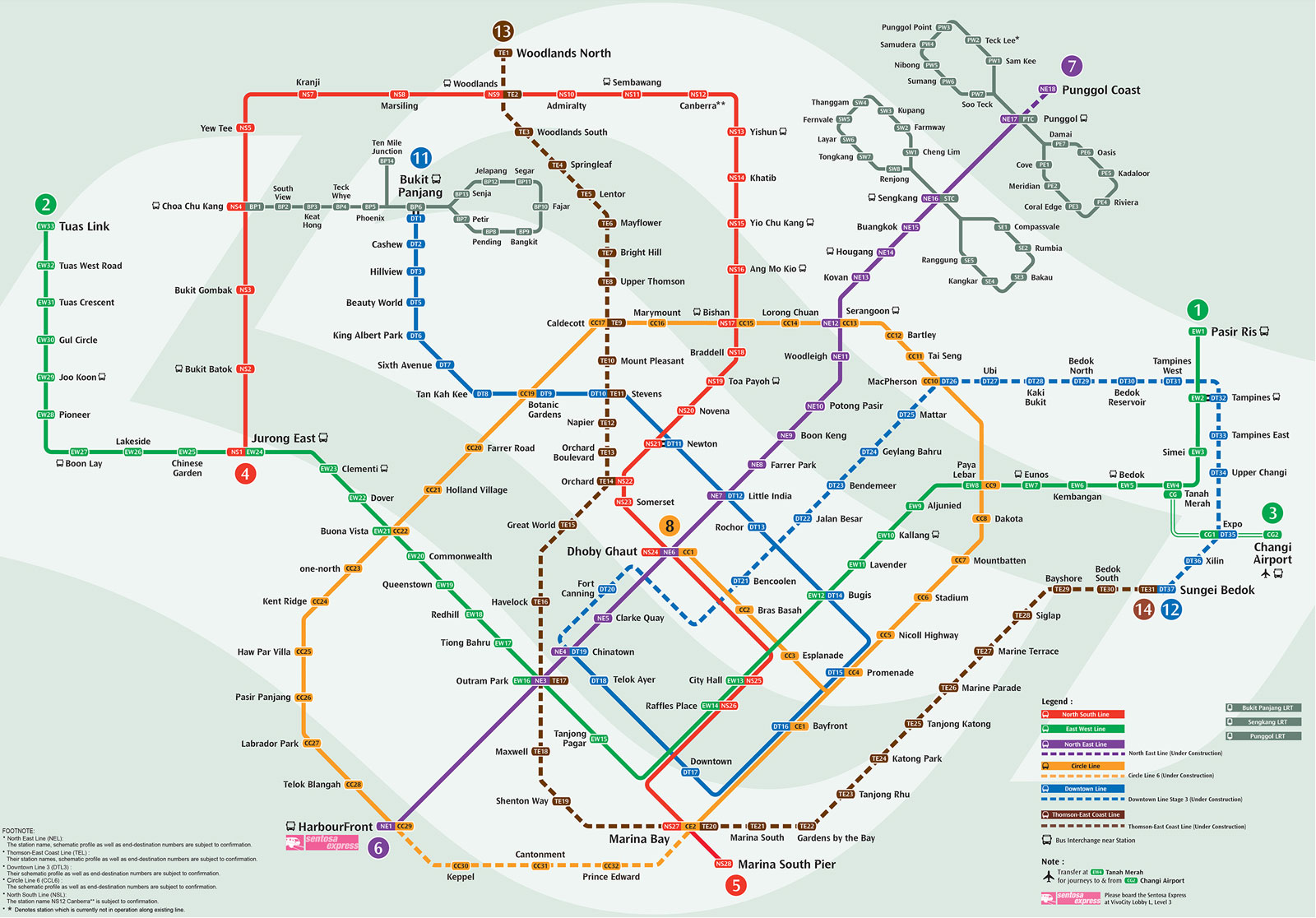 MRT is a electrical subway system in Singapore. MRT routes are expanding in this small country, moving around in Singapore using MRT isn't difficult after all, if you are able to find a suitable place to reside. The MRT now consists of four lines traveling north-south, east-west, northeast and a line running from Jurong to Chua Chu Kang. The government has plans to link it up with Malaysia's proposed high-speed electric train.
The MRT service is fast, modern and air-conditioned. It operates at regular intervals of three to eight minutes from as early as 5.30 am to 12.30 am daily.
Traveling on the MRT is relatively cheap with fares ranging from $0.70 to $2.20 on each line. You can buy stored value passes, called TransitLink fare card, for multiple trips or single value card each time you travel. The TransitLink fare card can also be used on buses operated by Singapore Bus Services (SBS) and Trans Island Bus Services (TIBS).
Tickets are sold at all stations and costs are clearly displayed above the ticket machines. Eating, drinking and smoking are not allowed in the trains or on the platforms. MRT routes are expanding in this small country, moving around in Singapore using MRT isn't difficult after all, if you are able to find a suitable place to reside. More details about the route map and fares can be found at SMRT and PublicTransport@SG
LRT - Light Rapid Transit
The LRT is a feeder service of the MRT that links selected towns like Bukit Panjang New Town, Sengkang New Town to the MRT system. LRT is used mainly by residents within a public residential estate.
The cost of taking a taxi in Singapore is still widely considered to be reasonable and lower than that in other first-world countries. In spite of the growing popularity of GrabTaxi or Uber, many who support local taxi companies, continue to utilise their services on an extremely regular basis. Due to the high cost of a car as well as the compulsory purchase of a Certificate of Entitlement (COE) that allows holders to register, own and use a car, it may in fact work out to be much cheaper to travel by taxi everyday instead.
Taxis are also widely available and the rates for all the taxi companies ranges, but not far apart. Bookings can be made via the phone or mobile apps, and normally takes about 5-10 minutes' to arrive. Additional charges are capped to taxi bookings but some taxi operators are currently having promotions where bookings after 12 midnights are free. Taxis are plentiful and it is easy to get one except during peak hours and rainy days. Rates are reasonable and standard among all the taxi companies in Singapore. With the introduction of the world-first satellite tracking and booking system, service has improved too. The satellite system uses interactive media for booking a taxi.
Taxis here will stop at taxi stands where orderly queues are formed and anywhere else that is safe and does not violate traffic rules. Hailing a cab can sometimes be frustrating as someone may just walk a few steps ahead of you and stop the same taxi. You may also come across taxis that do not stop even though they are empty. This may be because the drivers are on call or are changing shift. A closer look will reveal that these taxis usually have a red destination label on their dashboard or windscreen which means they are changing shift and will only accept passengers traveling in that general direction.
All taxis display their taxi's registration number inside the taxi above the doors. If you left something in the taxi, you can call the taxi company first as the driver will usually hand it to them.
Basic Rates
To calculate the metered fare for a basic taxi, note that the flag-down fare which includes the first kilometre ranges from $3.20 to $3.90 (although this may rise to $5.00 for premium taxis), and that you will be charged 22 cents per 400 metres for the next 10 kilometres, and the same fare for every block of 350 metres thereafter. The same fare of 22 cents also applies for every block of 45 seconds of waiting.
Booking Fees
The booking fees for a normal taxi may differ from company to company, but tend to be the same as each company's respective flag-down charge. This may change, subject to the time of booking.
ComfortDelGro and SMRT
During peak period from Monday to Friday (between 0600 and 0929 hours), and Monday to Sunday (between 1800 and 2359 hours), the booking charge for a basic Comfort, CityCab or SMRT taxi is $3.30. At all other times, the booking fee is $2.30. For an advance booking of a ride scheduled at least half an hour after, the booking fee is $8.00.
Prime Taxi
A peak period booking of a standard taxi would set you back by $3.50, and a non-peak period booking by $2.50. Their advance booking charge is one of the cheapest at $6.00.
TransCab
Booking charges for these taxis are the same as ComfortDelGro at $3.30 and $2.30 for peak and non-peak periods respectively. Their advanced booking charge costs $6.50.
Premier Taxi
The peak period booking fare for these taxis are one of the most expensive at $4.50, though the non-peak period booking charge is roughly the same as the other companies' at $2.50. The advanced booking charge is $8.00.
Surcharges
One source of confusion and even contention for foreigners in Singapore who may often be plagued by doubt and suspicion of being overcharged by the cabbie, is the additional surcharges and booking fees that passengers have to fork out, in addition to the metered fare.
Electronic Road Pricing (ERP)
When the ERP is in operation, a small sum of money is automatically deducted from the NET CashCard or a CEPAS-compliant stored value card (i.e. an Ez-Link card) from the In-vehicle Unit (IU) of any vehicle that passes an ERP gantry. As the ERP is said to be put in place to deter congestion, ERP charges are time-sensitive and increase during peak hours. The ERP gantries at Orchard and the Central Business District for instance, are in operation between 0800 and 2000 hours. As of 7 November 2016, till 5 February 2017, ERP charges for cars, taxis and light good vehicles range from $0.50 to $3.00.
Peak period surcharge
Between 0600 and 0930 hours from Monday to Friday, as well as 1800 to 0000 hours from Monday to Sunday, there is a peak hour surcharge of 25% of the metered fare.
Midnight surcharge
From midnight till 0600 hours, all cab fares will be include a surcharge of 50% of the metered fare.
Location surcharge
If you're starting your trip from certain popular locations, there will be an additional location surcharge between $3.00 and $5.00. Locations include but are not limited to the city area, Changi Airport. Marina Bay Sands, Resorts World Sentosa, Singapore Expo Centre, Marina Bay Cruise Centre, and Gardens by the Bay.
Taxi Booking Numbers
Taxi (City Cab) - (65) 6552 2222
Taxi (Comfort & CityCab) – (65) 6552 1111
Taxi (Premier Taxis) – (65) 6363 6888
Taxi (SMRT Taxis) – (65) 6555 8888
Taxi (Transcab) – (65) 6555 3333
Taxi (Prime Taxi) – (65) 6778 0808
Private Transportation
Cars are the most costly mode of transportation in Singapore. A brand new basic Japanese car can easily cost S$100,000 and above, while luxury cars ranges from S$150,000 onwards. For comparisons, the cheapest Toyota Corolla costs about S$100,000 while a Porsche 911 Turbo costs near a staggering S$1,000,000!
Certificate of Entitlement (COE)
To register a new vehicle, you must bid for a COE – a certificate of entitlement to own a vehicle in the appropriate vehicle category. Currently, the COE bidding exercise is conducted twice a month. You may bid for a COE via the ATMs, phone banking and internet banking facilities of the participating banks. Or, you can also ask your new car dealer to bid for a COE on your behalf.
Conversion to a Singapore Driving Licence
It is compulsory for all drivers to possess a Singapore driving license before driving on the roads.
Singaporeans and Permanent Residents holding a foreign driving licence are not normally allowed to convert their foreign licence into a Singapore driving licence unless they have stayed in the foreign country for a purpose, for example: studies or work, for a continuous period of six months before or after obtaining the foreign driving licence. The foreign driving licence must have been issued for at least six months and valid at the time of conversion.

For expatriates and foreigners, they can convert their foreign driving licence to a Singapore licence by passing the Basic Driving Theory Test to familiarize yourself with Singapore's highway code and regulations.

To do the conversion, you need to apply in person at the Traffic Police Department. You are to bring the following documents:
1. Passport and identity card;
2. The result slip to prove that you have passed the Basic Driving Theory Test;
3. A valid foreign driving licence;
4. Transcript of studies of Singaporean/PR who had studied abroad;
5. Income tax documents of Singaporean/PR who had worked abroad;
6. A certification from the licensing authority of the date of test;
7. An extract of the driving licence record from the licensing authority if your licence does not have the date of first issue;
8. A translation of driving licence if it is not in English. This translation has to be an official translation.
9. For Malaysian driving licence, an extract of driving licence from the JPJ Malaysia is required.
10. For PRs the entry permit has to be produced.
Categories of a Driving Licence
To drive a car, you need a Class 3 driving licence. To ride a motorbike or scooter, you need a Class 2B riding licence. The minimum age is 18 years and above.
Class 3 Driving Licence
To apply for a Provisional Driving Licence that allows you to take driving lessons on the road, you need to pass the Basic Driving Theory Test. On passing this test, the person can apply for a Provisional Driving License (PDL) which is valid for six months and is renewable for up to two years only. With this license, the applicant can then learn to drive but must display "L" plates on the front and rear of the car, and must be accompanied by a licensed person. You can only take driving lessons from a qualified instructor who is licensed by the Traffic Police. And it can be from a private instructor or from the driving centres.
A learner driver can enroll for a course with any of the three driving centres – Bukit Batok Driving Centre, Comfort Driving Centre and Singapore Safety Driving Centre. The contact numbers are listed below.
After you have been issued with the Provisional Driving Licence, you have to pass the Final Driving Theory Test to apply for the Practical Driving Test.
To apply to sit for the Basic Driving Theory Test:
Go to any of the 3 driving test centres with your identity card/passport. The fee is S$6 per test.
You will be notified of the results two weeks after the date of the test.
If you do not receive notification, you may enquire about the result at any test centre. Telephone requests for test results are not entertained.
To apply for a Provisional Driving Licence:
You need to go to the test centre in person.
Bring along your identity card.
You will have to undergo an eye test.
There is a fee of S$25. The renewal fee is the same.
The Provisional Driving Licence is valid for six months.
Practical Driving Test
Before you can do the Practical Driving Test, you have to pass the Final Driving Theory Test.
Must pass the Practical Driving Test within 2 years of having passed Final Driving Theory Test.
To book a date for the Practical Driving Test, you need to go to a test centre with your Provisional Driving Licence and identity card.
The fee for the Practical Driving Test is S$20.
Once you pass the Practical Driving Test, you will be issued with a driving licence.
Class 2B Driving Licence
To obtain the Class 2B Riding Licence, you have to pass the Riding Theory Test and the Practical Riding Test. You must pass the practical test within one year of passing the theory test.
Before you can do the 2 tests, you have to enroll as a student at the driving centres.
The fee for the theory test is S$6. The cost of a practical test is S$20.
To apply for the theory test, you have to visit a driving centre in person with your identity card/ passport.
To do the practical test, you will have to go to the test centre with your identity card.
Driving Test Centres
Ang Mo Kio Test Centre (SSDC)
Tel: (65) 6482 6060 Ext. 233
Bukit Batok Test Centre
Tel: (65) 6665 3748
Jurong Test Centre
Tel: (65) 6261 3236
Kampong Ubi Test Centre
Tel: (65) 6747 8271
Bukit Batok Driving Centre (BBDC)
Tel: (65) 6561 1233
Comfort Driving Centre
Tel: (65) 6841 8900
For more information, please contact:
Traffic Police Department
No. 10 Ubi Avenue 3, Singapore 408865
Tel : (65) 6547 0000
Fax : (65) 6547 4900
Website: www.spf.gov.sg
ERP is a electronic system that charges a fee based on road usage, it covers all congested roads and expressway during the morning peak hours and the whole work days in the Central Business District (CBD). Vehicles will be charged via the ERP unit fitted in every Singapore registered vehicle. Charges are higher during peak hour travel on more used roads. You may refer to the ERP Rates at http://www.onemotoring.com.sg.
1. All Singapore cars have In-vehicle Units into which the car driver slots his cashcard (stored value cards). The appropriate charges are automatically deducted from this cashcard each time the driver passes through an ERP gantry when ERP during its operational hours.
2. Cashcards can be purchased from local banks such as DBS Bank, Keppel-Tat Lee, OCBC, POSBank and UOB, Exon-Mobil petrol stations and Seven Eleven outlets, convenience stores and selected petrol stations.
3. Vehicles from outside Singapore have to ensure that they have the In-Vehicle Units installed in their vehicles before passing through the gantry to avoid penalties.
Location of ERP Gantries
East Coast Parkway (ECP)
Central Expressway (CTE)
Pan-Island Expressway (PIE)
Ayer Rajah Expressway (AYE)
Central Business District (CBD)
Outer Ring Road Area (ORR)
Dunearn Road (DR)
Orchard Road (OC)
General Abbreviation in Car Terms
ARF
Additional Registration fee, 110% of the Open Market Value
COE
Certificate of Entitlement. If you would like to purchase a car in Singapore you would need to bid for the certificate which is to secure with a S$10,000 deposit per bid. The pre-requisite is that you must register a car within six months upon bidding for category A (cars up to 1,600 cc) Category B (cars above 1,600 cc). For category C (mostly for used cars) you need to register the car within three months upon bidding.

GST
Goods and Services Tax, 7% of a new car after deducting excise duty.
Excise Duty
It is the import duty which is 20% of the OMV.

OMV
Open Market Value as calculated by Singapore Customs.

PARF
Preferential Additional Registration Fee is a rebate to offset registration taxes of new vehicles.
For more information on private transportation, please contact:

Land Transport Authority
Vehicle & Transit Licensing Division
10 Sin Ming Drive, Singapore 575701
Toll Free: (65) 1800 225 5582
Tel : (65) 6553 5229
Fax : (65) 6553 5329
Website : www.lta.gov.sg or www.onemotoring.com.sg
Importing your car from overseas is not recommended, as there are import duties and fees to pay upon bringing your vehicle over. But if you have to, the following will be some useful guidelines and information. You can visit www.onemotoring.com.sg for more detailed information on importing your used vehicle to Singapore.
Guidelines
1. You can only import cars that are less than three years of age;
2. The age of the used vehicle is calculated from the date of its first registration in a foreign country. If the first registration date of the vehicle cannot be ascertained, then the age of the vehicle is calculated from the date of manufacture;
3. There is a surcharge of S$10,000 for each imported used car registered in Singapore;
4. The used vehicle has to comply with the Euro II emission standard. As such, the used vehicle will have to be tested by LTA/ENV recognized overseas vehicle emission test laboratories to ensure compliance with the required standard at the time of import;
5. All safety glass fitted must have not less than 70% light transmittance and must not contain any metallic oxide coating;
6. All modifications made to the car must be properly certified, and be done only by the manufacturer or an agent authorized by the manufacturer;
7. The car must use unleaded petrol;
8. The car's air-conditioner must be CFC-free;
9. Your car to be a right hand drive type
10. Your car to be fitted with approved seat belts both front and rear
11. Your car not to have any asbestos in its brake or clutch lining
12. The car must pass a mechanical inspection by the LTA.
Things to prepare
1. A copy of the EEC Certificate of Conformity is required from your vehicle's manufacturer if your vehicle is made in one of the European countries.
2. The Completion Inspection Certificate from your vehicle's manufacturer if your vehicle is made in Japan.
3. If it is neither made in the European countries or in Japan, your vehicle can be sent for testing checks at any recognized vehicle testing laboratory to obtain a Certificate of Compliance with Exhaust Emission Standards and the Test Report and a Safety Glass Certificate.
4. If your vehicle is new, you can provide documentary proof that your car is new or never been registered for use. For example, receipts, and invoices). If your car is a used one, the vehicle registration documentary proof would be necessary, and has to be certified by your local authorities.
5. If your vehicle were a foreign model never been imported to Singapore, you would need to provide technical specifications, brochures or booklets issued by your vehicle's manufacturer.
6. A Declaration Form for asbestos free brake and clutch lining.
7. Organize with your shipping agent for an Inward Cargo Clearance Permit from a by having them to submit a joint application to the Trade Development Board (TDB) and the Customs and Excise Department (CED) using Tradenet.
8. Obtain an Open Market Value (OMV) of your vehicle from the Customs and Excise Department so they can levy the 41% customs duty based on the value.
Registering your Vehicle
1. Send in items numbers (1) to (6) above to the New Registration Department of the Land Transport Authority (LTA) for verification. They will arrange a time and date to send your car for an inspection.
2. If there is no inspection, obtain a Temporary Certificate Of Entitlement from the Land Transport Authority and insurance for your vehicle.
3. Make a trip to the Singapore Network Services Service Centre (SNS) located at Bugis Junction to collect your Vehicle Registration Application Form upon submitting the vehicle's particulars into a service centre.
4. You would need to return to the New Registration Section of the Land Transport Authority and submit the following documents:
Car Registration Application form
(Temporary) Certificate Of Entitlement
Original Passport, or, a Certified True Copy of the Company Registration Certificate if the vehicle is registered under the company's name
The notification of PARF benefits / COE Rebate
An original copy of the insurance letter or Certificate of Insurance from the Insurance Company
Successful bidding for vehicle registration number (if any)
You would be required to make a payment to the Land Transport Authority (LTA) for S$1,000 if you are registering a private car, or S$5,000, if you are registering a company car. On top of that, there will be an Additional Registration Fee (ARF) of 110% of the vehicle's Open Market Value (OMV).
You will then have to collect the following documents from the New Registration Section:
Your Certificate of Entitlement (COE)
Your Registration Card / Log Card
Your Road Tax disc (Please take note of its expiry date)
Your Insurance letter or Certificate of Insurance
All vehicles in Singapore are required to have a car insurance. You can purchase your car insurance from any insurance or finance companies or Automobile Association Of Singapore. Either comprehensive or third party insurance is acceptable but passenger liability is compulsory. Most insurance policies also have options such as windscreen and flood damage coverage at additional fees. Another common feature is No Claim Discount (NCD) which is useful if you are staying in Singapore for some time.
If you are relocating to Singapore for work purposes and need a car for transportation, the rule of thumb is to rent or lease a car if your stay here in Singapore would be less than 3 years. However, if you plan to stay for more than 3 years, than it is financially prudent to buy a car instead. The rate of depreciation for cars will continue to worsen as the Singapore Government has pledged to make cars more affordable by reducing taxes gradually over the forthcoming years.
A rented or leased car would offer a peace of mind generally, because the rental company borne all the depreciations and risks, including insuring the car, maintenance, repairs, paying for the road taxes and ensuring the availability of a courtesy car and a 24-hours roadside assistance program.
For leasing of cars, please contact:
Avis Singapore
390A Havelock Road
#01-07 Waterfront Plaza
Singapore 169664
Tel: (65) 6737 1668
Fax: (65) 6235 4958
Web: www.avis.com.sg
Contact Avis Singapore by phone:
For any car rental booking, leasing, chauffeur drive or any other enquires please call
Avis Singapore under (65) 6737 1668.
Contact Avis Singapore by email:
For local & international car rental bookings or enquires please email: reservations@avis.com.sg
For leasing or chauffeur drive services please email: leasing@avis.com.sg
In Singapore, purchase prices of all motor vehicles include an import duty, registration fee, additional Registration Fee (ARF) which is 110 percent of the car's open market value (OMV), and road tax according to the capacity of your car.
There is a surcharge from between ten and 50 percent of the road tax if your car is more than ten years old. To renew the licence, your car needs to pass an annual inspection.
Motorcycle Licenses
If you possess an International motorcycle licence or a foreign motorcycle licence, you can convert your licence with the Traffic Police. In Singapore, the motorcycle licenses are divided into three categories Regardless of your foreign licence rating, you will only be issued a Class 2B licence here, although at times there are exceptional cases.
Purchasing a Motorcycle
The cost of purchasing a motorcycle is lower because of the Certificate of Entitlement.
Licence Types
Class 2A - Ride bikes up to 401 cc
Class 2B - Ride bikes up to 201cc
Class 2 - Unlimited
In Singapore, all vehicles parking in public parking lots are required to display a parking coupon that is unique to this country. It is essential that you learn how to use it for if it is not used properly, you can be fined. Parking coupons can be bought at most petrol kiosks, bookshops or supermarkets.
Road tax formula for petrol cars:
| | |
| --- | --- |
| Engine Capacity (EC) | Road Tax Formula (per annum) |
| Engine Capacity <= 600 cc | $400 |
| 600 cc < Engine Capacity <= 1,000 cc | $400 + 0.25 x (EC - 600) |
| 1,000 cc < Engine Capacity <= 1,600 cc | $500 + 0.75 x (EC – 1,000) |
| 1,600 cc < Engine Capacity <= 3,000 cc | $950 + 1.5 x (EC – 1,600) |
| Engine Capacity > 3,000 cc | $3,050 + 2.0 x (EC – 3,000) |
There are some traffic enforcement methods and regulations here that differ from those in other countries. As traffic violations are taken very seriously here with steep penalties for violators, it is essential for you to take special notice of them. You may also like to get a copy of Basic Theory of Driving published by the Traffic Police which gives a good overview of rules of the road in Singapore. This handbook is available at all post offices.
Red Light Cameras
When you drive through a red light in Singapore, the traffic police do not chase after you in hot pursuit. However, you will receive the summon with details of the infraction by mail after the alleged offence. This is because many junctions are fitted with automatic cameras that catch offenders in the act. Blue and white signs stating "Red Light Camera" are posted just before these junctions.
Speed Cameras
Another high-tech enforcement gadget is the speed camera which records speed limit violations on film. The speed limit at some of these roads can be as low as 60 km/h. A blue and white sign is posted along these roads just before the speed camera.
U-turns
U-turns are only allowed where a blue and white sign bearing an inverted "U" is posted.
Mobile phones
Drivers are not allowed to use hand-held phones while they are driving. A jail-term may be imposed for those caught driving with hand-held phones.
Headlights
You are required to switch on your headlights between 7 pm and 7 am, during heavy rain or when visibility is reduced by smoke or other conditions.
Seat Belts
All drivers and front seat passengers are required by law to wear seat belts. Passengers in the rear seat must also belt up if the car is equipped with them. Child restraints are required for children up to the age of eight years old.
All vehicles must undergo inspection adhering to the below schedule at one of the Vehicle Inspection Centre listed below. To renew the yearly vehicle licence, your vehicle needs to pass the inspection. The schedule for the vehicle inspection is as follows:

| | | |
| --- | --- | --- |
| Vehicle Type | Age of Vehicle | Frequency |
| Motorcycles & Scooters | >3 years | Once a year |
| Motorcars | 3 - 10 years | Once in 2 years |
| Motorcars | >10 years | Once a year |
| Rental cars | 3 - 10 years | Once in 2 years |
| Tuition cars | | Once a year |
| Goods Vehicles | <10 years | Once a year |
| Goods Vehicles | >10 years | Twice a year |
| Trailers | | Once a year |
| Taxis | | Twice a year |
| Omnibuses | | Twice a year |
| All Other Vehicles & Buses | <10 years | Once a year |
| All Other Vehicles & Buses | >10 years | Twice a year |
Vehicle Inspection Centres
JIC Inspection Services
www.jic.com.sg
STA Inspection
stai.com.sg
VICOM
www.vicom.com.sg
Engine oil and filter - 1st 5000 km & every 10000 km
Most Singaporeans usually have to drive during peak hours where they have to endure slow moving traffic along most expressways in hot weather, when their vehicles crawl at least half the time on the road. Car manufacturers classify this kind of situation as severe usage. Having an engine idle for too long is disadvantageous to the engine, and if this continues under hot ambient temperatures, it is even more alarming.
Engine oil tends to degrade gradually with time. This results in a proportionate reduction to the protection provided to the engine so the engine oil and the oil filter should be changed regularly to provide good protection against daily wear and tear.
The oil filter separates carbon and other fine metallic deposits, which are residues from the combustion process and mechanical wear. When there is a high level of harmful chemicals in the oil, it reacts with the engine oil and this affects the protection the engine oil provides to the engine parts. Therefore, it is necessary to replace the engine oil and filter at stipulated mileage to ensure good quality of engine oil in the lubrication circuit.
Drive belts - 1st 10000 km & every 20000 km
It is essential to carry out preventive maintenance. Drive belts are checked to ensure that they are not cracked and the tension is right. A cracked belt can snap and cause unnecessary breakdowns and loss of customers' time. As for belt tension, it has to be the right tension to avoid belt slippage on the pulleys and any unbearable screeching noise. When belts are loose, they generate heat on the belt ribs and this causes the belt material to harden. A hardened belt cracks easily and eventually may snap.
Tyre rotation
All tyres installed onto a vehicle are subjected to different kinds of stress and wear, depending on the type of road they are driven on. Tyre manufacturers recommend tyres rotation at an interval of 10,000 km. Most of our cars today have front-wheel drive arrangements, so the front tyres tend to wear out faster than the rear ones.
Tyre rotation at an interval of every 10,000 km. will minimise the differences in wear rate between the front and rear wheels. Tyres that have abnormal wear tend to produce noise and this can make the drive unpleasant and also leads to short tyre life span.
Brake fluid - 1st 20000 km & every 40000 km
Brake fluid, due to its chemical composites, absorbs moisture more readily, especially when our weather has a very high humidity level. New brake fluid has a very high boiling point. Once they are exposed to the environment, they absorb moisture. As the moisture level gets higher, the boiling point of brake fluid decreases.
Driving a vehicle with a low quality brake fluid may cause brake failure as a result of the decrease in boiling point. This is apparent when there is an extensive usage of the brakes, for example, driving downhill for quite a distance. The effectiveness of the brakes is almost gone and it can be a disastrous experience.
Other than the effect of the boiling point on brake fluid, we should look at the effect moisture has as well. When there is a certain amount of moisture in the brake fluid, it can cause corrosion in the metal parts of the brake components due to the oxygen content in it.
Regular brake fluid replacement is recommended at an interval of 20,000 km or annually. Brakes system is a safety-related feature of a vehicle and customers should not compromise this important feature when talking about maintenance.
Spark plugs - 1st 40000 km & every 40000 km
We used to replace spark plugs at much shorter intervals than the current practice. However, with the discontinuation of leaded gasoline and the vast improvements made in fuel technology, spark plug manufacturers are able to assure service expectancy of 40,000 km and more.
As the spark plugs are constantly subjected to extensive operation and exposed to very high temperatures, their efficiency and spark intensity gradually weaken. In general, normal spark plugs (not platinum plugs) should be replaced every 40,000 km.
By replacing the spark plug at the recommended mileage, the spark plug's efficiency is sustained and this provides good fuel economy. Faulty spark plugs may result in engine misfiring and jerky drive feel.
Automatic transmission fluid
An automatic transmission provides comfort and minimises stress to the driver. By the time the vehicle has covered 40,000 km, the condition of the ATF would have deteriorated and it needs to be drained. This happens as a result of the multiple engagement and disengagement that took place during the 40,000 km coverage. When the transmission is subjected to frequent overloading and uphill driving, the ATF is easily heated up and it becomes thinner. Another situation where the ATF is likely to heat up, is when the selector lever is left in D position in a bad traffic jam or in a prolonged stop-and-go situation. In the above conditions, the ATF temperature around the torque converter tends to rise since the turbine is held at most of the time while the impellor is rotating at the same speed as the engine.
In such situations, the ATF is thinner and the protection they provide to the brakes and clutches become insufficient. When the transmission is subjected to this kind of environment continuously, there will be an increase in the wear-and-tear of the transmission parts.
In some cases, the colour of the ATF may indicate that it has degraded. In these cases, even if the mileage covered is below 40,000 km, it is advisable to replace the ATF to restore the ATF's performance. Thus, a regular ATF change will enable the transmission to go a long way.
Every 60,000 km
As we are aware, due to environmental reasons, most car manufacturers have switched from the carburetor system to electronic fuel injection. Such a system is very efficient in providing fuel economy, power and response. Most importantly, it emits less harmful gases into the environment through the exhaust system.
To increase the service life of the injectors, the fuel that is delivered to the injectors has to be very well filtered via very fine fuel straining material. If there are some fine particles that escape the filtering stage, it may cause the injector valves to become sticky or to be stuck during operation. Fuel injectors are very costly and such unforeseen incidents can be overcome by replacing the fuel filters at a regular interval of 60,000 km.
Operating an engine with a clogged fuel filter can cause engine stalling, jerky drive feel, loss of power and poor acceleration. These symptoms can jeopardise the vehicle at dangerous spots on the road and puts all the occupants of the vehicle in danger.
Timing belt - At 80,000 km and at 160,000 km
Modern engines use overhead camshaft/s and they are linked to the crankshaft via a timing belt. With this arrangement, the reciprocal operation of a 4-cycle engine provides you with all the power that you need.
This belt is a rubber belt made of a mixture of various materials to give it strength, a certain resistance to heat, enough flexibility to make the loop when going round the sprockets and tensioners as well as some resistance to moisture.
Manufacturers recommend a replacement of the timing belt at an interval of 80,000 km as the material of the belt would have hardened and the top surface turned glossy at that mileage. At this stage it is vulnerable to cracks and will eventually lose some of its tooth. Neglecting these signs of wear-and-tear or a recommended replacement at this mileage may cause misalignment of the camshaft and crankshaft.
When the 2 vital shafts are misaligned, there is a very high probability of the valves hitting the piston. Eventually, the valves will bend and in some cases, the valve guides and piston top will also be damaged. This will result in a costly repair like replacing the cylinder head, valves and pistons.
By replacing the timing belt at the recommended mileage, we can avoid incurring such costly repairs.
General Tips
1. Many drivers of manual cars like shifting to neutral and letting the car coast to a halt when the traffic lights ahead are red. Not only is this practice dangerous as all engine braking is lost (making the car less stable if sudden braking is required), fuel consumption also goes up. Modern fuel-injected cars have a fuel cut-off system that operates only when a gear is engaged and the foot is taken off the accelerator pedal. If the car is rolling along in neutral, fuel still needs to be pumped into the engine to keep it idling, so more fuel is actually used.
2. To maximise the power steering pump's life span, park with the car's front wheels pointing straight ahead. This reduces the load on the pump when the engine is next started up. Also, when performing low-speed manoeuvres, don't turn the steering wheel all the way to either side and hold it there for more than a second or so. If you reach the end of the steering wheel's travel, turn it back slightly in the opposite direction. This ensures that strain on the pump is minimised.
3. Another pump you can care for is the fuel pump. Don't let the fuel level fall too low before topping up the tank, for this will cause surges if fuel splashes around when you take corners. The fuel pump can overheat and have a reduced working life if this happens frequently. To be safe, top up once the fuel gauge needle falls below the one-quarter mark.
4. Some drivers of manual cars like to change to a higher gear as soon as possible, in the belief that this benefits both fuel economy and engine life. Wrong on both counts! Making an engine pull at very low RPMs causes enormous strain on its internal components. Also, fuel consumption goes up because the accelerator pedal needs to be stepped on harder to achieve the same speeds. As a general guide, keep the engine speed above 2000rpm when accelerating. For most cars, this means changing to a higher gear at around 3000-rpm. Revving the engine further, to 4000 or even 5000-rpm, is a good thing to do once in a while, as it cleans out carbon deposits that build up quickly under Singapore's stop-start driving conditions. (didn't know that should rev up to 4000 or even 5000-rpm one while is beneficial to engine).
The vehicle quota system was first introduced to control the number of new cars entering the roads each month. If you wish to buy a vehicle, you must first obtain a Certificate of Entitlement (COE) through bidding. Each month, a specific number of COEs are open for tender. Successful bidders pay the lowest successful bid price. The COE is valid for ten years from the date of registration of the vehicle and is non-transferable. You can revalidate the vehicle entitlement for another five years or ten years by paying the prevailing quota premium if you want to continue using your vehicle after its expiry. However, the five-year COEs are not renewable thereafter.
You can bid for a particular vehicle number for a fee. This is applicable to both new and used vehicles:
Bids must be made on prescribed forms available at LTA;
The minimum bid is S$1,000;
Payment must be made by cashier's order or money order together with the bid.
Re: the "not whiskey" about malaysia

i'm going to seek the wisdom of those wiser than me before i reply the earlier messages.

i'm somewhat at a cross road.

my child's mom wanted a divorce but then changed her mind, somewhat. i wanted a divorce weeks after she brought .....



Posted in Leisure Chat, Jokes, Rubbish
Re: the "not whiskey" about malaysia
medical care is cheaper and probably is just as good. i saw a specialist here a few months ago.

there's a thomson medical hospital about 15 minutes away from my place. sunway specialist center is about 10 minutes away.

but i get to do other things in sg when i head back.

also, the drive is .....



Posted in Leisure Chat, Jokes, Rubbish
Re: the "not whiskey" about malaysia
The agent was probably referring to the Sarawak MM2H. They're still on the previous requirements, way more feasible. Ditto Sabah btw.

Either way, the current Putrajaya nose-bleed requirements are going to be reversed back to something similar to the previous version any day now. I reckon you .....



Posted in Leisure Chat, Jokes, Rubbish