About Us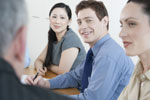 Who are we? Are we any different from other websites? SingaporeExpats.com is a online web portal which provide property and related information catered to the expatriate community in Singapore. Read more about us in this page.


Your Portal to Singapore
Our Promise: Commitment and Service
Our Goal: Total Customers' Satisfaction
Who are we?
www.SingaporeExpats.com has established itself as the leading expatriate and property portal in Singapore. We are a reputable, dynamic and fast-growing company in Singapore. We consist of a team of management and support staff, web designers, programmers and information technology professionals, all working together with the aim of providing a one-stop solution to the needs of our clients.
We provide services catered to the expatriate community in Singapore, or for those who are planning to relocate and work in Singapore.
Recognizing the fact that every client is unique and has specific requirements and needs, Singapore Expats works with the concept of an individual, customised service.Emphasis is placed on a very specialised one-to-one solution, we take the initiative to understand everyone's preference and specifications.

How established are we?
We have a large team of management and support staff, web designers, programmers and information technology professionals.
Our website generated 5 million page views and 1.1 million visitors per month.
In-order to cope with this amount of traffic, we are currently running on a dedicated server, dedicated IP addresses, dedicated DNS with fast internet backbones to provide our visitors with speedy browsing.
We are the leading expatriate and property portal in Singapore. In addition to our huge traffic, we are constantly in the TOP 10 positions in major search engines like Google, Yahoo, Bing for related search terms.
Facebook fan base of more than 40,000 followers ensure strong social media presence.

How we differ from other similar websites?
We have a physical office with excellent facilities located near the Central Business District.Comparing to 90% of the expat-property websites out there who are mainly one-man operation and are working from home, you have the assurance of a established company.
We are running on a dedicated server, a computer configured solely for www.SingaporeExpats.com. 95% of the other websites are hosted in a shared server environment, which means about 250 to 500 websites on a single computer!
Unlike others which only provide property listings, we are the ONLY website that offers Classifieds, Condo, Forum and many other services online.
We have a large database of property listings and pictures online which is much more than our competition.
Race: Indian
Age: 32
Education: Masters in Mathematics from Tier-1
Currently on PEP
Salary - 270k

Been here in Singapore for about 6 yrs now
Wife is salaried as well, earning 90k
We have a 2.5 yrs old daughter born in Singapore



Posted in PR, Citizenship, Passes & Visas for Foreigners
Re: Require assistance on Cantonese thank you speech
I would like to introduce myself and my channel to you guys! I'm Canadian-born Chinese with a YouTube channel dedicated to Cantonese for beginners. So far, I've posted 11 animated videos all with the same format: simple, authentic dialogues with jyutping and English translations. I've .....



Posted in CGC - Canto Group Club 广东俱乐部
Thanks for cleaning them up, OP. The versions I had were scanned in and had a lot of crud on them. These look great, and are probably the highest resolution on the Web.



Posted in Business in Singapore
I had a quick glance and all I see is the same twitter and reddit BS. You should go back, you do fit in better there. The only thought-provoking thing I saw there was "What the hell are they thinking." Don't let the door........"



Posted in Latest News & Current Affairs
What is the possibility of renewing Re-Entry Permit for the below situation
Greetings Everyone

I am in Singapore for the 25+ years. PR for nearly 25 years. Just got my re-entry permit renewed for myself and my wife.

My daughter who is 22 years old, she need to to renew on her own. She completed her Kindergarten to JC in Singapore and for under graduate she is studying .....