Preschools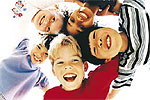 Education is essential for every child, and it can start as early as preschool years. Singapore Expats comprehensive list of schools from preschools to playgroups.

Please contact us to add to this list. Advertisers in this page will be featured in the enquiry form.


Preschools and Kindergartens
Stamford American International School


Stamford American International School is one of the leading international school in Singapore, offering the sought after education for children from 18 months to 18 years: the International Baccalaureate (IB) curriculum combined with the American Education Reaches Out (AERO) standards. Opening in Aug 2017, Stamford American is launching a new extraordinary purpose-built campus, The Village, conceived for their youngest and most impressionable generation of learners for children aged 18 months to 6 years.
As part of the curriculum, Stamford American offers a plethora of specialist programs including language instruction in Spanish and Mandarin, plus the world-renowned Suzuki Violin Program, drama, art, and the exclusive 'Smart Steps' physical education Program, from aged 18-months.
Each classroom is bathed in light and equipped with its own adjacent discovery area, complete with age-appropriate features like nursery sandpits, living plant walls and maker spaces. There are three development architypes that guide the school's resources and stimulation activities: Toddlers; Explorers; and Creators, which is why their built environment adapts as the children grow.
Classrooms are clustered in small groups of four, a unique feature that allows young children to foster a sense of community bonding as they bond in each early years' classroom, learning social play, as well as sharing and caring skills. Lunches are served 'family-style', where 'table talk' is actively encouraged to promote communication and camaraderie. At the heart of each cluster is the 'Pod', complete with an inquiry center, mini-library, a teaching kitchen, and science lab.
Beyond the classroom, the campus is equipped with stunning state-of-the-art facilities. The Hive is a generous, air-conditioned indoor space for running, dancing, gymnastics, parades and performances. The 22-meter swimming pool conceals water-resting benches to help young swimmers gain confidence in the water, plus lanes and water depths to match varying abilities. There are many places and spaces for outdoor play with six themed 'zones', like 'The Village Green' shipyard and 'Discovery Cove'.
And perhaps most importantly. Stamford American recognizes that partnership between an educator and parents are just as important, why is why the Village has the parent café where the parents can relax and observe school in action.
Discover the benefits a purpose-built environment can bring to your child's vital preschool years. Book a personal tour with our friendly Admissions team today!
Sais.edu.sg|+65 6653 7907
White Lodge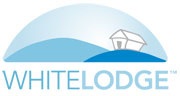 White Lodge Pre-school and Kindergarten was established in 1999 and has grown to seven centres across Singapore catering to children aged 6 months to 6.5 years. White Lodge provides an inspirational and nurturing learning journey for each individual and strives to provide an education with "something more".

Teachers are carefully selected for their work experience, positive personalities and dedication to provide the most secure, nurturing and educational environment for the children. All are qualified in Early Childhood Education and receive training in Music, Drama and First Aid.
Using the Primary Years Programme, UK, US and Australian Frameworks for their curriculum, White Lodge educates not only with an academic framework in mind but thinking about life skills and the future well-being of each pupil. The schools facilitate active learning, involvement and discovery through a hands-on teaching approach. The Mandarin and Mathematics Curriculums are based on Singapore Kindergarten and Primary School framework developed to meet the expectations of the local Singaporean Schools governed by the Ministry of Education.
Parent and Child classes are available for children aged 6 months to 2 and a half years old. These interactive sessions introduce children to various activities like Circle Time, Music and Movement, Mandarin, Art, Sensory and Play giving the opportunity for adults and children to play together. These sessions are also open to helpers and other caregivers.
From eighteen months of age, a child can attend White Lodge unaccompanied making the transition from the Playgroup class all the way up to Kindergarten class. Each centre is fully equipped with indoor and outdoor play areas including trampolines and climbing frames, an outdoor planting area, water and sand play, libraries, dressing up and imaginative play and facilities for cooking.
White Lodge offers a unique educational experience and takes pride in providing a high quality education with compassion for others and care for the world.
For more information visit www.whitelodge.com.sg or call a White Lodge close to you on the numbers below where you can arrange a time to visit the school and speak with teachers.
• Bukit Timah 39 Linden Drive, Tel: 6468 8846
• East Coast 102 Guillemard Road, Tel: 6440 6690
• Loewen Gardens 75E Loewen Road, Tel: 6475 7262
• Phoenix Park 310 Tanglin Road, Tel: 6235 5310
• Upper Bukit Timah 1 Jalan Siap, Tel: 6314 5481
• Upper East Coast 36 Toh Drive, Tel: 6543 1802
• West Coast 9 South Buona Vista Road, Tel: 6779 8465
Email: admin@whitelodge.com.sg
Web: www.whitelodge.com.sg
Canadian International School Kindergarten

As one of Singapore's leading international preschools, Canadian International School Kindergarten is recognised as a perfect place for discovery and exploration. The school focuses on unlocking young children's potential through:
A Tailored Global Language Programme
Stimulating Learning Pods & Playgrounds
A Hands-on Literacy & Numeracy Curriculum
Dedicated Arts, Music & Physical Education Specialists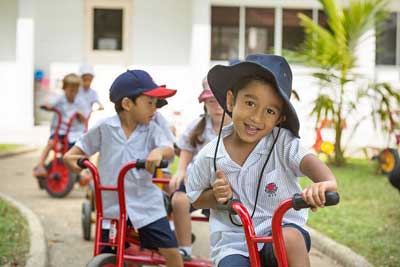 Global Language Programme
All students at Canadian International School (CIS) Kindergarten learn an additional language from 4 years of age. They have the opportunity to choose either French or Chinese taught by dedicated language specialists, or enrol in our pioneering bilingual Chinese-English programme. Our bilingual programme provides equal exposure to both Chinese and English, with two qualified teachers in each classroom.
Stimulating Learning Pods and Playgrounds
Our state-of-the art, purpose-built Kindergarten facilities are designed specifically to support play-based learning. At our Lakeside campus, classrooms are organised around stimulating 'learning pods'(large, open learning spaces), where teachers can set up hands-on learning centres. Dedicated outdoor play areas include an early years playground, bike tracks, sandpits with water-play zones, a large wading pool (Lakeside campus only) and gym.
Hands-on Literacy & Numeracy Curriculum
Literacy and numeracy learning is built into the daily schedule. Concepts are taught based on an inquiry, play-based approach (for example our students explore volume and capacity through 'hands-on' water play activities) and tailored to a wide range of academic abilities.
Dedicated Arts, Music & Physical Education Specialists
Students at CIS Kindergarten engage in Physical Education and Arts (Music, Visual Art, Dance, Drama) classes with single subject specialists. Our Physical Education lessons focus on movement (running and jumping) and gross motor development while our Arts lessons focus on teaching children how to express themselves through different types of mediums.
A quote from a happy parent
" Our CIS experience has been a great one. There is a wide range of hands-on activities, so both Matias and Luciana are always engaged in learning new things. Both of them really enjoy the bilingual classes". Evelyn Carvajal, CIS Kindergarten parent, June 2015.
Contact details
Lakeside Campus ( PreK- Grade 12)
7 Jurong West Street 41, Singapore 649414
E: admissions@cis.edu.sg
T: +65 6734 8088
Tanjong Katong Campus ( PreK – Grade 6)
371 Tanjong Katong Road, Singapore 437128
E: admissions@cis.edu.sg
T: +65 6734 8088
Website: www.cis.edu.sg/kindergarten
German European School Singapore

The first school you choose for your child is one of the most important milestones in your child's life. Knowing this, the GESS Pre-School Department provides a learning environment that is fun, safe, and stimulating. One that promotes passion and enthusiasm for learning to children between 18 months to 6 years. As a bilingual Department, we provide a unique German and English Language Programme designed specifically to meet the diverse language levels of our students. Additionally, we are offering a fully integrated Danish Mother Tongue programme to our Danish students two afternoons a week.
In Kindergarten and Pre-Primary, we offer the IB PYP inquiry-driven approach to teaching and learning. Along with our learning curriculum, we are promoting pre-reading and pre-writing skills, science, sports, music, drama, ICT, arts, cooking as well as using play as a learning tool. GESS provides lots of space to run, explore and embrace the natural environment around us. We foster our cultural diversity by celebrating European and Singaporean festivities. Parent-Child groups are suited for children aged from 18 months - 3 years. The groups are kept to a small number and are using generous group rooms as well as extra rooms for crafts, music, movement and a generously laid-out playground.
In preparation for starting Kindergarten, GESS offers Toddler groups from 2-3 years, to ensure a smooth transition from those first steps of independence to full-time kindergarten attendance.
In our Kindergarten classes, we provide heterogeneous grouping, for 3 to 5 years old. This uniqueness promotes a child-centred approach, where the structure for play is closely linked to real life.
Our Pre-Primary is for our five and six year's old students and is located at the "Habitat" on Junior School Campus.
A quote from a happy mother:
"Up to now, my son has loved each and every day at class and sometimes even demands on the weekends to go to school!" - Maria Gialakis, Mother

Main Campus
72 Bukit Tinggi Road
Singapore 289760
Tel: 6469 1131
Email: info@gess.sg
Junior School Campus
300 Jalan Jurong Kechil
Singapore 598668
Tel: 6461 0802
Email: info@gess.sg


Little Paddington Preschool

Imagine. Enquire. Engage
We recognize how important it is for parents to find just the right preschool to fully nurture their child in their early most formative years of learning.
With a philosophy in holistic education, Little Paddington Preschools aim to engage each child's interest and motivation by giving them daily opportunities for creative expression through child-led, process focused learning. We encourage our children to question, reason, hypothesize, develop self-confidence and learn in our warm and engaging environment.
We are committed to excellence. Our educators focus on the process of co-construction of knowledge, in turn releasing the traditional roles of a teacher and opening doors to new possibilities for our children. The highly qualified team comprises of Curriculum specialists, Chinese language teachers and English Language Teachers. In addition, we engage specialists for arts, sports and sciences to facilitate child's learning experiences.

Our Philosophy
Learning is their journey
Let them navigate
Push them to explore
Watch them discover
Encourage their questions
Allow them to struggle
Support their thinking
Our Curriculum
We believe children are competent thinkers and communicators. And our curriculum focuses on "Construction of knowledge" through Projects. These group and individual projects provide the backbone of the children's and teachers' learning experiences. They are based on the strong convictions of learning by doing. These projects affirm that we are able to create new things and achieve new understandings. It suggests the affinities between the child, the artist, the inventor, the scientists, the explorer.
This approach is inspired by the most pioneering and internationally acclaimed teaching practices of Multiple Intelligences by Howard Gardner, Montessori by Maria Montessori and Reggio Emelia by Loris Malaguzzi.
The Environment
We encourage children to explore their environment by providing them state of art learning spaces.  These spaces are specifically designed for children to build deep relationships with the natural world and engage in a balanced learning programme across Sports, Arts and Academics.
Campuses
Little Paddington Preschools has two campuses on the island, Turf Club in the central, and Kovan in the Northeast. Both campuses are conveniently located near public transport and are in the heart of residential communities.

Addresses
Turf Club Campus
236 Turf Club Road
Singapore 287985
Phone Number: 96495801
Hougang and Kovan Campus
4 Jalan Tani
Singapore 548542
Phone Number 62803007
Website: www.littlepaddington.com
Email: admin@littlepaddington.com
Schoolhouse by the Bay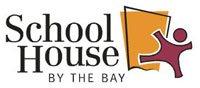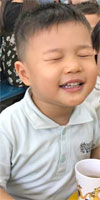 Tyler, 4, demonstrating what thinking looks like.
Miss Abby: "Can you tell me more about thinking?"
Tyler: "Well, when you ask me a question I have to close my eyes and think really hard to find an answer. Sometimes I don't know the answer and then my brain hurts a bit."
Miss Abby: "What do you do when you don't know the answer?"
Tyler: "I find out, then my brain feels good."
Teachers at Schoolhouse by the Bay extend learning by valuing the child's thoughts and ideas, and from there the teacher facilitates the learning through guided questions. We believe young children have great capacity for creativity that thrives when it is nurtured. We Inspire and support innovative thinking and problem solving skills. Creative opportunities are provided across all domains of learning, where subjects are integrated together through a S.T.E.A.M. (Science, Technology, Environment, Arts and Mathematics) approach to learning. Our E. stands for Environment. We cultivate our children from young to be respectful and responsible for both the community (local customs and cultural celebrations) and their natural environment.

Schoolhouse by the Bay has been an established Immersive Bilingual (Chinese/English) school since 2001 that offers programmes from Infant Care to K2, for both Expatriate and Singaporean families. The programme we offer aligned both to the local MOE curriculum and international practices, led by a team of experienced local and international educators. Our fees are affordable for a high quality education. Specialist and external programmes such as Robotics, Lego, Speech and Drama, Gym, Taekwondo are brought in to enhance learning with no extra cost. Both of our centers are located in Community Clubs, which provides students an opportunity to use the dance studio, gymnasium and outdoor play spaces.
Come and find out how we live up to our Mission of - Inspire the children, encourage them to Imagine, take action and Innovate!
Contact details:
Schoolhouse by the Bay has two centers. One in Tanjong Rhu and one on Hillview Rise.
Schoolhouse by the Bay @Katong
51 Kampong Arang Road (off Fort Road and Mountbatten Road) Singapore 438178
Schoolhouse by the Bay @Hillview
1 Hillview Rise Singapore 667970
E: admissions@schoolhouse.com.sg
T: (65)6348 4223
Website: www.schoolhouse.com.sg
Two by Two Schoolhouse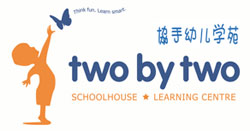 Two by Two Schoolhouse is a Bilingual kindergarten cum enrichment centre with a Mandarin emphasis. We specialize in language acquisition and have successfully developed a curriculum that nurtures lifelong learning.
Our background
Two by Two Schoolhouse was founded by two mothers who only wanted the best learning environment for their children. We wanted to create innovative and experiential programs whereby our children could learn through play.
Our methodology
Children thrive in a stress-free, natural and immersive environment with a low teacher-student ratio, grasping the nuances of the language effortlessly through a play based and child initiated approach.
Our curriculum also develops a child holistically in English, Math and Science, exposing them to a wide variety of subjects, including the Arts and Sports. They are encouraged to explore and experiment, ultimately developing confidence and become effectively bilingual.
Learning takes place through structured hands on activities and is not confined to the classroom. Frequent field trips reinforce learning and a Multi-sports program trains children's physical and mental capabilities.
Our strength
Our enrolled children are of diverse heritage and ethnicity, with the non-local nationalities making up 40% of our enrolment. This provides invaluable opportunities for greater learning experiences and exchange of knowledge. Our non-native speakers using Mandarin confidently and effectively is testimony of the success of our teaching methodology.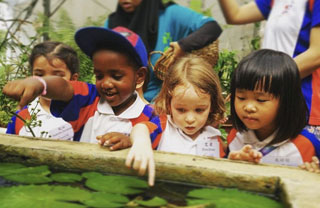 Core Daily Program
Nursery, K1 and K2
830am – 1230pm or 1pm to 5pm
Playgroup
9-12noon
Accompanied playgroup
130 – 3pm
Afternoon Enrichment
Mandarin Speech & Drama: I'm a Star! (小小明星体验班)
Mandarin Language & Literacy (华语快速认读)
The Mandarin Muse (华语。娱乐。沉思)
Call us today to enjoy free trial classes, ongoing promotions and giveaways!
Two by Two Schoolhouse
www.twobytwo.sg
West Branch
68 Namly Place
Singapore 267214
East Branch
55 Lor L Telok Kurau #03-61
Bright Centre
Singapore 425500
Tel: 62450838
Email: enquiry@twobytwo.sg
Preschools at Bukit Timah
Cherrybrook Kindergarten
Address: 5 Vanda Road, Singapore 287775
Tel: (65) 6468 6550
German European School Singapore
Address : 72 Bukit Tinggi Road, Singapore 289760
Tel: (65) 6469 1131
Raffles House Preschool Pte Ltd
Address: 1 Robin Drive, Singapore 258261
Tel: (65) 6732 1455

Preschools at Holland
Buttercups Montessori Kindergarten Pte Ltd
Address: 37 Grove Lane, Singapore 279029
Tel: (65) 6462 4838
Faith Montessori Centre
Address: 4 Moonbeam Walk, Singapore 277219
Tel: (65) 6465 2751
Nanyang Kindergarten
Address: 118 Kings Road, Singapore 268155
Tel: (65) 6466 3375
NTUC Childcare Centre
Address: 170 Ghim Moh Road #03-03 Ulu Pandan Community Building,
Singapore 279621
Tel: (65) 6468 3725
St James' Church Kindergarten
Address: 1 Leedon Road, Singapore 267878
Tel: (65) 6468 7609

Preschools at East Coast
Christ Methodist Church Kindergarten
Address: 597 East Coast Road, Singapore 429082
Tel: (65) 6344 8823
Schoolhouse By The Bay
Address: 51 Kampong Arang Road, Singapore 438178
Tel: (65) 63458258
NTUC Childcare Centre
Address: 1 Haig Road #01-555, Singapore 430001
Tel: (65) 6846 3065
Learning Tree Preschool Pte Ltd
Address: 26A Ulu Siglap, Singapore 457184
Tel: (65) 6242 9975

Preschools at West Coast
Ellas Kindergarten Pte Ltd
Address: 12 West Coast Walk #02-16 West Coast Recreation Centre,
Singapore 127157
Tel: (65) 6778 1293
Japanese Kindergarten (Singapore) Pte Ltd
Address: 251 West Coast Road, Singapore 127390
Tel: (65) 6779 3434 / (65) 6776 2930
Tanglin Trust School Limited
Address: Portsdown Road, Singapore 139294
Tel: (65) 67703171
TownforKids Pte Ltd
Address: 10 Ayer Rajah Crescent, Singapore 139940
Tel: (65) 6776 1888

Preschools at North
Cherie Hearts Kids-At-Play Pte Ltd
Address: 34 Westlake Ave, Singapore 574245
Tel: (65) 6352 4889
Email : elaine.kng@cheriehearts.sg
URL : www.cherieheartskidsatplay.com.sg
Kinderland Preschool
Address: 449 Yio Chu Kang Road, Singapore 805946
Tel: (65) 6483 2261
Modern Montessori Preschool Centre
Address: Block 750 Woodlands Avenue 4, #01-317, Singapore 730750
Tel: (65) 6369 0700
Sonrise Preschool
Address: 2 Kovan Road #01-01 Simon Plaza, Singapore 548008
Tel: (65) 6285 5911
Jansen Preschool
Address: 39 Jansen Rd, Singapore 548441
Tel: (65) 6487 6116

For School Operators

If you would like to advertise your school with us, click HERE