Universities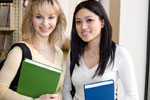 A degree is a gateway to employment. Obtaining a higher education qualification like a degree, will significantly improve one's career prospects.
Singapore Expats provides a comprehensive listing of Universities in Singapore and abroad.
Please contact us to add to this list.
Universities in Singapore
American College
The American College offers a two-year Liberal Arts curriculum which is fully accredited to and leads to an Association of Arts degree from Broward Community College in Florida. The courses here are also transferable to American colleges and universities towards a Bachelor's Degree.
Address : 12 Prince Edward Rd #01-03 Bestway Building Singapore 079212
Phone No: (65) 6223 4566 Fax No: (65) 6223 4533

Marketing Institute of Singapore (MIS)
MIS is the national body for marketing professionals. They run many courses for popular universities including Curtin University of Technology and The University of Strathclyde, which are mainly marketing courses, also MBA and Master of Business (International Marketing).
Address : 1 Pasir Panjang Road BP House Singapore 118479
Phone No: (65) 62217788 Fax No: (65) 62238785

NUS Department of Extramural Studies
The Department of Extramural Studies is one of the non-faculty departments of the National University of Singapore. It offers a wide range of courses which are open to the general public -- Computer & Technology, Business Studies, Language & Literature, Asian & Foreign Languages, Personal Enrichment course, etc. Conducted mainly in English and Mandarin, these are non-examinable courses, and as such, do not lead to any formal certification. There are no entrance pre-requisites for admission to the courses, unless spelt out in the course information.
Address : 10 Kent Ridge Crescent Singapore 119260
Phone No: (65) 67756666 Fax No: (65) 6778637

LASALLE-SIA College Of The Arts
This college specialises in professional and academic training in the Fine Arts with Diplomas of Licentiate awarded with completion of a four-year course.
Address : 90 Goodman Road Singapore 439053
Phone No: (65) 63444300 Fax No: (65) 63465708

Singapore Institute of Management (SIM)
SIM, an independent, not-for-profit professional organisation founded in 1964, is dedicated to enhancing managerial and organisational effectiveness in Singapore. The school offers many programmes which are tailored for working executives. Mainly degree and Masters degree courses as well as self-improvement courses.
Address : 461 Clementi Road Singapore 599491
Phone No: (65) 1800 4688866 Fax No: (65) 64680779


For Local and Overseas Universities

If you would like to advertise your University, please contact us