Singapore Resources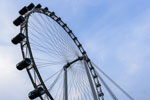 We have listings for banks, embassy, hotels, clubs and resorts and some interesting travel and holidays articles for those looking for places to relax or travel around the region. We also featured some recommended Travel Maps & Guides from Mighty Minds.
We have created a useful resources section for those living and staying in Singapore. Our aim is to make this section as comprehensive as possible, do contact us to suggest any information to be added.
Banks in Singapore

Listings of major banks in Singapore, includes address & telephone.
Foreign Embassy

Listings of foreign embassy located in Singapore, includes address & telephone.
Holidays & Resorts

Information of holiday resorts, spa and travel in the region.
Hotels in Singapore

Listings of hotels in Singapore, includes address & telephone.
Social & Country Clubs

Listings of association clubs, social and country clubs in Singapore.
Useful Articles

Compilation of interesting and useful articles for our readers.
Re: Life science job prospects
Thanks for your reply!
Unfortunately, my company doesn't have a location in Singapore. I am in the biotech industry. Main focus is in biological research and target validation.



Posted in Careers & Jobs in Singapore
You can probably travel now. It is the 14 day quarantine at location other than home. Makes for a long and expensive trip especialy if there is quarantine at your destination. What we miss is the most is the ability to take a free and easy getaway. All this will have to wait till 4th quarter .....



Posted in General Discussions
One lawyer approached my friend that he could help my fren to apply for custody of the son born out of a bigamous marriage. With the custody, my fren can apply for PR or citizenship of the child. He told my fren to submit the marriage and divorce certificate with the child's mother, and claimed .....



Posted in General Discussions
Re: Any foreign food remind you of home?
Sounds like you're ready for Easter!

Once my oldest was about 4 or 5, I taught myself how to make the entire spread for Thanksgiving. The hardest part was pie crusts. Over the years I've learned to substitute butter for Crisco, it's cheaper and better. I use a layer of plastic wrap on the .....



Posted in Leisure Chat, Jokes, Rubbish
Re: How can I start a business as a foreigner
Any business starts with an idea. So I think the more details about it you share, the better piece of advice you might get.



Posted in Business in Singapore