Singapore Resources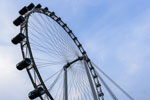 We have listings for banks, embassy, hotels, clubs and resorts and some interesting travel and holidays articles for those looking for places to relax or travel around the region. We also featured some recommended Travel Maps & Guides from Mighty Minds.
We have created a useful resources section for those living and staying in Singapore. Our aim is to make this section as comprehensive as possible, do contact us to suggest any information to be added.
Banks in Singapore

Listings of major banks in Singapore, includes address & telephone.
Foreign Embassy

Listings of foreign embassy located in Singapore, includes address & telephone.
Holidays & Resorts

Information of holiday resorts, spa and travel in the region.
Hotels in Singapore

Listings of hotels in Singapore, includes address & telephone.
Social & Country Clubs

Listings of association clubs, social and country clubs in Singapore.
Useful Articles

Compilation of interesting and useful articles for our readers.
Re: Leasing/Purchasing a car in Singapore? Let us help!
Posted in Car Leasing & Rental
Re: SC applying supplementary credit card for foreigner spouse
While I was back in the US last week, Capital One sent me a new Savor card and it's kind of a nice one, made of metal. A few months ago they also mentioned that I will start to earn 3% back on all travel purchases with the Savor card. This is the original Savor (not Savor One), and they seem to .....



Posted in Credit Card & Banking in Singapore
Re: Looking for advice on applying for jobs in SG as a foreigner



Think her base salary is about 3.5 but usually with bonuses and overtime it works out more like four.
She only has about 10000 in CPF (became .....



Posted in Careers & Jobs in Singapore