Singapore Resources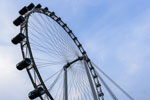 We have listings for banks, embassy, hotels, clubs and resorts and some interesting travel and holidays articles for those looking for places to relax or travel around the region. We also featured some recommended Travel Maps & Guides from Mighty Minds.
We have created a useful resources section for those living and staying in Singapore. Our aim is to make this section as comprehensive as possible, do contact us to suggest any information to be added.
Banks in Singapore

Listings of major banks in Singapore, includes address & telephone.
Foreign Embassy

Listings of foreign embassy located in Singapore, includes address & telephone.
Holidays & Resorts

Information of holiday resorts, spa and travel in the region.
Hotels in Singapore

Listings of hotels in Singapore, includes address & telephone.
Social & Country Clubs

Listings of association clubs, social and country clubs in Singapore.
Useful Articles

Compilation of interesting and useful articles for our readers.
Posted in Computer, Internet, Phone & Electronics
SIA recruiting 2000 cabin crew by March 2023
That's such good news and good luck to those applying/reapplying. =D>

https://www.straitstimes.com/singapore/transport/sia-to-hire-2000-cabin-crew-by-march-2023-about-800-recruited-so-far?utm_campaign=stfbandutm_medium=socialandutm_source=facebook



Posted in Airline Careers




Really? Does it make more than just regular drip coffee? Any lattes/capps?

It does not produce .....



Posted in Beauty, Health & Fitness