Singapore Resources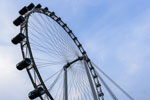 We have listings for banks, embassy, hotels, clubs and resorts and some interesting travel and holidays articles for those looking for places to relax or travel around the region. We also featured some recommended Travel Maps & Guides from Mighty Minds.
We have created a useful resources section for those living and staying in Singapore. Our aim is to make this section as comprehensive as possible, do contact us to suggest any information to be added.
Banks in Singapore

Listings of major banks in Singapore, includes address & telephone.
Foreign Embassy

Listings of foreign embassy located in Singapore, includes address & telephone.
Holidays & Resorts

Information of holiday resorts, spa and travel in the region.
Hotels in Singapore

Listings of hotels in Singapore, includes address & telephone.
Social & Country Clubs

Listings of association clubs, social and country clubs in Singapore.
Useful Articles

Compilation of interesting and useful articles for our readers.
Re: 2nd PR application rejected profile sharing
I also got my 2nd rejection this year. I applied March 2019 and received rejection on Jan 2020.

1st application was on 2016 easily rejected after 2 months.

My profile:
29, filipino-chinese, f, 5yrs of working in railways



Posted in PR, Citizenship, Passes & Visas for Foreigners
Re: Police froze my bank accounts

I am struggling with this since last week and will need to know the following.

There is this guy that Post a job on LinkedIn saying that there is this easy PA job to do and told interested applicants to telegram him. Because i .....



Posted in 20's Club
Re: Average salaries in Singapore

How much do you earn for digital marketing executive in Singapore? Can anyone give me a clue?


What is a "digital marketing executive"?



Posted in Careers & Jobs in Singapore
Would you order food with others nearby to save on delivery costs?
I have ordered a few times from apps since wfh but the delivery fee is so painful, I've taken up cooking, but let's just say rice and sauce everyday gets old fast. Instead of trying to shift the additional cost around riders/stalls/app, why not just spread it among the people ordering?

A bit of .....



Posted in Entertainment, Leisure & Sports
Re: PR Chances for Indian couple
Thanks. Honestly, I'm not very hopeful either. Do you think it will help if we re-apply after a year or so? I don't anticipate a major upgrade to our profiles by then - perhaps a promotion for us both and a corresponding salary hike.