Singapore Resources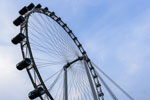 We have listings for banks, embassy, hotels, clubs and resorts and some interesting travel and holidays articles for those looking for places to relax or travel around the region. We also featured some recommended Travel Maps & Guides from Mighty Minds.
We have created a useful resources section for those living and staying in Singapore. Our aim is to make this section as comprehensive as possible, do contact us to suggest any information to be added.
Banks in Singapore

Listings of major banks in Singapore, includes address & telephone.
Foreign Embassy

Listings of foreign embassy located in Singapore, includes address & telephone.
Holidays & Resorts

Information of holiday resorts, spa and travel in the region.
Hotels in Singapore

Listings of hotels in Singapore, includes address & telephone.
Social & Country Clubs

Listings of association clubs, social and country clubs in Singapore.
Useful Articles

Compilation of interesting and useful articles for our readers.
Re: PEP processing time (personal employment pass)
Just wanted to share my experience in case anyone has any advice -

I'm looking at week #11 of PEP under processing. Thought I'd give it a couple more weeks, called MOM last week and got an expedition case number but my status still shows as " Pending"

Am currently employed at a senior role in a .....



Posted in Relocating, Moving to Singapore
No food (in isolation) can make you fat. It's eating more calories than you burn that will cause weight gain.



Posted in Beauty, Health & Fitness
I've been drinking sugarcane everyday for the past 2 weeks and wondered - would sugarcane make you fat?



Posted in Beauty, Health & Fitness