Wine Shops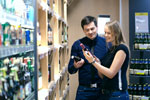 Drinking wine is an adventure for the senses. Wine enthusiasts can explore different wines to expand your wine-loving palate. The more you know about the wine's origins, its character, its value, the greater and more lasting your knowledge and experience on wine. Buying wine is easier now with our list of wine shops and wine merchants.
Please contact us to add your services to this page.
Wine Shops
Bottles and Bottles
10 Changi South Street 3
Singapore 486147
Tel: 63884102
Web: www.bottlesandbottles.com.sg
Email: sales@bottlesandbottles.com.sg
bottles XO
Retails online only
Web: www.bottlesxo.com
Email: singapore@bottlesxo.com
Crystal Wines
491 River Valley Road
#01-02/03 Valley Point
Singapore 248371
Tel: 67373540
Web: www.crystalwines.com
Fine Wines
114 Lavender Street
#02-60 CT Hub 2
Singapore 338729
Web: www.finewines.com.sg
Email: sales@finewines.com.sg
Merchants Wine Cellar
52 Duxton Road
Singapore 089516
Web: www.merchantsofsingapore.com.sg
Email: info@merchantsofsingapore.com.sg
Oaks Cellar
Shoppes at Marina Bay Sands
2 Bayfront Avenue, #B1-51
Tel: 62252511
Web: www.oaks.com.sg
Email: customercare@oaks.com.sg
Wine Culture
891 Bukit Timah Road
Singapore 589638
Tel: 64633888
Web: wineculture.com.sg
Email: sales@wineculture.com.sg
Wine Family
Retails online only
Web: www.wine-family.com
Email: info@wine-family.com
Wines & Spirits
138 Joo Seng Road #01-01
Singapore 368361
Tel: 92237443
Web: winesnspirits.sg
Email: hello@winesnspirits.sg
For Wine Merchants

If you would like to advertise your wine business with us, please contact us
Re: Isn't it easy to get EP now?


Are you getting paid in SGD in Singapore?

It doesn't matter. Where one is getting paid and the currency in which one is paid are both irrelevant to the tax .....



Posted in Careers & Jobs in Singapore
Re: Isn't it easy to get EP now?


Seems my agency does not want to apply EP. can I ask them to do so now? Thanks

Why would you want to work for a company that doesn't even want you? .....



Posted in Careers & Jobs in Singapore
Re: Anybody tried Barry's Bootcamp?

Just as an update, I attended my first red room class a little over 2 weeks ago and since then have gone for 4 more classes. Must say that it is one of the most intensive fitness classes I've ever attended. You start out either on .....



Posted in Beauty, Health & Fitness