Wine Shops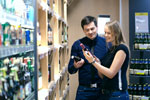 Drinking wine is an adventure for the senses. Wine enthusiasts can explore different wines to expand your wine-loving palate. The more you know about the wine's origins, its character, its value, the greater and more lasting your knowledge and experience on wine. Buying wine is easier now with our list of wine shops and wine merchants.
Please contact us to add your services to this page.
Wine Shops
Bottles and Bottles
10 Changi South Street 3
Singapore 486147
Tel: 63884102
Web: www.bottlesandbottles.com.sg
Email: sales@bottlesandbottles.com.sg
bottles XO
Retails online only
Web: www.bottlesxo.com
Email: singapore@bottlesxo.com
Crystal Wines
491 River Valley Road
#01-02/03 Valley Point
Singapore 248371
Tel: 67373540
Web: www.crystalwines.com
Fine Wines
114 Lavender Street
#02-60 CT Hub 2
Singapore 338729
Web: www.finewines.com.sg
Email: sales@finewines.com.sg
Merchants Wine Cellar
52 Duxton Road
Singapore 089516
Web: www.merchantsofsingapore.com.sg
Email: info@merchantsofsingapore.com.sg
Oaks Cellar
Shoppes at Marina Bay Sands
2 Bayfront Avenue, #B1-51
Tel: 62252511
Web: www.oaks.com.sg
Email: customercare@oaks.com.sg
Wine Culture
891 Bukit Timah Road
Singapore 589638
Tel: 64633888
Web: wineculture.com.sg
Email: sales@wineculture.com.sg
Wine Family
Retails online only
Web: www.wine-family.com
Email: info@wine-family.com
Wines & Spirits
138 Joo Seng Road #01-01
Singapore 368361
Tel: 92237443
Web: winesnspirits.sg
Email: hello@winesnspirits.sg
For Wine Merchants

If you would like to advertise your wine business with us, please contact us
Re: 2nd PR application rejected profile sharing
I also got my 2nd rejection this year. I applied March 2019 and received rejection on Jan 2020.

1st application was on 2016 easily rejected after 2 months.

My profile:
29, filipino-chinese, f, 5yrs of working in railways



Posted in PR, Citizenship, Passes & Visas for Foreigners
Re: Police froze my bank accounts

I am struggling with this since last week and will need to know the following.

There is this guy that Post a job on LinkedIn saying that there is this easy PA job to do and told interested applicants to telegram him. Because i .....



Posted in 20's Club
Re: Average salaries in Singapore

How much do you earn for digital marketing executive in Singapore? Can anyone give me a clue?


What is a "digital marketing executive"?



Posted in Careers & Jobs in Singapore
Would you order food with others nearby to save on delivery costs?
I have ordered a few times from apps since wfh but the delivery fee is so painful, I've taken up cooking, but let's just say rice and sauce everyday gets old fast. Instead of trying to shift the additional cost around riders/stalls/app, why not just spread it among the people ordering?

A bit of .....



Posted in Entertainment, Leisure & Sports
Re: PR Chances for Indian couple
Thanks. Honestly, I'm not very hopeful either. Do you think it will help if we re-apply after a year or so? I don't anticipate a major upgrade to our profiles by then - perhaps a promotion for us both and a corresponding salary hike.