Wine Shops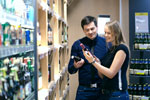 Drinking wine is an adventure for the senses. Wine enthusiasts can explore different wines to expand your wine-loving palate. The more you know about the wine's origins, its character, its value, the greater and more lasting your knowledge and experience on wine. Buying wine is easier now with our list of wine shops and wine merchants.
Please contact us to add your services to this page.
Wine Shops
Bottles and Bottles
10 Changi South Street 3
Singapore 486147
Tel: 63884102
Web: www.bottlesandbottles.com.sg
Email: sales@bottlesandbottles.com.sg
bottles XO
Retails online only
Web: www.bottlesxo.com
Email: singapore@bottlesxo.com
Crystal Wines
491 River Valley Road
#01-02/03 Valley Point
Singapore 248371
Tel: 67373540
Web: www.crystalwines.com
Fine Wines
114 Lavender Street
#02-60 CT Hub 2
Singapore 338729
Web: www.finewines.com.sg
Email: sales@finewines.com.sg
Merchants Wine Cellar
52 Duxton Road
Singapore 089516
Web: www.merchantsofsingapore.com.sg
Email: info@merchantsofsingapore.com.sg
Oaks Cellar
Shoppes at Marina Bay Sands
2 Bayfront Avenue, #B1-51
Tel: 62252511
Web: www.oaks.com.sg
Email: customercare@oaks.com.sg
Wine Culture
891 Bukit Timah Road
Singapore 589638
Tel: 64633888
Web: wineculture.com.sg
Email: sales@wineculture.com.sg
Wine Family
Retails online only
Web: www.wine-family.com
Email: info@wine-family.com
Wines & Spirits
138 Joo Seng Road #01-01
Singapore 368361
Tel: 92237443
Web: winesnspirits.sg
Email: hello@winesnspirits.sg
For Wine Merchants

If you would like to advertise your wine business with us, please contact us

Read the article but didn't watch the video interview of the Russian woman born in SG. Both her parents are not PR or SC, they were in OandG industry and were frequently at sea. Her mother's ship happened to be close to SG when she .....



Posted in PR, Citizenship, Passes & Visas for Foreigners

You'll be fine regardless Mal. I sold my stock portfolio last night. I don't entirely trust the GOP not to screw up the debt ceiling deal.


Market timing is one of main reasons investors underperform the market. I honestly .....



Posted in PR, Citizenship, Passes & Visas for Foreigners
It's only one member on this forum that has been in EP for so long, not multiple "members" as what LF claims. And malcontent isn't a good example as he deliberately chose to stay on EP for more than 2 decades and his wife is a PR so he can convert to LTVP any time if he *touchwood* loses .....