Wine Shops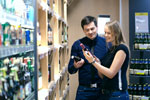 Drinking wine is an adventure for the senses. Wine enthusiasts can explore different wines to expand your wine-loving palate. The more you know about the wine's origins, its character, its value, the greater and more lasting your knowledge and experience on wine. Buying wine is easier now with our list of wine shops and wine merchants.
Please contact us to add your services to this page.
Wine Shops
Bottles and Bottles
10 Changi South Street 3
Singapore 486147
Tel: 63884102
Web: www.bottlesandbottles.com.sg
Email: sales@bottlesandbottles.com.sg
bottles XO
Retails online only
Web: www.bottlesxo.com
Email: singapore@bottlesxo.com
Crystal Wines
491 River Valley Road
#01-02/03 Valley Point
Singapore 248371
Tel: 67373540
Web: www.crystalwines.com
Fine Wines
114 Lavender Street
#02-60 CT Hub 2
Singapore 338729
Web: www.finewines.com.sg
Email: sales@finewines.com.sg
Merchants Wine Cellar
52 Duxton Road
Singapore 089516
Web: www.merchantsofsingapore.com.sg
Email: info@merchantsofsingapore.com.sg
Oaks Cellar
Shoppes at Marina Bay Sands
2 Bayfront Avenue, #B1-51
Tel: 62252511
Web: www.oaks.com.sg
Email: customercare@oaks.com.sg
Wine Culture
891 Bukit Timah Road
Singapore 589638
Tel: 64633888
Web: wineculture.com.sg
Email: sales@wineculture.com.sg
Wine Family
Retails online only
Web: www.wine-family.com
Email: info@wine-family.com
Wines & Spirits
138 Joo Seng Road #01-01
Singapore 368361
Tel: 92237443
Web: winesnspirits.sg
Email: hello@winesnspirits.sg
For Wine Merchants

If you would like to advertise your wine business with us, please contact us
Re: How to actually move out of SG



Right, but since I'm not of age to withdraw it yet, wouldn't renouncing my PR allow me to access it .....



Posted in General Discussions
Re: Citizenship Approval Chances

The only money they can see is that which is held in government ministries (CPF which you don't have yet). Private banking is not available to them except in the case of a legal battle which in not in the purview of ICA. They .....



Posted in PR, Citizenship, Passes & Visas for Foreigners


In the past I believe it's had some weight though (correct me if I'm wrong), though now it's pretty much meaningless.


Oh, but why has the rules changed now? Is it .....