Eating in Singapore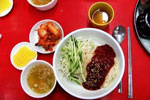 Singapore is well loved for its range of ethnic food available. There are Chinese, Indian to French, Italian to Malay food. It may be a small country but the choices of food available is always an eye opener for first timers to Singapore. In this page you can find information and guides on Singapore food, includes buffets, coffee shop, hawker centers, restaurants & supper place.
One of the best things about being in Singapore is undoubtedly the food. It is no secret that Singaporeans eat and drink with a passion. For the newcomer, deciding where and what to eat can be an intimidating, yet at the same time, exciting experience.
Singapore's multi-cultural diversity is reflected in the variety of local cuisine it has to offer, from Chinese to Malay, Indian to Peranakan. Singapore cuisine has influenced one another for decades. Foreigners who visit Singapore ought to try out some of our local delicacies.
Some of Singapore delicacies include Satay (Originated by the Malays, but also sold by Chinese these days), Roti Prata (Indian "pizza"), Fried Kway Tiao (fried black noodles- normally served with cockles), Hokkien Noodles (seafood noodle delight), Hainanese Chicken Rice, and some of our local desserts like Ice Kachang (flavoured ice with ingredients like red bean and jelly), Chendol (coconut based dessert), Grass Jelly (a refreshing black jelly that cools down on a hot day) and Tao Suan (bean in sticky paste, topped by fried dough).
But if you choose to dine in a fine restaurant, it's definitely more with the comfort and ambience to go along with. We have a list of the recommended restaurants here in Singapore, if you can't decide where to eat, here's where we're to help.
Local Favourite Food

Bak Kut Teh

Bak Kut Teh is a Chinese pork ribs soup cooked in herbs like five spices, star anise, cinnamon, clove, fennel seeds, dang gui, pepper and garlic.

It is eaten with rice and other accompaniments including fried dough and salted vegetables. It is also sometimes served with Chinese tea, as many believe that Chinese tea (particularly Tieguanyin) dissolves the copious amount of fat consumed in this pork-laden dish.

Char Kway Teow

Char Kway Teow is a savoury sweet noodle dish.

It consists of yellow noodles and broad wide noodles cooked together with pork lard, sweet sauce, dark sauce, bean sprouts, eggs, Chinese sausages, fish cakes and optional cockles.

Chilli Crab

Crabs that are being cooked in thick tomato and chilli based gravy. The crab is covered with plentiful of gravy and the crab meat is best eaten with the gravy. A pleasant accompaniment is the fried 'man-tou" (fried buns) which is best eaten with the thick gravy.

Many seafood restaurants offer this delightful dish.

Hainanese Chicken Rice

This dish is originated by the people in China, Hainan Island and has since then been Singaporeans regular dish eaten usually for lunch or dinner. It is mainly cooked with garlic, scallion and ginger and the rice is cooked till fragrant.

It is commonly found in hawker centres, coffee shops and restaurants.

Hokkien 'Mee' (Noodles)

This dish is originated by the people in China, Hainan Island and has since then been Singaporeans regular dish eaten usually for lunch or dinner. It is mainly cooked with garlic, scallion and ginger and the rice is cooked till fragrant.

It is commonly found in hawker centres, coffee shops and restaurants.

Kaya Toast Breakfast

This is a traditional local breakfast for the young and old which consists of kaya spread (made from screwpine leaves) on toasted bread and accompanied with soft-boiled eggs and coffee or tea. This traditional breakfast dish can be found in many places like modern food courts, food centres, hawker centres and specialty cafes.

Fish Head Curry

Fish Head Curry is a dish where the head of a fish, particularly red snapper is semi-stewed in thick curry gravy and lady's' fingers, brinjals are added to the dish. It is best eaten with white rice.



Fried Carrot Cake

Fried carrot cake is a favourite dish among many Singaporeans. It is flour mixed with radish and fried with dark sauce, turnip and sweet sauce and topped off with spring onions ('black' version), or fried without the sweet sauce ('white' version).

Rojak

A tasty local infused salad consisting of fruits, fried dough fritters, turnips, bean sprouts, cucumbers topped off with prawn paste and crushed peanuts. The gravy has a unique flavour that will entice one's appetite for more.

Rojak can sometimes be found at hawker centres and coffee shops.

Roti Prata

Roti Prata originates from Southern India and is a type of Indian pancake made of flour. It comes with a variation of fillings including egg, cheese, banana, onions, meat or even topped off with a scoop of ice cream. It is served with hot curry gravy. Some people prefer to eat it with sugar.

Satay

Satay is a dish consisting of bite-sized pieces of meat grilled on skewers. They come in chicken, mutton, pork and beef. It is served with a flavourful spicy peanut sauce, slices of cucumbers and onions.
Places to Eat
Cafes
A growing favourite with the young working crowd. Designer coffee places like Starbucks, Coffee Bean & Tea Leaf and Coffee Club have become the in places to hang out with friends. Most cafes serve Western food like sandwiches, pizzas and pasta.
Coffee Shops
These can be found in most housing estates outside the city and are usually located on the ground floor of apartment blocks or in 2-storey. Even till today, Singaporeans gather at coffee shops not just to eat and drink, but also to chat or even play a game of checkers. Although the older coffeehouses are slowly being phased out, they are still the place to go if you want to get cheap and good food served with a slice of true Singapore life, not forgetting the thick, black local coffee that comes in a porcelain cup.
Fast-food
A favourite with children and teenagers, fast food arrived in Singapore in the late 70s and is today a familiar sight everywhere. There's McDonald's, Kentucky Fried Chicken (KFC), Pizza Hut, Burger King, MOS Burger and much much more.
Hawker Centers and Food Courts
Together with hawker centers, food courts are the people's main eating choice when dining out. You can find hawker food widely available here, a meal averagely costs about $3 or more. Food courts are usually found in shopping malls, and are air-conditioned and thus more expensive. For example, a plate of noodles that cost $3 in a hawker center may cost $4 in a food court. The choice of food is also more cosmopolitan, with some food courts even offering Italian, Korean, Japanese and Greek cuisine all in the same place. Be warned: at the more popular food courts, you could find people waiting behind you for your seat; so if you like to take your time, go during off-peak hours. Unlike hawker centers, you have to carry your own food to your table.
Food courts generally can be found in most shopping centres. There are usually at least one hawker centers in every HDB housing estates. Like Ang Mo Kio, Ghim Moh, Marine Parade, Old Airport Road, Whampoa. Enjoy your Singapore food discovery! For hawker centers, refer to some of the popular ones below:
Adam Road Food Center
This hawker center was recently upgraded. With a new facade and more parking space, it is very popular with lunch time crowds. More than 50% of the stalls serve Malay or Indian food. Good Nasi Goreng, Roti Prata, western food can be found here. Do not miss the BBQ seafood and the famous Nasi Lemak stall!
Location: Junction of Dunearn Road and Adam Road.
Chomp Chomp Food Center
Located at Serangoon Garden, this hawker center was recently upgraded. Wide variety of food at a reasonable price. Many stalls from the Botanic Garden hawker center had migrated here.
Location: Serangoon Garden.
Lau Pa Sat Food Center
Lau Pa Sat is the largest remaining Victorian filigree cast-iron structure in Southeast Asia. Located in the heart of Singapore's business district, it is a favorite meeting place of the locals. Built in 1894, Lau Pa Sat was a wet market and has now been restored and converted into a food centre offering a wide variety of local food.
Location: Boon Tat Street, Shenton Way, Robinson Road.
Getting There: Take the MRT to Raffles Place Station (EW14) and walk towards Robinson Road.
Newton Circus Food Center
The most well known hawker center in Singapore. If you are a seafood lover, do not miss this place, lots of BBQ seafood stalls can be found here. There are also many variety of food, including Hokkien Prawn Noodles, Fish Porridge, Chicken Rice and many more.
Location: Newton Circus, entrance at Cavenagh Road.
Getting There: Take the MRT to Newton Station (NS21).
Zion Road Riverview Food Center
People working around Orchard and Great World City usually drive or walk to this hawker center for lunch. You can find a wide variety of food here.
Location: Zion Road, directly opposite Great World City.
Restaurants
Restaurants
These range from the cheaper and more informal, like Spaggedies or La Smorfia (Italian) and Ponderosa (Western) to the decidedly posh and budget busting, like The Pinnacle. Whatever the cuisine, the budget or the occasion, there's definitely more than a few to choose from. Craving to have a hearty meal but don't know where to dine?:

Browse - Restaurants in Singapore
We also have a hearty list of selected (only the best) restaurants and hotels which serves up good buffets:

Browse - Buffets in Singapore
Supper
Supper Place Recommendations
Looking for food in the middle of the night? We have a list of recommended supper places provided by Singapore Expats forum members. Note: we do not have the exact address.
Supper Places (sorted by famous food)
Ba Cho Mee (mince pork noodles soup) - Bedok Block 85 near the police station.
Ba Kut Teh - Balestier Road.
Beef Hor Fan - Geylang.
Beef Noodle (dry) - Lavender Food Square.
Duck Rice - Marine Parade hawker center, beside Parkway Parade.
Fish Soup - River Valley Rd. Near to the Boon Tong Kee chicken rice restaurant. Fish soup is good.
Frogs Legs Congee - Geylang.
Nasi Lemak - Boon Lay Shopping Centre opens only from 23:30pm. Food is hot, chilly is nice and not too spicy and price is good. Order the $2 Nasi Lemak package.
Nasi Lemak - Brighton Cres.
Nasi Lemak - Changi Village.
Nasi Lemak - Chong Pang, Yishun.
Nasi Lemak - Punggol.
Nasi Lemak - Fong Seng, near NUS, Pasir Panjang Road.
Or Mee Sua (Mee Sua in black soup) - Kembangan, Changi Road the Shell Station.
Paper Chicken - Ulu Pandan Road near Sunset Way, Clementi.
Roti Prata - Alif Restaurant, Bukit Gombak opposite Gombak MRT.
Roti Prata - Jalan Kayu.
Scissor Curry Rice - Kitchener Road.
Taiwan Porridge - Oasis, Kallang.
Teochew Porridge - Beo Cres.
Tissue Prata - West Coast hawker.
Wanton Noodle - Kok Kee, Lavender Food Square.
Wanton Mee - Old Airport Road hawker center.
Supper Places (sorted by restaurant)
Adam Road Food Centre - Lots of Indian stalls. Try the Roti Prata.
Airfield Restaurant (Kopi Tiam) - Changi Village, located opposite the Shell Station, good western food, Fishball noodles, ample parking behind the coffeeshop, opens 24 hours.
Cafela - Jalan Kayu. They serve fantastic Nasi Lemak, best chicken wings and chilli you can find aorund. Also try their 'Dinosaur' drink- lots of Milo powder for the chocolate freak.
Coffeebean - Changi Airport Terminal 2.
Crystal Jade Kitchen (beside Orchard Emerald) - Good noodles and congee there. Try their US Beef noodles with ginger or Scallop congee.
Jalan Teck Whye - Under MSCP. Cheap and nice food. Jalan Tech Whye is in between Choa Chu Kang and Bukit Panjang.
Khattriya Restaurant - Jalan Kayu. Great paper Prata and thin crispy Prata. Also try the local version of Cappuccino, 'Kopi-cino' and 'The-Cino'.
Mr Bean - Holland Village or Selegie.
NYDC - Holland Village opened till late on weekends only.
Swensen - Crown Prince Hotel, Orchard Road.
Thasevi Food Eating House - Jalan Kayu. They serve fluffy small-sized Prata, which is very crispy.
Yu Tiao Da Wang - 239 Geylang Road. Home made Bean Curd and Soya Milk. Taiwanese snacks like Carrot cake, Yu Tiao (fried cruller) and Mee Suah with oysters.
Find more eating places in the Expat Forum - Food, Leisure and Entertainment in Singapore.

Re: Now I've gone and really done it!
Thank you SMS for all these years of contribution!

Thank you for your advices, information, guides, jokes, spices, laughter and joy.

Your have done so much for this forum, no words can describe our gratitude [-o<



Posted in Leisure Chat, Jokes, Rubbish
Re: Now I've gone and really done it!
WOW Congratulations! You deserve a long service award! Amazing how much you've contributed to this site over the last 20 years!



Posted in Leisure Chat, Jokes, Rubbish
Re: How to do saving and lower cost of living in Singapore?




Those were the good old days for sure. And less ERPs.


i remember they were called restricted .....



Posted in Staying, Living in Singapore