Condos Near MRT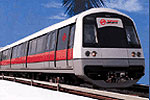 The current public train system (MRT) in Singapore consists of 5 lines, Circle (CC), Downtown (DT), East West (EW), North East (NE) and North South (NS) which leads to all parts of the island. The 6th line, Thomson-East Coast (TE) is currently under construction. Planning to buy or rent a condo apartment but don't know which is the nearest train station? We have compiled a list to help you find condo near each MRT station (stations under construction are not in this list).
North East Line (NE)
The North East Line is a high-capacity Mass Rapid Transit line in Singapore. It runs from HarbourFront in the south-west to Punggol in the north-east. The line is currently 20 kilometres (12 mi) long with 16 stations, and a full journey from one end to the other takes 33 minutes. This line is coloured purple on the rail map. Being the third line in the Singapore MRT system, it was first opened on 20 June 2003.
It is the first MRT line in the network to use fully automated and driverless trains, and is also the world's first fully automated and driverless high-capacity rapid transit line to use conventional steel-wheel technology (as opposed to the rubber-tired, medium-capacity technology found in systems like VAL). The North East Line is also the first line to feature Art in Transit across all 16 stations and full Wireless@SG coverage in all 16 stations. It is the first MRT line to be operated by SBS Transit. It is also the first MRT line to be entirely underground.
Click on the MRT Station names below to view nearby condos.
NE1 HARBOURFRONT
NE3 OUTRAM PARK
NE4 CHINATOWN
NE5 CLARKE QUAY
NE6 DHOBY GHAUT
NE7 LITTLE INDIA
NE8 FARRER PARK
NE9 BOON KENG
NE10 POTONG PASIR
NE11 WOODLEIGH
NE12 SERANGOON
NE13 KOVAN
NE14 HOUGANG
NE15 BUANGKOK
NE16 SENGKANG
NE17 PUNGGOL
Re: British - Moving to SG (Wife is SC)

We both work for a Casino Group in the UK. It is owned by Guoco but the company itself doesn't have any presence in Asia. Not exactly the most secure looking industry post Covid - but plenty of transferable skills.


You will .....



Posted in Relocating, Moving to Singapore
My Mandarin and English for your Korean
Hi,

I am looking for a native Korean to help each other learn language for versatile livings.
I like and also look like Korean😄
Please write to me At nina.dong@live.com.



Posted in Language Exchange
Re: Opening a bank account in Singapore as a EU citizen
For what I use it for (bus card and credit card) Revolut has been pretty good. But I do hear that covid has impacted them and they have laid off a lot of staff. Monza, similar space, also is struggling. On the other hand, Starling has been thriving. Hadn't actually heard of Starling until .....



Posted in Relocating, Moving to Singapore
Re: Man charged with possessing 150 unlicensed arms
Given that this is Singapore you have to be some sort of idiot to try and sell any form of gun here, especially online.



Posted in Business in Singapore
How would you get the free vbucks currency online.
Access our to fill up your Fortnite gaming account with tons of free Vbucks at ease. We welcome you to the new world of Fortnite, where you must stay unique to save the entire world from crisis and cope up with your co-players or friends. All you .....



Posted in Sports & Recreational Partners & Team