Condos Near MRT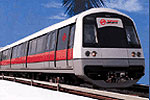 The current public train system (MRT) in Singapore consists of 5 lines, Circle (CC), Downtown (DT), East West (EW), North East (NE) and North South (NS) which leads to all parts of the island. The 6th line, Thomson-East Coast (TE) is currently under construction. Planning to buy or rent a condo apartment but don't know which is the nearest train station? We have compiled a list to help you find condo near each MRT station (stations under construction are not in this list).
North East Line (NE)
The North East Line is a high-capacity Mass Rapid Transit line in Singapore. It runs from HarbourFront in the south-west to Punggol in the north-east. The line is currently 20 kilometres (12 mi) long with 16 stations, and a full journey from one end to the other takes 33 minutes. This line is coloured purple on the rail map. Being the third line in the Singapore MRT system, it was first opened on 20 June 2003.
It is the first MRT line in the network to use fully automated and driverless trains, and is also the world's first fully automated and driverless high-capacity rapid transit line to use conventional steel-wheel technology (as opposed to the rubber-tired, medium-capacity technology found in systems like VAL). The North East Line is also the first line to feature Art in Transit across all 16 stations and full Wireless@SG coverage in all 16 stations. It is the first MRT line to be operated by SBS Transit. It is also the first MRT line to be entirely underground.
Click on the MRT Station names below to view nearby condos.
NE1 HARBOURFRONT
NE3 OUTRAM PARK
NE4 CHINATOWN
NE5 CLARKE QUAY
NE6 DHOBY GHAUT
NE7 LITTLE INDIA
NE8 FARRER PARK
NE9 BOON KENG
NE10 POTONG PASIR
NE11 WOODLEIGH
NE12 SERANGOON
NE13 KOVAN
NE14 HOUGANG
NE15 BUANGKOK
NE16 SENGKANG
NE17 PUNGGOL
Migrating from Singapore on job offer , Please suggest on better Country/City
Hello All,

I am on EP in Singapore and lives with family and it looks like finding new job is becoming tougher for EP holders.
I do have offers from Abu Dhabi and Sydney and Bengaluru.

Anyone have experience of living or working in Sydney or Abu Dhabi ?
Is it worth to move to Abu Dhabi as it .....



Posted in General Discussions



Whereabouts in California are you thinking, Mal?


Diamond Bar or Orinda, most likely.

Seems .....



Posted in General Discussions


Yes, but this isn't really the question? What you describe is what got some people in the penalty box or what can hurt an application (possibly so today). Does the .....