Apparels & Fashion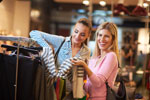 In this page you can find all about Apparels, Athletic Wear, Bags, Clothing, Fashion Accessories, Heels & Shoes, Jewellery, Purses & Wallets, Watches & Timepieces.

Please contact us to add your services to this directory.
Apparels & Fashion
Big Grin Organics
Big Grin Organics Pte. Ltd. was started in response to a lack of environmentally friendly apparels both for the young as well as the mature. We are committed to promote sustainable living that is in tandem with harmony with nature.
We source our eco-clothings and toys from selected vendors who are environmentally conscious and support fair trade. Big Grin Organics' founders have been participating in World Vision Child-Adoption scheme for years before the company started and since the company's incorporation in 2008, BGO dedicates a portion of our sales towards earth conservation projects like Garden City Fund.
Being a member of Plant-A-Tree-Today Foundation, BGO dedicates carbon-offsets with every import or traveling that the company made as part of our care-for-the-environment mission.
We invite you to our online store at www.biggrinorganics.com to know how you can help make a change.
Email: info@biggrinorganics.com
Regn. No.: 200800361W
For Merchants

If you would like to advertise your products or services, please contact us