Popular Condominiums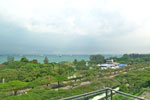 Expatriates in Singapore usually like to stay near Orchard Road, Central Business District, Sentosa or the East Coast. This page lists the 10 most popular condos in each of the expat choice district.
East Coast - District 15 and 16
Expatriates choose to live in the east coast because it is away from the hustle and bustle of city living, and the east offers more choices for food at Katong, Siglap and the privilege of having the East Coast beach closeby. Some of them select apartments that offers a panaromic sea view.
We round up 10 most popular condos this month in the East.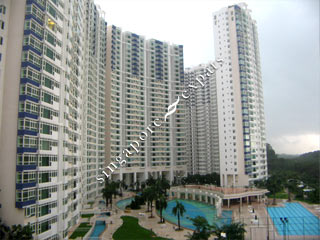 Costa Del Sol is situated off the ECP, off Upper East Coast Road. It comprises of seven towers, each at 30 storey high. Each unit is built to cater to the panoramic views of the sea across the complex. Expect to see a undisturbed, panoramic view of the sea if you live above the 12th storey.

Living at Costa Del Sol would also mean you would enjoy its strategic location and stunning views, but its wide array of facilities, beautiful architectural features, quality interior finishes and spatial living.

Its locality also boots a plethora of restaurants, pubs and discos, cafes and restaurants in Siglap area. Good schools and markets are also a stones throw away. It is also near the seafood centres at the East Coast Beach.

This marine-themed development caters to a wide range of sports like windsurf practice facility, 4m diving pool, resort pool, Olympic pool and water slides for the kids!

Its fully equipped gymnasium also caters to those who want to keep in shape. For social gatherings, the clubhouse has a roof terrace with you can chat your night away.

For such a great experience, Costa Del Sol is well suited for those who wants to live on the other side of Singapore, by the sea.

A shuttle service to Raffles Place in less than 25 minutes. The Bus Plus green bus comes into condo to pick up executives at the entrance. For those who drives, it will take around 15 minutes to the central business district (Shenton Way, Raffles Place) and a mere 5 minutes to Changi Airport.
District: 16
Address: 68 - 84 BAYSHORE ROAD
Nearest MRT: BEDOK MRT Station (1.69 km away)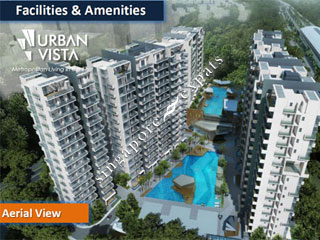 Urban Vista is an exciting new condominium located in one of the most sought after residential site at Tanah Merah Kechil Link. With Tanah Merah MRT station right at your doorstep, residents can enjoy the luxury of time accessing other parts of Singapore and the conveniences nearby with ease.

Epitomizing the harmonious balance of ultimate convenience and accessibility, Urban Vista is situated within a minute's walk to the MRT station. This development is also near a future commercial hub and is only a station away from the upcoming fourth university and Changi International Business Park, and two stations away from our Changi International Airport. With the future major commercial hub next to it, residents will enjoy dual benefits of being right next to the hub, whilst enjoying the privacy and serenity of a separate residential development.

Being close to retail and dining havens such as Changi City Point, Singapore Expo, Bedok Point, East Village, Bedok Market Place, East Coast Lagoon Food Village and many more, Urban Vista offers endless choices for everyone. Back at home, residents can indulge in the wide array of condominium facilities such as Alfresco Dining Pavilion, Infinity Pool, Club Lounge, Party Pool, Aqua Gym, Zen Garden, Chill-out Deck, Spa Pool, Jacuzzi and much more.

Jointly developed by Fragrance Group Limited and World Class Land Pte Ltd, residents can expect to stay in a condominium with a prestigious and luxurious metropolitan concept.


District: 16
Address: 2 - 22 TANAH MERAH KECHIL LINK
Nearest MRT: TANAH MERAH MRT Station (0.23 km away)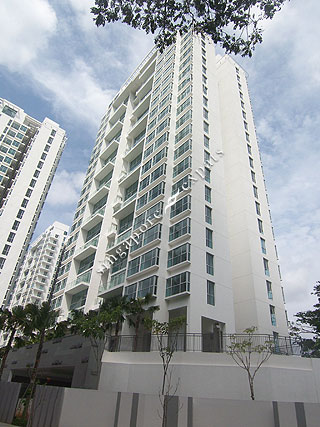 The Esta is situated along Amber Gardens near Amber Road and Mountbatten Road, at the site of the desmolished Maryland Point. The Esta puts you in close proximity to amenities that matter: top schools, key transportation points, trendy gourmet bistros and the idyllic East Coast Park.

Stepping into The Esta, a grand entrance with verdant foliage and water cascading down the deck captures your attention instantly. The recreational facilities in The Esta are designed to suit all lifestyles: two tennis courts to ensure you never miss a game, and a private oasis of luxury, comprising the unique gym and clubhouse sitting just above the pool, to amplify the sensual feel of water and provide a feast for the eyes while you workout or enjoy the elegant, inviting amenities.

In the Esta, meticulously planned layouts are conceived to maximise space & comfort, with large windows providing a visual connection between the indoors & outdoors, thus allowing a seamless connection with life within & beyond. Whether you're entertaining or preparing culinary treats, the well-equipped wet & dry kitchens in the apartments of The Esta complete a perfect picture of contemporary styling, designed for everyday living & carefully crafted to suit the needs of the discerning.

Rediscover and experience the best of luxurious interiors right at The Esta. Bathrooms stylishly appointed with the latest sanitary fixtures and plush modern wardrobes in the bedrooms ensure that you can feel truly pampered in your very own spacious sanctuary.

The Esta is set amidst a serene residential neighbourhood, the always-peaceful ambience is accentuated by the natural beauty of East Coast Park and the Bird Sanctuary, while well-established amenities like the popular Parkway Parade provide a wonderful blend of leisure, food and shopping. Renowned schools are also in close proximity.

The Esta is well-linked by major expressways including the East Coast Park (ECP) and Pan Island Expressway (PIE). It takes around 15 minutes drive to Changi Airport and a mere 7 minutes to the Central Business District (CBD) via the East Coast Parkway (ECP) or Nicoll Highway.
District: 15
Address: 31 - 39 AMBER GARDENS
Nearest MRT: DAKOTA MRT Station (1.42 km away)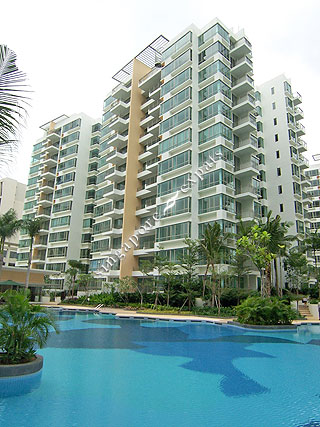 Casa Merah is a freehold condominium located at Tanah Merah Kechil Avenue off New Upper Changi Road, amidst a quiet residential enclave. Comprising of 12 blocks with 556 units, Casa Merah's clean lined and linear facade complements the indulgent array of water bodies in the development.

Sited on elevated ground, higher floor units at Casa Merah can revel in the panoramic vistas of lush surrounds whilst units with private enclosed space on the lower floors can enjoy the exclusivity of an inviting water landscape at the doorstep. Meandering along 'free-form' footpaths, Casa Merah sets the stage for a truly soothing yet inviting resort ambience.

In Casa Merah, meticulously planned layouts are conceived to maximise space and flexibility, with large windows inviting ample natural light into the apartments. For 4-bedroom apartment units, one gets the enjoyment of a large balcony that extends from the dining area offering a personal corner for leisurely activities or quiet indulgence. The modern kitchen in Casa Merah with well-equipped appliances satisfies the demand of every epicurean. Evoking an atmosphere of warm cosiness, Casa Merah makes coming home simply a pleasure.

When it is time for quick bites or stock ups, popular food outlets and supermarkets are within close proximity of Casa Merah. For those who prefer al-fresco pursuits, East Coast Park and Laguna Golf & Country Club beckons. Enjoy the wonderful mix of leisure, food, and shopping conveniences with Tampines Mall and Parkway Parade nearby. In addition, the peaceful neighbourhood is replete with a range of good schools and institutions from St.Anthony's Canossian Primary and Secondary School, Anglican High School to Temasek Junior College. Inspiring yet exciting, Casa Merah has it all.

Casa Merah is conveniently located right next to the Tanah Merah MRT Station and easy drives via Pan Island Expressway (PIE) and East Coast Parkway (ECP), relish the ease of getting to the City and Changi Airport in minutes.
District: 16
Address: 50 - 74 TANAH MERAH KECHIL AVENUE
Nearest MRT: TANAH MERAH MRT Station (0.22 km away)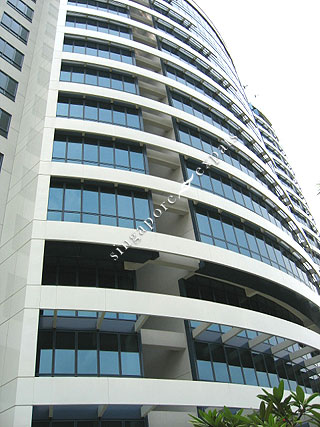 Water Place - An intelligent, interactive and internet-ready condominium located at Tanjong Rhu. Near the sea, minutes from the Central Business District. Within walking distance of the future Boulevard MRT Station. The best land and sea sport by the Kallang River or by the sea. Set sail now for a great new life at Water Place.

Water Place is a stone's throw from Leisure Park Shopping Centre, Singapore Indoor Stadium, Singapore National Stadium and the Boulevard MRT Station. Amenities like supermarket, fast food restaurants, shops, cafes can be found in Leisure Park. Water Place is also within close proximity to the East Coast beach, seafood restaurants, Parkway Parade Mall and eating outlets.

Water Place is mere minutes from Suntec City, Marina Square and Raffles Place (Singapore's financial district). Orchard Road is within a 10 minutes drive away via the East Coast Parkway (ECP) or the Nicoll Highway.
District: 15
Address: 171 - 179 TANJONG RHU ROAD
Nearest MRT: STADIUM MRT Station (0.75 km away)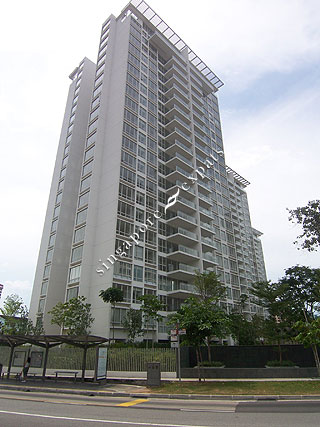 The East. Where treasures await. Where cultural heritage and a modern lifestyle merge in perfect harmony.

The Seaview is located along Amber Road and Marine Parade Road, situated on 382,000 square feet of freehold land. The Sea View puts you in close proximity to amenities that matter: top schools, key transportation points, trendy gourmet bistros and the idyllic East Coast Park.

Rising 23 storeys high, the six majestic towers offer inspiring views of water and greenery. The Sea View promises a complete lifestyle within its immaculately landscaped grounds. Stroll across the manicured lawn, curl up with a good book in the reading sanctuary or relax in the tranquility of the Zen alcove. Unwind in the Jacuzzi, lounge around the sprawling, free-form leisure pool or keep in shape with the jogging trail and fitness stations. Let the kids enjoy the many child-friendly features like the fun jet pool, amphitheatre or adventure corner. For a touch of heritage, a historic beach house will be restored for recreational activities.

Clean, fluid lines and graceful architecture are the marks of The Sea View's timeless style. Natural light through large picture windows illuminates each apartment, making the most of the spectacular views. Each superbly fitted kitchen provides the perfect environment for your culinary indulgence. Spacious balconies allow for alfresco dining and relaxation.

The 546 well-appointed apartments and penthouses boast elegant interiors to make an intimate home. It is ideal living that the discerning will surely appreciate.

Its convenient location to amenities and the East Coast Park makes The Seaview a great place to live as it is so self- contained. It is also well-served by major expressways including the East Coast Park (ECP) and Pan Island Expressway (PIE). It takes around 15 minutes drive to Changi Airport and a mere 7 minutes to the Central Business District using the East Coast Parkway (ECP) or Nicoll Highway.
District: 15
Address: 29 - 41 AMBER ROAD
Nearest MRT: DAKOTA MRT Station (1.57 km away)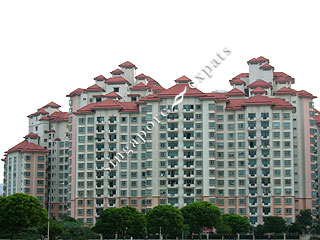 Costa Rhu is 5 minutes drive to Suntec City and Raffles Place (Singapore's financial district). Orchard Road is within a 10 minutes drive away via the East Coast Parkway or the Nicoll Highway. The East Coast Park and beaches are nearby. For water sports enthusiasts, you can head to the nearby Kallang Basin for water sports facilities. It is near the East Coast beach, seafood restaurants, Parkway Parade Mall and eating outlets.

Most of the units in Costa Rhu has a private lift lobby and every unit is finished in marble clad flooring in the living, dining and bathrooms. The kitchen is fully equipped kitchen with hob, hood and built in oven.

This condominium by the river is one of the best waterfront living in Singapore. Some of the units are facing the quiet and beautiful Kallang River basin or the sea. Units that have better views or at a higher floor usually commands a higher rental.

This development has a cafe, mini-mart, laundry shop, 2 squash courts, 2 tennis courts, a free-form resort pool resembling two dolphins and a fairly large gymnasium.
District: 15
Address: 1 - 9 RHU CROSS
Nearest MRT: NICOLL HIGHWAY MRT Station (0.56 km away)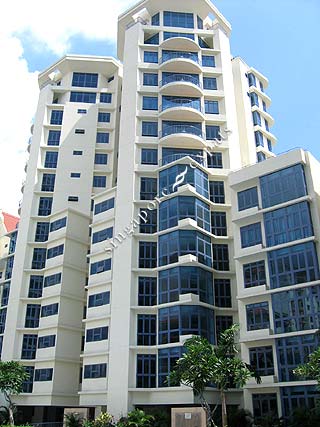 Sanctuary Green is tucked amidst other luxurious condominiums like Pebble Bay, Water Place, Waterside, Casuarina Cove, Costa Rhu and Camelot.

It's a sanctuary of its own with a lap pool, fun pool, Jacuzzi, fitness area, clubhouse with function room, a gym, a reading lounge, an aerobics workout room and squash court. Kids will enjoy the kid's pool with water feature and play area. Adults can enjoy a stroll along the boardwalk and the lush greenery that surrounds it.

Sanctuary Green is a stone's throw from Leisure Park Shopping Centre, Singapore Indoor Stadium, Singapore National Stadium and the Boulevard MRT Station. Amenities like supermarket, fast food restaurants, shops, cafes can be found in Leisure Park. Sanctuary Green is also within close proximity to the East Coast beach, seafood restaurants, Parkway Parade Mall and eating outlets.

Sanctuary Green is mere minutes from Suntec City, Marina Square and Raffles Place (Singapore's financial district). Orchard Road is within a 10 minutes drive away via the East Coast Parkway (ECP) or the Nicoll Highway.
District: 15
Address: 183 - 191 TANJONG RHU ROAD
Nearest MRT: STADIUM MRT Station (0.76 km away)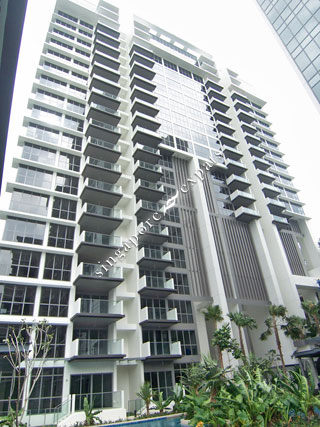 A resort-inspired tropical hideaway

Enter a realm where dazzling tropical dreams greet you at your door. One where cool, crystal blue waters reflect wispy clouds and swaying palms, beckoning you to step inside.

Inspired by old Katong's beach-front lifestyle, The Shore Residences presents a rich tapestry of splendid lagoon pools, luxuriant coconut groves and, of course, lavish shore bungalows reminiscent of the ones that used to dot the neighbourhood. Here, fantastic tropical dreams become a way of life.

Where romance comes alive

Evenings in the lagoon pool spent watching the sunset together, Dinner dates inside gorgeous 'bungalows' where you savour sweet nothings. At The Shore Residences, picture-perfect romantic scenes become daily reality.

The Active Zone - Bring your active lifestyle to a whole new level

The facilities found at The Shore Residences on the 5th storey are ideal for sculpting a perfect you. Swim towards a toned body in the 50m lap pool. Get into enviable shape at the gymnasium. And practise your serving and smashing at two tennis courts. When you are done, proceed to a cool shower and refresh yourself in the steam room.

Dining ambience reaches new heights

Few things in life beat the brilliance of dining in a cliff villa overlooking such captivating surroundings. Furnished to bestow the most magnificent experiences, with a designer-equipped kitchen, and a spa lounge and private dip pool, it is where you will discover a more beautiful side to the night at The Shore Residences.

The call of the Great Outdoors

Immerse in a world of seaside fun at East Coast Park, just a short walk away. Families will delight in outdoor pleasures like beach volleyball, cycling, and nightly BBQs. While watersports options like windsurfing, kayaking, and power boating thrill you endlessly. For a brief break from the sun, proceed to one of the many bowling alleys, golf driving ranges and holiday chalets. If you are up for it, you can even show your skills at the $7.6 million Xtreme Skate Park, Singapore's first international standard skate park*. To celebrate a day well spent, simply cool down at the many restaurants and pubs that dot the vicinity around The Shore Residences.

Charming, idyllic and well-connected

Situated on Amber Road, The Shore Residences sits peacefully in the historic Katong enclave, where you'll be surrounded by timelessly charming architecture, quaint little stalls and famed eateries. Other famous quiet getaways are also nearby, like Pasir Ris Park, Changi Point, and Siglap Village.

Despite the tranquil surroundings, The Shore Residences is nonetheless well served by an extensive transportation network. The upcoming Eastern Region Line and expressways like the ECP, PIE, and the TPE ensure that destinations like the CBD, Orchard Road, the Marina Bay area, and Changi Airport are just a short ride away.

Prime property now, a gem in the future

The Shore Residences is located close to several exciting developments. The revamped Marina Bay area is home to the soon-to-be completed Marina Bay Sands Integrated Resort and several new commercial towers. There are also government plans for developing Singapore's eastern region* that will result in new business and employment opportunities, especially in the wafer fabrication, aerospace and logistics industries.

All of which shall be made easier to access with the forthcoming completion of the Downtown Line, Eastern Region Line and the Marina Coastal Expressway.

Heart-pounding action

Get on the starting line, because the Singapore Sports Hub, a mere 10-minute drive away, will open in 2013. Set new personal records at the new National Stadium, indoor aquatic centre, and other sports facilities. Should you desire even faster thrills, anew motor racing circuit in Changi East will soon be available to fuel your addiction to action.

Renowned educational institution

Parents will delight in how the Katong area has long been home to many of Singapore's most prestigious educational institutions. A short list of just some them includes:

> Global Indian International School
> Victoria Junior College
> CHIJ Katong Convent
> Chung Cheng High School
> Dunman High School
> Saint Patrick's School
> Tanjong Katong Secondary School
> Kong Hwa School
> Tanjong Katong Girl's School
> Tao Nan School
> Victoria School
District: 15
Address: 79 - 89 AMBER ROAD
Nearest MRT: DAKOTA MRT Station (1.41 km away)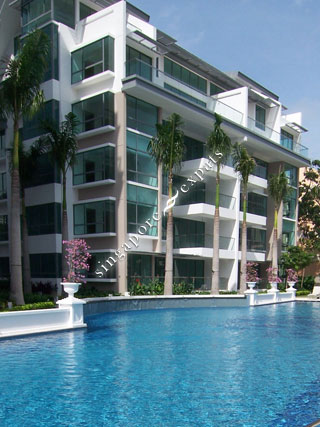 Grand Duchess at St Patrick is a 121-unit condominium located at St Patrick's Road along Marine Parade Road, one of the most popular residential enclave in Singapore

Inside Grand Duchess, be captivated by a beautiful blend of Straits Chinese architecture with British Colonial styled influences, featuring only the finest fittings and finishings, carefully handpicked and designed to blend into the rich cultural feel of Grand Duchess at St Patrick.

Enjoy hosting lavish parties in the distinct centre of attraction of Grand Duchess, a structure filled with a rich heritage of finest opulence - The Majestic Clubhouse. Be entertained by a game of chess on the outdoor giant chess set, healthy evening at the gym followed by a swim in the pool, a dip only fit for royalty. Indulge in a Grand Duchess tribute to those who appreciate the royal art of relaxation. From a selection of the theatre lounge, games or reading rooms and just laze the evening away.

Be greeted by an aroma of delectable delights as you step out of Grand Duchess at St Patrick to some of the top ranked eateries in the country. Take a break from the food fiesta or head to East Coast Park for some beachside fun or satisfy your hungry for shopping at the bustling Parkway Parade Shopping Centre or the neighbouring Katong Mall, Roxy Square and Siglap Centre. Parents will love the close proximity to schools such as Tao Nan School, CHIJ Katong Convent, St. Patrick's Secondary School, Victoria School and Victoria Junior College.

Grand Duchess at St Patrick is accessible via the nearby Pan Island Expressway (PIE) and the East Coast Parkway (ECP). Travelling to the city and the airport is convenient and easy.
District: 15
Address: 126 - 136 SAINT PATRICK'S ROAD
Nearest MRT: KEMBANGAN MRT Station (1.44 km away)
Orchard, Bukit Timah and Holland - Districts 9 and 10
Orchard Road constitutes the main shopping district of Singapore and major department stores, hotels, boutiques and dining and entertainment venues are located there. The residential precincts in this district are found on Cairnhill to the north of Orchard Road, and Killiney, Grange and River Valley to the south.
District 10 encompasses a a large residential area from Orchard (West of Paterson Road) to Holland as well as Bukit Timah precincts. District 10 is the picture of leafy surburbia with well scrubbed dwellings on generous (by local standards) plots of land with ready access to schools, both local and international, supermarkets, the Orchard malls, Holland Village and CBD areas.
We round up 10 most popular condos this month near Orchard Road and Bukit Timah.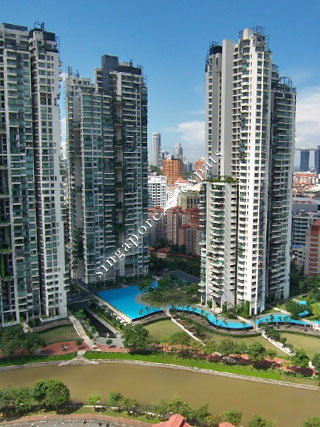 Rivergate is a 545-unit freehold condominium situated along Robertson Quay and Martin Road. Rivergate has the distinction of being one of the few waterfront homes along the Singapore River. Location however isn't all that distinguishes Rivergate. The magnificent Sky Gardens and a wealth of other choice amenities further combine to make Rivergate one of Singapore's most unique and prestigious developments.

Soaring a dazzling 43 storeys, Rivergate towers without being imposing. A testament to the ranks you've risen to, Rivergate also stands as an inspiration to those who aspire to loftier heights. If taking high office has made you well accustomed to amazing views, Rivergate promises that you come home to equally panoramic views of the city, river and the sea. That's not all. With our enchanting Sky Gardens, you'll see more than clouds and sky.

When you stay at Rivergate, you're living in a distinguished landmark at the beginning of the lovely promenade along the Singapore River from Robertson Quay towards the city. The river, you'll be delighted to know, isn't the only source of water at Rivergate. Throughout the estate, you'll find many water features enhancing the landscape, such as a 50-metre lap pool, children's pool, Jacuzzi and fountains.

All apartments in Rivergate are finished in natural colours that soothe the senses while creating a feel of warmth to welcome you home. Minimalist clean lines lend a heightened perspective of space and depth. Home at Rivergate are equipped with quality sanitary wares and electrical appliances that are aesthetically appealing and functional. All kitchens come with an oven and microware oven, as well as natural granite worktops.

Situated at Robertson Quay along Martin Road, Rivergate is mere minutes away from the Central Business District (CBD). Singapore's trendiest nightspots at Mohamed Sultan Road are also dotted along the riverbank and leisure can be pursued just as easily. From exotic cuisine and the haute couture at Orchard Road, the Esplanade with its stellar cultural performances, to the nearby excellent institutions of learning, everything awaits. In fact, thanks to the splendid location, the world revolves around you.

Rivergate is situated at the fringe of the Central Business District (CBD), which is within walking distance to the nightlife of Mohamed Sultan, Riverside Point, Clark Quay and Boat Quay. With the Somerset MRT station just minutes away and major expressways like the Central Expressway (CTE) and Ayer Rajah Expressway (AYE) nearby, transportation is convenient and quick.
District: 09
Address: 93 - 99 ROBERTSON QUAY
Nearest MRT: FORT CANNING MRT Station (0.82 km away)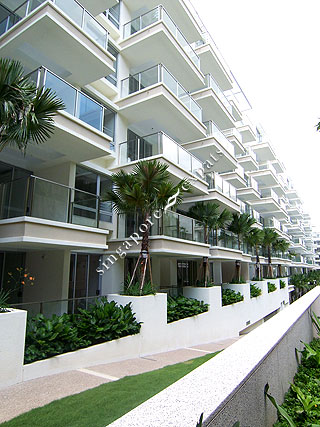 8 @ Mount Sophia is located on a elevated land along the quiet and scenic Mount Sophia near to Selegie Road and Orchard Road. It is situated next to the Istana and Plaza Singapura Shopping Mall. 8 @ Mount Sophia brings you up close and personal to Orchard Road. Designed to be a tranquil haven with an enviable address, this is a home like no other.

Amenities are aplenty around 8 @ Mount Sophia. Supermarket, fashion boutiques, cafes, banks, clinics, salons and other essentials are just around the corner. Schools including the Singapore Management University, School of the Arts & LASELLE-SIA college of the Arts are located nearby too.

8 @ Mount Sophia is within short walking distance to the Dhoby Ghaut MRT Station and is easily accessible via the nearby East Coast Parkway (ECP), driving or taking a short bus-ride to the Central Business District (CBD) is a breeze.
District: 09
Address: 8 MOUNT SOPHIA
Nearest MRT: DHOBY GHAUT MRT Station (0.29 km away)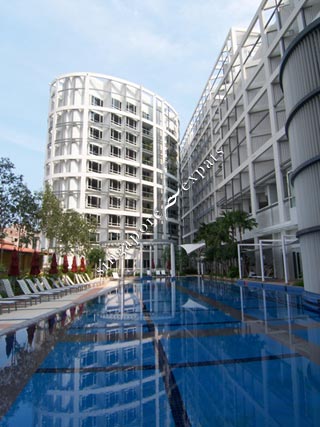 Visioncrest Residence is a mix-development which consist of 265 luxurious apartments and a commercial block. It is located at Oxley Rise near Orchard Road, Penang Road Killiney Road and Orchard Boulevard. Living in such luxury is like being at the right place at the perfect time.

Nothing spells elegance like Visioncrest Residence. It is a resplendent retreat and haven within a truly unique environment. For a start, you are surrounded by landscaped tropical gardens, with pools, waterfalls and tranquil areas. Fitness enthusiasts will love the state-of-the-art gym and tennis pavilion. And for the children, their very own play area. Enjoy a leisurely swim in the lap pool with its dramatic, horizon edge or soak in the therapeutic Jacuzzi. Be treated to an oasis of architectural bliss.
It's all here. Shopping, dining, entertaining and financial institutions all within a stone's throw from your home. Wine and dine in elegant pleasure, from local delights to fusion cuisine, Italian or Meditterranean. And at night, the picture of an exciting lifestyle is complete as Orchard area turns on a dazzling display of lights, sights and sounds to thrill the senses. From Plaza Singapura shopping centre right up to the finest hotels and world-class shopping centres. Getting around couldn't be more convenient with the Dhoby Ghaut MRT Interchange, a world-class transportation network, nearby. At Visioncrest Residence, you are truly in the right place at the perfect time with Orchard by your side.

At Visioncrest Residence, even though you're so close to everything Orchard has to offer, peace and sanctuary can be found in a moment. Right next door is the beautifully restored national monument House of Tan Yeok Nee. Across the road is the Istana Park and the museum district. Around the corner, you'll find Fort Canning Park - set amidst lush tranquility at the top of the hill. And a short walk away, is the museum district, home to the arts and Singapore's heritage. Visioncrest Residence is truly an urban oasis, rich in sophisticated styling surrounded by an environment steeped in history and culture. True to its name, Visioncrest Residence is the embodiment of aspiration and inspiration.

Inside your apartment is your own private sanctuary, you will unwind in an environment created solely for your pleasure. Select your favourite orientation and layouts to suit your individual lifestyle. You'll appreciate the delicate touches of light, glass and space, from the relaxing bay windows to the 'vision-glass' in the master bedroom. And unique to some units at Visioncrest Residence is the wet-dry kitchen, which makes entertaining a breeze. All this and more is waiting for you to create.
District: 09
Address: 33 - 39 OXLEY RISE
Nearest MRT: DHOBY GHAUT MRT Station (0.29 km away)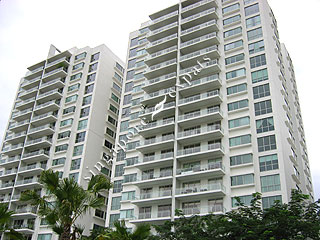 Grange Residences is one of Singapore best condominium development with a luxurious design, both on the interiors and exteriors. Its impeccable design and clean lines is a prominent landmark in the Tanglin Road vicinity. Its location makes it a preferred choice by many buyers and expats who enjoy a short walk to the Tanglin Mall, Post Office or Botanic Gardens.

It consists of two 18-storey and a 8 storey block with either a city view facing or greenery facing. All units in this condominium have high ceilings, private lift lobbies and a good sized balcony.

Coupled with well-planned layouts and top-of-the-line home fittings, the home itself becomes a work of modern art. The distinctive style of Grange Residences is accentuated within each home by clean, linear interior architecture. Coupled with well-planned layouts and top-of-the-line home fittings, the home itself becomes a work of modern art.

High ceiling foyer at the entrance of each tower
Private lift lobby in each tower
Separate European and Asian kitchens
Leicht kitchen system
Gaggenau hobs and hoods
Gaggenau dishwasher
Gaggenau microwave oven and multifunction oven
Amana refrigerator
Transtherm wine cooler
Designer brands in bathrooms:
Philippe Starck Edition 2; Villeroy and Boch

District: 10
Address: 91 - 95 GRANGE ROAD
Nearest MRT: ORCHARD MRT Station (0.98 km away)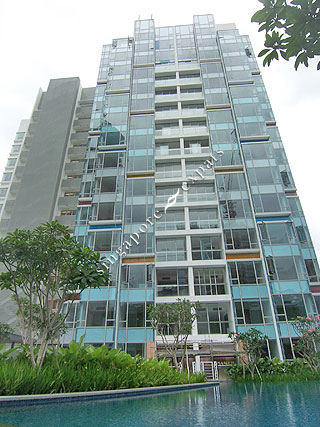 Vida is an exclusive, freehold development with a prestigious address at Peck Hay Road and Cairnhill Rise, near the shopping paradise of Orchard Road. Vida commands a sleek modernistic design with a water court at its entrance.

All homes in Vida are beautifully designed with a trendy, cosmopolitan influence. Each of the apartments is built with quality finishes and branded fittings. Vida caters to the couture lifestyle of modern cosmopolitan urbanites. A wide range of recreational facilities set in lush and fragrant landscaping welcomes residents into their own private sanctuary of rest and recreation. These include swimming pool with an infinity edge, spa massage pool, hydro-foot reflexology pool, hot tub, gym/aerobic room, lawn beds and barbeque pavilions. At Vida, you will also enjoy a personalized concierge service managed by Singapore's premier five-star service apartments, Orchard Parksuites.

Vida is within close proximity to prestigious clubs including the Tanglin Club, The Pines Club and American Club. It is situated near amenities like the Cairnhill Community Club, Cairnhill Art Centre, Newton Circus Food Centre and the popular shopping and entertainment hub along Orchard Road. Vida is also near to top schools including the Raffles Girls School, International Singapore School (ISS), Overseas Family School and Chatsworth International School.

Vida is accessible via the nearby Central Expressway (CTE) which links to all parts of Singapore. Residents can also take a short stroll to the Newton or Orchard MRT Stations.
District: 09
Address: 5 PECK HAY ROAD
Nearest MRT: NEWTON MRT Station (0.42 km away)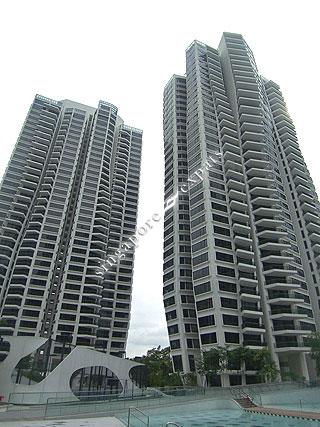 D'Leedon located in the heart of vibrant District 10, is connected to the pulse of Dempsey Hill, Holland Village and Orchard Road; tapped into the sparkle of many sough-after schools such as Hwa Chong Institution and Nanyang Primary School; fused with the energy of the Singapore Botanic Gardens and Bukit Timah Nature Reserve. With the newly opened Farrer Road MRT Station on Circle Line(CCL) at its doorstep, it is very accessible to Harbourfront and Marina Bay area.

D'Leedon bears witness to the Zaha Hadid's visionary approach to architecture, one that is deeply rooted in its context. The development takes its cue from its surroundings and in turn transforms its very surroundings, writing a new chapter in Singapore's urban development history. D'Leedon began with a study of the site's surrounding, its existing alignments, the main axis for Farrer Road, and the surrounding good-class bungalows. From there, a series of lines are drawn, each seemingly drawing in the active urban life and natural greens around D'Leedon.

Emerging from the well-manicured private gardens, within the site landscape, are seven towers. Striking, organic, these large man-made "trees" gently taper at their lower floors to allow for minimal footprint and maximum open areas on D'Leedon's generous land area. Each floor of the towers branches into petals, according to the number of units per floor.
District: 10
Address: 1 - 15 LEEDON HEIGHTS
Nearest MRT: FARRER ROAD MRT Station (0.57 km away)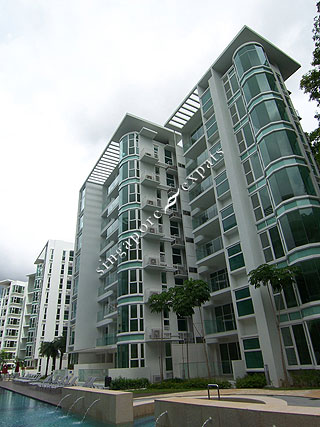 Situated on the gentle slop of a hill on Mount Emily Road near MacKenzie Road and Selegie Road, the lofty vantage point of Parc Emily lets you awake to a picture-postcard panorama of the verdant Parc Emily, the immaculate Istana grounds, and the magnificent towers of Orchard Road that stretch to the horizon under clear blue skies.

Come home to a private heaven where rejuvenation awaits in the form of lush greenery and quiet corners. Mere minutes from work and play, Parc Emily offers the best of bustling city life and private garden tranquility. Whether you enjoy the excitement of a cosmopolitan lifestyle or the tranquility of a peaceful haven, Parc Emily is an ideal home that will pamper your ever-changing mood with the best of both worlds.

Today, the area around Parc Emily exudes a quiet charm that is a perfect contrast to the frantic downtown bustle. With numerous arts, culture and education developments underway, the Bras Basah, Bugis and Rochor areas are enjoying a new lease of life. Significant historic buildings will be restored to retain the strong local identity of a district rich in multi-ethnic influences, while arts stalls, street performances, creative lifestyle shops and outdoor markets will transform the entire sector into a vibrant entertainment hub.

Energise yourself in the morning with a workout in the fully-equipped gym, swim a few laps in the 50m lap-pool, bask under the comfortable shade of a canopy of trees, or spend an evening in the clubhouse surrounded by family and friends; with its full condominium facilities, there's something for everybody anytime of the day at Parc Emily.

The meticulous attention to detail at Parc Emily is immediately apparent once you walk through the front door. Every line, texture and colour are thoughtfully and painstakingly put together for an aesthetically pleasing interior to suit any assemblage of furniture, be it classic or contemporary. Superlative quality and finishing include the finest timber floor, finely crafted wall columns and windows that allow light in to give the interior feeling of spaciousness and freedom.

Be part of the action at bustling shopping complexes, spent a romantic evening fine dining at posh restaurants under the stars, or pop by the Bras Basah / Bugis area for inspiring stage performances after a long day at work. Only minutes from the Central Business District (CBD), Orchard Road and the Brash Basah / Bugis area, Parc Emily offers you a diverse range of activities and, most importantly, ample time for work, play and everything in between. As Parc Emily is just a stone throw away from the Plaza Singapura, Park Mall, Paradise Centre, amenities such as supermarkets, food centres and shop are within a short walk away.

Parc Emily's prime address provides easy access island wide via the Central Expressway (CTE) as well as East Coast Parkway (ECP). It is about 20 minutes drive away from the Airport. The Dhoby Ghaut MRT station is only a couple of minutes away.
District: 09
Address: 5 - 15 MOUNT EMILY ROAD
Nearest MRT: LITTLE INDIA MRT Station (0.27 km away)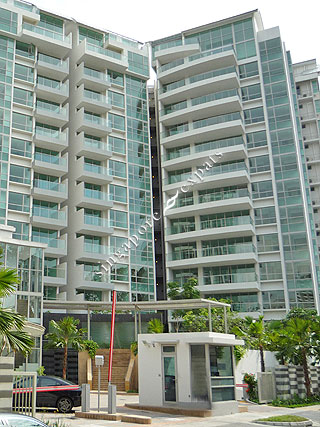 One Jervois is a freehold 275-unit condominium located along Jervois Road, off River Valley Road. Situated on the city's edge, One Jervois is surrounded by lush greenery amongst prestigious properties along Bishopsgate and Chatsworth Road.

One Jervois features extensive tropical landscapes and languid lagoons, created to soothe one's senses. One Jervois is designed to cater to any occasion, with recreational facilities ranging from a well-equipped gymnasium, tennis court, reflecting pools, BBQ decks, to relaxing spas and a multifaceted clubhouse.

One Jervois is within close proximity to prestigious institutions like Singapore Chinese Girls' School, Anglo-Chinese School and the Singapore Management University (SMU). It's strategic location allows easy access to Great World City, Orchard Road and the Central Business District (CBD).

One Jervois is accessible via the nearby Central Expressway (CTE) and Ayer Rajah Expressway (AYE) which leads to all parts of Singapore. Public transport is readily available along River Valley.
District: 10
Address: 1 - 13 JERVOIS CLOSE
Nearest MRT: TIONG BAHRU MRT Station (0.76 km away)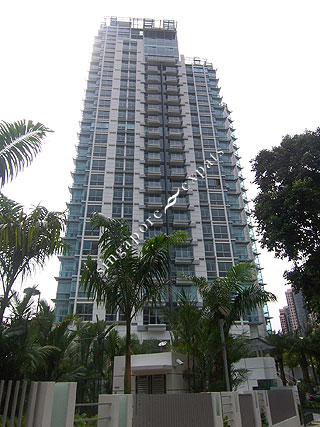 Paterson Residence is located along Paterson Road right in the heart of Orchard Road. Witness the emergence of an exclusive residence that exudes luxury and style. Soaring distinctively into the city skyline, Paterson Residence unveils an elegant and modern facade that maximizes stunning views beyond.

The definition of an invigorating lifestyle has arrived. Stay and mingle with a premier locale that is second to none. Tune to the exciting and endless array of prime dining, entertainment and shopping malls along Orchard Road, which are just steps away. Some of Singapore's finest schools and institutions are close at heart.

Because all said and done, Orchard Road and the city will always be the place to live. Quality life begins right here at Paterson Residence - a symbol of power, position and prestige.

In Paterson Residence, natural light streams into every apartment which is designed in modern, regular and functional spaces in elegant proportion and scale. Quality fittings with designer kitchen with imported appliances to complement your fine taste. Immerse in Paterson Residence - designed to give you the ultimate in luxury to create your dream home.

Paterson Residence is a stone's throw away from Orchard Road shopping and entertainment hub, Orchard and Somerset MRT Station. It offers quick accessibility to the city and Central Business District (CBD). The entertainment establishments of popular Mohamed Sultan Road are also located nearby.
District: 09
Address: 83 PATERSON ROAD
Nearest MRT: ORCHARD MRT Station (0.43 km away)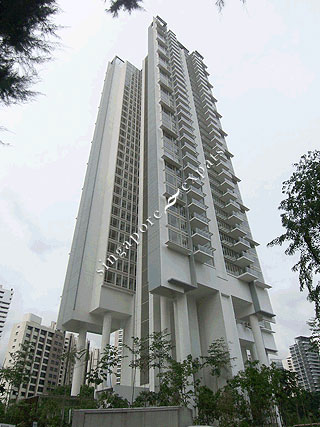 The Cosmopolitan is a twin tower freehold condominium located at the junction of Kim Seng Road and River Valley Road. From the outstanding architecture, with seven-storey-high lobbies, to lush foliage and water vistas, The Cosmopolitan simply redefines modern living. Residents of its 228 apartments can delight in facilities such as a 40-metre lap pool, jacuzzi, children's pool, residents' lounge, foot reflexology path, gym and barbeque areas.

The Cosmopolitan's interior, with its fine touches, forms the hallmark of this fashionable abode. Thoughtful details like top-of-the-line European appliances, designer fittings and a spacious, open-concept, Western kitchen are signatures of a contemporary and efficient living space.

Conveniently located in River Valley, The Cosmopolitan is just across from Great World City Shopping Centre, Zion Road Food Centre and minutes away from Orchard Road and the Central Business District (CBD).

Many amenities can be found in Great World Shopping Centre, which includes cinema, restaurants, food court, supermarkets and retail shops. For those privileged few, convenience is right at the door-step of The Cosmopolitan.

From The Cosmopolitan, it takes a mere 3-minute drive to Orchard Road and a 5-minute drive to the CBD. Public transport is easily available at The Cosmopolitan, there is even a free shuttle bus service that takes you from Great World City to Chinatown or Orchard Road. The Cosmopolitan is accessible via the nearby Central Expressway (CTE) and Ayer Rajah Expressway (AYE).
District: 09
Address: 200, 202 KIM SENG ROAD
Nearest MRT: SOMERSET MRT Station (0.86 km away)
City, Raffles Place, River Side, Sentosa - Districts 1 to 8
Most people would like to stay near to their work place. There are lots of condominiums or apartments to choose from if you are looking to stay within walking distance to the Singapore Central Business District.
Further up north is the Singapore River. Along the river there are several condominiums worth considering as it is still within a stone's throw away from the Shenton area. Expatriates love to stay in this area as there are many restaurants, pubs and clubs along the river and the Mohamed Sultan Road.
Another popular expat enclave would be on the Sentosa island, most condos at Sentosa enjoy beautiful sea view. Away from hustle and bustle of city living and yet just minutes from the business district.
We round up 10 most popular condos this month near these places.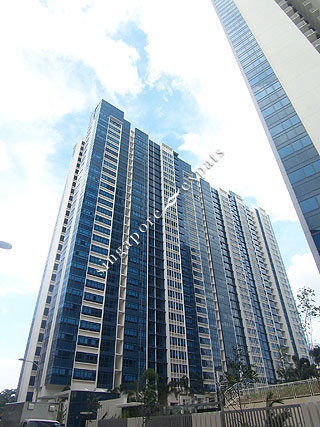 City Square Residences is a freehold condominium situated at Kitchener Link, off Kitchener Road near Serangoon Road and Jalan Besar.

A wealth of recreational facilities awaits you at City Square Residences. You get not one, not two, but a series of pools, including a 50m lap pool with Jacuzzi, kid's pool with waterplay equipment and a fun pool with fountain. If you prefer indoor activities, there's a fully equipped clubhouse with a gymnasium, function room, karaoke room, amongst a host of other facilities. There's even your own private bowling alley! If you wish to be close to nature, you can retreat to a beautiful park in your backyard. With everything you need to relax the mind, rejuvenate the body and revitalize the spirit, there's never a dull moment at the City Square Residences.

An air of grandeur permeates the modern interiors, which are tastefully appointed and lavishly detailed to take you to new heights of luxury living. Bay windows in the apartments create cosy niches for you to enjoy these views. Whichever way you look, life is always uplifting at City Square Residences.

City Square Residences stands tall to give you breathtaking views with units facing the park, the city or the beautiful landscape incorporating the pools and water features.
Most blocks are oriented north-south, and with the soothing sight and sounds of water everywhere, you'll experience resort living right at home and right in the city.

City Square Residences stands as a soaring example of well-integrated living, where everything you need is within your reach. Shopping will no doubt become a way of life for the entire family at City Square Residences, where over 700,000 sq ft of exciting shops, restaurants and even a Cineplex beckon from right next door. A hypermarket, specialty shops, boutiques, cafes, and shops dedicated to beauty, health, travel and household needs are all easily within your reach. Life will never be the same again with so many things to see and do under one roof. With a location that puts everything you need within easy reach, City Square Residences is the epitome of convenience and city living.

City Square Residences is only a short 2-minute stroll away from the Farrer Park MRT Station and enables easy access to the city. City Square Residences is accessible via the nearby Central Expressway (CTE) and East Coast Parkway (ECP). Commuting to the Central Business District (CBD) and the Changi International Airport is convenient and easy.
District: 08
Address: 2 - 14 KITCHENER LINK
Nearest MRT: FARRER PARK MRT Station (0.44 km away)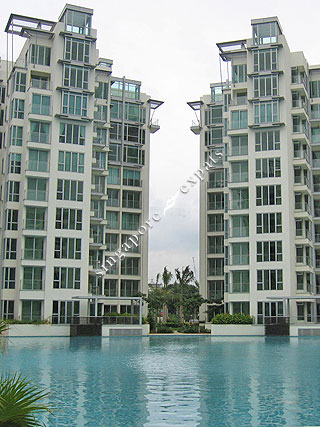 At Caribbean at Keppel Bay, every home sits just metres from the sea or a waterway, to give you the total ambience of a waterfront lifestyle. Full-height windows make the most of spectacular views, and a marina is a mere stroll away. In addition, with every amenity nearby, all your entertainment and recreational needs will be easily met. All of which make for a fashionable lifestyle at the pulse of waterfront living.

Caribbean at Keppel Bay is the first truly waterfront district in Singapore, designed for those who love to live by the sea with its breathtaking sea views, a grand marina and spectacular waterways right up to the unit.

This development, which sits on a former shipyard site, offering splendid 2-, 3- and 4-bedroom apartments and penthouses, with floor areas ranging from 840 sq ft to 6,135 sq ft. Residents can enjoy spectacular sea views as well as panoramic views of the lush greenery of Mount Faber and the Keppel Golf Club, also a 5 minutes drive to Sentosa Island.

A cable-stayed bridge connects your home to the marina on Keppel Island, so you can stroll across to your yacht, berthed in calm blue waters. It's the perfect gateway for cruising, fishing or island hopping. Explore Sisters Island, St John's Island and the Southern Islands. Or sail as far as the Riau Islands or Malaysia coast.

Caribbean at Keppel Bay offers residents intelligent and quality living, complete with smart features including keyless entry, WebPad to control home systems and access the apartment's web portal, remote home automation and broadband network and wired local area network.

Contemporary interiors with full-height windows afford you spectacular views here at the Caribbean. Boosted with sophisticated finishes, life by the water is a unique experience.

» Choice of 2-, 3-, 4-bedroom or penthouse apartments
» Private lift lobbies for most apartments
» Full-height French windows
» Built-in wardrobes
» Ducted air-conditioning in living, dining and family areas
» Safe in master bedroom

Through smart systems, it is convenient living at the Caribbean. Keyless entry using a proximity for a easy access to your own private lift lobby and apartment. It also allows for entry to the Caribbean via the promenade and side gates, as well as access to clubhouse facilities.

WebPad allows you to screen visitors waiting at the lift lobby and grant them access to the private lift leading up to the unit. You can also access the condominium portal to shop online, check your personal inbox, send email to friends and neighbours, and facilities from the comfort of home.

If you install the home network, multiple members of your family can enjoy speedy surfing using an ''24 hours turn on' broadband network. Another fantastic feature is that you will feel at ease with network camera that allows you to keep a watch over your children when they are at the compound.

In a nutshell, you can also do the following easily:
» Book facilities, announce events, access community news
» Access useful information and e-services
» Manage your household using a personalised family calendar and message board
» Interact with friends and neighbours via email accounts
» Shop for groceries
District: 04
Address: 4 - 46 KEPPEL BAY DRIVE
Nearest MRT: HARBOURFRONT MRT Station (0.76 km away)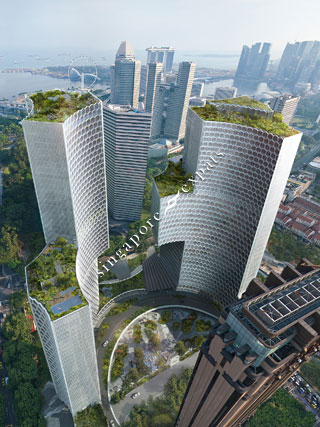 DUO Residences - Embrace exclusive living in the heart of the city.

The city has a new capital and it is redefining Singapore's striking skyline. Welcome to DUO Residences, an extraordinary integrated development that features two landmark towers rising from the arts, cultural and educational precinct of the Bugis district. With premium residences, Grade A offices, a 5-star hotel and retail gallery, DUO Residences is more than the sum of its parts – it will revitalise the way you live, play and work.

DUO RESIDENCES is located along FRASER STREET in district 07 (Beach Road, Bugis, Rochor) of Singapore. DUO RESIDENCES is a 99-year Leasehold Condo development consisting of 660 units.

When quality time is such a priceless commodity, you shouldn't have to go far to enjoy it. At DUO Residences, you can discover meaningful spaces for your private indulgence as well as bonding moments with family and friends. Make a splash at The Upper Deck. Take a serene stroll at The Green Enclaves. Retreat to The Inner Space. And to top it off, enjoy a mesmerising vista at The Peak.

Educational institutions like JEWELLERY DESIGN & MANAGEMENT INTERNATIONAL SCHOOL, INSWORLD INSTITUTE, CHATSWORTH INTERNATIONAL SCHOOL (ORCHARD), STAMFORD PRIMARY SCHOOL, ST. MARGARET'S PRIMARY SCHOOL and FARRER PARK PRIMARY SCHOOL are near to DUO RESIDENCES.

Be a sassy neighbour to Bugis Junction, a vibrant retail mall. DUO Residences, mere minutes from Orchard Road, the Central Business District and Marina Bay. Enjoy easy accessibility to Changi Airport via the East Coast Parkway. With a direct underground connection to Bugis MRT Station, served by the East-West line and upcoming Downtown line, home is a place that is always close to everything.
District: 07
Address: 1, 3 FRASER STREET
Nearest MRT: BUGIS MRT Station (0.24 km away)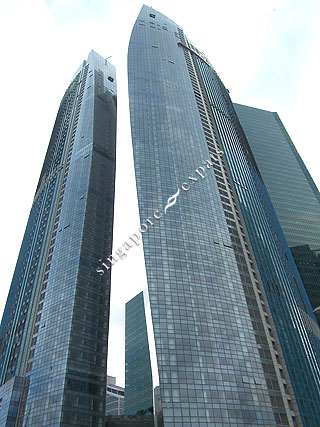 The Sail @ Marina Bay is the new icon set at the skyline of Marina Bay, which is located in Marina Boulevard. It is considered a 6-star waterfront lifestyle condominium.

An architectural icon soars to greet the sky, the structure of The Sail is 245 metres and 70 storey high. The Sail is Singapore's tallest condominium / apartment and it is among the top 10 tallest residential building in the world.

This development offers panoramic city view of Marina Bay and the sea. It is close to the Suntec City, proposed Integrated Resort with Casino, Esplanade, Singapore River. Targeted to set a new benchmark for an integrated lifestyle environment.

From 1 bedroom to 4 bedroom types as well as penthouses, all 1,111 luxury units are meticulously designed to maximise space usage and to integrate both office and home into one complete lifestyle concept.

Every unit at The Sail @ Marina Bay will take full advantage of its iconic location with commanding views of the spectacular Marina Bay and beyond, the impressive skyline of Singapore or the aerial park vista of the neighbouring Central Linear Park.

For excellent service with a ready smile, rely on the hotel-styled concierge, exclusively only for residents of The Sail @ Marina Bay.

Indulge in the infinity-edged pool. Work out at the unique aqua gym, or the comprehensive gymnasium with a panoramic vista of the Marina Bay. Luxuriate in extensive spa facilities. Play a game at the tennis courts. Everything you need for total health and wellness is right here.

The Recreation Room and Executive Club Lounge on the 34th storey of the Central Park Tower and 44th storey of the Marina Bay Tower sky terraces, respectively, are lavishly furnished and spill out to open-air gardens. Landscaped for meditative fitness, the sky terraces present breathtaking views of the dynamic skyline and the sea.
District: 01
Address: 2, 6 MARINA BOULEVARD
Nearest MRT: DOWNTOWN MRT Station (0.2 km away)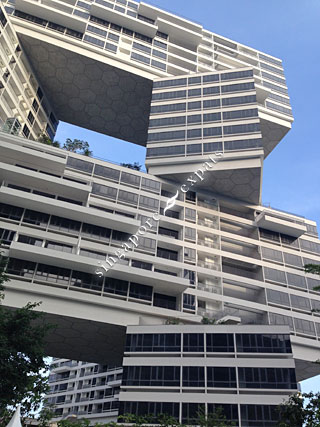 The Interlace Singapore by Capitaland and HPL, located along Alexandra Road, this unique project is tucked within the Southern Ridges green belt of Singapore where residents are offered a host of parks and nature walk at their doorsteps. Designed by internationally renowned Office for Metropolitan Architecture, this 1,040 unit condominium is designed in a hexagonal arrangement fashion that breaks away from the traditional typology of residential development properties.

The Interlace is also carefully designed to interconnect its communal spaces to integrate with the surrounding green landscape and emphasis on nature. The layout of the thirty one blocks, each identical in height and length, is designed to encourage the natural flow of light and air for the units. On the roof of each block lies a green bed of garden where its residents can unwind after a long day at work.

The Interlace brings a contemporary interpretation to life in a vertical village. Its unique architecture evokes a distinct sense of identity. Its commitment to nature speaks of a shared belief and its generous communal spaces invite the cultivation of everlasting bonds.

Strategically situated at the junction of Alexandra Road and Depot Road, regardless of the nature of your trip, The Interlace's location will make light of it. Reputable international and local educational institutions intersperse at hand. Popular shopping, dining, and entertainment spots interplay within reach and notable commercial and research trade bodies interconnect within minutes.
District: 04
Address: 180 - 226 DEPOT ROAD
Nearest MRT: LABRADOR PARK MRT Station (1.08 km away)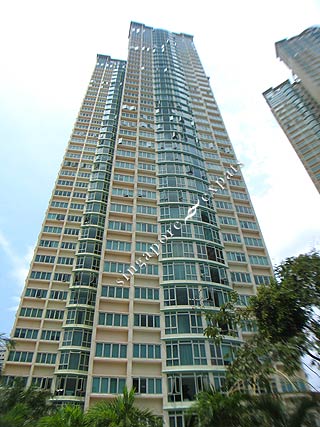 Queens, one of the highest condo in Singapore, is a majestic visual spectacle, three towers - Buckingham, Hamptom and Windsor, soar 387 metres into the curtains of clouds and sky.

Hampton block does not have any afternoon sun and is nearest to the exit gate to the MRT station. Buckingham block may face a HDB construction and the Queenstown subway. Windsor block is nearer to the driving range.

Queenstown MRT station right located right beside the condominium and several bus services serving the area, this place is extremely accessible by public transportation. The Central Business District (CBD), Shenton Way and the western industrial estates are minutes away.

Queens is also close to Orchard Road, IKEA mall, downtown business district, good schools, shopping mall and amenities.

It has also one of the most luxurious pools in Singapore with a tall water feature that runs down like a water fountain.
District: 03
Address: 10 - 16 STIRLING ROAD
Nearest MRT: QUEENSTOWN MRT Station (0.23 km away)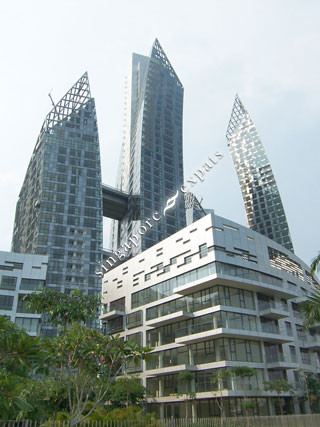 Reflections at Keppel Bay, a waterfront condominium like a piece of modern art of soaring towers and elegant villa-styled low-rises, crowned with lush sky gardens on sloping roofs, rise from Keppel Bay. The architecture of Reflections at Keppel Bay leaves one breathless.

The alternating heights of the towers at Reflections at Keppel Bay creates an arresting interplay of changing light planes and reflecting angles, presenting spectacular views at every turn. Sky bridges will link the towers, and provide 360-degree views of tranquil Keppel Bay and the lush surroundings.

Every detail of Reflections at Keppel Bay is designed to invigorate the mind, body and soul. A reflecting pool spread over 100,000sq ft will bring calming waters to the six towers and 11 low-rise villas. Lifestyle amenities such as an exclusive clubhouse, an Olympic-length swimming pool and a state-of-the-art gymnasium will rival those of prestigious private establishments.

Reflections at Keppel Bay's location is priceless. Stone's throw from the Harbourfront MRT Station and shopping malls and minutes from the city and business district, yet it lies within one of Singapore's best loved nature and recreation enclaves. What's more, its exceptional offering of a premier live-work-play waterfront environment meets a worldwide trend towards this new lifestyle.

Singapore's southern waterfront hub is undergoing fast and dramatic transformation which includes Keppel Bay, the multi-billion dollar Sentosa Integrated Resort and the development of Sentosa into a premium resort. This trend, along with the romance and rare opportunity of living by the sea, have created exceptional demand for luxury waterfront homes like Reflections at Keppel Bay in this area.

Reflections at Keppel Bay sets a new benchmark in real estate investment. Every aspect, from its developer and architect, its quality of finishing and luxurious style, its priceless location and surrounding world-class attractions, as well as the prestige of ownership, will make Reflections at Keppel Bay the luxury residential waterfront development of choice in Asia.
District: 04
Address: 1 - 33 KEPPEL BAY VIEW
Nearest MRT: TELOK BLANGAH MRT Station (0.57 km away)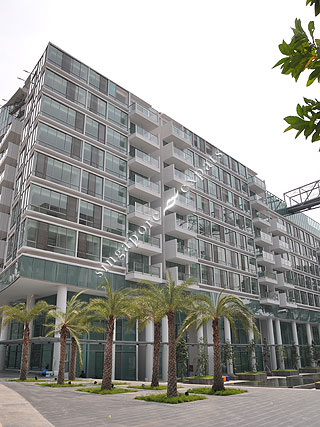 One North Residences is a 99-year leasehold condominium located at One-North, the new economy hub in Buona Vista. One-North is a unique 200-hectare development built upon a grand vision for the future of biomedical, infocomm and digital media industries in Singapore.

Housing at One-North provides a variety of choice and convenience in style and amenities as well as the flexibility of conducting business from home. The variety of housing available at One-North ranges from work lofts, colonial black & white houses at the heritage areas such as Rochester Park, Wessex Estate and Nepal Hill, One North Residences, as well as hotels and service apartments in Vista Xchange and Fusionopolis for the transient community.

One North Residences is within close proximity to amenities at One-North, Biopolis and the popular Holland Village. Hip restaurants, Bistros, markets and eateries can be found along Rochester Park, Holland Village, Holland Drive Market and Dover Road Market. Educational institutions such as Anglo-Chinese Junior College, Fairfield Methodist Primary School and Insead are located within close proximity to One North Residences.

Public transport is readily available at the doorstep of One North Residences. The Buona Vista MRT Station and the upcoming One-North MRT Station are within short walking distance. One North Residences is easily accessible via the nearby Ayer Rajah Expressway (AYE) which leads to the Central Business District in 15 minutes.
District: 05
Address: 7, 9 ONE NORTH GATEWAY
Nearest MRT: ONE NORTH MRT Station (0.41 km away)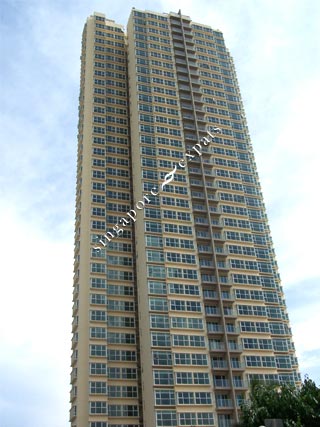 MeraPrime brings comfortable homes to life in style. Taking the form of a 36-storey skyscraper with a unique rooftop sky garden, MeraPrime will feature sleek architecture for a modern look. Internally, functional design combines with quality fittings for the perfect finish. Within the grounds, full condo facilities consisting of a swimming pool, a gym, tennis court, BBQ pits, a fitness corner and a children's playground take the spotlight.

MeraPrime is a stylish 213-unit condominium in central Singapore. Sitting at the doorstep of the Tiong Bahru MRT Station and bustling Tiong Bahru Plaza, MeraPrime offers the ultimate in convenience. Public transport, shops, eateries, supermarkets and boutiques are mere minutes away. No longer will getting to work or to the shops be a hassle as the superb road and rail networks serving the area make other parts of Singapore easily accessible.

Meraprime is located close to both the Business District and the Orchard Road shopping and entertainment area. Commuting to Orchard Road takes only 10 - 15 minutes whereas the Central Business District is only 10 minutes away either by train or car.
District: 03
Address: 301 JALAN BUKIT HO SWEE
Nearest MRT: TIONG BAHRU MRT Station (0.15 km away)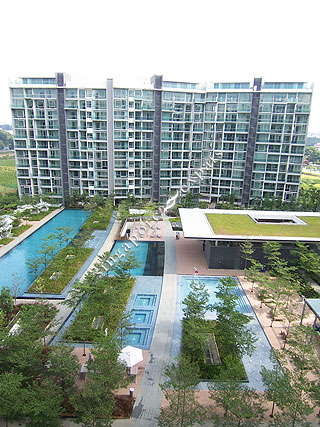 Nestled in West Coast Park, Botannia is the epitome of a home built in perfect harmony with nature, surrounded by low-rise landed property and lush greenery. Botannia emphasises on clean lines and natural ventilation, perfect for those seeking a bright, breezy environment.

Botannia comprises of 493 units of 2 to 4-bedroom apartments and penthouses. Every unit enjoys well-appointed and superbly finished living spaces with large windows, generous balconies and plentiful natural sources of light contribute to a wonderful outdoor/indoor feel.

At Botannia, relax and melt away all your tensions with a few laps in the lap pool, workout at the well-equipped gymnasium or enjoy a billiard game in the clubhouse, which is ingeniously integrated into Botannia's graceful landscaped terrain.

Located just minutes away from West Coast Road and Clementi housing estate, residents of Botannia will enjoy the convenience of having amenities close by.

Botannia is accessible via the nearby Ayer Rajah Expressway (AYE) and West Coast Highway. Commuting to the Central Business District (CBD) takes about 15 minutes.
District: 05
Address: 27 - 33A WEST COAST PARK
Nearest MRT: CLEMENTI MRT Station (1.29 km away)
Are you full of rage by unknown calls from a telemarketer, salesperson, enemies or some kind of robocallers and just want to Block their Phone Number on your iPhone then Apple allows you to limit the communication other than your contact list? You will not receive phone calls, iMessage and Facetime .....



Posted in Staying, Living in Singapore
Re: S Pass Rejected and Appeal 2020
Hi, do you know what proof can this agent show me for the withdrawal of my spass application? Such as the withdrawal receipt? Is there something like that?



Posted in PR, Citizenship, Passes & Visas for Foreigners
I just got approved last week after 6 months and 1 week.

Age: 30
Nationality: Malaysian
Race: Chinese
Education: sg private diploma (pt)
Industry: software
Salary: 50k+ when applying

Working here since 2015 and holding WP all the while. Changed to SP not too long ago before the application. Had a .....



Posted in PR, Citizenship, Passes & Visas for Foreigners
I shortlisted to these 2 locations, one is laid back and the other is a buzzling city. Has anyone lived in any of these districts, can you share your experience living there?



Posted in Articles
Re: question regarding Form IR8A if working remote
Thanks MD appreciate it. For what it's worth I agree with your assessment of the Trump tax cuts :) Good luck in your retirement.



Posted in Careers & Jobs in Singapore