Singapore Expats Services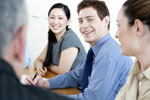 Singapore Expats provides relocation, resource and housing guides for expatriates, would-be expat and even Singaporeans. Read about our background HERE.
Our Services
Property Classifieds
If you are an Expat about to be expatriated to Singapore, this is the place for you. With extensive links to information about Singapore, you get to learn more about the country before you arrive, our site also contains pictures, maps, reviews and many other information about thousands of properties in Singapore. Need a professional registered realtor to represent you? We recommend an agent for you!
We have the most comprehensive classified listings for apartments, condominiums, houses and commercial properties. Our Singapore Property Classifieds has the largest multiple property listings in Singapore.
If you are a property agent, support us by signing up a Property Account which enable you to post ads, browse thousands of floor plans and site plans (not available to public), search direct owner listings and more! Property owners can also post a property ad to our Property Section.
Service Apartments
We have a comprehensive list of Serviced Apartments for online reservations. Including detailed information like facilities, prices and descriptions.
Web services - Classifieds, Condo, Forum, Property
SingaporeExpats.com is aiming to be the one-stop portal for our expatriates and local visitors. By providing sections like the Classifieds and the very popular Expat Forum, we hope our visitors can discuss or exchange information in the Forum, organize events or even post an advertisement with pictures in the Classifieds!

The difference in places like the US is that the public transport system is not nearly as advanced as it is in Singapore so a lot of times if you don't have a car .....



Posted in Certificate of Entitlement (COE)
Hi to all!I'm the main tenant of our unit. I informed one of the tenant :-| that she will not be renewed or she will be end of contract.But she response to me that she stay longer to the unit and I don't have the right to end her contract. I already informed the owner/landlord for this matter .....



Posted in Property Talk, Housing & Rental
Undecided for Relocating to Singapore
Hi all,

I have been offered a chance to relocate to Singapore from Hong Kong in my company. While the opportunity may seem tempting but if my family is going to stay in SG for several years to develop my career there, I am thinking whether it is viable to really settle in SG and call it a home.

I .....



Posted in Relocating, Moving to Singapore