Singapore Expats Services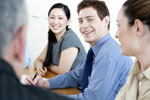 Singapore Expats provides relocation, resource and housing guides for expatriates, would-be expat and even Singaporeans. Read about our background HERE.
Our Services
Property Classifieds
If you are an Expat about to be expatriated to Singapore, this is the place for you. With extensive links to information about Singapore, you get to learn more about the country before you arrive, our site also contains pictures, maps, reviews and many other information about thousands of properties in Singapore. Need a professional registered realtor to represent you? We recommend an agent for you!
We have the most comprehensive classified listings for apartments, condominiums, houses and commercial properties. Our Singapore Property Classifieds has the largest multiple property listings in Singapore.
If you are a property agent, support us by signing up a Property Account which enable you to post ads, browse thousands of floor plans and site plans (not available to public), search direct owner listings and more! Property owners can also post a property ad to our Property Section.
Service Apartments
We have a comprehensive list of Serviced Apartments for online reservations. Including detailed information like facilities, prices and descriptions.
Web services - Classifieds, Condo, Forum, Property
SingaporeExpats.com is aiming to be the one-stop portal for our expatriates and local visitors. By providing sections like the Classifieds and the very popular Expat Forum, we hope our visitors can discuss or exchange information in the Forum, organize events or even post an advertisement with pictures in the Classifieds!
Re: British - Moving to SG (Wife is SC)

We both work for a Casino Group in the UK. It is owned by Guoco but the company itself doesn't have any presence in Asia. Not exactly the most secure looking industry post Covid - but plenty of transferable skills.


You will .....



Posted in Relocating, Moving to Singapore
My Mandarin and English for your Korean
Hi,

I am looking for a native Korean to help each other learn language for versatile livings.
I like and also look like Korean😄
Please write to me At nina.dong@live.com.



Posted in Language Exchange
Re: Opening a bank account in Singapore as a EU citizen
For what I use it for (bus card and credit card) Revolut has been pretty good. But I do hear that covid has impacted them and they have laid off a lot of staff. Monza, similar space, also is struggling. On the other hand, Starling has been thriving. Hadn't actually heard of Starling until .....



Posted in Relocating, Moving to Singapore
Re: Man charged with possessing 150 unlicensed arms
Given that this is Singapore you have to be some sort of idiot to try and sell any form of gun here, especially online.



Posted in Business in Singapore
How would you get the free vbucks currency online.
Access our to fill up your Fortnite gaming account with tons of free Vbucks at ease. We welcome you to the new world of Fortnite, where you must stay unique to save the entire world from crisis and cope up with your co-players or friends. All you .....



Posted in Sports & Recreational Partners & Team