Singapore Expats Services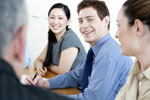 Singapore Expats provides relocation, resource and housing guides for expatriates, would-be expat and even Singaporeans. Read about our background HERE.
Our Services
Property Classifieds
If you are an Expat about to be expatriated to Singapore, this is the place for you. With extensive links to information about Singapore, you get to learn more about the country before you arrive, our site also contains pictures, maps, reviews and many other information about thousands of properties in Singapore. Need a professional registered realtor to represent you? We recommend an agent for you!
We have the most comprehensive classified listings for apartments, condominiums, houses and commercial properties. Our Singapore Property Classifieds has the largest multiple property listings in Singapore.
If you are a property agent, support us by signing up a Property Account which enable you to post ads, browse thousands of floor plans and site plans (not available to public), search direct owner listings and more! Property owners can also post a property ad to our Property Section.
Service Apartments
We have a comprehensive list of Serviced Apartments for online reservations. Including detailed information like facilities, prices and descriptions.
Web services - Classifieds, Condo, Forum, Property
SingaporeExpats.com is aiming to be the one-stop portal for our expatriates and local visitors. By providing sections like the Classifieds and the very popular Expat Forum, we hope our visitors can discuss or exchange information in the Forum, organize events or even post an advertisement with pictures in the Classifieds!
What Is The VigorNow Male Enhancement A Scam?
The huge point of view of is to give you blended and remarkable advantages through the potential gain of which your existence as an individual of .....



Posted in 20's Club
Green CBD Gummies Latest Formula For Aches | Cost And Buy?
Stress and hypertension are amazingly ordinary issues of individuals. A large number of individuals experience the evil impacts of tension and it can in like manner impact rest quality. People start losing their center on account of these issues anyway we have a thing that can additionally foster .....



Posted in 20's Club
Trường đa chương trình giảng dạy
Học sinh Trung học (lớp 6 đến lớp 10) có thể chọn CBSE hoặc chọn Chương trình Trung học cơ sở của Cambridge (CLSP) và chuyển sang hoàn thành chương trình IGCSE ở Lớp 10.
Học sinh Trung học (lớp 11 và 12), được lựa chọn giữa hai chương .....



Posted in 20's Club