Facts at a Glance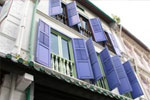 This page covers information and statistics of Singapore. Including events and holidays in Singapore, population, land size, the Singapore flag and other useful tips.
Events and Public Holidays
Singapore's polyglot population celebrates a number of festivals and events. Chinese, Hindu and Muslim celebrations follow a lunar calendar so dates of festivities vary from year to year.
Chinese New Year, in January or February, is welcomed in with dragon dances, parades and much good cheer. Chinatown is lit up and there are fireworks and night markets.
During Ramadan, food stalls are set up in the evening in the Arab Street district, near the Sultan Mosque. Hari Raya Puasa, the end of Ramadan in January or February, is marked by three days of joyful celebrations.
Vesak Day in April or May celebrates Buddha's birth, enlightenment and death. It is marked by various events, including the release of caged birds to symbolise the setting free of captive souls.
The Dragon Boat Festival, held in May or June, commemorates the death of a Chinese saint who drowned himself as a protest against government corruption. It is celebrated with boat races across Marina Bay.
The Festival of the Hungry Ghosts is usually celebrated in September. This is when the souls of the dead are released for feasting and entertainment on earth. Chinese operas are performed for them and food is offered; the ghosts eat the spirit of the food but thoughtfully leave the substance for the mortal celebrants.
The festival of Thaipusam is one of the most dramatic Hindu festivals and is now banned in India. Devotees honour Lord Subramaniam with acts of amazing body-piercing masochism - definitely not for the squeamish. In Singapore, devotees march in procession from the Sri Srinivasa Perumal Temple on Serangoon Road to the Chettiar Hindu Temple on Tank Road. The festival is based on the lunar calendar but will be held in October for the next couple of years.
Public Holidays in 2020

New Year's Day

1 Jan

Chinese New Year

25 Jan - 26 Jan

Good Friday

10 Apr

Labour Day

1 May

Vesak Day

7 May

Hari Raya Puasa

24 May

Hari Raya Haji

31 July

National Day

9 Aug

Deepavali

14 Nov

Christmas Day

25 Dec
Facts and Figures
Quick Facts

Full country name:

Republic of Singapore

Area:

715.8 sq km

Population:

5,638,700 (29.1% foreigners)

People:

74% Chinese, 13% Malay, 9% Indian, 3% Others

Language:

English, Malay, Mandarin and Tamil

Religion:

9% Taoist, 42% Buddhist, 15% Muslim,
15% Christian, 4% Hindu, 15% Others

Government:

Parliamentary democracy

President:

Halimah Yacob

Prime Minister:

Lee Hsien Long

Major industries:

Shipping, banking, tourism, electrical & electronics, chemicals, oil refining

Major trading partners:

US, Malaysia, Hong Kong, Japan

Health risks:

None

Time:

GMT/UTC+8

Electricity:

220-240V, 50 Hz

County code:

+65

Mobile Phone network:

3G, 4G

Weights & measures:

Metric with local variations

General Information
Banking
The local currency is Singapore dollars and cents. Notes come in denominations of SGD 2, SGD 5, SGD 10, SGD 20, SGD 50, SGD 100, SGD 500, SGD 1,000, and SGD 10,000. Coins come in denomination of 1, 5, 10, 20 and 50 cents and SGD 1.
Banking hours are Monday to Friday: 10 am to 3 pm, and Saturday: 9.30 am to 1 PM (some banks are open until 3 PM). Sunday, 9.30 am to 3 PM (some banks in Orchard Road). Most banks handle travelers' cheques and change foreign currencies. However, some banks do not have foreign exchange dealings on Saturday. Passports are required when cashing travelers' cheques. A nominal commission may be charged.
Credit / Charge Cards
Major cards are widely accepted by establishments in Singapore. Should any shop insist on adding a surcharge, contact the respective card company to report the errant shop-owner.
Drinking Water
It is perfectly safe to drink water straight from the tap in Singapore. However, for those who prefer bottled mineral water, local supermarkets and grocers always have ample stocks.
Immigration
Visas: Most Western nationals either do not require a visa at all or do not require a visa for a social stay of up to 90 days. A 30-day permit is issued on arrival, and extensions are difficult to obtain.
Law
Singapore's government is strict on drug laws, with the death penalty applied for drug trafficking. It is also against the entry of firearms, controlled drugs, endangered species of wildlife, chewing gum and cigarette lighters in the shape of a firearm. Smoking in public buses, the MRT, taxis, lifts and air-conditioned places is also deemed against the law; with fines up to S$1,000. The government is also adamant that littering is an offence and carries penalties of a fine of S$1,000 or more; and also a stint of corrective work order.
Tipping
Tipping is seldom necessary, as a 7% goods and services tax (GST) and a service charge of 10% is usually added automatically (though always double-check the bill). However it is customary to spare a few dollars for efficient waiters, bellboys and taxi drivers.

Singapore Flag
The colours of the Singapore flag represent red for brotherhood and equality; white for purity and virtue. The crescent moon represents a young nation on the rise. The five stars stand for Singapore's ideals of democracy, peace, progress, justice and equality.
The crescent moon originally served as a symbol of assurance to the Malays in 1959 —the year the flag was designed— that Singapore was not a Chinese state. Today it is generally said that the moon signified a young nation rising. The flag was designed initially to have three stars, until leaders such as then Deputy Prime Minister Toh Chin Chye expressed concern that Singapore might be perceived to have associations with the Malayan Communist Party, the flag of which also had three stars. The flag was originally meant to be red as red is a very traditional Chinese color. But because of the fear of Communism in those days, a completely red flag was abandoned.

Re: the "not whiskey" about malaysia
medical care is cheaper and probably is just as good. i saw a specialist here a few months ago.

there's a thomson medical hospital about 15 minutes away from my place. sunway specialist center is about 10 minutes away.

but i get to do other things in sg when i head back.

also, the drive is .....



Posted in Leisure Chat, Jokes, Rubbish
Re: the "not whiskey" about malaysia
The agent was probably referring to the Sarawak MM2H. They're still on the previous requirements, way more feasible. Ditto Sabah btw.

Either way, the current Putrajaya nose-bleed requirements are going to be reversed back to something similar to the previous version any day now. I reckon you .....



Posted in Leisure Chat, Jokes, Rubbish
Re: the "not whiskey" about malaysia

Hope the symptoms subside, and that it isn't long Covid. Some of my girlfriends still have trouble with smelling and tasting, and have never had their stamina fully restored.


my stamina is messed up : (

i get winded - fast!



Posted in Leisure Chat, Jokes, Rubbish