Singapore Apartments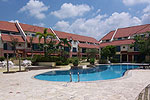 Looking to rent an apartment in Singapore? Search in our Singapore Property Classifieds for all apartments for Rent or Sale including condominium, penthouse, walk-up apartment, maisonette, townhouse OR highlight the apartment that you are interested in and fill up the form below. We can then recommend an agent to attend to your enquiries.
Kindly furnish information in full, for example: 'Looking for Orchard condo 2 rooms, budget $4k, needs pool'.
If you are a house owner and are renting or selling your property, you can advertise your property HERE.