Singapore Apartments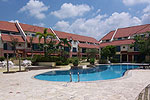 Looking to rent an apartment in Singapore? Search in our Singapore Property Classifieds for all apartments for Rent or Sale including condominium, penthouse, walk-up apartment, maisonette, townhouse OR highlight the apartment that you are interested in and fill up the form below. We can then recommend an agent to attend to your enquiries.
Kindly furnish information in full, for example: 'Looking for Orchard condo 2 rooms, budget $4k, needs pool'.
If you are a house owner and are renting or selling your property, you can advertise your property HERE.
Hi guys. Recently I've applied LTVP for my husband and I would like to share the process with anyone whose applying it hoping it can help clear some confusion.

I'm SC and hubby is malaysian WP. Applied PMLA and it was successful hence proceeded to apply for LTVP.

The first time I applied for .....



Posted in PR, Citizenship, Passes & Visas for Foreigners
Re: PR, Citizenship profile evaluation 2023
@MOCHS @Lisafuller
Thank you very much for the inputs, I will come back next year and update on my PR application status.



Posted in PR, Citizenship, Passes & Visas for Foreigners
Re: What do you find more convenient here?

:-#


You had a different experience to be sure. But how many people come face to face with that in their lifetime? Definitely nobody else that I know.



Posted in Leisure Chat, Jokes, Rubbish