Property Account Sign Up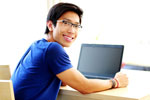 Property Account enables one to login to place property ads in our Property Section. Be distinctive by marketing in the leading expats website and impress your clients that you are a Property Account subscriber with SingaporeExpats.com.
Property Account Sign Up
Property Account Features:

Post Singapore property ads or properties of any other countries. Users will be able to call or contact you via online form, SMS form or Whatsapp (if user is using mobile)
Screenshots: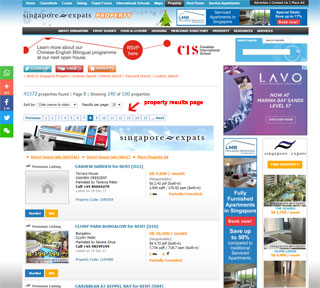 Property Listings Result Page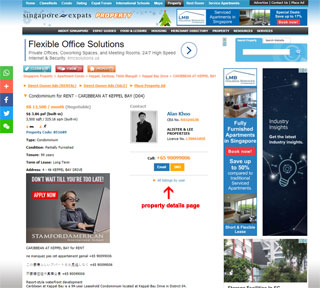 Property Listing Details Page

Auto refresh listings every 7 / 14 days

Browse through thousands of floor plans and site plans (not available to public)
Screenshot

Search private sales transactions records to get price, PSF and address with block and unit number
Screenshot

Free Featured Agent in the Condo Directory
Screenshot

Search direct open listings and owner listings
Screenshot 1 | Screenshot 2
Rates for Property Agents and Individuals:
Option 1: Premium 30 Account: $288 a year for 30 concurrent listings (7 days auto refresh)
Option 2: Premium 10 Account: $138 a year for 10 concurrent listings (14 days auto refresh)
Option 3: Premium 5 Account: $88 a year for 5 concurrent listings (14 days auto refresh)
For Corporate Landlords or Developers, kindly contact us for a quote.
For Property Agents or Individuals sign up, please fill up the form below. For pre-sale questions or request for test account, kindly contact us.
Property Condo Website
Now you can have specialised Condo Websites with your domain name to gain more exposure for your listings and yourself.
Your Condo Website will have 6 pages including:

Home Page with description and reviews (if any) of the specific condo


Listing Page which will display your listings and transacted price of the project


Floor Plan page which will show the list of floor plans


Site Plan page which will show the condo site plan and facilities


Location Map page which show the map, Google Streetview and nearest amenities


Contact page with your mobile number, email and profile picture together with a contact form, Whatsapp and SMS links (if user is using mobile)
All Condo Websites will be featured at our Property section and bundled with SSL cert (https) which will boost search engine ranking significantly.
If you are targeting a certain condo project, this will be the perfect solution for you!
Rates for Condo Website: $150 a year
Agent Condo Websites:
You need to have a Property Account to have an addon Condo Website
If you do not have a Property Account, please sign up above.