The Wine Review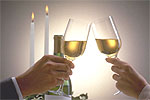 Mr CH'NG Poh Tiong is a lawyer by training. He is the publisher of The Wine Review (South-East Asia's oldest wine magazine, since 1991), and the world's first annual Guide to Bordeaux in Chinese. Poh Tiong's articles have also appeared in magazines, including Harper's and Decanter of the UK; and Silver Kris, the magazine of Singapore Airlines. Poh Tiong also writes a quarterly column for Decanter magazine.
It seems like only yesterday but the Lianhe Zaobao Wine Review Challenge is now in its sixth year.
The judges had remained the same three people until last year when, for the first time, I decided not to be one of the "active" judges but instead to invite an Overseas Guest Judge.
But having founded the event, I stayed on as Chairman of the Panel of Judges in those few instances when the three judges did not agree amongst themselves. There were very few such instances last year when Adam WYNN, one of Australia's top winemakers, was the first Overseas Guest Judge. The same was true for this year with Overseas Guest Judge, Philippe BLANC. (The real hard work was undertaken by the judges, not the Chairman).
Philippe Blanc is in charge of one of Bordeaux's most revered wines. Chateau Beychevelle in Saint-Julien is not only an historic property but also produces one of Bordeaux's greatest wines. Philippe had also worked in two of Australia's highly regarded wineries, Taltarni and Clover Hill.
A trained agronomist or soil engineer and oenologist or winemaker, Philippe's first vintage at Beychevelle was 1995. In his spare time, he likes to ski, play tennis and run the marathon (in about 2 hours and 45 minutes).
Our two other judges have been with the Challenge from the very beginning.
Ignatius CHAN, a former founding partner and executive director of Les Amis Restaurant, Lighthouse Restaurant, Au Jardin Restaurant and fine wine merchants Vinum, recently embarked on perhaps the most exciting challenge in his working life. On September 1st, he opened his own restaurant called "Iggy" a short-form of his name. It is situated on Level Three of the Regent Singapore.
Don TAY, on the other hand, has been the proprietor of his own wine shops for a long time. Bacchus is situated in the basement of Paragon Shopping Centre on bustline Orchard Road in Singapore and also has a branch within Isetan Departmental Store in Kuala Lumpur's stunning Petronas Twin Tower. Not so long ago, Don also opened Bacchus@Boathouse (opposite Fullerton Hotel), the wine bar with the incredible view inside the historic Boathouse (a former lighthouse) next to the Singapore River and the open sea.
The three judges tasted 455 wines this year. That number is slightly down from last year's 470. The wines came from all over the world including Greece, France, Italy, Spain, Germany, Hungary, Portugal, South Africa, California, Canada, Argentina, Chile, Australia and New Zealand. Here are the full results. I am also taking the opportunity to match the wines with the most ideal food pairings.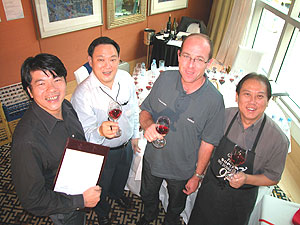 Cabernet sauvignon-stained smiles, from left:
CH'NG Poh Tiong, Ignatius CHAN, Philippe BLANC and Don TAY.
The Lianhe Zaobao Wine Review Challenge Result
NON-VINTAGE CHAMPAGNES

JOINT-BEST WINES & GOLD MEDAL
Charles Heidsieck Brut Reserve Mis En Cave 1998
Charles Heidsieck Brut Reserve Mis En Cave 2000

GOLD MEDAL
Duval Leroy Paris



SILVER MEDAL
Deutz Brut Classic
Lanson Black Label
Laurent-Perrier Brut
Nicolas Feuillatte Brut Premier Cru



BRONZE MEDAL
Besserat De Bellefon
Besserat De Bellefon Cuvee des Moines Blanc de Blancs
Besserat De Bellefon Cuvee Des Moines Brut Rosé
Duval Leroy Brut
Henriot Brut Souverain
Joseph Perrier Royale Cuvee Brut
Piper Heidsieck Brut
Piper Heidsieck Rare Cuvée
Piper Heidsieck Sauvage Rosé
Piper Heidsieck Sublime Demi-Sec
VINTAGE CHAMPAGNES

BEST WINE & GOLD MEDAL
Bollinger Grande Annee 1995

SILVER MEDAL
Lanson Gold Label 1996

BRONZE MEDAL
Lanson Noble Cuvée 1995
Laurent-Perrier 1995
SPARKLING WINE

BEST WINE & BRONZE MEDAL
Ferrari Brut Perle 1999

BRONZE MEDAL
Jacob's Creek Chardonnay Pinot Noir
Leconfield Coonawarra Sparkling Shiraz 2002

SWEET WINE & FORTIFIED SWEET WINE

JOINT-BEST WINES & GOLD MEDAL
Dow's 20 Year Old Tawny Port
Perez Barquero Gran Barquero Pedro Ximenez NV
Warre's Traditional Late Bottled Vintage 1992
Weingut Spaetrot Riesling Eiswein 2001

SILVER MEDAL
Gold Seal Vidal Icewine 2002
Jackson Triggs Proprietors' Reserve Vidal Icewine 2001

BRONZE MEDAL
Buller Fine Old Muscat NV
Dow's Late Bottled Vintage Port 1997
Gold Seal Cabernet Franc Icewine 2002
Riverina Museum Release Botrytis 2001
SAUVIGNON BLANC

BEST WINE & SILVER MEDAL
Tahuna Sauvignon Blanc 2003

SILVER MEDAL
Stellenzicht Golden Triangle Sauvignon Blanc 2003
Watershed Sauvignon Blanc 2003

BRONZE MEDAL
Bird In Hand Sauvignon Blanc 2002
Cederberg Sauvignon Blanc 2003
Crossing Sauvignon Blanc 2003
Crossing Reserve Sauvignon Blanc "Catherine's Run" 2002
De Laudocette Pouilly Fume 2002
Hogue Cellars Fume Blanc 2003
Kaimira "Nelson" Sauvignon Blanc 2003
Lake Chalice Marlborough Sauvignon Blanc 2004
Miguel Torres Fransola Sauvignon Blanc 2002
Mount Riley Sauvignon Blanc 2004
Mount Riley 17 Valley Sauvignon Blanc 2003
Oyster Bay Marlborough Sauvignon Blanc 2004
Rosemount Sauvignon Blanc 2003
Uva Mira Sauvignon Blanc 2003
Waipara West Sauvignon Blanc 2003
UNOAKED CHARDONNAY

BEST WINE & BRONZE MEDAL
Baron Philippe Maipo Chardonnay 2001

BRONZE MEDAL
Baron Philippe Maipo Chardonnay 2001
De Wetshof Bon Vallon Chardonnay Sur Lie 2004
Domaine Tremblay Chablis 2002
Goundrey Unwooded Chardonnay 2003
Louis Latour Chablis 2003
Louis Jadot Chablis 2001
Mad Fish Premium White 2003
Salitage Unwooded Chardonnay 2003
William Fevre Chablis 2003
OAKED CHARDONNAY

BEST WINE & GOLD MEDAL
Jean Noel Gagnard Chassagne-Montrachet
Morgeot Premier Cru 2000

SILVER MEDAL
Asara Chardonnay Reserve 2002
Bodegas Catena Zapata
Alamos Chardonnay 2003
Faiveley Meursault 2000
Louis Latour Chassagne-Montrachet 1999
Louis Latour Pouilly Fuisse 2002
Richard Hamilton McLaren Vale
Signature Chardonnay 2002

BRONZE MEDAL
Angove's Long Row Chardonnay 2002
Aromo Private Reserva Chardonnay 2002
Baron Philippe de Rothschild Maipo Reserva Chardonnay 2001
Beringer Founders Estate Chardonnay 2002
Catena Chardonnay 2001
Columbia Crest Grand Estate Chardonnay 2002
Deloach Russian River Chardonnay 2004
Fairview Akerbos Chardonnay 2002
Franciscan Estate Cuvee Sauvage Chardonnay 2001
Fox River Chardonnay 2002
"Haras – Elegance" Chardonnay 2003
Jacob's Creek Reserve Chardonnay 2002
Jacob's Creek Limited Release Chardonnay 2002
La Crema Sonoma Coast Chardonnay 2002
Leconfield Coonawarra Chardonnay 2002
Montes Alpha Chardonnay 2003
Mount Gisborne Chardonnay 2000
Planeta Chardonnay 2002
Redvale Chardonnay 2002
RHP Toasted Head Chardonnay 2003
Rosemount Orange Vineyard Chardonnay 2001
Rosemount Giants Creek Chardonnay 2002
Rosemount Hill of Gold Chardonnay 2002
Santa Ines Reserva Chardonnay 2002
Saltram Mamre Brook Chardonnay 2002
Shantell Chardonnay 2001
Stony Batter East Coast Chardonnay 2002
Taylors Clare Valley Chardonnay 2003
Valdivieso Reserve Chardonnay 2002
Wyndham Estate Bin 222 Chardonnay 2003
Wyndham Estate Show Reserve Chardonnay 2001
Xanadu Chardonnay 2003
DRY BORDEAUX WHITE

BEST WINE & SILVER MEDAL
Chateau Rochemorin Pessac-Leognan 2002

BRONZE MEDAL
A Deluze Bordeaux Blanc 2001
Andre Lurton Chateau Bonnet Blanc 2003
Baron de Lestac 2001
Chateau Haut Selve Blanc 2000
Chateau d' Archambeau Blanc 2001
Mouton Cadet Blanc 2003
RIESLING

BEST WINE & SILVER MEDAL
Jacob's Creek Riesling 2003

BRONZE MEDAL
Dr Burklin Wolf Estate Riesling 2002
F. E. Trimbach Riesling 2002
Howard Park Riesling 2003
Leconfield Old Vine Riesling 2003
Mount Riley Riesling 2003
Mt. Langi Ghiran Riesling 2003
Tamar Ridge Riesling 2003
Wolf Blass Gold Label Riesling 2003
OLD & NEW WORLD OTHER WHITE VARIETALS & BLENDS

BEST WINE & BRONZE MEDAL
Rosemount Semillon Chardonnay 2003

BRONZE MEDAL
Batasiolo Gavi di Gavi 2003
Clairault – Estate Semillon 2003
Devil's Lair Fifth Leg White 2003
Jacob's Creek Semillon Chardonnay 2003
Marques de Riscal Rueda 2003
Miguel Torres Nerola White (Xarello / Garnacha) 2002
Moss Brothers Verdelho 2003
Paringa Semillon/Sauvignon Blanc 2002
Rosemount Jigsaw Riesling Frontignac Verdelho 2003
Spaetrot Rotgipfler Grande Selection 2002
Spaetrot Rotgipfler Reserve 2002
Spaetrot Zierfandler Modler Privat 2003
Tablas Creek Roussanne 2002
Tsantali Ambelonas 2003
Tsantali Athiri 2003
Tsantali Alexander 2003
Tsantali Chromitsa 2002
Wolf Blass Classic Dry White 2003
BRANDED BORDEAUX RED

BEST WINE & SILVER MEDAL
Baron de Lestac 2002

SILVER MEDAL
Mouton Cadet Rouge 2002

BRONZE MEDAL
Baron de Luze Bordeaux Red 2001
La Vieux Moulin Bordeaux 2000
Mouton Cadet Reserve Rouge 2000
CHATEAU BORDEAUX RED

BEST WINE & GOLD MEDAL
Chateau Palmer 2000

SILVER MEDAL
Chateau de Parenchere Cuvee Raphael 2000
Chateau Brillette Moulis Cru Bourgeois 2000

BRONZE MEDAL
Chateau Cadillac Lesgourges Rouge 1999
Chateau Gardour Lalande de Pomerol 2001
Chateau de Malleret Haut-Medoc 2001
Chateau La Mayne Pargade 2001
Chateau Greysac Medoc 1999
Chateau La Croix Figeac 2000
Andre Lurton Chateau Bonnet Reserve 2001
PINOT NOIR

BEST WINE & SILVER MEDAL
La Crema Sonoma Coast Pinot Noir 2001

SILVER MEDAL
Coopers Creek Marlborough Pinot Noir 2003
Crossings Marlborough Pinot Noir 2003
Yarra Ridge Yarra Valley Pinot Noir 2002
Domaine Henri Perrot-Minot Gevrey Chambertin 2001

BRONZE MEDAL
DeLoach Russian River Pinot Noir 2002
DeLoach OFS Pinot Noir 2001
Haute Cabriere Pinot Noir 2001
Lake Chalice Marlborough Pinot Noir 2003
Louis Latour Bourgogne Cuvee Latour 2002
Mount Riley Pinot Noir 2003
Mount Riley 17 Valley Pinot Noir 2001
Rosemount Pinot Noir 2003
Salitage Pinot Noir 2001
Tamar Ridge Pinot Noir 2003
Vincent Girardin Volnay Santenots Premier Cru 2000
Wyndham Estate Bin 333 Pinot Noir 2002
BEAUJOLAIS VILLAGES & BEAUJOLAIS CRUS

BEST WINE & SILVER MEDAL
George Duboeuf Fleurie Flower Range 2002

SILVER MEDAL
George Duboeuf Moulin a Vent Prestige 2002

BRONZE MEDAL
F. Chauvenet Beaujolais 2002
Henry Fessy Brouilly 2002
Louis Latour Regnie La Roche Thulon 2002
Louis Latour Beaujolais Superieur 2002
Pierre Ferraud Fleurie 2002
NORTHERN RHONE REDS

BEST WINE & GOLD MEDAL
Delas Marquise de la Tourette Hermitage 1999

GOLD MEDAL
Domaine Rene Rostaing Cote-Rotie 2000

SILVER MEDAL
Paul Jaboulet Cote Rotie Les Jumelles 2002
Delas Cote Rotie Seigneur de Maugiron 1999
E. Guigal Cote Rotie 2001

BRONZE MEDAL
M. Chapoutier Crozes Hermitage Petite Rouge 2002
Paul Jaboulet Crozes Hermitage Domaine de Thalabert 1999
SOUTHERN RHONE REDS

BEST WINE & SILVER MEDAL
Paul Jaboulet Aine Chateauneuf-Du-Pape Les Cedres 2001

SILVER MEDAL
Perrin & Fils Rasteau L'Andeol 2002

BRONZE MEDAL
B & G Chateauneuf Du Pape 2000
Domaine Giraud Chateauneuf du Pape Tradition 2001
F. Chauvenet Cote du Rhone 2002
Laboure-Roi Chateauneuf du Pape 2000
Paul Jaboulet Cote du Rhone Villages 2000
Perrin & Fils Chateanuef du Pape 'Les Sinards ' 2002
NEW WORLD CABERNET SAUVIGNON

BEST WINE & SILVER MEDAL
Maxwell Lime Cave McLaren Vale Cabernet Sauvignon 2001

SILVER MEDAL
Pepper Tree Grand Reserve Coonawarra Cabernet Sauvignon 2000

BRONZE MEDAL
Aromo Private Reserva Cabernet Sauvignon 2001
Alexander Park Cabernet Sauvignon 2000
Benziger Cabernet Sauvignon 2001
Bleasdale Mulberry Tree Cabernet Sauvignon 2002
Castillo de Molina Reserva Cabernet Sauvignon 2001
Catena Cabernet Savignon 2001
Cabernet Sauvignon Reserve 1998
"Cape Grace" Cabernet Sauvignon 2002
Chateau Souverain Cabernet 2000
"Clairault – Estate " Cabernet Sauvignon 2000
Dominque Portet Cabernet Sauvignon 2000
Errazuriz Maximiano Cabernet Sauvignon 2000
Grant Burge Cameron Vale Cabernet Sauvignon 2001
Hamelin Bay Cabernet Sauvignon 2001
"Haras – Elegance" Cabernet Sauvignon 2000
Lawrence Victor Cabernet Sauvignon 2000
Le Riche Cabernet Sauvignon Reserve 2001
Paringa Cabernet Sauvignon 2002
Parker Terra Rossa Cabernet Sauvignon 2001
Riddoch Cabernet Sauvignon 2001
Ladbroke "Killian Vineyard" Cabernet Sauvignon 2001
Lake Breeze Cabernet Sauvignon 2000
Robert Mondavi Napa Valley
Saltram Mamre Brook Cabernet Sauvignon 2001
Simi Reserve Cabernet Sauvignon 2000
Taylors Clare Valley Cabernet Sauvignon 2002
Wolf Blass Grey Label Cabernet Sauvignon 2001
Wyndham Estate Bin 444 Cabernet Sauvignon 2001
Yarra Ridge Cabernet Sauvignon 2001
NEW WORLD SHIRAZ

BEST WINE & GOLD MEDAL
Wolf Blass Brown Label Shiraz 2001

GOLD MEDAL
Mitolo "Reiver" Shiraz 2002

SILVER MEDAL
Taylors Clare Valley Shiraz 2003
Becketts Flat Margaret River Shiraz 2001
Koltz Shiraz 2001

BRONZE MEDAL
Avondale Shiraz 2001
Bird in Hand Shiraz 2002
Brown Brothers Patricia Shiraz 2000
Buller Calliope Shiraz 2002
Chais Clarendon Shiraz 2001
De Trafford Shiraz 2000
Dominque Portet Shiraz 2001
Elderton Friends Shiraz 2002
Errazuriz Syrah Reserve 2000
Gemtree "Uncut" Shiraz 2001
Grant Burge Filsell Shiraz 2001
Guardian Peak Shiraz 2002
Hamilton Centurion Shiraz 2000
Jacob's Creek Shiraz 2002
Jacob's Creek Reserve Shiraz 2001
Jamieson Runs Terra Reserve Shiraz 2001
Maxwell Ellen Street Shiraz 2001
Mitolo "Jester" Shiraz 2002
Mt. Langi Ghiran Shiraz 2000
Paxton Shiraz 2001
Penny's Hill Shiraz 2002
RHP Syrah 2002
Rust en Vrede Estate Shiraz 2000
Saltram Mamre Brook Shiraz 2002
Warburn Shiraz 2002
Wolf Blass President Selection Shiraz 2001
Wolf Blass Gold Label Shiraz 2001
Wyndham Estate Bin 555 Shiraz 2002
NEW WORLD MERLOT

BEST WINE & BRONZE MEDAL
Chateau St. Michelle Canoe Ridge Estate Merlot 2001

BRONZE MEDAL
Baron Philippe de Rothschild Maipo Carmenere Reserva 2002
Hogue Cellars Merlot 2002
Jacob's Creek Merlot 2003
Rosemount Merlot 2002
Taylors Clare Valley Merlot 2003
Valdivieso Single Vineyard Merlot 2002
Valdivieso Merlot 2003
OLD & NEW WORLD OTHER RED VARIETALS & BLENDS

BEST WINE & SILVER MEDAL
Massena "The Moonlight Run"
Grenache Shiraz Mataro Cinsault 2001

SILVER MEDAL
Rust en Vrede Estate 2000
Oddfellows "The Blend" Shiraz Cabernet 2002
Guardian Peak Frontier 2002
Spaetrot Sankt Laurent Grande Selection 2002
Balnaves "The Blend" Cabernet Merlot Franc 1999
Morgenster Lourens River Valley 2001
Ferngrove Vineyards Estate King Malbec 2002

BRONZE MEDAL
Bleasdale Shiraz Cabernet Sauvignon 2002
Catena Alta Malbec 2000
Casa Freschi "La Signora" 2000
DeLoach OFS Zinfandel 2001
Devil's Lair Fifth Leg Red 2002
Escudo Rojo 2001
Greg Norman Cabernet Merlot 2001
Jacob's Creek Shiraz Cabernet 2002
Jacob's Creek Grenache Shiraz 2003
Jacob's Creek Limited Release Shiraz Cabernet 1998
Koltz The Carbine 2001
Metoxi 2000
Miguel Torres Nerola Shiraz 2001
Parson's Flat Shiraz Cabernet 2002
Planeta Syrah 2001
Ravenswood Icon Syrah 2001
Rosemount Jigsaw Shiraz Mataro Grenache 2003
Rosily Vineyard Cabernet Merlot 2001
San Pedro 1865 Carmenere 2001
Saltram Barossa Valley Cabernet Sauvignon Merlot 2002
Sallitage Pemberton Blend 2000
Spaetrot Sankt Laurent Grande Selection 2002
Taylors Promised Land Cabernet Shiraz 2001
Taylors Promised Land Cabernet Merlot 2003
Wolf Blass Gold Label Cabernet Sauvignon Cabernet Franc 2001
Wyndham Estate Show Reserve Cabernet Merlot 1997
VIN DE PAYS RED

BEST WINE & SILVER MEDAL
Robert Skalli South of France Cabernet Sauvignon 2001

BRONZE MEDAL
Baron Philippe de Rothschild VDP Cabernet Sauvignon 2002
Baron Philippe de Rothschild VDP Merlot 2002
Fortant de France Cabernet Sauvignon 2003
Terrasses d'Azur Cabernet Vin de Pays d'Oc 2002
ITALIAN REDS

BEST WINE & SILVER MEDAL
Castello di Volpaia Chianti Classico 2001

SILVER MEDAL
Poggio Bonelli Chianti Classico 2001
Pian delle Vigne Brunello di Montalcino 1999

BRONZE MEDAL
Antinori Tenute Marchese Chianti Riserva 1999
Canonica a Cerreto Chianti Classico 2000
Castello di Lucignano Chianti Classico 2001
Dei Vino Nobile de Montepulciano 2000
Fattoria La Ripa Santa Brigida 1998
Fontanafredda Tradizione Barbaresco 1999
Leonardo da Vinci Brunello di Montalcino 1999
Prunotto Barolo DOCG 1999
Prunotto Barbaresco DOCG 1999
Sabazio Rosso di Montelpuciano 2002