Food Review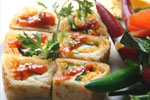 Would you like to have your restaurant featured in our Food Review Section? Here's an opportunity for you to let us partake in a food tasting session. We will rate your restaurant according to its value, service, ambience, food, an overall rating and a brief summary.
Contact Us today!
Chinese
MIN JIANG
5 Rochester Park
Singapore 139216
Reservations: (65)67740122
Goodwood Park Hotel
22 Scotts Road
Level 1
Singapore 228221
Reservations: (65)67377411
DISCOVER MIN JIANG AT ONE-NORTH, NO. 5 ROCHESTER PARK
Goodwood Park Hotel opened Min Jiang at One-North, its second Min Jiang restaurant, at no.5 Rochester Park in 2006.
Part of the mega 200-hectare one-north biopolis, this is the first independent restaurant that the Hotel will continue to fully manage off site.
Housed in a nostalgic 3,000 square foot, two-storey black and white colonial-style bungalow, there will be ample space for more than 200 guests.
The only Chinese restaurant in a Black and White Bungalow
To date, Min Jiang at One-North is the only Chinese restaurant housed in a colonial style black and white bungalow and aims to appeal to local gourmands, tourists to Singapore or anyone who appreciates a dining experience in a charming ambience that makes you feel that you have been transported back in time.
Set amidst undulating grounds and tree-lined winding roads, the restaurant is part of an exclusive enclave of 35 black and white houses. Together, these 35 unique houses are spread over Rochester Park, a beautifully luscious and green heritage area that is a stone's throw from Anglo-Chinese Junior College, Singapore's acclaimed Science Parks, the National University of Singapore (NUS), the National University Hospital (NUH), Singapore Polytechnic, Holland Village and Warren Golf Club.
A truly authentic Beijing duck restaurant
The new Min Jiang at One-North serves the same award-winning Chinese cuisine as Min Jiang at Goodwood Park Hotel.
However, the house specialty here is its truly authentic Beijing Duck, prepared by Chefs from Beijing according to an ancient Chinese recipe.
The Ducks are freshly delivered on a daily basis, marinated and stuffed with vegetables and a secret combination of Chinese herbs and spices.
They are then roasted in a special custom-made wood-fired oven, in order to enhance and bring out their full flavour and aroma.
When roasted, the Duck is carved at the guest's table. A slice of the delicious skin and a piece of duck meat are wrapped together in a paper thin flour crepe and served with a tasty special homemade sauce and 8 different condiments.
Other Specialties
In addition to Beijing Duck, diners can also enjoy other delicacies such as the Min Jiang Famed Lobster Noodles, Hot and Sour Soup, Pan-Fried US Kurobuta Pork with Foie Gras and award-winning Master Chef Goh Chee Kong's Appetizer Platter (comprising crispy diced chicken marinated in Chinese Wine tossed with Wasabi dressing, wok-tossed lobster medallion coated in spicy egg yolk crumbs, crispy eel coated with vinegar sauce and sesame seeds, and pan-fried scallops in Tientsin Pear and topped with XO sauce).
Awards & Accolades
Amongst the awards and accolades it has won are Top 5 for "Most Outstanding Chinese Cuisine Chef" and Top 10 for "Most Exquisite Palate Experience – Chinese Cuisine" in Hospitality Asia Platinum Awards Regional Series 2008 – 2010, Singapore's Best Restaurants 2007 - 2009 (Singapore Tatler), Regional Best Restaurants 2008 - 2009 (Asia Tatler), Top 5 Most Promising Chefs - Asian Cuisine 2006/2007 (Hospitality Asia Platinum Awards), Singapore's Top Restaurants 2007/2008 (Wine & Dine), Best Asian Style Cuisine 2007 (Women's Weekly) and Top 25 Restaurant Awards 2008 (Singapore Business Review). It also had the honour to have been selected as a partner restaurant in presenting its cuisine at the 11th World Gourmet Summit in April 2007.
For reservations, please contact Min Jiang at (65)67740122.
TASTERS' REVIEW
Nestled in the serene enclave of Rochester Park, Min Jiang is an experience worth savouring. Even better is the view at night, where one can enjoy the fine food and oriental setting to match.
Dishes that impressed included the Mi Jiang Trio Platter which served Lobster Medallion coated with Spicy Egg Yolk Crumbs, Crispy Eel coated with Vinegar Sauce and Sesame Seeds and Crispy Soft Shell Crab with Pork Floss. It was a winning combination as the dish boasted a variety of flavours from the sweetness from the eel to the spiciness from the soft shell crab.
Also worth noting is the Deep Fried Sole Fish coated with Crispy Milk. It was a unique pairing of fried fish and coating of milk on the crust, which was indeed a complementing flavour to every bite.
The best dish was their quintessential Peking Duck. The thin and crispy skin contrasted harmoniously with the tender meat. Better still, have it with their wide variety of homemade sauces and condiments.
Every dish served was truly an artful presentation.
Min Jiang truly delivers an exquisite sumptuous destination for the fine palates.
REVIEW RATING

Overall Rating: 4.3/5

Food: 4.5/5
Ambience: 4.3/5
Service: 4.5/5
Value: 4/5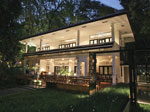 Min Jiang Exterior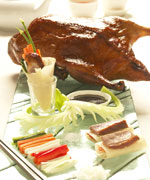 Beijing Duck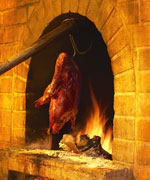 Beijing Duck in wood-fired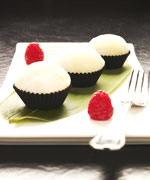 Durian Mochi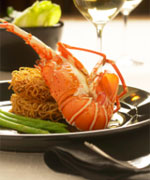 Lobster Noodles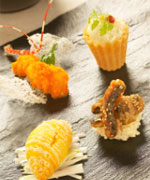 Appetizer Platter

International
MELT ~ The World Café
Mandarin Oriental Singapore
5 Raffles Avenue
Level 4
Marina Square
Singapore 039797
Reservations: (65) 68853082
Email: mosin-melt@mohg.com
MELT INTO A BUBBLY BRUNCH AFFAIR AT MANDARIN ORIENTAL, SINGAPORE
Kick-start a languorous Sunday with a sumptuous spread of international brunch offerings featuring free-flow champagne at Mandarin Oriental, Singapore's MELT ~ The World Café.
Starting from 15 February 2009, indulge in myriad appetite-whetting dishes ranging from the seafood counter offering freshly shucked oysters, Canadian lobsters, tiger prawns, snow crabs and green lip mussels, to fresh Italian cold cuts, French farm house cheese, homemade gourmet salads as well as an unlimited choice of appetisers.
The lavish buffet also features several International stations. The Japanese station presents a variety of freshly made premium sushi and sashimi while the Chinese station serves Cantonese roasted meats such as cherry-wood roasted duck, crispy roasted pork belly, BBQ-glazed kurobuta pork and soya chicken, as well as favourites such as claypot chicken rice and crispy pork ribs with sweet and sour sauce, to name a few. For Indian food lovers, the selection of freshly grilled tandoori and kebabs, curries and naans will surely satisfy. Additionally, expect European brunch classics such as eggs Benedict with crab, salmon, avocado or ham; homemade hamburgers and sausages; freshly grilled snapper and barramundi; as well as a carving of prime-rib of beef.
Guests can also delight in a visual treat at the live station wherein chefs will prepare your pasta a la minute, matched by your choice of sauces. Take your pick from an impressive spectrum of pastas and choose from a variety of sauces such as chilli crab, black pepper, bolognaise and cepe.
After a satisfying meal, enjoy an exuberant medley of mouth-watering desserts such as warm chocolate fondant pudding with vanilla sauce; an assortment of Thai and nonya kuehs; popular Singapore desserts such as red ruby, chendol and ice kacang; as well as a chocolate fountain with fruits, donuts, wafers and cookies. There is also a waffles and crepe suzette counter where the chef will make French pancakes and waffles according to your preference.
The little ones are not forgotten. To honour them as little fans of Mandarin Oriental, Singapore, a children's playroom packed with an assortment of treats including sandwiches, popcorn, cotton candy, ice cream and cookies will be set up for their enjoyment, while a variety of toys and even a cartoon movie will keep them occupied while parents enjoy meals at the restaurants.
Sunday Brunch at MELT ~ The World Café is available every Sunday from 12 p.m. to 3 p.m. and is priced at S$88++ per person inclusive of free flow juices and soft drinks, $118++ per person inclusive of free flow champagne, wine, martinis, beer, juices and soft drinks and $288++ per person for free flow Dom Perignon champagne, wine, beer, martinis, juices and soft drinks. Children's price is at $48++ per child.
For reservations, please call MELT ~ The World Cafe at 6885 3082 or email mosin-melt@mohg.com
TASTERS' REVIEW
Step into MELT ~ The World Cafe and be greeted by a cozy ambience and spacious setting.
The international spread boasts a variety of food ranging from fresh seafoods and delicate sushi and fresh sashimi to Indian and European cuisine.
Noteworthy dishes include the 'live' foie gras station. The exquisite taste and silky texture of the foie gras that was served with orange sauce was a delightful experience.
The dessert counters offer a wide array of cakes, Thai and nonya kuehs, waffles and crêpe suzette. All these to be topped off with your favourite ice cream or wide selection of toppings.
There is also a towering chocolate fountain with a good selection of fruits and marshmellows for dipping.
The desserts were a real treat, for children and adults alike. It is best to have only half your fill for the mains so you would have enough space for desserts.
For the health-conscious, there is also a fruits counter with a fresh selection of cut fruits and fruit juices.
It could have been perfect if there was a wider selection of Chinese delicacies.
This buffet brunch is well-suited to families with children, with its child-friendly environment and well-catered childrens' playroom to keep the children busy. The dessert counters offer a special treat for everyone.
The desserts offering and ambience alone, relishes a five star.
REVIEW RATING

Overall Rating: 3.8/5

Food: 3.5/5
Ambience: 5/5
Service: 4/5
Value: 3/5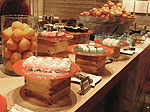 Thai and Nonya Kuehs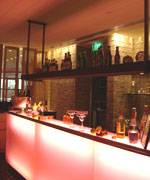 Cocktail counter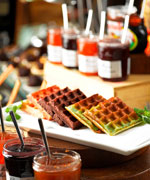 Waffle Station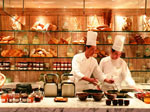 Pastry Counter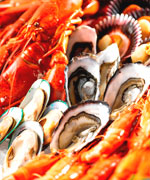 Seafood Counter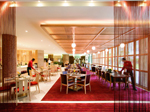 Main Dining Area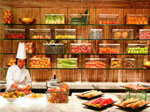 Fresh Fruits Counter
Italian
DOLCE VITA
Mandarin Oriental Singapore
5 Raffles Avenue
Level 5
Marina Square
Singapore 039797
Reservations:(65) 68853551
Email: mosin-dolcevita@mohg.com
GREAT BRUNCH FOR THE GOOD LIFE
What better way to spend your Saturdays than to indulge in a relaxing Italian brunch by the pool. Beginning 21 February 2009, Dolce Vita – the Italian restaurant located next to Mandarin Oriental, Singapore's landscaped poolside – will serve champagne brunch every Saturday.
Available from 11.30 a.m. until 3 p.m., the à la carte buffet features an array of Italian creations, each dish masterfully prepared by Michelin-starred Chef Marco Pedrelli.
Start with an antipasti platter of fresh Italian produce items such as parma ham, salami milano, bresaola, coppa, grissini and olives, followed by appetisers such as fresh rock oysters, beef carpaccio with wild mushroom chutney and parmesan chip, and marinated tuna with amalfi lemons.
For mains, guests will be tempted by hearty dishes such as osso bucco with creamy polenta, braised lamb shank risotto, sea bass with basil risotto, king prawn with tarragon potatoes, and cod fillet with artichokes and capers, to name a few.
An Italian brunch wouldn't be complete without handcrafted pasta. Taught the skill by his grandmother back in Italy when he was young, Chef Marco creates pastas that exude homemade goodness. Noteworthy mentions include traditional lasagna al forno, penne carbonara and tagliolini allo scoglio.
Desserts including panna cotta with raspberries, traditional Italian tiramisu and semi freddo with arancia flavours lend an exuberant finale to the chef's performance.
Dolce Vita Italian brunch is priced at S$88++ per person inclusive of free-flow juices and soft drinks; S$118++ per person inclusive of free-flow champagne, wine, beer, martinis, juices and soft drinks; and S$288++ per person inclusive of free-flow Dom Perignon champagne, wine, beer, martinis, juices and soft drinks.
For reservations, please call Dolce Vita at 68853551 or e-mail mosin-dolcevita@mohg.com
TASTERS' REVIEW
Dolce Vita is a perfect destination to come on a Saturday afternoon, where can you can sit back, relax and dine with your families or friends. It is a good choice to come in a larger group so that you could partake in a wider selection on the menu.
The restaurant offers privacy and exclusivity, with a choice of sitting next to the pool if you like the outdoors.
Be thrilled by the wide selection on the menu notably the starters. Tomato and mozzarella cheese salad, fresh rock oysters, yellow fin tuna nicoise are a few delicacies that have earned their place on the restaurant's extensive menu.
For the mains, there is certainly something for everyone, with a choice of three pastas dishes, three meat dishes and three seafood choices. Dishes that impressed included the lamb rack with flageolet beans and rosemary jus which exudes a distinct flavour and aquarello risotto with black piedmont truffles which is a hot favourite among their customers.
Get to enjoy special dishes not featured on the menu whipped up by the chefs delivered to your table.
There was not a wide selection but a good selection of desserts to end the meal with. Chiocolata con vanilla with praline ice cream was unforgettable, the texture and sweetness was just right. Do try it if it's available on the menu.
Given the effort put into thoughtful preparation to every dish, it's worth every cent.
REVIEW RATING

Overall Rating: 4.1/5

Food: 4/5
Ambience: 4/5
Service: 4.5/5
Value: 4/5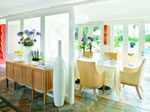 Dolce Vita Interior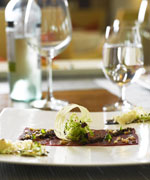 Dolce Vita Beef Carpaccio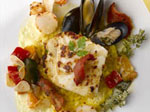 Seabass Risotto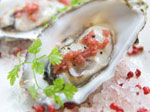 Dolce Vita Oyster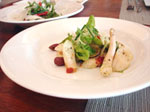 Marinated Octopus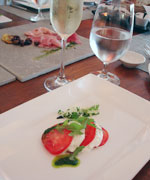 Tomato and Mozzarella Cheese
Japanese
TETSU
163 Tanglin Road
Tanglin Mall #03-18
Singapore 247933
Reservations:(65) 68363112
ENJOY A CULINARY FEAST FROM TETSU'S NEW MENU

TETSU, Singapore's most famous Japanese restaurant for authentic Kushi-style Tempura and Tonkatsu menu prepared "LIVE", is delighted to present an exciting new menu after months of intense preparation.
Top notch Japanese restaurants are constantly innovating and finding the opportunity to improve their quality of culinary finesse and customer service standards and likewise, TETSU has been embarking on an ongoing pursuit for perfection in all areas of Japanese dining.
After months of intense research and painstaking efforts by TETSU's chef to create new additions to the menu, together with feedback from panels of food tasters, TETSU has finally re-launched a new menu with dishes that are bound to satisfy every discerning palate.
Guests will leave TETSU satisfied not only because of the gastronomic experience, but also from the top notch service they will receive. A heavenly new menu naturally beckons excellent service to make the experience complete; hence, TETSU has changed their approach to focus strongly on the level of customer service and delivery.
Stepping into TETSU, guests can expect to not only be pampered by one to one personalised service as the staff warmly welcomes and greets the guest, but to also be engaged at a more interactive and personal level as the captains come by the table to make recommendations based on their preference. The chefs may even surprise tables with complimentary dishes or seasonal delights depending on the time of visit as a gesture of appreciation. It's the small touches like these that make up the perfect sensory dining experience guests return to TETSU.
TETSU's chefs have undergone intensive training. In addition, most of the items within the restaurant, from the furnishings to the tableware and even some of the ingredients, are all specially flown in from Japan. Moreover, the attention paid to the preparation of Tempura and Tonkatsu is meticulous – TETSU chefs strictly ensure that all preparation techniques, from the marinating process, to the type of batter and oil, to the time of frying, adhere to their timeless traditional Japanese recipes.
With the variety of items in the new menu, TETSU is ideal for those looking for a quick meal with the no-fuss value-for-money bento set, as well as connoisseurs looking to immerse themselves in a cosy ambience to enjoy a culinary feast of authentic and traditional Japanese meal.
For reservations, please call TETSU at 68363112.
TASTERS' REVIEW
Indulge yourself in a wide selection of dishes from the new menu at TETSU. Over 200 dishes to choose from ranging from price-beating special bento set menus to delicate sashimi moriawase and sumptuous kaiseki sets.
It is a great place for busy executives who need a quick lunch as the bento set menus offer great value. It is also an appropriate place to host your special guests as they offer boardroom that seat up to 20 people.
You can also have your meal specially prepared in your preferred style, from Kushi-age to Kushi-tem.
Notable dishes included the Fugu Mirin Boshi (Dried Puffer Fish), as they are still not as widely available in many Japanese Restaurants and kawa Ebi Karaage (Deep-fried River Shrimps) that came as a delightful and crunchy appetiser.
The kushi-age (breaded style) tempura dish offers a good texture and crisp, the amount of breadcrumbs used were just right, and it did not feel oily. The dips that came with it were thoughtful as they came in various sauces and dips to cater to different taste buds.
It could have been better if the extensive menu included more Japanese desserts like anmitsu (jelly made from seaweed) topped off with beans and fruits or even uiro (sweet rice cakes) which are very popular in Japan.
Overall, it was a great sensory experience for fusion Japanese dining.
REVIEW RATING

Overall Rating: 3.8/5

Food: 3.8/5
Ambience: 3.8/5
Service: 4/5
Value: 3.6/5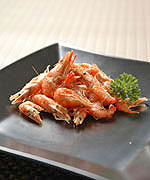 Kawa Ebi Karaage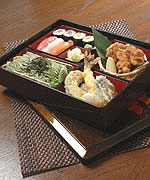 Lunch Bento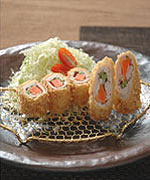 Katsu cheese roll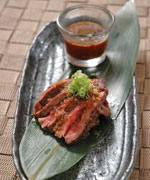 Yaki niku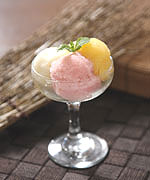 Strawberry, orange and lime sherbet
Western
FEEDLOT STEAKHOUSE BAR & GRILL
56 Tanglin Road
B1-01
Singapore 247964
Reservations: (65)64638080
GREAT PLACE FOR MEAT & STEAK LOVERS
The word FeedLot refers to a plot of land where livestock are fed and fattened up. This underscores its parent company Swiss Butchery's close ties with some of the world's best farms, as well as its long 17-year history of supplying quality chilled imported meats and meat products to a discerning clientele.
FeedLot Steakhouse Bar and Grill is a modern, casual-sophisticated eatery that allows meat-lovers to enjoy gourmet-quality premium steaks and farm-fresh produce — on days they don't feel like cooking at home, but minus the stuffy formality many associate with classic steakhouses.
TASTERS' REVIEW
Tucked away the from busy Orchard Road stretch, Feedlot Steakhouse Bar & Grill is located at the corner of Tanglin Road at the Singapore Post Office.
Feedlot Steakhouse Bar & Grill offers a wide selection of steaks and meat and is the perfect place for meat lovers.
Adventurous taste buds could partake in the Oven-Roasted Grain Fed Bone Marrow dish, which is topped with caper shallots. It offers a nice, gelatin-textured taste to the palette. It is a refreshing new take for those who have never tried bone marrow.
The Char-Grilled Tenderloin Salad with sweet lemongrass soy is one notable salad with a unique asian styled-caramelised soy, sweet but light. The tenderloin is slightly grilled with the corners of the meat beautifully charred.
Prime Ribs is a presentable party platter with a generous portion. Each portion is 1.2kg so it is best shared with friends. The meat is tender and juicy, with not much seasoning or sauce needed to pair with. It is accompanied with fresh salad to give it the right balance. And is the perfect dish for meat lovers.
The highlight of the dining experience would be the Burger with the Lot, the name may sound simple but the taste of the burger was extraordinary. The grilled angus beef patty was very juicy and moist, accompanied with bacon, sunny side up egg and aged cheddar. The pairing of the bacon with the angus beef patty was the best touch to the burger. Accompanied with juicy fries and mesclun salad, this would be the most satisfying meal of the day for sure. Overall, a great burger which was fuss-free and easy on the palette.
With its extensive meat menu offering, great ambience, location and great food presentation, Feedlot Steakhouse Bar & Grill is highly recommended for those who would like to try out European comfort food.
REVIEW RATING

Overall Rating: 3.9/5

Food: 4/5
Ambience: 3.5/5
Service: 4/5
Value: 4/5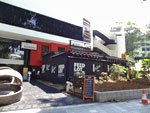 Facade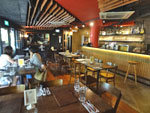 Feedlot Steakhouse Bar & Grill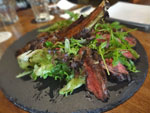 Prime Rib (1.2kg)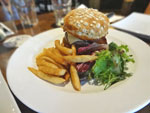 Burger with the Lot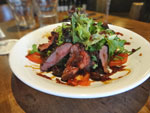 Char-Grilled Tenderloin Salad
with Sweet Lemongrass Soy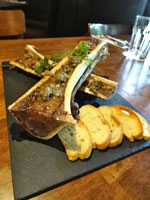 Oven Roasted Grain Fed
Bone Marrow
GORDON GRILL
Goodwood Park Hotel
22 Scotts Road
Level 1
Singapore 228221
Reservations: (65) 67301744
GORDON GRILL PRESENTS THE CHILD DÉGUSTATION MENU
Since its establishment in 1963, Gordon Grill has gained a reputation for serving fine steaks and refined Continental cuisine in classy surrounds. Now, there is a great reason for the whole family to dine out with its newly launched Child Dégustation Menu crafted by Executive Chef Gan Swee Lai and his team. Thoughtfully designed to pamper children from 7 to 12 years of age and to give the young ones a delightful introduction to elegant dining with their parents, this six-course menu marries both exquisite flavours and a fun element. This menu is available for lunch and dinner daily.
In addition, the talented team has created new dishes for the a la carte menu in June and they reflect a perfect combination of classic European culinary styles with modern flair.
The Child Dégustation Menu – a gourmet treat for the young ones
Dining at Gordon Grill is very much a family affair with the restaurant's unique Child Dégustation Menu, specially planned and created for the budding gourmet. While the style of service, elegant presentation and petite portions remain true to form of a Dégustation meal, the dishes are designed with an inquisitive palate in mind. They consist of ingredients favoured by children such as meatballs and pasta, as well as more exquisite ones rarely seen on children's menus such as quail, caviar and Ibérico ham. The art of dining has been made fun and approachable for the child. Lunch is designed as a 'teaser' three-course introduction to what is available for the six-course dinner. The 3-course lunch menu is priced at S$38++ per child, and the 6-course dinner menu is priced at S$68++ per child.
The Chilled angel hair pasta, king crab and caviar is a refreshing introduction which finds delicate Japanese somen tossed in white truffle oil, chopped Japanese seaweed, chives and a touch of sherry vinegar, then paired with freshly peeled crab. The Dublin prawn and fish beignets with a 'cocktail' foam – which are nibbles of langoustine and cod wrapped in a 'brick dough' and deep-fried, then served with a 'cocktail sauce' (mayonnaise, ketchup, chilli sauce and lemon juice) espuma that is artfully sprayed at the table, as a light-hearted course. The young gourmet will no doubt be thrilled at the restaurant's sophisticated version of Cheddar cheese fondue with wagyu meatballs and mushrooms duxelles. Made with freshly ground wagyu beef and foie gras, then lightly marinated with salt, pepper and Dijon mustard, the meatballs are pan-roasted and perfect with the mushroom-cheese pairing.
A light and healthy interlude is the Double-boiled chicken broth with organic hen egg and ham, which is an intensely-flavoured soup that cradles a delicately poached egg and topped with exquisite Ibérico ham. The robust Grilled jumbo quail skewer with micro greens, raspberry and walnut dressing consists of half a bird that is enlivened with a raspberry-extra virgin olive oil, soy and limejuice sauce. To end, an Arctic roll of vanilla bean ice cream with marinated wild red fruits will touch junior's heart. This dessert is similar to a Swiss roll, whereby raspberry jam and sponge is rolled together with homemade ice cream and served with strawberries and raspberries that have been marinated with vanilla syrup. Accompanying the meal is an invigorating Strawberry Bubbles mocktail – a mix of lime juice, strawberry puree and 7 Up.
Signature dishes – The menu will leave even discerning gourmets spoilt for choice, with more than 50 different items including Foie Gras, imported fresh seafood, grill items and the restaurant's specialty –fine selection of U.S. Black Angus prime Beef Steaks and U.S. 'Gold Grade' Wagyu Beef.
For meat lovers, the trolley specialties are highly recommended as the restaurant is famed for serving some of the finest choice cut steaks in Singapore. The meat trolley is wheeled to each table and each piece of beef is sliced, meticulously weighed and presented to diners before it is prepared and cooked to perfection. Popular cuts include the U.S. Black Angus tenderloin and Wagyu beef striploin.
As starters from the a la carte menu, the Chef highly recommends the pan-fried Duck foie gras in two ways: pan-fried and terrine with caramelised apple and raspberry vinegar sorbet. For soups, the Trio du soupe is a must-try as it allows diners to taste a combination of cappuccino of fresh mushroom, lobster bisque and a choice from the Gordon Grill's list of classic soups.
Seafood lovers will enjoy the Carved traditional Scottish Smoked Salmon with capers, fresh onion and chives. Gordon Grill's Mixed Grill of beef medallion, lamb chop, veal loin, jumbo quail and country bacon, is perfect for sharing between friends.
The decadent desserts offered are a great way to complete the dining experience at Gordon Grill. An irresistible choice for diners with lighter preferences is the Baked chocolate moelleux with pistachio sabayon and milk jam ice cream. If it is a dramatic ending that guests are after, then it will have to be the Crêpe Suzette prepared in the traditional way next to the table. Last but not least, the signature Sherry trifle is undoubtedly the winning choice for guests who like English desserts.
For reservations, please call Gordon Grill at 67301744.
TASTERS' REVIEW
The best dining options are usually found in hotels, and Gordon Grill is definitely one that lives up to its name. Dating back as long as 1963, Gordon Grill has been serving up one of the finest steaks in town.
Notable starter dishes included the Chilled angel hair pasta with king crab, seaweed and caviar which was drizzled in truffle oil. The dense flavour of the truffle oil was rich enough to titillate the taste buds. Another dish worth highlighting would be the Double boiled chicken broth with organic hen egg and ham. A little saltiness from the ham and creaminess from the egg yolk felt like perfect harmony. It was a refreshing experience for an egg and ham combination.
Have your steak with your preferred cut and prepared in your favourite way. The wagyu beef Rib Eye selection was done to perfection so much so that it was best eaten without any sauces. The beef was extremely tender and classically 'beefy'.
Another enjoyment was Pan grilled Threadfin fillet with spring bean, crab risotto, tomato & olive vinaigrette. The freshness of the fillet stood out as it did not require much seasoning or sauces to go with it.
Dessert lovers will also not be disappointed with the extensive range of desserts on its menu. Crepe suzette was one of the highlights as the waiter dished out the trolley - flambéed a perfectly done crepe suzette with orange sauce topped off with a scoop of vanilla ice cream. The sweetness of the orange sauce was well-balanced with the lightness of the vanilla ice cream.
With its extensive menu offering, unobtrusive service and great food presentation, Gordon Grill definitely warrants a revisit.
REVIEW RATING

Overall Rating: 4.2/5

Food: 4.1/5
Ambience: 4/5
Service: 5/5
Value: 4/5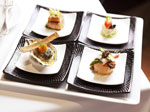 Appetiser Platter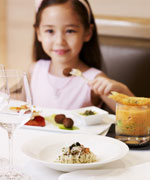 Child Degustation Menu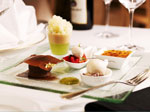 Dessert Assiette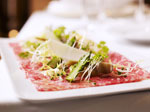 Wagyu Beef Carpaccio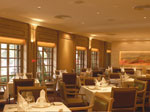 Gordon Grill
QUAYSIDE FISH BAR & BISTRO
31 Ocean Way, #01-11, Quayside Isle, 098375
Reservations: (65) 6268 8633
Quayside Fish Bar & Bistro aims to bring you the best and freshest fish and seafood from around the world, in a gastrobar setting. Air flown in on the day itself, simply pick your favourite item. Choose how you would like it done or let the chef recommend you and pair with their finest selection of wines and craft beers and kick back and relax overlooking the senic waterfront views of the Marina. The alfresco section is also pet-friendly.
TASTERS' REVIEW
Tucked in a waterfront setting, Quayside Fish Bar & Bistro offers the best of both worlds, a scenic waterfront view to your favourite fresh seafood. It is a place you would want to bring your family, friends and colleagues for a good seafood catch.
Quayside Fish Bar & Bistro offers a comprehensive ala carte menu from appetizers to desserts or you could choose from the set menus that won't break the bank. It ranges from about S$29++ for a 2 course lunch menu and S$39++ for a 3 course lunch menu.
The highlight to the menu would be the fresh seafood. Notable dishes would be their soft shell crab salad dish - Soft Shell Crab & baby spinach, fried leek, sesame and onion dressing, crumbled and edible flower. The soft shell crab is not only very fresh, it is crispy on the outside without the guilt and moist and buttery on the inside. It was a hit even with non-crab fans. A must try dish.
Even the Tiger Beer- Battered Halibut main course was a favourite. The fish is fresh and coated with a crispy batter and inside was tender and soft. You get to dip in the usual tartar sauce or their self-made infused yuzu shoyu sauce, which was really refreshing and light.
For pasta lovers, you will not be left out as you could try their pasta dish - Seafood Tortellini Prawns, Mussels, Saffron Cream Sauce. The saffron cream sauce is rich but the fresh prawns and mussels balances off the richness on the pasta. The fresh seafood on this plate is a reason you could try this dish.
One of the best part is the menu comes with a wide selection of desserts from gelatos to lava chocolate cakes.
It is highly recommended to seafood lovers as Quayside Fish Bar & Bistro offers a wide selection of menu for their soup, salad, oysters, fish (and the way you like it done), crustaceans and dessert. The prices are also affordable with lunch and dinner menus available.The set lunch menu features daily chef specialties based on the freshest catch of the day (today's featured dish may not be the same one as tomorrow or day after therefore customers can always look forward to finding out what's the latest dish featured in the set lunch upon every visit.
Best of all, the breathtaking view of the Marina to enjoy your meal is simply priceless.
REVIEW RATING

Overall Rating: 4.2/5

Food: 4/5
Ambience: 4.5/5
Service: 4/5
Value: 4/5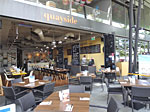 Facade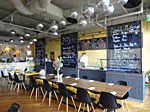 Quayside Fish Bar & Bistro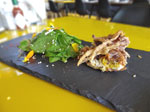 Soft Shell Crab Salad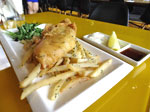 Tiger Beer Battered Halibut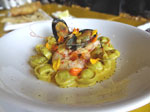 Pasta of the Day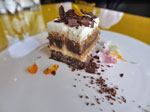 Tiramisu
Hi guys. Recently I've applied LTVP for my husband and I would like to share the process with anyone whose applying it hoping it can help clear some confusion.

I'm SC and hubby is malaysian WP. Applied PMLA and it was successful hence proceeded to apply for LTVP.

The first time I applied for .....



Posted in PR, Citizenship, Passes & Visas for Foreigners
Re: PR, Citizenship profile evaluation 2023
@MOCHS @Lisafuller
Thank you very much for the inputs, I will come back next year and update on my PR application status.



Posted in PR, Citizenship, Passes & Visas for Foreigners
Re: What do you find more convenient here?

:-#


You had a different experience to be sure. But how many people come face to face with that in their lifetime? Definitely nobody else that I know.



Posted in Leisure Chat, Jokes, Rubbish