Places of Interest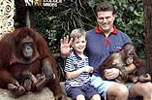 Your tour to Singapore will never be complete unless you visit our places of interest. We have information on places of interest like Singapore Zoo, bird park, Sentosa & other famous attractions & landmarks. Enjoy the tour!
Animal, Birds & Aquatic Life
Jurong Bird Park
Southeast Asia's largest bird park, Jurong Bird Park is home to over 8,000 birds of 600 species from all over the world. Highlights include the world's largest collection of Southeast Asian Hornbills and South American Toucans, and the world's second largest penguin exhibit. Daily shows include Breakfast with the Birds (9am-llam), Birds of Prey, Penguin Feeding Time and the Jurong Bird Park All Stars Bird show.
Opening hours: 9am to 6pm (Mon-Fri), 8am to 6pm (Sat, Sun and public holidays)
Panorail: 9.00am to 5.30 pm
Location: 2 Jurong Hill, Singapore 628925 Tel: 62650022
Getting there: Take the MRT to Boon Lay (EW27)


Night Safari
The dark holds many surprises... and more so at the Night Safari, where you can look a one-horned rhinoceros in the eye or hear the howls of a pack of striped hyenas.
There are 1,200 animals of over 100 exotic species to watch out for. Strike out on your own along the walking trail or relax in a tram ride - whichever you choose, the Night Safari is a wild adventure not to be missed.
Opening hours: 7.30pm to midnight daily
Location: 80 Mandai Lake Road, Singapore 729826 Tel: 62693411
Getting there: Take the MRT to Ang Mo Kio (NS16), then SBS bus 138


River Safari


River Safari offers an unforgettable adventure inspired by the world's most iconic rivers. Housing one of the world's largest collections of freshwater fauna, the park features over 6,000 animals including 40 threatened species. And that includes Singapore's resident giant pandas, Kai Kai and Jia Jia.
Take a leisurely stroll and meander through the park on an exploratory river adventure of the Mississippi, Congo, Nile, Ganges, Mekong and Yangtze rivers. With the pristine Upper Seletar Reservoir as a backdrop, River Safari is also home to the Giant Panda Forest, Squirrel Monkey Forest and the enchanting Amazon Flooded Forest.
Opening hours: 9.00am to 6.00pm
Ticketing Counter Operating Hours: 8.30am - 5.30pm
Location: 80 Mandai Lake Road, Singapore 729826 Tel: 62693411
Getting there: Take the MRT to Ang Mo Kio (NS16), then SBS bus 138


Singapore Zoological Gardens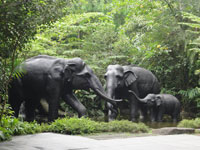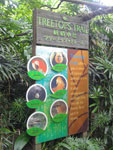 In its lush jungle setting, Singapore's renowned 'open' zoo is a haven for both animals and visitors. More than 2,000 creatures are housed in landscaped enclosures, with rock walls and streams replacing cages.
Special attractions include Children's World, where kids can interact with animals and enjoy excellent playgrounds, the six island Primate Kingdom, the sea lion and penguin gallery, the air-conditioned polar bear exhibit and a miniature railway.
Feeding shows take place throughout the day; favourites include the primates, reptiles, elephants and sea lions. Among the zoo's many endangered species is the world's largest colony of orang utans, with whom you can enjoy breakfast or afternoon tea if you book in advance through your hotel. Allow a whole day to enjoy the zoo's attractions.
Opening hours: 8.30am to 6pm daily
Animal Show times: 10.30am, 11.30am, 2.30pm and 3.30pm
Location: 80 Mandai Lake Road, Singapore 729826 Tel: 62693411
Getting there: Take the MRT to Ang Mo Kio (NS16), then SBS bus 138


The Singapore Crocodilarium
Over 1,000 crocodiles can be viewed at close range. Additional attractions include a reptile product shop. Feeding time is 11am on Tuesdays.
Opening hours: 9am to 5pm daily
Location: 730 East Coast Parkway, Singapore 439172 Tel: 64473722
Getting there: Take the MRT to Paya Lebar (EW8) or Eunos (EW7) and then take a taxi


Butterfly Park and Insect Kingdom
Enjoy watching exotic species of butterflies in this butterfly aviary. Visitors can also spot the well-camouflaged butterflies in the Insect Safari Tunnel.

Explore over 2,500 species of insects categorized by their geographical locations. You can get to see rare species including fist-sized horned beetles and metallic blue butterflies. Each and every species has a detailed explanation of its origin.

This is a great education tour for children and families.
Opening Hours: 9.00am – 6.30pm
Location: 51 Cable Car Road Sentosa, Singapore 099702 Tel: 62750013 (20m from Cable Car Station )


Arts, Cultural & Museums
Army Museum of Singapore
Experience being in the midst of the battlefield in their special 4D special effects Object Theatre or fire their latest SAR21 rifle in the Individual Marksmanship Trainer (IMT) simulator.
Opening hours: Tuesday to Sunday 10am to 6pm
Location: 520 Upper Jurong Road, Singapore 638367
Getting there: Take the MRT Joo Koon Station (EW29) and walk 10 minutes from the station


Asian Civilisations Museum at Empress Place
Regarded as one of the finest neo-classical buildings in Singapore, Empress Place dates back to 1854, when it served as a court house. Today the building houses a world-class museum and exhibition centre, featuring cultural and archaeological treasures from China and other ancient civilisation - many of them being shown outside their country of origin for the first time. Allow two to three hours.
Opening hours: 9am to 5.30pm (closed on Mondays)
Location: 1 Empress Place, Empress Place Building, Singapore 179555 Tel: 6336 7633
Getting there: Take the MRT to Raffles Place (EW14) and cross Cavenagh Bridge to Singapore River


Gillman Barracks
Gillman Barracks is Asia's new destination for contemporary art. Named after the late British General Sir Webb Gillman and nestled amid lush greenery, this former colonial barracks is now home to 16 amazing local and international art galleries, dining and creative businesses, as well as the Centre for Contemporary Art (CCA) that will open in late 2013.
Opening hours: 11:00am to 7:00pm (Tue – Sat), Fri 11:00am – 6:00pm (closed on Mon and public holidays)
Location: 9 Lock Road, Singapore 108937
Getting there: Take the MRT to Labrador Park
Admission is free


National Museum of Singapore
The Singapore History Museum, originally opened in 1887, is an architectural gem with each of its two levels reflecting a different order of Greek classical architecture. Of particular note are the three-dimensional reconstructions of historical scenes and events tracing Singapore's development from a sleepy fishing village to the present day metropolis. Another exhibit shows the world of a wealthy Straits Chinese family at the turn of the century, complete with elaborate Peranakan furnishings and finery. The Children's Discovery Gallery is another compelling attraction, with interactive exhibits designed to explain Singapore's cultural heritage, visual and per forming arts. In addition to the Singapore History Museum, Singapore offers a number of museums with specific themes.
Opening hours : 9.30am to 6.00pm (Tuesday to Sunday)
Friday : 9.30am to 9.00pm, no admission charges after 6.00pm
Location: 93 Stamford Road Singapore 178897


Mint Museum of Toys
Mint Museum of Toys offer a world-class collection of vintage toys and childhood memorabilia from more than 40 countries.

Opening hours: 9.30am to 6.30pm
Location: 26 Seah Street, Singapore 188382 Tel: 63390660
Getting there: Take the MRT to City Hall MRT (NS25/EW13) and walk 5 minutes, it is located beside Raffles Hotel


Peranakan Museum

The Peranakan Museum houses the world's finest and most comprehensive collection of Peranakan artefacts. This museum presents a Southeast Asian-wide view of Peranakan culture. Its rich material legacy and heritage are enhanced by state-of-the-art display technology, coupled with educational interactives for the young.
The Peranakan Museum explores the main themes of Peranakan life in ten permanent galleries. They include the elaborate 12-day Peranakan wedding, the role of the Nonyas, prominent Peranakans in Singapore's history, as well as one of the favourite past times of Singaporeans – food and feasting. It also provides a glimpse of how modern-day Peranakans have evolved with their culture.
Admission Charges:
Adult

Concession#

Individual

$6

$3

Group of 20 pax and more

$5

$2.50

Family*

$25

Asian Civilisations Museum & Peranakan Museum Joint-ticket**

$10

$5
# full-time students and those 60 years and above
* for maximum of 5 persons (Applicable only during special exhibitions)
** Joint-ticket must be used within 7 days of purchase
Notes on Admission Charges
1. Admission charges may vary during special exhibitions
2. Free admission for visitors aged 6 years and below
3. Free admission for visitors aged 60 years and above every Monday
4. Free admission on Fridays, 7-9pm, during non-special exhibition periods
5. 50% off regular admission prices on Fridays, 7-9 pm during special exhibition periods
Opening hours: 1.00 pmto 7.00pm (Monday)
Tuesday to Sunday: 9.30am – 7pm (to 9 pm on Fridays)
Website: www.peranakanmuseum.sg
Location: 39 Armenian Street Singapore 179941 Tel: 6332 7591
Getting there: Take the MRT to City Hall/ Dhoby Ghaut


Peranakan Place Museum
This small museum illustrates the rich lifestyle of the Peranakans, descendants of early Chinese settlers who married native Malays during the 15th and 16th centuries. They are perhaps best-known for their unusual Nonya cuisine but the Peranakans' architecture, fine furniture, intricate beaded embroidery and colourful porcelain are equally fascinating.
Opening hours: 10.30am to 3.30pm (Monday to Friday)
Location: 180 Orchard Road, Peranakan Place, Singapore 238846 Tel: 67326966
Getting there: Take the MRT to Somerset (NS23)


Royal Selangor Pewter Museum
This museum, the first of its kind in the world, is in the Jurong Industrial Estate. About 800 pieces of pewter are on display, some of them tools used over 100 years ago. Pewterware can also be bought here.
Opening: hours: 9am to 5.30pm daily. Admission: Free
Location: 32 Pandan Road, Singapore 609279 Tel: 62657711
Getting there: Take the MRT to Clementi (EW23)


Singapore Air Force Museum
This museum traces the development of the Royal Singapore Air Force from its early days as the Malayan Volunteer Air Force in 1939 to the present day. From colonial cap badges to the Bloodhound missile, the museum boasts a vast array of artifacts, including early planes such as the Hunter Hawker, the SF 260 Marchetti and the A4-C Skyhawk.
Opening hours: 10am to 4.30pm (except Mondays and Public Holidays) Admission: Free
Location: 400 Airport Road Singapore 534234


Singapore Art Museum / 8Q sam
The largest public collection of 20th century Singapore and Southeast Asian art in the world.
Opened in January 1996, the mission of the Singapore Art Museum (SAM) is to preserve and present the art histories and contemporary art practices of Singapore and the Southeast Asian region. To date, SAM has amassed the world's largest public collection of modern and contemporary Southeast Asian artworks with a growing component in international contemporary art. The museum has presented shows covering both local and international art practices, traditional and cutting edge art expressions. Through strategic alliances with international arts and cultural institutions, SAM has been facilitating visual arts education, exchange, research and development within the region and internationally. Through forging collaborative partnerships and staging innovative programmes to engage different audiences, SAM aims to contribute to an enlarged role in the regional visual arts community and Asian art museology, as well as facilitating developments in art as well as the art sector in Singapore.
Opened in August 2008, 8Q sam is a contemporary art space with fresh, multi-disciplinary, interactive and community oriented programming; a place where the public can directly experience the work and ideas of living artists, and in relation to its aesthetic and social context. 8Q sam will support experimental art forms and is envisioned to become a crossroad of new ideas and expressions. 8Q sam aspires to engage a broad and diverse audience, create a sense of community and be a place for contemplation, stimulation, and discussion about contemporary art and culture, and serves as a forum especially for the students. Visitors will have the opportunity to experience the diversity of contemporary art practices ranging from painting and sculpture, to installation, film & video, photography, new media, performance art and sound art.
Admission to SAM and 8Qsam:
| | | | |
| --- | --- | --- | --- |
| | SAM | 8Q sam | Combined SAM & 8Q sam |
| Adult | $ 8 | $ 3 | $ 10 |
| Student (with valid student card): | $ 4 | $ 1.5 | $ 5 |
| Senior Citizen (above 60 years): | $ 4 | $ 1.5 | $ 5 |
Groups of 20 or more: 20% off admission tickets for adults.
Opening hours:
Mon-Sun: 10am - 7pm
Fri: 10am - 9pm
(Free admission from 12noon – 2pm on weekdays and 6pm – 9pm on Fridays)
Location:
SINGAPORE ART MUSEUM
71 Bras Basah Road
Singapore 189555
8Q sam
8 Queen Street
Singapore 188535
General contact:
SAM 6332 3222
8Q sam 6332 3200
Day and timing of guided tours
SAM
Mondays: 2pm (English)
Tuesdays - Thursdays: 10.30am (Japanese); 11am & 2pm (English)
Fridays: 10.30am (Japanese), 11am, 2pm, 7pm (English), 7.45pm (Mandarin)
Saturdays & Sundays: 11am, 2pm and 3.30pm (English)
8Q
Saturdays: 12.30pm (English)
Getting there info: By MRT, By Bus & By Car
Ideally located at the restored 19th-century old St Joseph's Institution (SJI) building on Bras Basah Road, SAM is easily accessible. Parking at the Singapore Art Museum is reserved for cars with NHB parking labels only, you may wish to try the following car parks: Waterloo Street, NTUC Income Centre or Queen Street.
By Bus
SBS:7,14,16,36,97,124,131,162,174
SMRT Tibs: 77,167,171,190,700,700A,857
By MRT
SAM is a 10-minute walk from City Hall MRT station
Info for the disabled
Handicapped Access/Lockers:
The Museum is well-equipped to cater to the physically disabled. Lifts and permanent ramps located in the Museum provide easy access to galleries. Wheelchairs and baby push-prams are allowed in the Museum. The public toilets in the Museum contain an area for diaper changing. Lockers for the public are also provided at no charge.
Website:
SAM www.singart.com
8Q sam www.singart.com/8qsam


The Battle Box
This is one of the most important World War II sites in Singapore. It is a massive military bunker located about 9 metres below ground. It is currently housed as a war museum, where visitors will be revisted to the year 1942, 15 February when the surrender decision was made by the General Percival and Singapore fell to the Japanese.
Opening hours: 10am to 6pm (last entry at 5pm)
Website: www.legendsfortcanning.com
Location: 2 Cox Terrace, Singapore 179622 Tel: 63330510 / 63393286
Getting there: Take the MRT to Dhoby Ghaut Station (NS24/NE6/CC1) or buses available are: 7,14,14e, 16,36, 65, 111, 124, 128, 162, 162M, 174, 174e, 175, 502, 502A, 502B


The Changi Museum
The Changi Prison Chapel, with its thatched roof and outdoor pews, is a replica of the original built by Allied prisoners of war in World War II. The Museum, which also features a souvenir shop, records the daily life of the prisoners through a display of photographs, paintings and sketches. It also features a pair of rail spikes from the infamous Burma railroad which claimed the lives of thousands. It is a tribute to the men who lived and died in captivity during those dark years.
Opening hours: 9.30am to 4.30pm daily (closed on Sunday and Public Holidays)
Chapel service: 5.30pm (Sundays only). Admission: Free
Location: 1000 Upper Changi Road North Singapore 507707 Tel: 67437885, 65430893
Getting there: Take the MRT to Tanah Merah (EW4)


The Original Singapore Walks
Take the road less travelled with the experts of the city as they will show you the other side of the local culture and heritage. Explore a different Walk or War Trail every day of the week.

Website: www.singaporewalks.com
Location: Meeting points for tours are normally at MRT stations or entrance of museums Tel: 63251631

The Singapore Mint Coin Gallery
The Singapore Mint's exhibition gallery displays a collection of coins, medals and medallions from all over the world. Visitors can also mint their own souvenir coin at the gallery's coin press.
Opening hours: 9.00am to 4.00pm (Monday to Friday). Admission: Free
Location: 20 Teban Gardens Crescent Singapore 608928
Getting there: Take the MRT to Boon Lay (EW27)


Labrador Secret Tunnels
Uncover the wartime of Singapore with the Labrador secret tunnels. Take a walk in the alley that imposes a 6 inch gun, machine gun post and through historic casemates. Immrse yourself in the journey of the lives of the soldiers during the World War II.
Opening Hours: 10.00am – 7.00pm daily
Tel: 63396833 / 63389205


Hua Song Museum
Understand the Chinese culture and the early Chinese migrants ways of blending their lives with the non-Chinese community, making good of themselves in a foreign country. And how they lived their dreams and prospered.
Opening Hours: 1.00pm – 7.00 pm (Closed on Mondays)
Location: 262 Pasir Panjang Road Hua Song Museum Haw Par Villa Singapore 118628
Tel: 63396833


Singapore Philatelic Museum
Stamps Gallery
Discover the early years of Singapore as you walk through the past events and history that has shaped Singapore. Find out why had the early migrants of Singapore watch out for the yellow and red flag at Fort Canning Hill, or what kind of hardships our ancestors has tormented in the early years of World War II.
You can also experience a walk through of thematic galleries that symbolizes different events, cultures, history and achievements Singapore attained.
Location: 23B Coleman Street
Opening Hours: Mondays 1.00pm – 7.00pm
Tuesdays – Sundays 9.00am – 7.00pm
Tel: 63373888


Edu-tainment

Marina Barrage
Marina Barrage is Singapore's 15th reservoir, boasting a catchment area one-sixth of the size of Singapore.
Visitors can enjoy the Sustainable Singapore Gallery, Green Roof and Solar Panels and the Marina Barrage.
Opening hours: All Day
Sustainable Singapore Gallery: Monday to Sunday and Public Holidays 9am – 9pm
Location: 8 Marina Gardens Drive, Singapore 018951 Tel: 65145959
Getting there: Take the MRT to Marina Bay Station (NS27/CE2) with a direct bus to Marina Barrage


NEWater Visitor Centre
The Centre offers a place for learning and fun with interactive multimedia games and exhibits to offer. Visitors can understand the NEWater process and the various use of NEWater. It is an educational treat for everyone.
Opening hours: 9am to 5.30pm (Closed on Mondays)
Location: 20 Koh Sek Lim Road, Singapore 486593
Getting there: Take the MRT to Tanah Merah Station (EW4)


Science Centre Singapore
The Science Centre Singapore is a non-formal educational institution dedicated to the promotion of science and technology among students and members of the public. As a leading Science Centre in the region, the Science Centre Singapore has twelve exhibition galleries with more than 1,000 exhibits, and another 18,000 sq metres of outdoor space showcasing the exhibits of the Waterworks, Ecogarden and the Kinetic Garden. The Centre also houses the Omni-Theatre — Singapore's only dome-shaped, 5-storey high theatre with a capacity of 276 seats. Apart from IMAX movies, the theatre also screens IMAX DMR movies. The Science Centre receives more than 900,000 visitors annually.
Opening hours: 10am to 6pm (closed on Mondays)
Location: 15 Science Centre Road, Singapore 609081 Tel: 64252500
Getting there: Take the MRT to Jurong East (EW24), then take SBS 336


Singapore Discovery Centre
Singapore Discovery Centres is an 'edutainment' center that offers interactive and exciting exhibits, providing insights into what makes Singapore tick. It lets you experience Singapore's cultures and traditions. Also, discover Singaporeans memories, aspirations, dreams and challenges.
Opening hours: Tuesday to Sunday 9am to 6pm (Closed on Mondays except School Term and Public Holidays)
Website: www.sdc.com.sg
Location: 510 Upper Jurong Road, Singapore 638365 Tel: 67926188
Getting there: Take the MRT Joo Koon Station (EW29) and walk 10 minutes from the station


Famous Districts in Singapore
Bugis Street
Bugis Street is Singapore's largest street shopping location, which provides a unique shopping experience, and is renowned for being a one-stop shop where shoppers can find a huge variety of products and services of both value and quality. With a vast and dynamic product mix, Bugis Street is well known for its wide selection, competitive prices and quality merchandise that cater to anyone and everyone.
Getting there: Take the MRT to Bugis (EW12/DT14)


Changi Village
Off the beaten track, Changi Village shows a more relaxed side of Singapore. The local beach has clean sand that attracts fishermen and bathers alike-especially at weekends the village itself, there are plenty of bargains to be had-T-shirts, electronics, car- pets, Indian cotton clothing, shoes, batik dresses, kimonos and all types of table linen. When hunger strikes, head for the food centre or try one of the restaurants along the main street. Relax in the shade of an umbrella, order up some fresh seafood and watch the world go by.
Getting there: Take the MRT to Tanah Merah (EW4)


Chinatown
Chinatown Here amidst narrow streets of picturesque shophouses and restaurants brimming with life, the temple idol carvers, herbalists, calligraphers, traders and trishaw drivers pursue a way of life that has changed little for generations. Incense stream from the old temples, the elderly spread their wares out on the pavement for sale and sea cucumbers, regarded as a delicacy, dry in the sun.
Much of Chinatown has recently been renovated, but the old traditions endure. A walk around the streets of Tanjong Pagar reveals local craftsmen at work making clogs, kites and traditional seals for stamping documents. During Chinese New Year, the whole of Chinatown is lit up and buzzes with activity as stalls sell a variety of festive goods.
Getting there: Take the MRT to Outram Station (EW16) or Chinatown (NE4)


Geylang & Katong
Geylang, traditionally the home of Singapore's Malay, Arab and Indonesian communities, is alive with market stalls and bustling crowds, particularly during Muslim festivals. Spices and rattan from Indonesia, gems from Burma, cotton and gold from India and perfumes from Arabia - this is the place for the adventurous shopper who enjoys old shophouses as a backdrop to bargain hunting.
The Malay influence is strong throughout Geylang and this is reflected in both the shops and the food centres where nasi padang,a dish served with rice, vegetables and meat, is a particular favourite. Wander through the numerous lanes off Geylang Road for some delightful scenarios of local life and stroll down Joo Chiat Road for a glimpse of traditional Chinese businesses such as joss stick and candle makers. Also, drop by at Malay Village. Its shops display a potpourri of Malay traditional items like handicrafts, fabrics, prayer rugs, furniture and antiques.
Getting there: Take the MRT to Paya Lebar (EW8)


Neighbouring Katong is a quiet residential area formerly colonised by wealthy Straits Chinese families or the Peranakans. Many of Katong's new apartment blocks have spectacular sea views, while the older Peranakan homes, once seaside villas, now stand back from the sea. Parkway Parade is the place to find shopping bargains, but Katong is best known for its wonderful eating houses specialising m Peranakan cuisine and bakeries selling delicious curry puffs. For Chinese seafood, the shophouses along East Coast Road offer a really tasty treat.
Getting there: Take SBS bus 14 or 16 from Orchard Road


Holland Village
This small area of Singapore still has the feel of a village about it, with its own wet market and shophouses selling everything from straw brooms to valuable antiques. Holland Village is a microcosm of Singaporean life, a curious mix between old and new old coffee shops and hawker stalls jostle for space with ritzy new wine bars and restaurants. The Holland Road Shopping Centre is alive with busy shops, including some selling Asian arts, crafts and antiques. Electronics and factory outlet clothing are other good buys. Weekends are especially busy, when much of Singapore seem to gather at Holland Village to shop, chat and have a meal.
Getting there: Take the MRT to Holland Village (CC21)


Housing Estates
Many visitors to Singapore like nothing more than to get off the beaten path to discover how the locals live and enjoy life.
Clementi is located in the Western side of Singapore. Clementi Central offers an air-conditioned bus interchange, Clementi MRT station, several interesting HDB shops, a community library and a modern shopping centre. Clementi is also located not too far off from the central of Singapore. With the Ayer Rajah Expressway nearby and is a short drive to the city.
Getting there: Take to Clementi MRT (EW23)


Woodlands, on the Singapore side of the Causeway leading to Malaysia, has a strong Malay influence. The busy Woodlands Shopping Centre is one of the best places to buy fabric. Many of the colourful fabrics on display are used to make the shimmering traditional dress favoured by Muslim women.
Getting there: Take the MRT to Woodlands (NS9)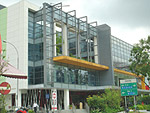 Yishun is a satellite suburb in Singapore's north - the last stop on the MRT. Step straight off the MRT into the six-level Northpoint Centre, a modern shopping mall complete with all the big brand names to be found along Orchard Road. Right next to Northpoint is a high quality, eight-cinema multiplex. And on the other side is a row of shophouses selling food and bargain goods.
Getting there: Take the MRT to Yishun (NS13)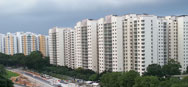 Sengkang is a new town and is home to many young families and young couples. It is located in the North Eastern side of Singapore and is accessible by KPE expressway. Amenities in this town include local schools, shopping malls, a public library, a polyclinic and two community centres. Compass Point Shopping Centre is attached to the bus interchange and MRT and LRT network. Other malls in the area are Rivervale Mall, Rivervale Plaza and Fernvale Point.
Getting there: Take the MRT to Sengkang (NE16)


Toa Payoh visitors will find its central shopping area reminiscent of Singapore's older shophouses. Here you can pick up garments at ridiculously low prices T-shirts and shorts at $10 for three items or children's clothes for as little as $2. Toa Payoh town centre includes cinemas, hawker centres, coffee shops and a library. With the relocation of HDB Hub in Toa Payoh, alot more shops and restaurants can be found there.
Getting there: Take the MRT to Toa Payoh (NS19)


Tampines, an HDB estate in the north-east of Singapore, has the distinction of having won the coveted United Nations World Habitat Award for Excellence in Housing Design. With new schools, shops, markets, beautiful playgrounds, two golf courses, a swimming pool, a badminton hall and a stadium, it has all the facilities its residents could want. A Japanese department store, supermarkets and food chains have already been attracted to Tampines.
Getting there: Take the MRT to Tampines (EW2)


Little India
Little India, centred around Serangoon Road, embodies the vibrant and colourful culture of the Indian community in Singapore. Women in graceful saris and turbaned Sikhs go about their daily business in the Zhujiao Centre, where a bewildering selection of food is on sale. Small shops abound, selling bolts of glittering silks, temple garlands, gold jewellery and spices that are ground in front of you. The Hindu religion plays an important part in the life of Little India, and the Sri Veerama Kaliaman and Sri Srinivasa Perumal Temples in the area are well worth visiting.
Gardens & Parks
Bedok Reservoir Park
Bedok Reservoir park is a great place for a run early in the morning or once the sun goes down. The park is equipped with a jogging track, a children's playground, fitness stations and open fields. There are two running loops, the inner one that's right next to the reservoir, around 4.3km, while the outer loop takes you on the cycling path around the reservoir.

Apart from running, you can also do the Forest Adventure challenge where you have to complete an obstacle course.
Bedok Reservoir is now open to water sports activities such as wakeboarding, sailing, fishing, canoeing and kayaking. This follows the Singapore Sports Council's efforts to allow water sport enthusiasts to make use of the various reservoirs for activities which do not compromise the quality of the water.
The nature reserve is open daily. Admission: Free
Location: Along Bedok Reservoir Road
Getting there: Take the MRT to Bedok (EW5) station, then take SBS bus 60


Bukit Timah Nature Reserve
Singapore is one of only two cities in the world to have a significant area of primary rainforest within its boundaries - the other being Rio de Janeiro. This 81-hectare reserve, only 12 kilometres from the city centre, contains more species of plants than the entire North American continent. At the heart of the reserve lies Singapore's highest point - Bukit Timah Hill at 162.5 metres above sea level. Well marked paths lead through the jungle. Along the way, walkers can enjoy exotic birds, butterflies, inquisitive monkeys, squirrels, flying lemurs and other wildlife.
The nature reserve is open daily. Allow two hours. Admission: Free
Location: 177 Hindhede Drive, Singapore 589333 Tel: 1-800-4685736
Getting there: Take the MRT to Newton (NS21) station, then take SBS bus 171 or TIBS bus 182


Chinese Garden
Chinese Garden was built in 1975 and spans 13.5ha. It was designed by a well-known Taiwanese architect, Prof Yuen-Chen Yu. The Chinese Garden, with its curved bridges, pagodas, courtyards and fountains, sweeps down to a river edged with weeping willows. The place to visit if you are a fan of historic Chinese architecture.

Today, the Chinese Garden continues to provide a peaceful refuge to nearby residents who go there for walks amidst landscaped grounds. It is a perfect venue for celebrations during festive periods such as Chinese New Year and Mid-Autumn Festival. The bridges and pagodas also attract couples there for wedding photography shoots. 
Location: 1 Chinese Garden Road, 619795
Operating hours: Daily, 6am – 11pm
Getting there: Take the MRT to Chinese Garden(EW25) station


East Coast Park
East Coast Park, located off the East Coast Parkway, is a favourite play area for Singaporeans, either at the beach or in the parklands where bicycle riding is much enjoyed. Hire a bike or go windsurfing, eat at one of the many fine seafood restaurants or enjoy yourself at the various leisure attractions. These include everything from a bowling alley to a golf driving range.


Fort Canning Park
Fort Canning Park is a park rich in history - a sacred site where early Malay kings settled and the spot Sir Stamford Raffles chose to build his own bungalow, Singapore's first Government House. Fort Canning Centre, which dominates the park, is now a venue for the arts.
Getting there: Short walk from Dhoby Ghaut MRT (NS24) station


Gardens by The Bay
Gardens by the Bay is an integral part of a strategy by the Singapore government to transform Singapore from a "Garden City" to a "City in a Garden". The stated aim is to raise the quality of life by enhancing greenery and flora in the city.
Embark on a journey through rainforests of the world with OCBC Garden Rhapsody's "Rainforest Orchestra - Asia". When night falls, take a peek into the rainforests of Asia where trees come into leaf after a monsoon rain, and watch the Supertrees come alive with original music compositions inspired by tropical rainforests.
OCBC Garden Rhapsody
Daily Shows
First - 7:45 PM
Second - 8:45 PM
Opening hours:5am to 2am daily
Location: Marina Bay
Getting there: Take the MRT to Marina Bay MRT station (NS27/CE2/TS20)


Jacob Ballas Children's Garden
Jacob Ballas Children's Garden (JBCG) at Bukit Timah is opened to all children of Singapore. It provides a conducive place for them to play, explore and enjoy the beauty of nature. Jacob Ballas Children's Garden is Asia's first children's garden. It is designed to provide unique discovery and learning experiences in a garden setting.
In this Garden, children will learn through play and exploration. The Children's Garden will cultivate an appreciation for plants, nature and the environment for the young.
Opening hours: Tuesdays to Sundays: 8.00 am to 7.00 pm (last admission at 6.30 pm)
Closed on Mondays (except Public Holidays that fall on a Monday)
Location: 1 Cluny Road Singapore Botanic Gardens (Bukit Timah entrance) Bukit Timah, Central S259569. Tel: 6465 0196
Getting there: Take the MRT to Orchard (NS22), then take SBS bus 7, 105, 106, 123 or 174 from Orchard Boulevard


Japanese Garden
Japanese Garden emphasises simplicity, with stone lanterns, shrubs, hillocks and a tea-house creating a soothing atmosphere.
Opening hours: 9am to 6pm daily.
Location: 1 Chinese Garden Road, Singapore 619795 Tel: 2643455
Getting there: Take the MRT to Chinese Garden (EW25)


Kent Ridge Park
Kent Ridge Park has 20 fitness stations for sports enthusiasts to enjoy. In this park, you can find biking trail, suitable for intermediate to experienced mountain bikers. Nature groups will also enjoy the nature trail located near Carpark A.
On the eastern side of the park, towards the valley, is a natural pond teeming with turtles and fish such as the Japanese koi fishes.
One of the last battles for Singapore was fought on this hill which dominated the harbour and the British military depots in the Ayer Rajah area. You can find a plaque installed at Carpark B in commemoration of the 50th Anniversary of the end of World War II.
There is also a Canopy Walk which measures 280-metres long, the bridge links Kent Ridge Park to the museum Reflections of Bukit Chandu, linking the park and museum's accessibility to the general public.
Location: Kent Ridge Park, Singapore 259569 Tel:6471 7361
Getting there: Take the MRT to Pasir Panjang (CC26) station


Mandai Orchid Gardens
The blooms here at Singapore's largest commercial orchid garden provide a colourful display all year round. The garden is conveniently located right next to the zoo, and a whole hillside is covered in orchids.
Opening hours: 8.30am to 5.30pm daily.
Location: Mandai Lake Road, Singapore 729825 Tel: 62691036
Getting there: Take the MRT to Ang Mo Kio (NS16) station, then SBS bus 138


Mount Faber
Mount Faber offers a panoramic view of the harbour and neighbouring Sentosa Island, as well as a large measure of tranquility. It is also a place to catch the cable car to Sentosa.
The only mode of public transport is by taxi or take the cable car from World Trade Centre.


National Orchid Garden
Located in the Singapore Botanic Gardens, the National Orchid Garden is the largest orchid display in the world and features over 60,000 orchid plants. It also houses the famed "VIP Orchids" named after visiting Heads of State .
Opening hours: 5am to 12 midnight daily. Admission: Free
Location: Cluny Road, Singapore 259569. Tel: 1-8004797100.
Getting there: Take the MRT to Orchard (NS22), then take SBS bus 7, 105, 106, 123 or 174 from Orchard Boulevard


Pasir Ris Park
Pasir Ris Park is a popular choice for cycling, jogging and picnicking along the coastline.This coastal park is among the largest in Singapore. The full length of the park is around 6.6 kilometres. The park includes a beach, a cycling track, barbecue pits and picnic tables.
One of the most popular features is the huge playground located on the western end. It has features such as play stations, slides, 'space-nets', rope climbing, cableways and basketball courts. Pony rides are available, including rides with handlers, riding lessons and miniature pony rides for pre-schoolers. Recreational activities include skating lesson, renting of bicycle, skate, kayaking and other water sports equipment are also available.
Location: Pasir Ris Road off Elias Road
Getting there: Take the MRT to Pasir (EW1), then take Bus 403 from Pasir Ris Bus Interchange


Pasir Ris Town Park
Pasir Ris Town Park is located within the Pasir Ris housing estate. The park offers a wide open space which is a favourite place for cultural and social interaction among residents and the foot reflexology and fitness stations are widely used for morning exercises. The park is also equipped with a playground where children can enjoy their time.
The main attraction of this park is the large marine pond, which is a popular hunt of anglers waiting for their catch. The pond is well sheltered with shady trees for the fishing enthusiasts.
Location: Pasir Ris Central
Getting there: Take the MRT to Pasir (EW1)


Punggol Park Connector
Punggol Park Connector (TPE : Punggol Waterway) is a 1.9km stretch of park connector adjoining Sengkang Riverside Park to the western end of Punggol Waterway. Completed in 2011, this rustic segment sees less human traffic, more natural environment and offers a quiet respite between the two better-known sections that it links up.
Location: Punggol Waterway, Sungei Punggol
Getting there: Take the MRT to Sengkang (NE16), then take SBS bus 85


Reservoir Parks
MacRitchie, Peirce, Lower Seletar and Seletar Reservoirs are surrounded by a broad swathe of jungle and greenery which runs through the central northern part of Singapore. The cool reservoir parks of MacRitchie and Seletar are popular strolling and picnic spots for Singaporeans and their families.

MacRitchie Reservoir Park

Lower Seletar Reservoir Park

Upper Seletar Reservoir Park
Singapore Botanic Gardens
Spread over 52 hectares close to the centre of the city, the Botanic Gardens combine both primary jungle and manicured gardens which together hold thousands of species of plant life, including many rare specimens. Malaysia's rubber industry had its origins in the Botanic Gardens in the late 19th century when colonial botanist Henry Ridley propagated rubber plants from London's Kew Gardens. A lake adds to the serenity of the gardens, and is home to water fowl, ducks and kingfishers.
Opening hours: 5am to 12 midnight daily. Admission: Free
Location: Cluny Road, Singapore 259569. Tel: 1-8004797100
Getting there: Take the MRT to Orchard (NS22), then take SBS bus 7, 105, 106, 123 or 174 from Orchard Boulevard


Sungei Buloh Nature Park
Singapore's first designated wetland nature reserve is a major stop-over point for birds migrating along the East Asian Flyway. Carefully constructed hides throughout the 87 hectares provide excellent observation points for visitors.
Opening hours: 7.30am to 7pm on weekdays; 7am to 7pm on weekends and public holidays
Location: Neo Tiew Crescent. Tel: 66690377
Getting there: Take the MRT to Choa Chu Kang (NS4) station, then take TIBS bus SS7 to Woodlands Interchange. From Woodlands Interchange, take TIBS bus 925


West Coast Park
West Coast Park is located in West Coast, Singapore, parallel to West Coast Highway. It is themed 'Play Centre in the West'. The park covers an area of 50 hectares.
Location: Parallel to West Coast Highway Singapore 126844
Getting there: Take the MRT to Clementi (EW23) station, then take bus 189 to Opp West Bay Resort Condo. Alight and walk to West Coast Park



Here is my Vietnamese wife status. As a Singaporean born and raised, I am a true blue citizen.

First LTVP application: 1 year LTVP
First LTVP renewal: 3 years LTVP plus

The first application was rejected after 7 months, the appeal .....



Posted in PR, Citizenship, Passes & Visas for Foreigners


Actually, among other things, there are plenty of Chinese schools in Malaysia where the medium of instruction is Mandarin. My wife is from one such school. As are many Malaysian Chinese you see in Singapore. This includes many who are .....



Posted in General Discussions

This is a bit off topic, but I just came to know that in Malaysia, their entire education is in Malay language. My Malaysian chinese colleague who has now turned into a Singaporean told me, she did her primary education in Chinese language .....



Posted in General Discussions