Places of Interest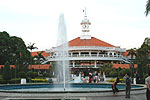 Your tour to Singapore will never be complete unless you visit our places of interest. We have information on places of interest like Singapore Zoo, bird park, Sentosa & other famous attractions & landmarks. Enjoy the tour!
Landmarks & Memorials
Arab Street
Arabs were among the first to arrive in Singapore to trade, bringing with them the Islamic religion and converting many indigenous Malays to their belief. Today the old section of the city around Arab Street provides an intriguing glimpse into the Muslim way of life.


Civilian War Memorial (War Memorial Park)
This strikingly simple memorial is dedicated to the civilians who lost their lives during the Japanese occupation in the Second World War. The locals affectionately call it the "Chopsticks" memorial because of its unusual design.
Location: Near Raffles City Complex
Getting there: Take the MRT to City Hall (EW13)


Kranji War Memorial
The beautifully landscaped grounds of the Kranji War Memorial are dedicated to the Allied troops who died in the battle for Singapore during World War II. The memorial's walls are inscribed with the names of those who died, and a register is available for inspection from the custodian.
Location: 9 Woodlands Road, Singapore 738656
Getting there: Take TIBS bus 182 from Somerset Road or SBS 170 from Rochor Road and alight at bus stop opposite the Memorial


Merlion
Merlion, the tourism symbol of Singapore, the Merlion is a mythical beast, said to be half lion, half fish. The eight-metre high Merlion statue stands guard at the mouth of the Singapore River.
Opening hours: 7am to 10pm daily (the Merlion spouts water from 10am to 10pm). Admission: Free
Location: Near One Fullerton
Getting there: Take the MRT to Raffles Place (EW14) and walk towards the Esplanade. From Orchard Road, take TIBS bus 167 or 182


Parliament House
Once a stately colonial mansion which was built in 1827, Singapore's oldest government building is today the home of the Republic's Parliament. A bronze elephant stands in front of the building, a gift from King Chulalongkorn of Siam in 1871.
Admission: Free. By appointment only
Location: 1 Parliament Place, Singapore 178880 Tel :63368811
Getting there: Take the MRT to Raffles Place (EW14) and walk across Cavenagh Bridge


Statues of Sir Stamford Raffles
The founder of modern Singapore has two statues to his memory. The original bronze cast by Thomas Woolner in 1887 stands outside the Victoria Theatre, while a replica stands on North Boat Quay, behind Parliament House - at the site where Raffles is thought to have landed on January 29, 1819.
Location: Victoria Theatre - 9 Empress Place, Singapore 179556 and North Boat Quay
Getting there: Take the MRT to Raffles Place (EW14) and walk across Cavenagh Bridge

Victoria Theatre

North Boat Quay
Supreme Court and City Hall
The last classical building to be completed in Singapore, the Supreme Court opened in 1939 as the first stage of a grand design to replace Parliament House, the Victoria Theatre and the Singapore Cricket Club. However, World War II intervened and the plan was fortunately, shelved. Neighbouring City Hall was the scene of the Japanese surrender to Lord Louis Mountbatten in 1945. Visitors are allowed.
Location: 1 Saint Andrew's Road, Singapore 178957


The Helix
The Helix is Singapore's latest icon situated in the Marina Bay vicinity which boasts a stunning 280m pedestrian bridge connecting to the Marina Bay Sands Integrated Resort, The Singapore Flyer, The Float @ Marina Bay and the Youth Olympic Park.
It is is supported by two connected steel spirals to create a double helix, Singapore's longest bridge that curves over the water.


Lifestyle
1-Altitude Gallery
Highest Observation Point of Singapore
1-Altitude Gallery aims to bring visitors through an interactive and transformative journey that intrigues them to complete their Singapore expeditions –be it for leisure or business –by visiting the other tourist precincts and attractions. This project aims to promote Singapore as The Ultimate Destination, and the 1-Altitude Experience should be the visitors' starting point.
282m above the ground | unobstructed 360-degree view
Opening hours: 8 am to 10 pm
Website: www.1-altitude.com
Location: No. 1 Raffles Place, Level 63, Singapore 048616 Tel: 65325003
Getting there: Take the MRT to Raffles Place MRT


Cheng Ho Cruise
Discover Singapore's magnificent view in a different way, the modern Chinese junk, it has been designed and built to look like the imperial splendour of centuries ago. It is modelled after the famous ship Da Fu of the Ming Dynasty, when the Chinese naval power was supreme.
The ride starts from the Marina South Pier. Enjoy views of the Singapore Flyer, Sentosa Cove and Tanjong Pagar Container Port.
Opening hours: 9am to 7pm
Website: www.watertours.com.sg
Location: 31 Marina Coastal Drive, Marina South Pier, Singapore 018988 Tel: 65339811
Getting there: Take the MRT to Marina Bay Station (NS27/CE2)


Dempsey Hill
With a colonial history dating back to the 1800s, Dempsey Hill has in recent years been designated a conservation area, having transformed into a beautiful and charming dining, wining and lifestyle enclave, nestled amidst lush greenery.
Website: www.dempseyhill.com
Location: Dempsey Road , Singapore 249679
Getting there: Shuttle bus service available at Orchard Boulevard Road (In front of Four Seasons Park) / Bus-stop in front of Thai Embassy / Dempsey Hill, Blk 8D Bus-stop outside Gleneagles Hospital

Jewel Cable Car Ride
The latest cable car cabins offer a cutting edge state-of-the art designs and sparkles like jems in the night. It offers a 360 degree view of the Southern part of Singapore, it will serve as a gateway to the Sentosa Island.
Opening hours: 8.30am to 11pm (daily)
Location:
109 Mount Faber Road, The Jewel Box
Jewel Cable Car Station at Harbourfront Tower 2
1 Martitime Square, #01-31
Jewel Cable Car station at Sentosa
50 Imbiah Road
Tel: 63779688
Getting there: Take the MRT to Harbourfront Station (NE1) and walk 5 minutes

Marina Bay Sands
Marina Bay Sands is an integrated resort fronting Marina Bay in Singapore. Developed by Las Vegas Sands (LVS), it is billed as the world's most expensive stand-alone casino property at US$ 5.7 billion, including the cost of the prime land.
Marina Bay Sands is situated on 15.5 hectares of land with the gross floor area of 581,000 square metres. The iconic design has transformed Singapore's skyline and tourism landscape since it opened on 27 April 2010. The property has a hotel, convention and exhibition facilities, theatres, entertainment venues, retailers, and restaurants.
Website: www.marinabaysands.com
Location: 10 Bayfront Avenue, Singapore 018956
Getting there: 4 mins walk from Marina Bay MRT station (NS27/CE2/TS20)


Red Dot Design Museum



Preview how our future will evolve with an exhibition of award winning design ideas from more than 20 nations at the red dot design museum.
The museum is located at red dot traffic, a heritage building given a new lease of life with clever space transformation to become Singapore's de facto creative hub. Its red façade is an iconic landmark in Singapore and a contrary to grey skyscrapers in the central business district.
Opening hours: Monday, Tuesday and Friday: 11am – 6pm Saturday and Sunday: 11am – 8pm
Location: 28 Maxwell Road, Singapore 069120 Tel: 65347194
Getting there: Take the MRT to Tanjong Pagar Station (EW15)


Singapore Island Cruise
Singapore Island Cruise is the only ferry operator that is providing daily ferry services to Kusu and St John's Island.

Chartering of vessel to other Island such as Sisters' Islands, Pulau Hantu will also be available.

The Islands of Singapore is a treasure yet to be seen by many young Singaporeans and tourist. Therefore an opportunity to go over to the island will be a great chance for them to see another side of urban Singapore.

Other Information
• Wine and Dine Cruise will also be available upon charting of vessel. This means that private function can be held on the vessel.

• Ordering of packet food/buffet will be available upon request. (At least 5 days in advance)
We will be able to provide group discount if you are keen to pay southern island a visit as a group
Website: www.islandcruise.com.sg
Email: ryden@islandcruise.com.sg
Location: No.31 Marina Coastal Drive #01-04, Marina South Pier Singapore 018988 Tel: 65349339
Getting there: Take the MRT to Marina South (NS28)


Singapore Turf Club
Experience the Singapore Racecourse for all the excitement of winning. It offers the latest features leading racecourses in the world.
Opening hours: Racing is conducted in the evening on Selected Fridays, and afternoon on Selected Saturdays and Sundays
Location: 1 Turf Club Avenue, Singapore 738078 Tel: 68791000
Getting there: Take the MRT to Kranji Station (NS7)


Places of Worship
Churches
Singapore's churches and cathedrals were built well before the turn of the century and many are still used today as places of worship. Visitors are reminded to observe proper etiquette, particularly when a service is being held.
Living Faith Church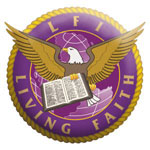 On 18th March 2001, Living Faith Church held its inaugural service in one of the cinema halls of Golden Village, Marina Square.
Living Faith Church was founded by John Shepherd Lim, Senior Pastor, and his wife Pastor Tan Lay Geok in obedience to God's call to plant churches to support evangelism and winning the lost for Christ.
Our first worship service had a total of 75 worshippers and since then, our congregation has grown to an average of 500 worshippers over 2 services. On our journey with God, He availed to us Pan Pacific Hotel, Kreta Ayer People's Theatre, Singapore Conference Hall (current venue for Sunday Services), and DBS Auditorium.
In January 2007, the Lord provided us with our own church venue, The OASIS THEATRETTE located at Parkmall (#13-07) for our Marketplace Christian Fellowship Services on Mondays, Ladies Group Meetings on Wednesdays, Lunchtime Christian Fellowship on Fridays and Youth & Young Adults Fellowship on Saturdays.
Some of the the fundamental teachings of this congregation are reflected in the following statements of faith:
We believe in the plenary-verbal inspiration of the accepted canon of scriptures as originally given. The scriptures are infallible, inerrant and the sole and final authority for all matters of faith and conduct. (2 Timothy 3:16; 1 Corinthians 2:13)
We believe in the eternal Godhead who has revealed Himself as one God existing in three persons, Father, Son and Holy Spirit, distinguishable but indivisible. (Matthew 28:19; 2 Corinthians 13:14)
We believe in the baptism in the Holy Spirit as a real experience at or subsequent to salvation, with the scriptural evidence, namely, speaking in other tongues as the Spirit gives utterance. (Acts 2:1-4; 8:14-17; 10:44-45; Galatians 3:14-15)
We believe in the Lord Jesus Christ, the Savior of men, conceived by the Holy Spirit, born by the Virgin Mary, very God and very Man. (Luke 1:26-35; John 1:14-18; Isaiah 7:14; 9:6)
Living Faith Church
Location: 9 Penang Road, Park Mall #13-07, Singapore 238459
Getting there: Take a short walk from Dhoby Ghaut MRT (NS24)


Tel: (65) 6337 7628
Email: info@thelivingfaith.org
Website: www.thelivingfaith.org

Sunday Services
Location: Singapore Conferences Hall, 7 Shenton Way, Singapore 068810
Getting there: Take a short walk from Tanjong Pagar MRT (EW15)


Armenian Church of Saint Gregory The Illuminator
Singapore's oldest church, the Armenian Church in Hill Street, was completed in 1835 to a design by colonial architect George Coleman. Regarded as Coleman's masterpiece, the church is dedicated to St Gregory the Illuminator. It is designated as a national monument.
Location: 60 Hill Street, Singapore 179366
Getting there: Take a short walk from City Hall MRT (EW13)


The Cathedral of the Good Shepherd
Completed in 1846, the Cathedral of the Good Shepherd in Queen Street was designed by Dennis McSwiney, formerly a clerk to George Coleman. Its tower and spire were added a year later by Charles Dyce.
Location: A Queen Street, Singapore 188533
Getting there: Take the MRT to City Hall (EW13) and walk towards Bras Basah Road


St Andrew's Cathedral
Built between 1856 and 1861, St Andrew's Cathedral was erected on the site of an earlier church which was twice struck by lightning. Designed by Colonel Ronald MacPherson and built by Indian convict labour, its glossy white exterior results from the use of Madras Chunam, a mixture of shell lime, egg white and sugar.
Location: 11 Saint Andrew's Road, Singapore 178959
Getting there: Take the MRT to City Hall (EW13)


St Joseph's Church
Every Good Friday Singapore's Catholic community commemorates the crucifixion of Christ with a procession through the grounds of this church at 143 Victoria Street. It was built in the early part of this century to replace an earlier church erected by the Portuguese mission to Singapore.
Location: 143 Victoria Street, Singapore 188020
Getting there: Take a short walk from Bugis MRT (EW12)


Mosques
Singapore's many mosques are easily recognisable by their distinctive minarets and domes. Visitors should leave their footwear at the door, women must not be dressed in shorts or revealing dresses and only men are allowed into the main prayer hall.
Masjid Abdul Gaffoor Mosque
Tucked away from the bustle of Little India, this mosque was completed in 1910 to replace a more modest building. Of particular interest is the framed family tree to the left of the prayer area which traces the Muslim prophets.
Location: 41 Dunlop Street, Singapore 209369
Getting there: Take the MRT to Bugis (EW12) and head for Rochor Road/Jalan Besar


Masjid Hajjah Fatimah Mosque
Named after its female benefactor, a Malaccan born Malay who married a wealthy Bugis Sultan, the mosque was built in 1846. A combination of architectural influences, it has a decidedly British flavour.
Location: 4001 Beach Road, Singapore 199584
Getting there: Take the MRT to Lavender (EW11) and walk towards Beach Road


Nagore Durgha Shrine
This shrine, in Telok Ayer Street, was completed in 1830 by Southern Indian Muslims, the land being granted on condition that it not be used for a wooden or attap building. It has a unique blend of Classical and Indian, Muslim motifs.
Location: 140 Telok Ayer Street, Singapore 068604
Getting there: Take the MRT to Raffles Place (EW14)


Masjid Sultan Mosque
With its massive golden dome and huge prayer hall, the Sultan Mosque is one of Singapore's most imposing religious buildings and a focal point for Muslim Singapore. The original mosque on this site m North Bridge Road was built with the help of a $3,000 grant from Sir Stamford Raffles. The present mosque, designed by Denis Santry, was completed in 1928.
Arab Street itself is a riot of colourful textiles from all over Asia at very low prices. Also on sale, overflowing from the shop houses onto the pavement, are saris and batik, basketry, leather goods, cane and rattan, jewellery and hand-beaten brass, perfumes and a host of other treasures.
Location: 3 Muscat Street, Singapore 198833
Getting there: Take the MRT to Bugis (EW12) or Lavender (EW11) station


Temples
Temples are the places of worship for a variety of religions m Singapore Hindu, Buddhist, Shentoist and Taoist. Many have survived intact for well over 100 years, and most celebrate colourful festivals at different times of the year.
Central Sikh Gurdwar Temple
The chief place of worship for Singapore's 15,000 Sikhs, the temples architecture is a skillful blend of modern and traditional. The Granth Sahib, or holy book, is enshrined in a magnificent prayer hall which has a 13-metre wide dome.
Location: 2 Towner Road, Singapore 327804
Getting there: Take the MRT to Boon Keng (NE9)


Sri Thandayuthapani Temple (Chettiar's Hindu Temple)
This Southern Indian temple was rebuilt completely in the early 1980s on a site that had been occupied by earlier temples since the 1850s. Its courtyard and numerous shrines are covered by a roof with 48 engraved glass panels angled to catch the rising and setting sun. This temple traditionally sees the culmination of Thaipusam as well as the Navarathiri Festival.
Location: 15 Tank Road, Singapore 238065
Getting there: Take the MRT to Dhoby Ghaut (NS24) and walk towards Penang Road/ Clemenceau Avenue


Kong Meng San Phor Kark See Temple
Spread over a hillside, this recently built complex of Buddhist temples, is one of the largest worshipping places in Singapore. The buildings feature fine examples of Chinese decorations, statues and shrines. A large turtle pool, peaceful gardens and the constant hum of prayer add to the air of tranquility.
Location: 88 Bright Hill Drive, Singapore 574117
Getting there: Take a taxi from Bishan MRT (NS17)


Shuang Lin Cheng Huang Temple (Siong Lim Temple)
A national monument, this Buddhist temple, at 184E Jalan Toa Payoh, was completed in 1908 and commemorates Buddha's birth and death. The temple has an elaborately decorated gateway, reached by a bridge, which opens into a courtyard. Visitors can see beautifully carved Buddhas imported from Thailand.
Location: 184 Jalan Toa Payoh, Singapore 319942
Getting there: Take the MRT to Toa Payoh (NS19)


Sri Mariamman Temple
This magnificent temple at 244 South Bridge Road is Singapore's oldest Hindu temple. There was a wood and attap temple on the site by 1827 and the original brick bones of the present building were built around 1843. Since then, there have been many additions, with a profusion of deities being carved all over its walls, its doors bedecked with bells and frescoes added to the ceilings. The fire-walking festival, Thimithi, is celebrated here.
Location: 244 South Bridge Road, Singapore 058793
Getting there: Take the MRT to Tanjong Pagar (EW15)


Po Chiak Keng Temple (Tan Si Chong Su Temple)
This ancestral Hokkien temple in Magazine Road is also a community centre for the Tan clan in Singapore. The decorations in the temple, built in 1876, are very well preserved, particularly the altars with their ancestral tablets. Much of the materials used to build this riverside temple arrived in Singapore as ballast.
Location: 15 Magazine Road, Singapore 059568
Getting there: Take a taxi from Raffles Place MRT (EW14)


Temple of 1,000 Lights - Sakaya Muni Buddha Gaya Temple
A 15-metre high statue of Buddha, surrounded by a seemingly endless chain of lights, is the focal point of this simple but impressive temple. A fresco at the base of the statue depicts important events in Buddha's life.
Location: 366 Race Course Road, Singapore 218638
Getting there: Take SBS buses 111, 106, 65, 64, 92, 198 from Dhoby Ghaut (NS24) MRT


Thian Hock Keng Temple
This Taoist-Buddhist temple, built in 1841 by seamen grateful for a safe passage, stands in Telok Ayer Street where Singapore's waterfront used to be before reclamation. The materials d to construct the temple are truly international, with ironwork from Scotland, tiles from England and Delft, and towering granite pillars entwined with dragons. Many ancestral tablets stand the courtyard, and massive lions mount guard on the doors.
Location: 158 Telok Ayer Street, Singapore 068613
Getting there: Walk from Raffles Place MRT (EW14)


Singapore Islands
Sentosa - Singapore's Premier Island Resort Getaway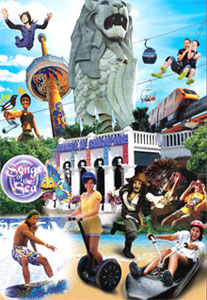 Sentosa is Singapore's premier island resort getaway and Asia's leading leisure destination. This 500-hectare resort island is home to an exciting array of themed attractions, award-winning spa retreats and resort accommodation, alongside lush rainforests, golden sandy beaches, world-renowned championship golf courses and even a deep-water yachting marina and luxury residences - making it a compelling destination for business and leisure for millions of visitors from all around the world. In early 2010, Sentosa welcomed Singapore's first integrated resort – Resorts World Sentosa – featuring themed resorts, Singapore's first casino, South-East Asia's first Universal Studios theme park and an upcoming Marine Life Park, set to be the world's largest.
Unique among leisure destinations, Sentosa is situated on the fringe of Singapore's business and commercial district, just minutes away via the Sentosa Express train, scenic cable car or a 710-metre road link. A former fishing village and British military base, Sentosa (meaning peace and tranquillity in Malay) was transformed into an idyllic island resort in 1972 for everyone's enjoyment and recreation.
ACCESSIBILITY
Sentosa is linked to the mainland and Singapore's southern entertainment precinct via the Sentosa Express, shuttle bus services, a road link, the new Jewel Cable Car ride which was re-launched in July 2010 after a revamp, and a 700-metre long timber pedestrian walkway, Sentosa Boardwalk, which opened in January 2011. This iconic landmark features five garden themes set against lush landscapes, canopy-covered travellators and a variety of shops and F&B outlets.
Within Sentosa, the shuttle services and Sentosa Express offer guests comfort and convenience while discovering the island. The thrilling Skyline Luge Sentosa also provide guests an adventurous alternative connection between Imbiah Lookout and Siloso Beach.
SENTOSA RIDER



Getting to Sentosa from the city is now even more convenient for tourists, with the newly-launched Sentosa Rider, a dedicated tour coach service that connects key locations around Singapore such as Orchard Road, Suntec City, Marina Bay, and Chinatown to Sentosa, Resorts World Sentosa and Mount Faber. The Sentosa Rider offers guests a direct and fuss-free travel experience to launch their very own Sentosa getaway. Guests will have a choice from specially-themed leisure packages to tailor their Sentosa getaway. In addition, a resident host will be onboard the coach throughout the journey to assist guests in planning their itinerary.
ACCOMMODATION
Guests have a choice of 11 resorts on Sentosa when they stay over, ranging from luxury hotel Capella Singapore to The Sentosa Resort & Spa, Amara Sanctuary Resort, Siloso Beach Resort, Movenpick Sentosa and Rasa Sentosa Resort (of which the latter two are currently under upgrading, slated for completion by end 2010 and early 2011 respectively), as well as chalets and kampong huts at Costa Sands Sentosa. Four themed hotels in the newly opened Resorts World Sentosa add to the variety of accommodation options.
ATTRACTIONS

Imbiah Lookout
Imbiah Lookout is the exciting cluster of attractions on Sentosa that provides entertainment for the entire family. Be it adventure, nature or history, Imbiah Lookout has it all. Easily accessible by the Sentosa Express, the hub also offers various retail and food and beverage (F&B) establishments.
MegaZip Adventure Park


Opened in July 2009, the S$2 million attraction offers a mix of adventure and thrills on this flying fox and high rope course. From the top of Sentosa's nature-rich Mount Imbiah, visitors will be able have 'the flight of their lives' as they zip 450 metres over Sentosa's lush forest canopy and land on an islet off Siloso Beach, at a height of over 70 metres – the steepest descent in Asia. This attraction also appeals to families, as it has a "tandem" facility that allows younger members of the family to hitch a ride with mum or dad. It also features a three-level aerial obstacle course suspended from 12-metre high timber poles where participants will negotiate a passage, crossing swinging bridges, and scrambling over Tarzan nets.
Sentosa Nature Discovery
This new portal to Sentosa's nature aims to educate guests and allow them to appreciate the various species of flora and fauna that are unique to Sentosa's environmental landscape. Housed in a former monorail station that has been creatively adapted, it features interactive and colourful exhibits to equip guests with the knowledge of uncovering intriguing surprises which nature has in store before they embark on a learning journey to a 2-km long nature trail.
Skyline Luge Sentosa
Sentosa presents the first ever luge in Southeast Asia. Part go-cart, part-toboggan, pure excitement – the luge is a fun-filled gravity ride that's safe for all ages. The unique steering and braking system allows fun-seekers to make the ride as leisurely or as exciting as they want.
Sentosa 4D Magix
For an interactive experience, nothing beats Sentosa 4D Magix! Built at a cost of S$3.5 million, this state-of-the-art theatre offers a whole new generation of movie magic. Through the synchronisation of a full spectrum of visual effects, surround sound, individually-controlled motion seats and special "live" environmental effects such as a water spray, this is an experience that will fully engage one's senses!
CineBlast & Desperados
Feel the exhilaration of flying to the top of the highest mountains, the stomach-churning thrill of rushing into the deepest valleys and the gripping excitement of being tossed about in whitewater rapids on Singapore's only virtual rollercoaster ride. For more adrenaline-pumping excitement, buckle up for Singapore's first interactive shoot-out game at its all-new Desperados theatre. As many as 20 gunslingers can hop on to the individual motion-based saddle seats, each equipped with a motion-sensor gun for some competitive shoot-out video game action.
Jewel Cable Car Ride
Take a ride on Singapore's iconic cable cars which have returned bigger, better, bolder and bejewelled after a major makeover. The cable car system underwent a complete overhaul to boost its appearance and performance as a popular tourist attraction. Featuring a stunning fleet of 67 metallic black and chrome cabins, the ride from Mount Faber on the mainland to Sentosa island offers a 360-degrees bird's eye view of the lush greenery on the hilltop, the harbour and city from 120 metres above sea level. After dark, each cabin is illuminated by Jewel LEDs, creating the effect of sparkling jewels as they zip through the black canvas of the night sky. The lavish interior includes large panoramic windows, flip-up seats which seat 8, an interactive touch-screen infotainment system with 8 language options on a 12.1" LED screen and a removable table with cup-holders for Sky DiningTM. Also available now is a level walk-in concept that is wheelchair and pram friendly as well as interior and exterior ambient lights. The new Jewel cabins provide a unique setting for special occasions like weddings, birthdays, anniversaries, company events while presenting exciting experiences with Sky DiningTM set against picturesque surroundings.
Singapore Cable Car Museum
Exhibit Highlights
• Lego© Cabin – the world's only life-size cable car cabin, assembled with 10,000 pieces of blocks.
• VIP Gold Cabin – the first VIP cabin introduced by MFLG. It was never opened to public for rides and used exclusively to ferry VIPs (including ministers and ambassadors) and celebrities.
• Exhibits featuring the three generations of cable car cabins that have been in operation, since the cable cars were launched in Singapore in 1974 are also on display.

Tiger Sky Tower
Singapore's tallest observatory tower offers panoramic views at 131 metres above sea level of Singapore, Sentosa, the Southern Islands, right up to neighbouring Malaysia and the Indonesian islands. The Tiger Sky Tower has a capacity of 72 in its enclosed, air-conditioned cabin. Day or night, enjoy great views from the tower. Located adjacent to the Sentosa cable car station, the Sky Tower is a key point of interest and forms a distinctive landmark as it soars above the surrounding natural greenery.
Butterfly Park & Insect Kingdom
Stroll through the lush surrounds of the Butterfly Park & Insect Kingdom and allow 1,500 live butterflies – from over 50 species – to flutter about you as you enjoy the cool outdoor conservatory. Watch the blossoming of new life at the Live Pupae house or admire up to 3,000 species of the world's most beautiful and rare insects, which includes the largest Dynastes Hercules beetle ever recorded – all 160 millimetres of it!
Images of Singapore
Experience the magic behind the Singapore story where legend, fact and folklore are creatively interwoven for guests to enjoy the special "I am there" experience. Traverse lovingly recreated cultural exhibits to the very soul of Singapore – a place where cultural diversity, unity of values, adventure, perseverance and honour converge like nowhere else in the world. A must-visit for every visitor who's interested in the makings of Singapore!
The Merlion
Get ready for a fascinating encounter with the biggest replica of Singapore's most enduring symbol - The Merlion. Standing at 37 metres tall, this half-lion, half-fish creature brings guests to the depth of the sea as they walk side-by-side with legendary sea dragons and mythical mermaids. Guests can also relive the origins of the Merlion in an enchanting animation feature and discover what fortune lies in store for them at the mouth of the Mercubs. Ascend to the Merlion's crown for a 360° view of Sentosa and Singapore's southern shores. From the Mouth Gallery Viewing Deck on level 9, guests can even spot Singapore's impressive skyline.
Other attractions
Wave House Sentosa
This 7,650-square metre simulated wave surfing attraction sits in the heart of the high-energy Siloso Beach. Here, professional surfers can attempt stunts that cannot be achieved on real waves, while Singaporeans will be able to experience the thrill of surfing on artificial waves that curl up to 3 metres high in the two wave pools – the FlowRider and FlowBarrel which features different gradients. Set amid the tropical landscape on Sentosa, this surfing paradise will incorporate a three-storey complex with an open-air bar, a lounge overlooking the pools, as well as a modern Mexican-Californian restaurant. This beachside attraction is expected to make waves on Sentosa, attracting surf lovers and novice riders who will be able to try their hand at surfing without leaving the country.
Azzura Beach Club
Spanning 1,870 square metres, Azzura Beach Club is a multi-level entertainment, dining and water sports facility offering water sports such as wake-boarding and banana boat rides.
Songs of the Sea


This award-winning attraction is a nightly multi-sensory extravaganza where visitors can experience a mesmerising show featuring a live cast and dramatic effects including pyrotechnics, water jets, lasers, stunning flame bursts and more, all at a specially constructed village on Siloso Beach. It's a one-of-a-kind entertainment experience that's not to be missed.
Animal and Bird Encounters
Intelligence, agility, and responsiveness are just some of the qualities our animal friends will demonstrate in this daily show at Palawan Amphitheatre. Monkeys, reptiles, parrots and even rats get into the act to offer guests unforgettable experiences, while Sentosa's expert trainers are on hand to answer their most insightful questions on the animal cast.
Gogreen Segway Eco Adventure
Sentosa brings you Asia's first and only thrilling Segway Eco Ride with a focus on fun and education. Come and enjoy an introductory experience on the Segway in the fun & secure Gogreen circuit! There will be trainers to teach you the basics of the advanced mobility device. Explore the beaches of Sentosa while effortlessly gliding on the Gogreen mobile Segways. You can now choose to go to Tanjong or Siloso Beach without breaking a sweat. Have fun on the Segway Guided Eco Adventure and discover Sentosa in a different light!
Gogreen Cycle & Island Explorer
Join the Gogreen Cycle & Island Explorer to experience a journey to a time when life on Sentosa was simpler. Embark on an enriching learning adventure with our guides, taking you to different locations on Sentosa island and opening your eyes to something new! We will uncover hidden gems in Sentosa like the tracks of the Lost Civilization near Fort Siloso where the Dragon's Teeth Gate once stood, the massive mounting of the 9.2" breech loading gun at the top of Imbiah lookout and many more fascinating spots on the Gogreen Eneloop bicycle.
The Flying Trapeze
The first of its kind in Singapore, The Flying Trapeze aims to set the scene for more excitement and fun for the guests and visitors to Sentosa. This magnificent activity will provide for both audience participation and fantastic entertainment. It is an excellent form of sport and recreation and it helps develop one's mind, body and coordination.
iFly Singapore
The world's largest and Singapore's only indoor skydiving simulator took flight on Sentosa in May 2011. With a transparent wind tunnel offering spectacular views of Siloso Beach and the South China Sea, iFly Singapore will offer the adrenaline-pumping sport at a flying height of 17 metres (five storeys), complete with state-of-the-art safety innovations and trainers will be on hand to guide flyers through the experience. With a minimum age of three and above, iFly Singapore promises to be a thrilling and engaging leisure sport for the whole family. The S$25 million attraction also house more than 10,000 square feet of retail and food & beverage space.
Fort Siloso Tours
As Singapore's only preserved coastal fort, Fort Siloso stands as a vivid window to our colonial past and a poignant reminder of the war years. Navigate the old tunnels, watch a recreated gun firing, examine 17th Century guns and cannons and browse through over 245 photographs, documents and film clips on display. Built in 1880s as part of a ring of British fortresses guarding Singapore, Fort Siloso is Singapore's largest repository of World War II memorabilia with life-sized replicas, interactive exhibits and even authentic aromas lovingly recreated.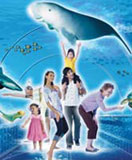 Underwater World and Dolphin Lagoon
Head down to Underwater World & Dolphin Lagoon to learn about exciting ocean life such as the mermaid-look-alike dugong, sea dragons and many more. The oceanarium on Sentosa is home to more than 2,500 fishes from 250 different species. Venture into the ocean depths via a moving travellator that ferries guests through an 83-metre-long acrylic tunnel. All around, sharks, stingrays, eels and schools of fish glide past – resplendent in their own world. For those who don't mind getting wet, interactive programmes such as 'Dive with the Sharks' or 'Dive with the Dugong' are available upon advance booking.
Sentosa Boardwalk
As the latest addition to Sentosa's comprehensive transport network, the Sentosa Boardwalk is set to excite guests with a new dimension of the Sentosa Experience, while enhancing the seamless accessibility and connectivity between the island and the mainland. The iconic gateway is also the first garden-themed boardwalk in Southeast Asia to feature tropical landscapes which are indigenous to Singapore. In addition to enjoying the lush greenery, guests will also witness a panoramic view of the harbour as they travel on foot in the comfort of canopy-covered travellators before arriving at the Sentosa Visitor Centre.
RESORTS WORLD SENTOSA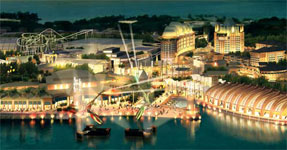 Slated to be one of the world's most exciting family destinations, Resorts World at Sentosa is a collection of resorts and attractions with a plethora of fun-filled offerings for the entire family.
Spanning 49 hectares, this S$6.59 billion mega-resort is home to Southeast Asia's first and only Universal Studios theme park and soon, the world's largest Marine Life Park and the region's first integrated destination spa. The resort also boasts some 1,800 rooms, spread across its six hotels of varying themes, with full conference and meeting amenities. Topping the list are Crockfords Tower, Hotel Michael and Singapore's very own Hard Rock Hotel.
Beyond resorts and attractions, world-class entertainment such as the Crane Dance – a spectacular multi-media moving art with cleverly choreographed animatronic cranes, set out at the waterfront – will also be presented to the public. In addition, a 1,700-seat theatre will feature a magical dreamlike extravaganza with water, light and visual effects, alongside retail and dining options at the Festive Walk with roving acts and street performances at the Bull Ring.
Highlights at a glance: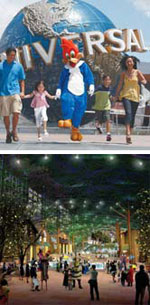 Universal Studios Singapore: This movie theme park features 24 rides and attractions, with 18 attractions created or redesigned for Singapore.
Marine Life Park: An oceanarium spanning 8 hectares, the attraction will feature over 700,000 aquatic creatures including dolphins, rays and open-ocean fish.
Maritime Xperiential Museum: Set at the water's edge, this immersive attraction will focus on the maritime silk route story between East Asia and the Middle East.
Entertainment: Apart from its resident show, "Voyage de la Vie", which is specially created for Resorts World Sentosa by award-winning show designer Mark Fisher, it will also feature the Crane Dance, a showcase of multi-media moving art using cleverly choreographed animatronic cranes and pyrotechnics.
MICE: Full conference and meeting facilities that can host up to12,000 delegates at any one time, including a ballroom that hosts some 7,300 guests – one of the largest in Asia.
Hotels: Six new hotels yielding over 1,800 rooms will be built, including Hard Rock Hotel, the luxurious Crockfords Tower and the world's first Hotel Michael by award-winning architect Michael Graves.
Shopping and Dining: In addition to signature gourmet restaurants and themed retail stores, Resorts World at Sentosa will showcase some brands not yet available in Singapore, such as world famous toy store Hamley's of London.
BEACHES

Best Beaches in Singapore right on Sentosa


Beach lovers can enjoy exciting games and sea sports along the 3.2-km of beautiful, sandy beaches of Siloso, Palawan and Tanjong. Savour the tranquillity of Tanjong Beach, Singapore's most romantic beach. Indulge in leisure activities on family-friendly Palawan Beach. Or, simply unwind at one of the beach bars that dot the beaches. Siloso Beach, Singapore's hippest beach, springs into action on weekends as beach volleyball fans hit the sand for their favourite game. A rich variety of F&B outlets, including the eclectic Café del Mar, and its place as the home of Singapore's vibrant beach volleyball culture give this beach its well-earned reputation as the unofficial home of the young, restless and trendy. In recent years, Sentosa has gained international fame for hosting some of Singapore's most exciting beach parties, such as the ZoukOut Dance Festival and Sentosa's annual year-end Siloso Beach Party.
GASTRONOMICAL GALORE
Sentosa seeks to continuously enhance the leisure experience, which encompasses many elements - one of which is to tickle your taste buds. We boast a line-up of award-winning restaurants, such as The Cliff and Il Lido Italian Dining and Lounge Bar. Sentosa's repertoire of food and beverage outlets are carefully tailored for discerning guests and casual diners. The selection ranges from a casual meal by the beach, a choice of local delights to a quick bite from fast food outlets or an exclusive fine dining experience. Sentosa also provides a catering service for events held on the island. To date, a diverse selection of some 60 food and beverage outlets make up the flavours of Sentosa.
SENTOSA GOLF CLUB
Opened by Singapore's then-Prime Minister Lee Kuan Yew in 1974, Sentosa Golf Club is one of the most established golf clubs in Singapore. With over 1,500 members, most of whom are represented in Singapore's high society; Sentosa Golf Club is truly in a class of its own. The Club is home to not one but two of the most scenic yet challenging golf courses in the region, as well as the Barclays Singapore Open, one of the top ten national golf tournaments in the world with a whopping US$5 million prize for 2009. The Tanjong and Serapong courses capitalise on Sentosa's natural and historical heritage and are lined with verdant greenery and soothing vistas of either the Singapore harbour or the South China Sea. With ever-changing views from every hole that are at once dynamic and utterly dramatic, this Club is an oasis of tranquillity that few in the region can duplicate.
SENTOSA COVE
The multi-billion dollar 117-hectare Sentosa Cove development has become the most coveted luxurious residential property in Asia and offers Singapore's only truly oceanfront residences. When this unique blend of luxury houses, apartments, marina hotel, full yachting marina amenities and quayside commercial units is fully developed by 2014, it will feature some 2000 homes. Sentosa Cove is the only development in Singapore that non-Singaporeans can purchase landed properties. More than 90% per cent of homes at the Cove have already been sold and today, some 3,000 residents have made this premier address their home.
Serenaded by the azure sea and the sounds of lapping waves, the residents of Sentosa Cove's waterfront properties enjoy the largest natural deep-water marina in Singapore, and the privilege of private berths for their yachts in their very own backyards. The cosmopolitan and exclusive club house - ONE°15 Marina Club offers town club facilities alongside 204 wet berths, including 10 that are specially designed for 80 foot mega-yachts.
Complementing the luxury leisure at Sentosa Cove will be a vibrant commercial precinct with shops, cafes, restaurants, a premium resort hotel, and other lifestyle service-oriented options for residents and guests.
Getting there: Take the MRT to HarbourFront (NE1). From HarbourFront Centre, take the Sentosa Bus Service (bus terminal across), Sentosa Ferry, Cable Car, or walk across the causeway bridge to Sentosa


Kusu and St John's Island (Pulau Tembakul & Pulau Sakijang Bendera)
Kusu is a small island, sacred to both Muslims and Taoists, which has stunning views of the Singapore mainland and a good swimming lagoon. Legend has it that Kusu was a giant sea turtle which transformed itself into a large rock to save shipwrecked sailors. Taoists make an annual pilgrimage to the Tua Pekong Temple on Kusu during the ninth lunar month.
St John's Island is a large, hilly island with shaded walking paths, swimming lagoons and grassy clearings that are perfect for informal soccer. It is a popular site for weekend getaways and camping trips. Allow at least a half day for lazing about the island.
Getting there: Mondays to Saturdays, two ferry services at 10am and 1.30pm ply between the HarbourFront Centre and the two islands. On Sundays and public holidays there are six services, at 9.45am, 11.15am, 12.45pm, 2.15pm, 3.45pm and 5.15pm. Call 62703918 for enquiries

Kusu Island (Pulau Tembakul)

St John's Island (Pulau Sakijang Bendera)
Pulau Ubin
This is a delightful retreat from the bustle of Singapore - an island with a rural lifestyle that has changed little in 30 years. Traditional fishing huts called kelongs are built on stilts over the sea, while orchard trees, shrubs and flowers abound. Visitors can see a duck farm, a prawn farm, go camping and enjoy good hiking areas. There is a lake in a disused quarry and one of the favorite pastimes is to hire a bike and pedal around the island.
There is plenty of wildlife, including the Purple Jungle Fowl, a wild bird from which all the world's domestic chickens are descended. A seafood restaurant offers delicious fresh seafood. Allow a half to a whole day to enjoy the island.
Getting there: Take the MRT to Tanah Merah (EW4) station, then take SBS bus no. 2 to Changi Point. Walk across to Changi Jetty where bumboats leave frequently for Pulau Ubin


Sisters Island (Pulau Subar Darat & Pulau Subar Laut)
This Southern island is perfect for swimming, snorkeling and scuba diving, although currents at Sisters Island can be strong, so it is suitable for experienced divers only. Pack a picnic and stay the whole day.
Getting there: To get to the island it is necessary to hire a boat from Jardine Steps or Clifford Pier as there is no regular ferry service


Themed Attractions
Alive Museum, Singapore's Largest 3D Interactive Museum - Opening Specials!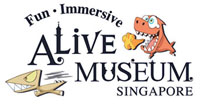 Tired of the "see but don't touch" rule at the usual museums? A quirky new attraction Alive Museum Singapore has opened in Suntec City and it promises to be a fun and unique treat for the whole family! Not only can you touch and feel the exhibits at Alive Museum Singapore, you can also hop into the frame and become a part of the art masterpieces that play on optical illusions. Featuring Digital Art and Object Art in addition to Trick Art, you will be able to snap loads of amazing "how did you do that" pictures and also interact with special Singapore themed art pieces. Trick or treat? You get both at Alive Museum. Visitors will enjoy a 20% discount when they book online now with the promo code 'aliveopen'!

We also have the following promotions and packages:

1. Burger King Offer
If you purchase tickets at full price (Adult: $25/Child: $20) at our ticketing counter or online (not using the 20% promotion code), you can get a free Burger King meal (worth $7.85)

Meal Includes:
• Choice of a Fish'N Crisp or Chick'N Crisp burger
• 1 small fries
• 1 small coke

Terms and Conditions apply.
Please visit our site for more details:
http://alivemuseum.sg/news-events/promotions/

2. $15 Students Weekday Tickets
For a limited time only and on weekdays, students can enter our museum at just $15nett with their student card. Just flash your student ID card at the ticketing counter and you can enjoy this offer! Promotion ends 31 December 2014.

Terms and Conditions apply.
Please visit our site for more details:
http://alivemuseum.sg/students-special-15/
Haw Par Villa
Haw Par Villa is a theme park located along Pasir Panjang Road, Singapore. The park contains over 1,000 statues and 150 giant dioramas depicting scenes from Chinese mythology, folklore, legends and history.
One of it famous attractions is the Ten Courts of Hell – a depiction of the fate of those who go against the values of Confucianism. Each court hands out punishments similar to those the offender had committed during his life's time.Visitor discretion and parental guidance are advised due to the graphic nature of the exhibits.
Other major attractions include dioramas of scenes from Journey to the West, Fengshen Bang, The Twenty-four Filial Exemplars, Legend of the White Snake, Romance of the Three Kingdoms; statues of mythological figures such as the Laughing Buddha and Guanyin, and historical personages such as Jiang Ziya, Su Wu and Lin Zexu; the 12 animals in the Chinese zodiac, and others.
Opening Hours: Opens daily from 9am – 7pm
Location: 262 Pasir Panjang Road, Singapore 118628


LilliPutt
LilliPut is Singapore's first themed indoor mini-golf course suitable for all ages. Players not only develop interaction skills, they can also improve their mental concentration, hand-eye co-ordination, posture and play alongside the famous mini landmarks.
Put your skills across 18 holes, each one themed after a well-recognised landmark or icon in Singapore.
Opening hours: 10am – 8pm on Tuesdays to Sundays and Public Holidays. Closed on Mondays (except Public Holidays)
Website: www.lilliputt.com
Location: 902 East Coast Parkway Block B #03-05 Playground @ Big Splash Singapore 449874
Tel: 63489606


Singapore Flyer - A moving experience at every turn

Singapore Flyer, the world's largest giant observation wheel, offers visitors breathtaking, 360° panoramic views of Singapore and beyond.
Standing at a stunning 165 metres, visitors will be able to experience remarkable scenes of the Singapore skyline: the magnificent Marina Bay, towering skyscrapers, tropical greenery, and the bright lights and non-stop action against the beautiful skies.
For 30 minutes, they will feel on top of the world. Indeed a must-see experience set to sparkle Singapore's skyline!
Opening Hours: Opens daily from 8:30am to 10:30pm (Ready in first quarter of 2008)
Location: 30 Raffles Avenue
Getting there: Take the MRT to City Hall (EW13) or Promenade MRT (to be ready in the year 2010). For more information on how to get here, please click here
Official Website: http://www.singaporeflyer.com.sg


Boat Quay, Singapore River, Clarke Quay
Once traders' bumboats jostled for space in the Singapore River to offload their cargoes. Now all but a few of the bumboats have gone, but new life has been breathed into the old shophouses and go-downs along the river banks. Boat Quay and Clarke Quay have been completely renovated and the Singapore River transformed into the city's newest leisure and entertainment centre. More than 35 bars and restaurants have opened in Boat Quay featuring al fresco dining along the riverbank. Allow three hours.
Just up-river stands Clarke Quay, where shoppers can enjoy the festival atmosphere while hunting for bargains in 176 air-conditioned go-downs and shophouses. Clarke Quay has its own seafood, fruit and vegetable market, as well as 40 push-carts selling unique knick-knacks such as pottery, jewellery and woodcraft. Bars, discos, restaurants and a Disney style Adventure Ride also pull in the crowds.
Getting there: Boat Quay is a short walk from Raffles Place MRT (EW14). Clarke Quay can be reached by bumboat from Boat Quay

Boat Quay
New Ming Village
The Ming and Qing Dynasties saw the art of porcelain-making in China reach its zenith. This village makes reproductions from that era using age-old techniques and decorative forms. Visitors can watch the craftsmen at work and choose from an extensive selection of porcelain on sale. Allow 45 minutes.
Opening hours: 9am to 5.30pm daily
Location: 32 Pandan Road, Singapore 609279 Tel: 62657711
Getting there: Take the MRT to Clementi (EW23), then take a taxi or take SBS 78


Wild Wild Wet
Award winning water-themed park in 2004, this is family fun for the entire family. Sited at the eastern side of Singapore, it sprawls over 20,000 square metres of land. You can enjoy rides like the crazy tube slides or tide along the rapid waves. There are over 9 attractions in the water-themed park.
Opening Hours: Mondays, Wednesdays, Thursdays, Fridays 1.00pm-7.00pm
(Closed on Tuesdays (Except gazetted School and Public Holidays)
Location: Downtown East, 1 Pasir Ris Close, Singapore 519599 Tel: 65819128


Science Centre Singapore
The Science Centre Singapore is a non-formal educational institution dedicated to the promotion of science and technology among students and members of the public. As a leading Science Centre in the region, the Science Centre Singapore has twelve exhibition galleries with more than 1,000 exhibits, and another 18,000 sq metres of outdoor space showcasing the exhibits of the Waterworks, Ecogarden and the Kinetic Garden. The Centre also houses the Omni-Theatre — Singapore's only dome-shaped, 5-storey high theatre with a capacity of 276 seats. Apart from IMAX movies, the theatre also screens IMAX DMR movies. The Science Centre receives more than 900,000 visitors annually. For more information, please visit www.science.edu.sg.
Some new exhibition we have that you may wish to highlight would be:

Waterworks
Be prepared to get wet as you explore our most important resource: Water. You will learn about the water cycle, evaporation, water pressure and more in 11 hands-on exhibits. Adults and children are invited to dive right into the fun!

iSPACE
Come touch Tomorrow today! See how technology is applied in leisure, the home and office of the future!

Ecogarden
Step into the ecology garden, undisturbed by the surrounding urban sprawl. A microcosm of nature, the ecogarden hosts many of her amazing action-packed habitats. Climb the treehouse, visit the mini plantations, orchards and ponds in this rediscovered Eden.
Opening hours: 10am to 6pm (closed on Mondays)
Location: 15 Science Centre Road, Singapore 609081 Tel: 64252500
Getting there: Take the MRT to Jurong East (EW24), then take SBS 336


Clarke Quay
A location with a rich history of our early migrants hardships and achievements. Clarke Quay is now a bustling strip of Food & Beverage joints, pubs and clubs during the nighttime.
You can experience the Royal Selangor Process Demonstration Tour or for the thrill-seekers, there is the G-Max Reverse Bungy – Singapore's first and only reverse bungy jump.
There are also the traditional bumboat tours for those who prefer a slower pace
Getting There:
From City Hall MRT: Take Bus service 32 or 195 along North Bridge Road
From Orchard MRT: Take Bus Services 54 along Scotts Road
From Raffles Place MRT: Take a river taxi at Raffles Place jetty (MRT)
From Clarke Quay MRT: Take a 5-8 minutes walk along the Singapore River.


Sky Tower
One of Singapore and Sentosa's latest attraction – the sky tower. Visitors can enjoy this ride – be it those afraid of heights or those with a passion for heights. Soaring 110 metres in height, the sky tower is Singapore's tallest public viewing tower.
Visitors will sit in a large disc-schaped air-conditioned cabin fitted with glass windows all around, at ground level that revolves slowly as the cabin ascends up a column, visitors can catch 360-degree views of the surrounding.
When reached to the top at 150 metres above sea level (approximately 50 storeys high), visitors will be treated to a paranomic view of Sentosa, the Singapore city skyline and the neighbouring islands.
Opening Hours: 9.00 am-9.00 pm daily
Duration: 7 minutes
Getting There:
By Car: Park at Cable Car Station (M4) Carpark
By Bus: From Visitor Arrival Centre take Blue Line Service or from Underwater World/Siloso Beach take Green Line Service. By Monorail: Alight at M4 - Cable Car Station.


Tours
Singapore River Cruise
The Singapore River goes along from Kallang all the way to the city and it used to be the lifeline of Singapore. It was where the first immigrants traded mainly rice and tea. The location of Clarke Quay now houses mainly F&B strips, nightspots and clubs.
The River has been cleaned of its pollution and the godowns lining the river has been renovated to new shophouses which houses food joints and pubs.
Opening Hours: 9.00am – 11.00pm
Location: 1 North Bridge Rd #15-06 High Street Centre, Singapore 179094


Singapore Ducktours
The one and only Amphibious tour in the whole of Asia, Ride the Wacky Duck, is a combination of a city tour and harbour sightseeing tour 9land and sea). Gear yourself to an exciting adventure on this American Vietnam war machine.
Opening Hours: 10.00am – 6pm daily
Location: Suntec City Mall (From 27 April 2006)


Sentosa: HiPPOtours
Enjoy the convenience of traveling to Sentosa with the new land-bridge which can take you between the city and Sentosa. Enjoy 2 full days of free and easy, unlimited tour assess around Sentosa at your own timings.
Opening Hours: 10.00am – 8.30pm daily


Safari HiPPOtours
Enjoy the best of both worlds, an exciting tour to the heartlanders where you can enjoy food, drinks and shopping followed by a Night Safari tour.
Opening Hours: 6pm – 10.30pm daily
Duration: 4.5 hours


Trishaw Tour
Revisit Chinatown in a trishaw, Chinatown is the places where the Chinese resided when they first moved to Singapore. It is where the culture practices, food and lifestyle that makes Chinatown what it is today.
Opening Hours: 10.00am – 7.00pm daily
Tel: 63396833 / 63389205


Air-Con Glass Top Boat Tour
You can now move about Singapore River in the air-con glass top boats, where you get to travel along the Singapore River is a different way. You get to see the spectacular views of the skyscrapers, shorelines and city views as you go along.
The tour starts from Clarke Quay or Raffles Place MRT.
Opening Hours: 9.00am – 11pm daily at regular intervals
Tel: 63396833 / 63389205


Bumboat Tour
Enjoy something with an older taste of life? The bumboat tour is available which is the best and most authentic way to catch a glimpse of Singapore's rich history and culture, The Singapore River used to symbolize the hardwork of coolies working along the busy port. The godowns and shop houses have been restored to preserve our rich history, which the Singapore River now symbolizes Singapore's economic progress.
Opening Hours: 9.00am – 11pm daily at regular intervals
Tel: 63396833 / 63389205


Suntec Summit Tour
Suntec City also boost a 'Fountain of Wealth' where it is said to be a spot with good fengshui and good fortune.
Opening Hours: 11.00am –7pm (Mondays- Fridays)
11.00am – 9pm (Saturdays, Sundays and Public Holidays)
Location: Level One, Suntec Tower 4 (Outside Carrefour) Tel: 63396833 / 638363327


Trolley Tour
Ride in a classical tram type of colonial bus through the city center of Singapore, from Botanic Gardens and even the main shopping strips.
Opening Hours: 9.00am – 7.30pm daily
Location: 133 New Bridge Road, #24-01/02 Chinatown Point, Singapore 059413
Tel: 63396833 / 63389205


Re: My Nightmare Experience with a Property Agent
It's to the advantage of the local and expat landlord population.

Only when we see someone notable and embarrassing for the Singapore govt stitched up will this change. This is partly why local landlords are not keen to rent to certain parties who have influence.



Posted in Property Talk, Housing & Rental
Re: Will Darlie toothpaste be next?
I remember when that blew up over here. In fact, if we search the archives here around 2016 or 17 I believe there was a thread on it as well.


Italy responded! https://www.youtube.com/watch?v=0bDqAkgAblI



Posted in Leisure Chat, Jokes, Rubbish
Re: My Nightmare Experience with a Property Agent
Hi Lisa,

They offered to return a total of $2683 back to me. This was from a deposit a 5600 so total deductions of just over 3000 sgd. In the end I accepted this offer as the only alternative would be to send a letter of demand and then proceed to the Small Claims Courts.

It's a shame the .....



Posted in Property Talk, Housing & Rental