Golf & Country Clubs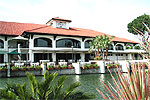 Information and listings of golf courses, golfing and country clubs. Please contact us to add to this list or upgrade your listing.
Golf Courses
Changi Golf Club
Holes: 9
Metres: 5776
Par: 68(18)
Remarks: Set amidst natural and manmade obstacles and featuring tight Bermuda fairways.
Address: Netheravon Road, Singapore 508505
Tel: 6545 5133 Fax: 6545 2531
Jurong Country Club
Holes: 18
Metres: 6073
Par: 71
Remarks: Recently renovated by Max Wexler the front nine offers plays through wooded and hilly terrain whereas the back nine has open fairways landscaped with Fiscus trees. Flood-lighted night golfing is available.
Address: 9 Science Centre Road, Singapore 609078
Tel: 6560 5655 Fax: 6567 1900
Keppel Club
Holes: 18
Metres: 5808
Par: 71
Remarks: Founded in 1904 and redesigned by Ronald Fream of Golfplan it now offers challenging play and features a 24 bay driving range.
Address: Bukit Chermin, Singapore 109918
Tel: 6273 5522 Fax: 6278 1448
Laguna National Golf & Country Club
Holes: 2-18s
Laguna Masters Course/Laguna Classic Course
Metres: 6700/6200
Par: 72/72
Remarks: Water hazards, greens and sand traps shored up with railroad ties and beautiful landscaping everywhere. The Masters is similar to the Scottish links style course and gets you puzzling on almost every tee. The Classic has a choice of 5 tees and has less undulations and fewer water hazards.
Address: 11 Laguna Golf Green, Singapore 488047
Tel: 6542 6888, 6541 0200/201 Fax: 6542 1170
Marina Bay Golf Course
Holes:18
Remarks: Marina Bay Golf Course is Singapore's first and only 18-holegolf course which is open to the public. Located strategically in the heart of town, the course offers golfers great accessibility and a picturesque view of the city skyline, be it day or night.
Address: 80 Rhu Cross #01-01 Singapore 437437
Tel: 6345 7788 Fax: 6348 1923
Raffles Country Club
Holes: 2-18s
Remarks: Both courses were designed by Robert Trent Jones Jr.. The gently rolling Lake course lies along the Tengah Reservoir and is bordered by marshes, whereas the Palm Course offers lakes, undulating fairways, bordered by small wooded hills.
Address: 450 Jalan Ahmad Ibrahim, Singapore 639932
Tel: 6861 7655 Fax: 6861 5563

SAFRA Resort & Country Club
Holes: 27
Navy/Army/Air Force Courses
Metres: 3085/2005/3200
Remarks: A Max Wexler design. Private layout with public play.
Address: 10, Changi Coast Walk, Singapore 499739
Tel: 6540 8500
Seletar Base Golf Course
Holes: 9
Remarks: Developed for British Air Force personnel in 1930 it sports viewings of many wildfowl species. Visitors are welcome during the week.
Address: 244 Oxford Street, Singapore 798420
Tel: 6481 4745 Fax: 6481 8877
URL: www.seletarbaseclub.org.sg
Sembawang Country Club
Holes: 18
Metres: 5845
Par: 72
Remarks: An undulating layout featuring culverts and ditches.
Address: Locked Bag Service 1, Sembawang Post Office, Singapore 9175
Tel: 6257 0642
Sentosa Golf Club
Holes: 2-18s
The Tanjong remodel in 1995 The Serapong Metres: 6493
Par: 72
Remarks: Max Wexler is remodeling the Tanjong course. The Serapong was designed by Ronald Fream. Visitors are welcome on weekdays.
Address: Sentosa Island, 27 Bukit Manis Road Singapore 099892
Tel: 6275 0022 Fax: 6275 0005

Singapore Island Country Club
Holes: 4-18s
Island Course/Sime Course/Bukit Course/New Course
Metres: 5848/6002/6103/6318
Par: 72/70/71/72
Remarks: The Bukit and New Course are private. The Island course can be quite stressful as it winds around the reservoir.
Address: Bukit location; 240 Sime Road, Singapore 1128
Address: Island location; 180 Island Club Road, Singapore 578774
Tel: 6459 2222 Fax: 6458 3796
Tanah Merah Country Club
Holes: 36
Tampines Course
Metres: 6289
Par: 72
Remarks: Garden Course recently renovated. The Tampines is set around a lake. No guests on Saturday afternoons.
Garden Course Address: 25 Changi Coast Road, Singapore 499803
Tel: 6545 1731 Fax: 6543 0946
Tampines Course Address: Parkway/Xilin Avenue, Singapore 1648
Tel/Fax: 6542 4256
The Executive Golf Course
Holes: 9
Metres: 1425/1250
Par: 29
Remarks: This environmentally conscious course features lush vegetation where wildlife abounds, as it abuts a nature reserve.
Address: Upper Seletar Reservoir, Mandai Road, Track 7, Singapore 2677
Tel: 6453 2700 Fax: 6453 3158

Urban Fairways [Asia's First Indoor Golf Lounge]
Courses: St Andrews/ Gleneagles/ Pebble beach/ Oakmont

Remarks: Urban Fairways boasts 52 world class golf courses, an exclusive central location, and world class food and wine served in contemporary urban surroundings. Golf here is all about enjoyment, having a drink and food with friends, and getting to know clients. You never have to rake the bunker, carry your bag or look for a lost ball. All that without raising a sweat!

Address: Capital Tower, 168 Robinson Road, #01-07, Singapore 068912
Tel: (65) 6327 8045
Website: www.urbanfairways.com
Email: dilip@urbanfairways.com

Warren Golf Club
Holes: 9
Remarks: This course, built in the 1960's features 6 lakes on a very tight layout. It also offers a 30 bay range using compression balls, a mini chip and putt course, and a 4 hole practice green.
Address: Folkestone Road, Singapore 139599
Tel: 6777 6533 Fax: 6778 5502

Country Clubs
Aranda Country Club
60 Pasir Ris Dr 3 Singapore 519497
Tel: +65 6584 6811
Changi Country Club
20 Netheravon Road Singapore 508505
Tel: +65 6545 5133
CDANS Country Club
2 Bt Batok West Ave 7
Tel : +65 6569 7702
Fairway Country Club
11 Japanese Garden Rd
Tel : +65 6261 1211
Fort Canning Country Club
11 Canning Walk Singapore 178881
Tel: +65 6338 1212
Jurong Town & Country Club
9 Science Centre Rd Singapore 609078
Tel : +65 6560 5655
Keppel Club
10 Bt Chermin Rd Singapore 109918
Tel : +65 6375 5567
Laguna National Golf & Country Club
11 Laguna Golf Green Singapore 488047
Tel : +65 6542 6888
Orchid Country Club
1 Orchid Club Road Singapore 769162
Tel : +65 6755 9811
Raffles Country Club
450 Jalan Ahmad Ibrahim Singapore 639932
Tel: +65 6861 7655
Raffles Marina
10 Tuas West Drive Singapore 638404
Tel: +65 6861 8000
Raffles Town Club
1 Plymouth Ave
Tel : +65 6323 2323
SAFRA Resort & Country Club
10 Changi Coast Walk Singapore 499739
Tel: +65 6542 8288
Seletar Country Club
101 Seletar Club Road Singapore 798273
Tel: +65 6481 4812
Sembawang Country Club
249 Sembawang Road Singapore 758352
Tel: +65 6257 0642 / +65 6257 4714
Sentosa Golf Club
27 Bukit Manis Road Singapore 099892
Tel: +65 6275 0022
Serangoon Gardens Country Club
22 Kensington Park Road Singapore 557271
Tel: 6286 8888
Singapore Island Country Club
180 Island Club Road Singapore 578774
Tel: +65 6459 2222
SuperBowl Golf & Country Club
6 Marina Green
Tel : +65 6221 2811
Tanah Merah Country Club
25 Changi Coast Rd Singapore 499803
Tel : +65 6542 3040
Temasek Club
1 Portsdown Rd
Tel : +65 6475 2309
The Pines Country Club
30 Stevens Road Singapore 257840
Tel: +65 6733 8822
The Tanglin Club
5 Stevens Rd Singapore 257814
Tel : +65 6737 6011
Warren Golf & Country Club
23 Folkestone Rd 139599
Tel : +65 6778 0127
Re: Starting business in Singapore
Delaware has favourable tax treatement I understand as well as liability coverage. This is not a simple discussion.



Posted in Business in Singapore
Re: Opening a bank account in Singapore as a EU citizen

Thanks for the answers, very useful. Does anyone know how it is with local Singaporean banks? Would that also be possible? Transferwise I use already for money transfer but I rather would like to go with a "real" bank.


You .....



Posted in Relocating, Moving to Singapore
Re: Starting business in Singapore
Dear Nysing,

You can incorporate a Singapore company first (private limited company, branch or a subsidiary) and use a local resident director on a temporary basis until you move your DP to EP under the company. Later the directorship can be transferred to you after securing the EP. And you will .....



Posted in Business in Singapore
Re: Cancelling EP IPA and applying for a new one? Will I be blacklisted?
I have asked Company A to withdraw but they are basically ghosting me (HQ is based overseas). This is why i was frustrated throughout the entire process, it was very difficult for A to move quickly.

Yes I could start work with A but I decided to go with B instead based on reasons I mentioned .....



Posted in PR, Citizenship, Passes & Visas for Foreigners
Re: PR approval probability 2020