Singapore Expats offers a one-stop residential Singapore property guide, renting procedure and information directory for expatriates living or relocating to Singapore.
Rent Singapore property, apartment or house has never been easier. Our Singapore Property Classifieds provide one stop property search for apartment, condo or house for rent or sale in Singapore. Expatriate or would-be expat can also exchange tips and ideas in our Expat Forum.
Singapore Property Search
NEW PROPERTY LAUNCH
The Landmark - Experience luxury city living on an elevated elegance where a plethora of modern luxuries has been harnessed into one residential development.
Irwell Hill Residences - Walk to Orchard Road or Great World City! A new icon of premium luxury in prime District 9 at a new address created for the distinguished few.
One-North Eden - A rare new mixed development located right in the One-North business park beside the hugely popular One-North Residences.
Midtown Modern - A hot new mixed-development right on top of Bugis MRT Station. Don't miss it!
The Reef at King's Dock - The latest waterfront homes right at the doorstep of Harbourfront MRT Station. Live in The Reef at King's Dock and be part of The Greater Southern Waterfront transformation!
Normanton Park - Last mega project in 2021! Surrounded with greeneries and the southern sea and a stone's throw from One-North which is a subzone and business park for the R&D and high technology cluster, comprising biomedical sciences, infocomm technology (ICT) and media industries.
Ki Residences - A 999-year leasehold new condominium at 99-year leasehold prices. Located at a quiet and serene Sunset Way overlooking low-rise landed homes and just opposite the Ulu Pandan / Holland residential enclave.
Clavon - Located in the heart of Clementi, a highly popular estate fringing Bukit Timah and Jurong Business Park. Clavon is surrounded by established schools, nature, and lifestyle amenities.
Treasure at Tampines - The best selling condo in 2019 and 2020! One of the lowest entry price new condominium in the East and with surrounding new projects launched at much higher psf, Treasure at Tampines has a very good potential for capital appreciation.
Why Choose an International Curriculum like the IB PYP at GIIS?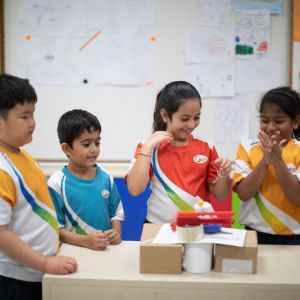 If you're a parent searching for a quality school in Singapore, the Global Indian International School (GIIS) with its International Baccalaureate Primary Years Programme (IB PYP) is an excellent choice. The IB PYP is an inquiry-based programme that puts students in the driver's seat of their own learning. Additionally, it emphasises the valuable skills children need to succeed in school and in life.
How the IB PYP develops higher-order thinking skills in students
The Primary Years Programme is designed for...
When Wishes Take Wings - Singapore American School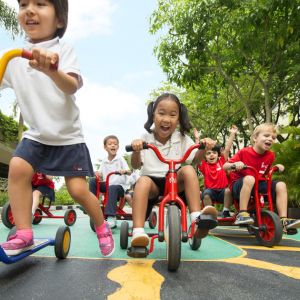 The 2020-21 school year offered new possibilities for learning, as educators and children adapted to the altered physical and social environment necessitated by the COVID-19 pandemic. We drew on the children's interest in connecting with people and places overseas and sought to co-create new possibilities for communication and travel. The children created small world airports, sent postcards around the world, organized Zoom calls with beloved family members, connected virtually with pilots, and transformed the learning community into winter and summer climates.
We invited the children to share their dreams for the future. One child suggested writing their wishes on kites, and flying them in the hope they soon come true. The children's wishes soared through the skies in this beautiful end to the year-long project.
Some of our youngest learners shared their wishes:
"All the planes are stopped."
"I miss my Halahbuhjee and...
House Hunt Guide
Accommodation, property and house hunting guide focusing on price, location and expatriate housing choice like an apartment or house.
Relocation to Singapore
Guides on relocation, staying and living in Singapore, information and tips when relocating to Singapore. Including culture shock, cost of living and others. All information an expat or would be expat needed to know.
Search for Property
Residential Property - Apartment, black & white house, bungalow, cluster housing, condo, conservation house, flat, penthouse.
Commercial Property - Factory, office, shop or warehouse.
Moving and relocating to Singapore
Rent property, apartment, house in Singapore made easy. Singapore Property Classified listings for apartment, condominium, house and commercial properties.
Information, resource guide and FAQ for Singapore expat. Including living, housing, staying and working in Singapore.
Singapore housing rental guide, travel and transport guides in Singapore.
Expat Singapore relocation, moving services, lodging, accommodation, property and housing rental guide.
Guides on shopping, fine food, sports, places of interest, entertainment and clubbing in Singapore.
Search apartments and houses in Singapore in our Singapore Property Classifieds or view our collection of Singapore Property Pictures.
Join the friendly Expat Forum and share tips and opinions with fellow expatriates.
Renting or Selling property in Singapore
Submit your property listing - apartment, condo, house, flats rental or sale to the most comprehensive property listings database in Singapore.
Our advantages
Most complete Singapore property classifieds - residential and commercial.
Number 1 expatriate & property portal in Singapore.
Re: PR surrender and CPF withdrawal
Hi e1coli and Baobaotou,
My Singapore PR REP expired and I am outside Singapore due to the pandemic, so I have lost my PR. Seems like both of you still have access to Singpass app after renouncing citizenship? How long has it been since the renounciation and do you know when will our Singpass app .....



Posted in PR, Citizenship, Passes & Visas for Foreigners
What is the keto diet? How are you?


Guidelines for healthy eating and weight loss are constantly changing, and we can see that modern weight loss methods have And one of the diet styles that is trending and growing is the "Ketogenic Diet" or "keto" for .....



Posted in Business in Singapore
Lucas Weed Dispensary is the perfect online store to satisfy all your marijuana needs.. WHATSAPP.......... 1234 67 89 10, Contact emails ......... info@lucasweeddispensary.com Visit the website https://lucasweeddispensary.com/ to order marijuana safely with us.
such as weeds, cannabis, cannabis .....



Posted in 20's Club