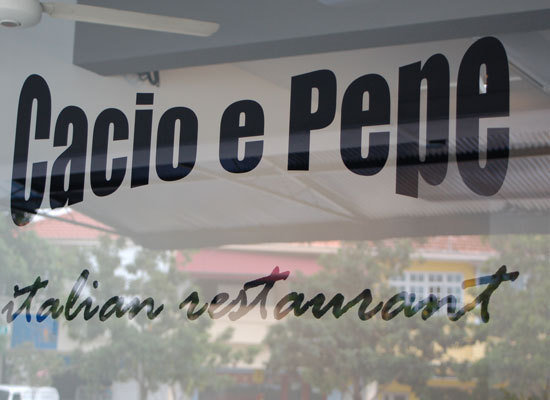 Cacio e Pepe Restaurant

59 / 71
The HungryGoWhere team is here to help you. Listed below are this eatery's available take-away and delivery options.

Delivery:
Cacio e Pepe Restaurant is offering delivery via the following options:
https://food.grab.com/sg/en/restaurant/cacio-e-pepe-chu-lin-road-delivery/SGDD11435
https://www.foodpanda.sg/restaurant/v4iu/cacio-e-pepe-italian
https://deliveroo.com.sg/menu/singapore/upper-bukit-timah/cacio-e-pepe-pte-ltd

Take-away:
Cacio e Pepe Restaurant is offering take-away via the following options:
https://food.grab.com/sg/en/restaurant/cacio-e-pepe-chu-lin-road-delivery/SGDD11435
https://www.foodpanda.sg/restaurant/v4iu/cacio-e-pepe-italian
ihttps://deliveroo.com.sg/menu/singapore/upper-bukit-timah/cacio-e-pepe-pte-ltd
Facebook
WhatsApp: 97882330
Phone: 67603534

Cacio e Pepe Restaurant offers some of the best Italian cuisines in Singapore, serving a tantalising collection of dishes that are suitable for casual dining and group gatherings. The menu features a variety of soup, salads, pasta, meat, pizza, and many more.Located along Chu Lin Road, Cacio e Pepe provides a warm and inviting ambience that brings guests in a truly relaxed Italian dining experience with authentic Italian flavours using only top quality ingredients.MUST TRY: Items to look forward to include Portobello, Rucola e Parmigiano, Spaghetti alla Carbonara, Risotto al Nero de Seppia, Beef Lasagna, and a lot more.
Hours:

Daily: 11:30 - 14:30
Daily: 18:00 - 22:30
Closed: Mon
Address:
3 Chu Lin Road
Re: Couple that ran off with $32m
I don't see the logic of paying for something you don't see...if you don't see it to buy it, don't buy.



Posted in Latest News & Current Affairs
You can email at ICA_PR@ica.gov.sg



Posted in PR, Citizenship, Passes & Visas for Foreigners
Starbucks in educational institutions are also slightly cheaper than the stores outside. Just walk in and buy and you enjoy the price.

A pity the school canteens had to raise their prices twice this year. Once before the Ukraine war, and another after. 6 years ago I could have 6 pieces of yong .....



Posted in General Discussions