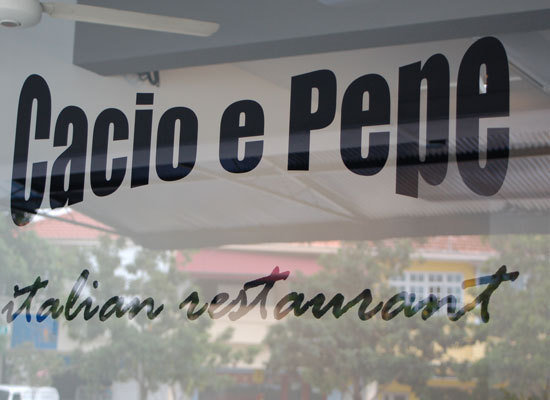 Cacio e Pepe Restaurant

59 / 71
The HungryGoWhere team is here to help you. Listed below are this eatery's available take-away and delivery options.

Delivery:
Cacio e Pepe Restaurant is offering delivery via the following options:
https://food.grab.com/sg/en/restaurant/cacio-e-pepe-chu-lin-road-delivery/SGDD11435
https://www.foodpanda.sg/restaurant/v4iu/cacio-e-pepe-italian
https://deliveroo.com.sg/menu/singapore/upper-bukit-timah/cacio-e-pepe-pte-ltd

Take-away:
Cacio e Pepe Restaurant is offering take-away via the following options:
https://food.grab.com/sg/en/restaurant/cacio-e-pepe-chu-lin-road-delivery/SGDD11435
https://www.foodpanda.sg/restaurant/v4iu/cacio-e-pepe-italian
ihttps://deliveroo.com.sg/menu/singapore/upper-bukit-timah/cacio-e-pepe-pte-ltd
Facebook
WhatsApp: 97882330
Phone: 67603534

Cacio e Pepe Restaurant offers some of the best Italian cuisines in Singapore, serving a tantalising collection of dishes that are suitable for casual dining and group gatherings. The menu features a variety of soup, salads, pasta, meat, pizza, and many more.Located along Chu Lin Road, Cacio e Pepe provides a warm and inviting ambience that brings guests in a truly relaxed Italian dining experience with authentic Italian flavours using only top quality ingredients.MUST TRY: Items to look forward to include Portobello, Rucola e Parmigiano, Spaghetti alla Carbonara, Risotto al Nero de Seppia, Beef Lasagna, and a lot more.
Hours:

Daily: 11:30 - 14:30
Daily: 18:00 - 22:30
Closed: Mon
Address:
3 Chu Lin Road
Pretty normal..usually more obvious towards the end of the second trimester or third trimester.



Posted in Moms Group
Re: Benefits outweigh the risks of mRNA vaccine?
Let's face it, short-term, there will always be outliers, side-effects, regardless of what vaccine you use, or indeed any medical treatment you apply in general, tried and true included. Clearly though, as of the here and now, statistically, the benefits of mRNA outweigh the risks.

But going .....



Posted in Beauty, Health & Fitness
Re: PR approval chances (applied in 2022)

Is it still necessary for me to keep ICA updated in my pending PR application since I will be receiving a renewed EP from the same employer? e.g. email ICA/etc.) In addition, my base salary will be modestly increased. Is it .....