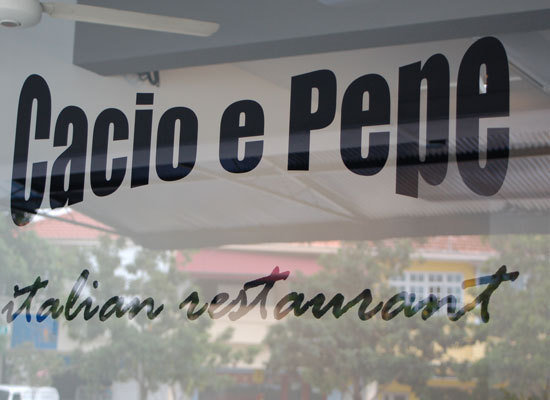 Cacio e Pepe Restaurant

59 / 71
The HungryGoWhere team is here to help you. Listed below are this eatery's available take-away and delivery options.

Delivery:
Cacio e Pepe Restaurant is offering delivery via the following options:
https://food.grab.com/sg/en/restaurant/cacio-e-pepe-chu-lin-road-delivery/SGDD11435
https://www.foodpanda.sg/restaurant/v4iu/cacio-e-pepe-italian
https://deliveroo.com.sg/menu/singapore/upper-bukit-timah/cacio-e-pepe-pte-ltd

Take-away:
Cacio e Pepe Restaurant is offering take-away via the following options:
https://food.grab.com/sg/en/restaurant/cacio-e-pepe-chu-lin-road-delivery/SGDD11435
https://www.foodpanda.sg/restaurant/v4iu/cacio-e-pepe-italian
ihttps://deliveroo.com.sg/menu/singapore/upper-bukit-timah/cacio-e-pepe-pte-ltd
Facebook
WhatsApp: 97882330
Phone: 67603534

Cacio e Pepe Restaurant offers some of the best Italian cuisines in Singapore, serving a tantalising collection of dishes that are suitable for casual dining and group gatherings. The menu features a variety of soup, salads, pasta, meat, pizza, and many more.Located along Chu Lin Road, Cacio e Pepe provides a warm and inviting ambience that brings guests in a truly relaxed Italian dining experience with authentic Italian flavours using only top quality ingredients.MUST TRY: Items to look forward to include Portobello, Rucola e Parmigiano, Spaghetti alla Carbonara, Risotto al Nero de Seppia, Beef Lasagna, and a lot more.
Hours:

Daily: 11:30 - 14:30
Daily: 18:00 - 22:30
Closed: Mon
Address:
3 Chu Lin Road
Re: Dependent Pass vs. Student Pass



It depends which route of visual arts, painting/sculpting or filmmaking/photography? For the latter, those skills can be .....



Posted in PR, Citizenship, Passes & Visas for Foreigners
Re: Any Phuket recommendations?

Would love to see some trip itineraries if anyone has some... Planning a 3 week honeymoon there and don't really know where to start!


For a honeymoon, I definitely recommend the Rayavadee near Krabi. We did our pre-honeymoon .....



Posted in General Discussions
Re: Ignoring ICA on citizenship



Out of curiosity, if you had not fulfilled the residency requirements, what would've happened to her?


Stateless.
Right, but what .....



Posted in Strictly Speaking