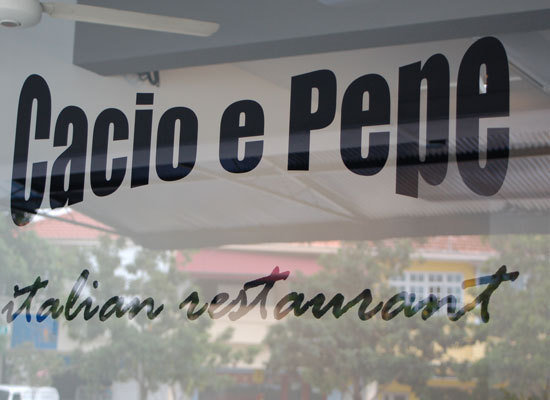 Cacio e Pepe Restaurant

59 / 71
The HungryGoWhere team is here to help you. Listed below are this eatery's available take-away and delivery options.

Delivery:
Cacio e Pepe Restaurant is offering delivery via the following options:
https://food.grab.com/sg/en/restaurant/cacio-e-pepe-chu-lin-road-delivery/SGDD11435
https://www.foodpanda.sg/restaurant/v4iu/cacio-e-pepe-italian
https://deliveroo.com.sg/menu/singapore/upper-bukit-timah/cacio-e-pepe-pte-ltd

Take-away:
Cacio e Pepe Restaurant is offering take-away via the following options:
https://food.grab.com/sg/en/restaurant/cacio-e-pepe-chu-lin-road-delivery/SGDD11435
https://www.foodpanda.sg/restaurant/v4iu/cacio-e-pepe-italian
ihttps://deliveroo.com.sg/menu/singapore/upper-bukit-timah/cacio-e-pepe-pte-ltd
Facebook
WhatsApp: 97882330
Phone: 67603534

Cacio e Pepe Restaurant offers some of the best Italian cuisines in Singapore, serving a tantalising collection of dishes that are suitable for casual dining and group gatherings. The menu features a variety of soup, salads, pasta, meat, pizza, and many more.Located along Chu Lin Road, Cacio e Pepe provides a warm and inviting ambience that brings guests in a truly relaxed Italian dining experience with authentic Italian flavours using only top quality ingredients.MUST TRY: Items to look forward to include Portobello, Rucola e Parmigiano, Spaghetti alla Carbonara, Risotto al Nero de Seppia, Beef Lasagna, and a lot more.
Hours:

Daily: 11:30 - 14:30
Daily: 18:00 - 22:30
Closed: Mon
Address:
3 Chu Lin Road
Re: Best vegetarian meat alternatives

Why though? If it's not for religious or compassionate reasons, a meat based diet is just superior to a plants only one.


For some people meat is just gross and stinky.

[quote=Lisafuller post_id=861327 time=1643053394 .....



Posted in General Discussions
Finnair used to allow small pets on board. I heard about a person who brought a chinchilla to Singapore this way.
But their website says that this option is now suspended due to COVID.
Maybe check with them?

https://www.finnair.com/sg-en/pets-on-finnair-flights



Posted in Relocating, Moving to Singapore
Re: 4 men charged over Covid19 breaches in New Years eve
After the debacle when the government lied to everybody about the ability of the police to use it to track people, doesn't surprise me at all. Especially with them knowing that what they were doing was in violation of the current bans. I am sure word was also passed like 20 questions to whomever .....



Posted in Entertainment, Leisure & Sports