Brazilian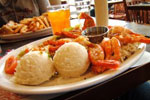 Singapore Expats comprehensive restaurant listings in Singapore power by hungrygowhere.com, includes address, contact number, type of cuisine, reviews.
Please contact us to advertise.
Re: COVID-19; where to buy insurance cover?
What type of insurance are you looking for? Life? Health?



Posted in Travel & Holidays
Singapore: 100-1000 infections in a month
This is a very good read from SCMP. Some fine-tuning could have made things better I .....



Posted in General Discussions
Re: COVID19 deaths reaching 50,000 soon ...
Posted in General Discussions
Re: Website "queue". What is this?

"You have been, or are about to be, assigned a place in the queue. The reason you are now in the queue is either because the website you want to access is not yet open for visitors, or because the website has a large number of users .....



Posted in Computer, Internet, Phone & Electronics
Re: Travel to Singapur from Vietnam
At the moment not thanks to the covid-19. By Sept it's pretty hard to tell. In the meantime there are an number of thread on this board if you will but use the Search function at the upper right of the page above your name.



Posted in Travel & Holidays