Malay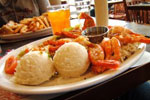 Singapore Expats comprehensive restaurant listings in Singapore power by hungrygowhere.com, includes address, contact number, type of cuisine, reviews.
Please contact us to advertise.
No Results Found!
Re: Verbally Accept Offer but a Better Offer Comes Out
Hah,

My company branch in Australia hired a sales director.

The country leader had an on-boarding call with him the night before.

The morning he was meant join, he called in to say he was joining the competitor.

Helps a bit that the guy was in his twilight years and would retire at the .....



Posted in Careers & Jobs in Singapore
EP pending while awaiting STVP extension
Hi Friends,

My EP has been canceled on the 06th of July and MoM issued a Short Term Visit Pass (STVP) which is valid until 05th Aug. In between, I have got another job offer and they have applied my new EP, it is still in pending status.

As of 04th Aug, I don't have valid EP and STVP is expiring .....



Posted in PR, Citizenship, Passes & Visas for Foreigners
Re: PR approval chance in 2020
Thanks all for your support on this forum , much appreciated.
Indian
In singapore since 2009, on EP
Working in IT Banking on data analytics And compliance
Salary :140K
Wife not working
1 kid boy 6 years , goes to local school
Applied thrice Earlier, 2013,2014,2016 rejected
Applied in Aug .....



Posted in PR, Citizenship, Passes & Visas for Foreigners
Re: Citizenship application status still pending



Hi, is my understanding of the current process correct? Submit application online and then .....



Posted in PR, Citizenship, Passes & Visas for Foreigners
Re: Expats coming to Singapore
Hi there, may i know the link?

Sent from my CPH1823 using Tapatalk





Posted in Relocating, Moving to Singapore