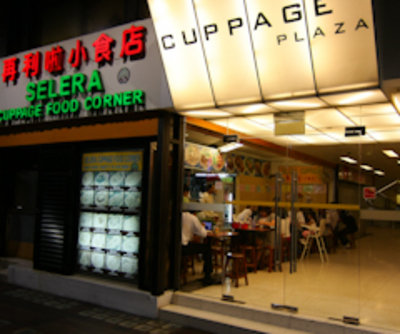 Selera Cuppage Food Corner

1 / 8
Selera Cuppage Food Corner offers some of the best Malay, Indonesian and Local cuisines in Singapore, serving a tantalising collection of dishes that are suitable for casual dining and group gatherings. Prepared using only the freshest and most delicious ingredients, every dish in the menu is bound to satisfy your taste buds.
Located at Cuppage Plaza and just a few minutes from Somerset MRT Station, Selera Cuppage Food Corner is an ideal place where families and friends can enjoy delicious yet affordable dishes in a comfortable and friendly atmosphere.MUST TRIES: Items to look forward to include Beef Fried Rice, Salted Fish with Chicken Claypot Rice, Fried Seafood Kway Teow with Gravy, and a lot more.
Hours:

Daily: 10:30 - 22:30
Address:
5 Koek Road, #01-11 Cuppage Plaza
Cuisine:
Asian, Indonesian, Local, Malaysian, Singaporean
Nationality make a difference. You'll be surprised. If one is Ukrainian or Russian, be prepared for rejection on first try. You seem to be very secretive about your nationality.

1. It saves on application fee if you apply once compared to applying twice. Having a kid shows .....



Posted in PR, Citizenship, Passes & Visas for Foreigners
Re: STVP days after EP Cancellation

Can somebody else confirm the above poster's statement about end of EP STVP? This is good news.

News only (not firsthand) but appears to be the case?

Both women are racing against the clock to find a new job in .....



Posted in PR, Citizenship, Passes & Visas for Foreigners
Re: Malaysian Single Applying For Citizenship


Appreciate your opinions on the probability.


In all probability you are a shoe-in. Go for it.