Fruits & Drinks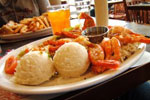 Singapore Expats comprehensive restaurant listings in Singapore power by hungrygowhere.com, includes address, contact number, type of cuisine, reviews.
Please contact us to advertise.
Re: Holland village restaurant closed
Just as an update to my previous post, it turns out the lease at their Holland Village outlet expired and they chose not to renew. I was in the area some time ago and saw that the space was up for rent.



Posted in Entertainment, Leisure & Sports
Tatsu at CHIJMES is amazing. Very pricey though, expect to pay around $100 per person.



Posted in Wine & Dine
Wang Dae Bak Korean BBQ is also supposed to be one of the best in Singapore. The highlight is not just the food, but also the service. If you drink too much, they will hire you a car. If your phone runs out of battery, they have a bunch of chargers for you to borrow. If the smoke gets in your .....



Posted in Wine & Dine
Re: How to use your Rediscover Vouchers
Haha SMS, totally agree. The government offers a $100 voucher but you inevitably end up spending more than the value of the voucher so they earn money anyway.



Posted in Entertainment, Leisure & Sports
Re: Any foreign food remind you of home?

I agree... such is the fate of many US based franchise restaurants here. Outback Steakhouse and California Pizza Kitchen are two live examples that are in decline as I write this.

I think more restaurants in Singapore need to adopt .....



Posted in Leisure Chat, Jokes, Rubbish