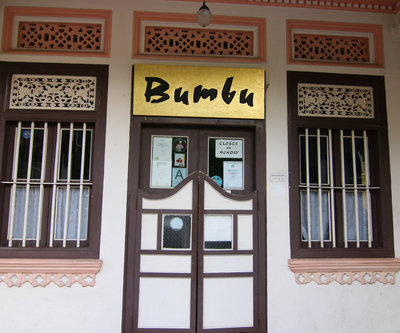 Bumbu Restaurant

1 / 1
Bumbu Restaurant offers some of the best Indonesian, Peranakan and Thai cuisine in Singapore, serving a tantalising collection of dishes that are suitable for family gatherings and large groups. From Tom Yum Seafood to Fried Assam Prawn its extensive menu is reflective of the restaurant's efforts to cater to every palate.The restaurant is located in Telok Ayer Conservation Areaalong Telok Ayer Street. Bumbu preserves the nostalgia of 1940s Singapore with its antique Peranakan-style furniture and pays homage to Singapore's multi cultural makeup with its unique menu.MUST TRY:Indulge in their mouth-watering dishes such as Bumbu Salad made with shrimp, century eggs, onions, cashew nuts and lemongrass; Gado-Gado with homemade peanut sauce, Butter Oat Soft Shell Crab and Crispy Baby Squid.For their refreshers, they offer Chinese Tea, Ice Blended Avocado, Coconut and Ayer Bandung.
Hours:

Mon - Sat: 11:00 - 15:00
Mon - Sat: 18:00 - 22:00
Closed: Sun & PH
Address:
125 Telok Ayer Street
Cuisine:
Asian, Indonesian, Malaysian, Seafood, Thai
Re: Planning my move to Singapore



16K for a family isn't big unless you wanna live a simple life, Cook at home 3-4 days , shops for .....



Posted in General Discussions
may i know how to we update ICA if we have salary increments? would the update cause any delays such as sending the application to the bottom of the pile again?



Posted in PR, Citizenship, Passes & Visas for Foreigners
Flooring issues - Landlord or tenant to fix?
Hey all.

I've been in my current rented unit for 3 years, and recently been having some flooring issues in the living area. The condo I'm residing at is really old (probably 40 years old), and I'm not sure how old the flooring to the unit is. So recently within the past year, there have been gaps .....



Posted in Property Talk, Housing & Rental