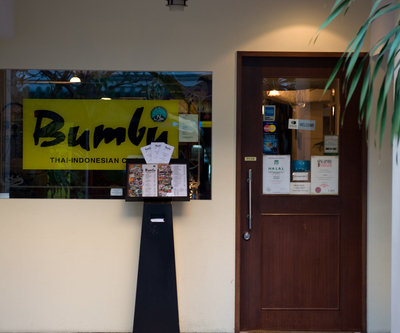 Bumbu Restaurant

8 / 16
Bumbu Restaurant offers some of the best Indonesian, Peranakan and Thai cuisine in Singapore, serving a tantalising collection of dishes that are suitable for family gatherings and large groups. From Tom Yum Seafood to Fried Assam Prawn its extensive menu is reflective of the restaurant's efforts to cater to every palate.The restaurant is located in China Square Centralalong Cross Street. Bumbu preserves the nostalgia of 1940s Singapore with its antique Peranakan-style furniture and pays homage to Singapore's multi cultural makeup with its unique menu.MUST TRY:Indulge in their mouth-watering dishes such as Bumbu Salad made with shrimp, century eggs, onions, cashew nuts and lemongrass; Gado-Gado with homemade peanut sauce, Butter Oat Soft Shell Crab and Crispy Baby Squid.For their refreshers, they offer Chinese Tea, Ice Blended Avocado, Coconut and Ayer Bandung.
Hours:

Tue - Sun: 11:00 - 15:00
Tue - Sun: 18:00 - 22:00
Closed: Mon
Address:
20 Cross Street, #01-25 Cross Street Exchange
Cuisine:
Asian, Halal, Indochinese, Indonesian, Malaysian, Thai
There's always the option to send the pet first on another airline as cargo, get a trusted family member to take care of the pet while you fly over on your preferred airline.

A research fellow I knew sent her cat back to the US first while she was finishing up her employment contract here. Cat .....



Posted in Relocating, Moving to Singapore





I'd say, as long as you've got a TnG card with at least RM25 balance at a minimum, you are good to .....



Posted in Travel & Holidays
Re: PR wanna be, would be or will never be. Read this



I doubt PEP helps, although maybe with the new salary threshold it means one is a high earner ($22,500 per .....