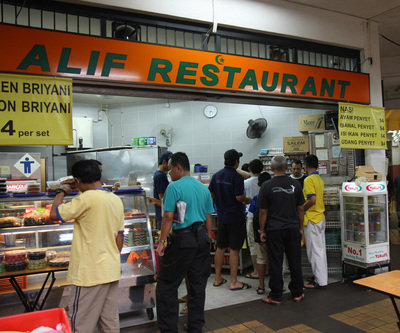 Alif Restaurant

28 / 37
Alif Restaurant offers some of the best Indian Cuisine serving a tantalising collection of dishes that are suitable for family, large groups, catching up with friends and colleagues. From Mee Soto to Egg Prata its extensive menu is reflective of the restaurant's efforts to cater to every palate.This restaurant is located in Bukit Batok along Bukit Batok Street 31. Alif Restaurant is a coffee shop near Bukit Gombak MRT selling Indian cuisine, mainly pratas. Students come here after school, adults after work. It's a good place to chill.MUST TRIES: Indulge in their mouth-watering dishes such as Plain Prata, Fish Curry, Roti Prata and Mee Rebus.For their drinks, they offer Teh Cino, Teh Tarik Ice, and Frothy Milk Tea.
Hours:

Daily: 24 Hours -
Address:
374 Bukit Batok Street 31
Cuisine:
Asian, Indian, Indonesian, Malaysian, North Indian, South Indian

How are they married and separated at the same time? Do you mean they're in the separation period before divorce? Because if so, I'm not quite sure that .....



Posted in General Discussions
Lol, dude, the least you can do is to change the content. Not just replacing the word men to women. :-k

Anyway, I have not met any women who cheated their partner yet, and what is IME women? I have never heard of that before. :-k

Cheers
You're either very young or .....



Posted in General Discussions
To all women

This is a sensitive topic to talk about and yet not a foreign topic. But I do want know why women cheat on their partner (bf, husband, companion), and yes, I am a male who write this topic. I asked because some women in my circle do that. Just to be clear, not all women .....



Posted in General Discussions