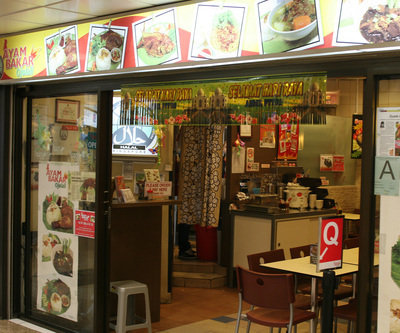 Ayam Bakar Ojolali

24 / 32
Ayam Bakar Ojolali offers some of the best Malaysian Cuisine serving a tantalizing collection of dishes that are suitable for family, large groups, catching up with friends and colleagues. From Grilled Chicken to Ayam Penyet its extensive menu is reflective of the restaurant's efforts to cater to every palate.

This restaurant is located in Lucky Plaza along Orchard Road. The Malay word 'Ayam Bakar' means 'Grilled Chicken' in English while 'Ojolali' is Javanese words and means 'Don't Forget'. In combination 'Ayam Bakar Ojolali' means 'Unforgettable Grilled Chicken' in English.MUST TRIES: Indulge in their mouth-watering dishes such as Fried Chicken Set, Oxtail Soup, Ikan Bawal Bakar, Ayam Bakar, Ayam Goreng and Gado Gado.
Hours:

Daily: 11:30 - 21:00
Address:
304 Orchard Road, #03-39/43 Lucky Plaza
Cuisine:
Asian, Halal, Indonesian, Malaysian
No food (in isolation) can make you fat. It's eating more calories than you burn that will cause weight gain.



Posted in Beauty, Health & Fitness
I've been drinking sugarcane everyday for the past 2 weeks and wondered - would sugarcane make you fat?



Posted in Beauty, Health & Fitness
Re: SC Approval and Timeline Questions

Yes. I applied on 28 Sept 2020. Its been 30months and 3 days. My first application was rejected in 2019 (after 20 months processing time) and I applied again after a year.


Do you mind sharing your profile?