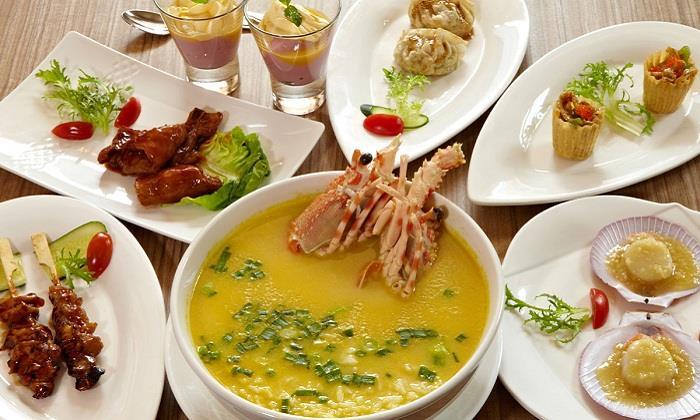 Wan He Lou Chinese Restaurant
萬合樓
71 / 91
The HungryGoWhere team is here to help you. Listed below are this eatery's available take-away and delivery options.

Delivery:
Wan He Lou Chinese Restaurant is offering delivery via the following options:
http://order.wanhelou.com/

Take-away:
Wan He Lou Chinese Restaurant is offering take-away via the following options:
Take-Away Deals:
OCBC Take-Away Exclusive: 1-for-1 6-Course Feast Set
Wan He Lou is located in a shophouse on Maude Road, at the heart of the Jalan Besar neighbourhood. The Chinese restaurant is helmed by Chef Lau Siaw Dee, who previously won an award at an international culinary event coinciding with the Beijing Olympics. The restaurant is brightly lit, with sufficient breathing space between the simple wood furnishings.MUST TRIES: The restaurant is best known for its Teochew style Lobster Porridge(S$31.90, half a lobster), which consists of loose rice grains cooked in a simmering golden broth, enriched with lobster roe and served with a meaty lobster half. The Crispy Lotus Root with Salted Egg also makes for a good snack before the meal.
Hours:

Daily: 11:00 - 14:30
Daily: 17:00 - 22:30
Address:
65 Maude Road
Re: Shooting at US grocery stores

Always remember, if you outlaw guns, only outlaws will have guns. I wouldn't expect you to understand this, however. It's easier if you only have 500 sq/km to control and no hinterlands. and only 1.887 m population like when .....



Posted in Latest News & Current Affairs
Does anyone requires Gardening service? Like garden and lawn maintenance or even have a makeover for your garden.



Posted in Entertainment, Leisure & Sports
Xeomin and Botox, which one is better?
Xeomin vs. Botox or other other neuromodulators: How do they compare?
"Xeomin differs from its competitors in that it doesn't contain additives, so-called complexing proteins. The way it's manufactured removes accessory proteins from the active ingredient, botulinum toxin type A." people said .....



Posted in Beauty, Health & Fitness