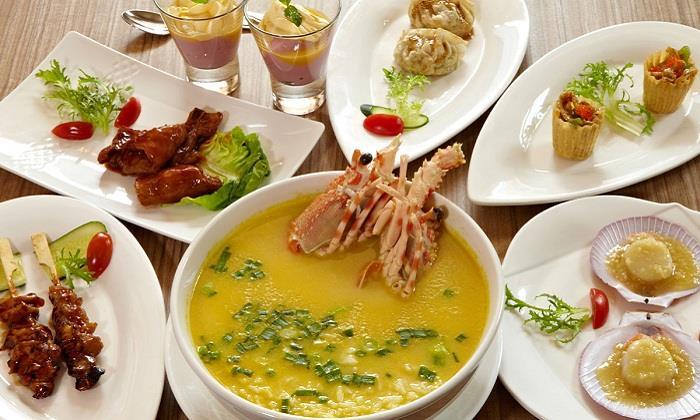 Wan He Lou Chinese Restaurant
萬合樓
71 / 91
The HungryGoWhere team is here to help you. Listed below are this eatery's available take-away and delivery options.

Delivery:
Wan He Lou Chinese Restaurant is offering delivery via the following options:
http://order.wanhelou.com/

Take-away:
Wan He Lou Chinese Restaurant is offering take-away via the following options:
Take-Away Deals:
OCBC Take-Away Exclusive: 1-for-1 6-Course Feast Set
Wan He Lou is located in a shophouse on Maude Road, at the heart of the Jalan Besar neighbourhood. The Chinese restaurant is helmed by Chef Lau Siaw Dee, who previously won an award at an international culinary event coinciding with the Beijing Olympics. The restaurant is brightly lit, with sufficient breathing space between the simple wood furnishings.MUST TRIES: The restaurant is best known for its Teochew style Lobster Porridge(S$31.90, half a lobster), which consists of loose rice grains cooked in a simmering golden broth, enriched with lobster roe and served with a meaty lobster half. The Crispy Lotus Root with Salted Egg also makes for a good snack before the meal.
Hours:

Daily: 11:00 - 14:30
Daily: 17:00 - 22:30
Address:
65 Maude Road
Pretty normal..usually more obvious towards the end of the second trimester or third trimester.



Posted in Moms Group
Re: Benefits outweigh the risks of mRNA vaccine?
Let's face it, short-term, there will always be outliers, side-effects, regardless of what vaccine you use, or indeed any medical treatment you apply in general, tried and true included. Clearly though, as of the here and now, statistically, the benefits of mRNA outweigh the risks.

But going .....



Posted in Beauty, Health & Fitness
Re: PR approval chances (applied in 2022)

Is it still necessary for me to keep ICA updated in my pending PR application since I will be receiving a renewed EP from the same employer? e.g. email ICA/etc.) In addition, my base salary will be modestly increased. Is it .....