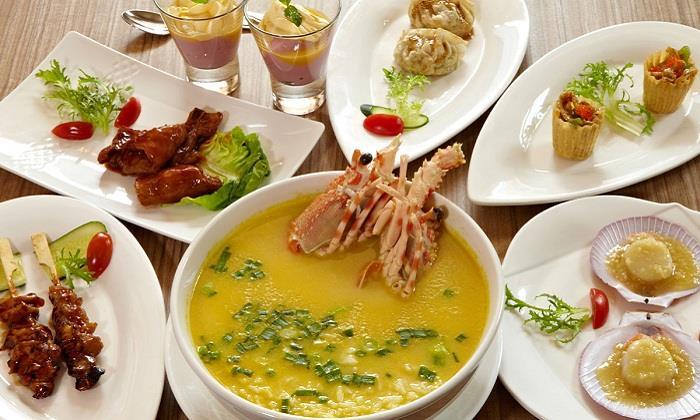 Wan He Lou Chinese Restaurant
萬合樓
71 / 91
The HungryGoWhere team is here to help you. Listed below are this eatery's available take-away and delivery options.

Delivery:
Wan He Lou Chinese Restaurant is offering delivery via the following options:
http://order.wanhelou.com/

Take-away:
Wan He Lou Chinese Restaurant is offering take-away via the following options:
Take-Away Deals:
OCBC Take-Away Exclusive: 1-for-1 6-Course Feast Set
Wan He Lou is located in a shophouse on Maude Road, at the heart of the Jalan Besar neighbourhood. The Chinese restaurant is helmed by Chef Lau Siaw Dee, who previously won an award at an international culinary event coinciding with the Beijing Olympics. The restaurant is brightly lit, with sufficient breathing space between the simple wood furnishings.MUST TRIES: The restaurant is best known for its Teochew style Lobster Porridge(S$31.90, half a lobster), which consists of loose rice grains cooked in a simmering golden broth, enriched with lobster roe and served with a meaty lobster half. The Crispy Lotus Root with Salted Egg also makes for a good snack before the meal.
Hours:

Daily: 11:00 - 14:30
Daily: 17:00 - 22:30
Address:
65 Maude Road

You'll be fine regardless Mal. I sold my stock portfolio last night. I don't entirely trust the GOP not to screw up the debt ceiling deal.


Market timing is one of main reasons investors underperform the market. I honestly .....



Posted in PR, Citizenship, Passes & Visas for Foreigners
It's only one member on this forum that has been in EP for so long, not multiple "members" as what LF claims. And malcontent isn't a good example as he deliberately chose to stay on EP for more than 2 decades and his wife is a PR so he can convert to LTVP any time if he *touchwood* loses .....



Posted in PR, Citizenship, Passes & Visas for Foreigners

There are members on this forum even who have been on EP for as long as 25 years.

But doesn't it feel like the sword of Damocles? At any time an EP holder can lose a job and not find a new one, or not pass COMPASS starting .....