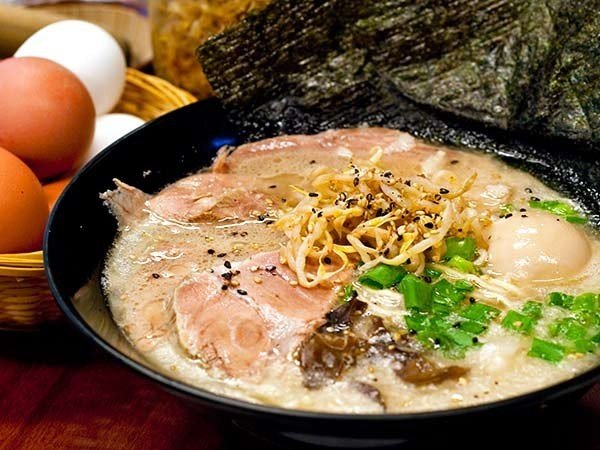 Keisuke Tonkotsu King

102 / 113
The HungryGoWhere team is here to help you. Listed below are this eatery's available take-away and delivery options.

Delivery:
Keisuke Tonkotsu King is offering delivery via the following options:
WhatsApp: 8879 8670
Phone: 8879 8670

Take-away:
Keisuke Tonkotsu King is offering take-away via the following options:
WhatsApp: 8879 8670
Phone: 8879 8670
THE BUZZ:Keisuke Tonkotsu Kingoffers some of the best Japanese cuisine in Singapore,serving a fascinatingcollection of dishes which ramen lovers will surely enjoy. With different toppings and flavours, every dish in the menu is bound to satisfy your taste buds.Keisuke Tonkotsu King is conveniently located at Orchid Hotel along Tras Street where you can just stroll around after having a satisfying meal.Keisuke Takeda, founder of Ramen Keisuke, cooks ramen in aninnovative and creative way to treat customers one of a kind ramen thatnobody else has tried and tasted before.MUST TRY:Indulge in the pleasure of their deliciousTonkotsu Ramen. You may also opt forBlack Spicy Tonkotsu Ramen with Japanese Seaweed, Black Spicy Tonkotsu Ramen orRed Spicy Tonkotsu Ramen. Make it more delicious by adding flavoured egg and some toppings, too!
Hours:

Daily: 11:30 - 22:00
Address:
1 Tras Street, #01-19 Orchid Hotel
Pretty normal..usually more obvious towards the end of the second trimester or third trimester.



Posted in Moms Group
Re: Benefits outweigh the risks of mRNA vaccine?
Let's face it, short-term, there will always be outliers, side-effects, regardless of what vaccine you use, or indeed any medical treatment you apply in general, tried and true included. Clearly though, as of the here and now, statistically, the benefits of mRNA outweigh the risks.

But going .....



Posted in Beauty, Health & Fitness
Re: PR approval chances (applied in 2022)

Is it still necessary for me to keep ICA updated in my pending PR application since I will be receiving a renewed EP from the same employer? e.g. email ICA/etc.) In addition, my base salary will be modestly increased. Is it .....