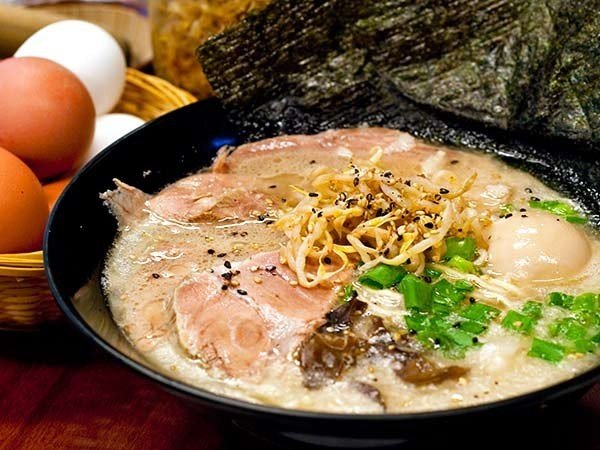 Keisuke Tonkotsu King

102 / 113
The HungryGoWhere team is here to help you. Listed below are this eatery's available take-away and delivery options.

Delivery:
Keisuke Tonkotsu King is offering delivery via the following options:
WhatsApp: 8879 8670
Phone: 8879 8670

Take-away:
Keisuke Tonkotsu King is offering take-away via the following options:
WhatsApp: 8879 8670
Phone: 8879 8670
THE BUZZ:Keisuke Tonkotsu Kingoffers some of the best Japanese cuisine in Singapore,serving a fascinatingcollection of dishes which ramen lovers will surely enjoy. With different toppings and flavours, every dish in the menu is bound to satisfy your taste buds.Keisuke Tonkotsu King is conveniently located at Orchid Hotel along Tras Street where you can just stroll around after having a satisfying meal.Keisuke Takeda, founder of Ramen Keisuke, cooks ramen in aninnovative and creative way to treat customers one of a kind ramen thatnobody else has tried and tasted before.MUST TRY:Indulge in the pleasure of their deliciousTonkotsu Ramen. You may also opt forBlack Spicy Tonkotsu Ramen with Japanese Seaweed, Black Spicy Tonkotsu Ramen orRed Spicy Tonkotsu Ramen. Make it more delicious by adding flavoured egg and some toppings, too!
Hours:

Daily: 11:30 - 22:00
Address:
1 Tras Street, #01-19 Orchid Hotel
Re: Dependent Pass vs. Student Pass



It depends which route of visual arts, painting/sculpting or filmmaking/photography? For the latter, those skills can be .....



Posted in PR, Citizenship, Passes & Visas for Foreigners
Re: Any Phuket recommendations?

Would love to see some trip itineraries if anyone has some... Planning a 3 week honeymoon there and don't really know where to start!


For a honeymoon, I definitely recommend the Rayavadee near Krabi. We did our pre-honeymoon .....



Posted in General Discussions
Re: Ignoring ICA on citizenship



Out of curiosity, if you had not fulfilled the residency requirements, what would've happened to her?


Stateless.
Right, but what .....



Posted in Strictly Speaking