Restaurants in Singapore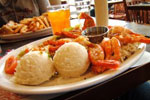 Singapore Expats comprehensive restaurant listings in Singapore power by hungrygowhere.com, includes address, contact number, type of cuisine, reviews.
Please contact us to advertise.
Re: If you are here for money, when will you stop?
To add to WD40's topic I'd say a bit factor in when you leave is around your marriage or partnership. I've seen people leave early for that (one of our better members Hanniroo for one). A broken or struggling marriage here is no fun.



Posted in General Discussions
Re: looking for guitar tuition
Hi, have u found yr guitar tuition. If u have not, I can find for u from Trust agency.

Regards,
Cindy



Posted in Parenting, Family & Schools
Re: Time between IPA to Travel Approval (EP GRANT)
Well Smoulder, unfortunately from India, there are limited flights and only people I know, who successfully managed to get entry approval, are nurses and healthcare staff. But then, I know a very small sample.

Let's hope I get an immigration approval soon after IPA, I would hate to sit jobless .....



Posted in PR, Citizenship, Passes & Visas for Foreigners
Re: Company Director and tax residence
As long as you have a permanent residence in Singapore, you can travel all you want. You're still resident for tax purposes. The EP, as PNGMK noted, confirms this.



Posted in Business in Singapore
Depends on your destination in US. Probably United or Qatar



Posted in Business in Singapore