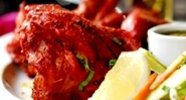 Tandoori Corner

17 / 20
Tandoori Corner offers some of the best Indian Cuisine serving a tantalising collection of dishes that are suitable for family, large groups, catching up with friends and colleagues. From Tandoori Chicken to Briyanis its extensive menu is reflective of the restaurant's efforts to cater to every palate.

This restaurant is located in Balestier Plaza at Balestier Road. Tandoori Corner is a new casual diner along Balestier Road serving North Indian cuisine, both vegetarian and non-vegetarian. Food catering services are also available.MUST TRY: Indulge in their mouth-watering dishes such as Rogan Josh, Dal, Paneer Makhni and a selection of Naans / Parathas.
Hours:

Daily: 12:00 - 15:00
Daily: 18:00 - 22:00
Address:
400 Balestier Road, #01-12 Balestier Plaza
Cuisine:
Asian, Indian, North Indian
Lisa, yes, taking Grab is doable and I have done that too. Works great if you are only going to be within JB. If you have to drive further, like we did to my in laws town, Seremban, then obviously Grab won't help.



Posted in Travel & Holidays



Lisa, that sounds interesting. Might have to try that but first I need to buy a steamer,, .....



Posted in Beauty, Health & Fitness




You are right. It's been on my to do list for a year or two, but thanks to covid I stayed as far away from hospitals as I could. I had a full .....



Posted in Beauty, Health & Fitness