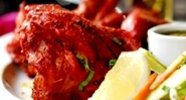 Tandoori Corner

17 / 20
Tandoori Corner offers some of the best Indian Cuisine serving a tantalising collection of dishes that are suitable for family, large groups, catching up with friends and colleagues. From Tandoori Chicken to Briyanis its extensive menu is reflective of the restaurant's efforts to cater to every palate.

This restaurant is located in Balestier Plaza at Balestier Road. Tandoori Corner is a new casual diner along Balestier Road serving North Indian cuisine, both vegetarian and non-vegetarian. Food catering services are also available.MUST TRY: Indulge in their mouth-watering dishes such as Rogan Josh, Dal, Paneer Makhni and a selection of Naans / Parathas.
Hours:

Daily: 12:00 - 15:00
Daily: 18:00 - 22:00
Address:
400 Balestier Road, #01-12 Balestier Plaza
Cuisine:
Asian, Indian, North Indian
Wednesday - Netflix series - Certification rating
I wanted to check if the Netflix series Wednesday is appropriate for kids. Found some interesting insights, how different countries rate it.

https://www.imdb.com/title/tt13443470/parentalguide

Argentina:13 Australia:M (self-applied) Brazil:16 Canada:TV-14 (self-applied) Ecuador:13+ .....



Posted in General Discussions
Re: "Proceed to upload documents" button is missing in ICA Website
Hi, both ways doesn't work for me. I still can apply PR again without mentioned that still got existing applications... etc etc and when i make a declaration for medisave, it shows that only PR can etc etc...

I felt so sad. Most probably rejected is 99%

Results still haven't .....



Posted in Relocating, Moving to Singapore
Re: Questions on moving to Singapore as a German

Hello everyone,

My company offered me a possibility to move to Singapore for a project(1-1.5year), and my company has offered me a 80% bonus on top German salary. But I need advice on taxes, housing and daily expenses:

1. Taxes: any tips .....



Posted in Relocating, Moving to Singapore