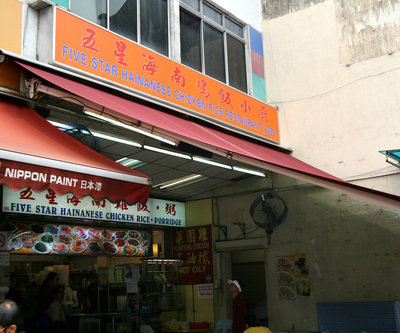 Five Star Hainanese Chicken Rice
五星海南鸡饭
19 / 35
The HungryGoWhere team is here to help you. Listed below are this eatery's available take-away and delivery options.

Delivery:
Five Star Hainanese Chicken Rice is offering delivery via the following options:
https://food.grab.com/sg/en/restaurant/five-star-kampung-chicken-rice-east-coast-road-islandwide-delivery-delivery/SGDD10113
https://www.foodpanda.sg/chain/cv0ge/five-star-hainanese-chicken-rice
https://deliveroo.com.sg/menu/singapore/katong/5-star-hainanese-chicken-rice-east-coast-road

Take-away:
Five Star Hainanese Chicken Rice has no take-away options.

Five Star Hainanese Chicken Rice offers some of the best Chinese and Hainanese cuisines in Singapore, serving a tantalising collection of dishes that are suitable for casual dining and group gatherings. Aside from their popular Five Star Kampung Chicken, the menu features a variety of pork, tofu & omelette, seafood, vegetables, soup, rice & noodles, and desserts & beverages.Located along East Coast Road, this casual dining restaurant provides delectable dishes with savoury rice and sauces made in-house from fresh ingredients. You will surely enjoy their honest, hearty, and wholesome offering perfected over many decades.MUST TRY: Expect indulgent signatures such as Kampung Chicken, Sweet & Sour Sliced Fish, Cereal Prawn, and Stir-Fried Four Season Beans with Preserved Radish. Other dishes they offer include Salted Egg Pork Ribs, Hot Plate Tofu, BBQ Stingray, Chilli Crab, and a lot more.
Hours:

Daily: 10:00 - 02:00
Address:
191 East Coast Road
Cuisine:
Asian, Chinese, Hainanese, Local, Singaporean
Re: Will Darlie toothpaste be next?
I remember when that blew up over here. In fact, if we search the archives here around 2016 or 17 I believe there was a thread on it as well.


Italy responded! https://www.youtube.com/watch?v=0bDqAkgAblI



Posted in Leisure Chat, Jokes, Rubbish
Re: My Nightmare Experience with a Property Agent
Hi Lisa,

They offered to return a total of $2683 back to me. This was from a deposit a 5600 so total deductions of just over 3000 sgd. In the end I accepted this offer as the only alternative would be to send a letter of demand and then proceed to the Small Claims Courts.

It's a shame the .....



Posted in Property Talk, Housing & Rental
Re: Will Darlie toothpaste be next?


I went to quite a few minstrel shows back in the day when I was still in high school. In fact, The Elks Club used to have a big deal out of their production in my .....



Posted in Leisure Chat, Jokes, Rubbish