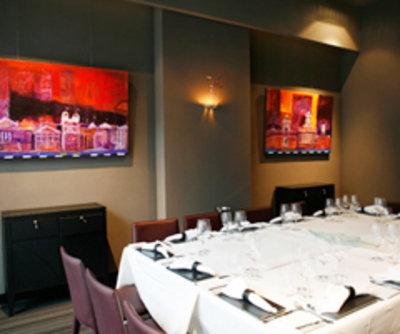 Gunther's Modern French Cuisine

68 / 94
The HungryGoWhere team is here to help you. Listed below are this eatery's available take-away and delivery options.

Delivery:
Gunther's Modern French Cuisine is offering delivery via the following options:
https://www.gunthers.com.sg/online-ordering?fbclid=IwAR1kNInOxmIYVGKEnwfJF9plERnQ4kHPh4DlgcAmhns6PqihNxOFbRyY8Hg

Take-away:
Gunther's Modern French Cuisine is offering take-away via the following options:
WhatsApp: 90103075
Phone: 90103075
Walk in
Gunther's Modern French Cuisine offers some of the best European cuisine in Singapore, serving a tantalising collection of dishes that are suitable for family gatherings, large groups, fine dining and private dining. From Onion Soup to Roasted Smoked Pigeon its extensive menu is reflective of the restaurant's efforts to cater to every palate.This restaurant is located along Purvis Street. Gunther's Modern French Cuisine is a French restaurant that serves delicious and world class cuisine. Gunther is voted Asia's 50 Best Restaurants 2013.MUST TRIES: Indulge in their mouth-watering dishes such as Roasted Suckling Pig, Squid Ink Flavoured Rice and Seafood Consommé.For their drinks, they offer a wide variety of wines to choose from.
Hours:

Mon - Fri: 12:00 - 14:30
Mon - Fri: 18:30 - 22:00
Sat: 18:30 - 22:00
Closed: Sun
Address:
36 Purvis Street
Re: Couple that ran off with $32m
I don't see the logic of paying for something you don't see...if you don't see it to buy it, don't buy.



Posted in Latest News & Current Affairs
You can email at ICA_PR@ica.gov.sg



Posted in PR, Citizenship, Passes & Visas for Foreigners
Starbucks in educational institutions are also slightly cheaper than the stores outside. Just walk in and buy and you enjoy the price.

A pity the school canteens had to raise their prices twice this year. Once before the Ukraine war, and another after. 6 years ago I could have 6 pieces of yong .....



Posted in General Discussions