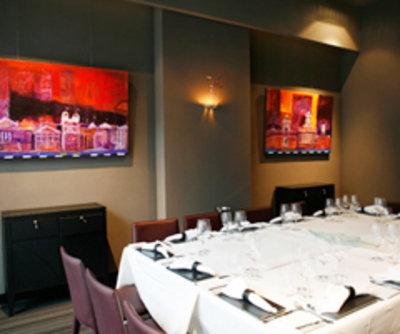 Gunther's Modern French Cuisine

68 / 94
The HungryGoWhere team is here to help you. Listed below are this eatery's available take-away and delivery options.

Delivery:
Gunther's Modern French Cuisine is offering delivery via the following options:
https://www.gunthers.com.sg/online-ordering?fbclid=IwAR1kNInOxmIYVGKEnwfJF9plERnQ4kHPh4DlgcAmhns6PqihNxOFbRyY8Hg

Take-away:
Gunther's Modern French Cuisine is offering take-away via the following options:
WhatsApp: 90103075
Phone: 90103075
Walk in
Gunther's Modern French Cuisine offers some of the best European cuisine in Singapore, serving a tantalising collection of dishes that are suitable for family gatherings, large groups, fine dining and private dining. From Onion Soup to Roasted Smoked Pigeon its extensive menu is reflective of the restaurant's efforts to cater to every palate.This restaurant is located along Purvis Street. Gunther's Modern French Cuisine is a French restaurant that serves delicious and world class cuisine. Gunther is voted Asia's 50 Best Restaurants 2013.MUST TRIES: Indulge in their mouth-watering dishes such as Roasted Suckling Pig, Squid Ink Flavoured Rice and Seafood Consommé.For their drinks, they offer a wide variety of wines to choose from.
Hours:

Mon - Fri: 12:00 - 14:30
Mon - Fri: 18:30 - 22:00
Sat: 18:30 - 22:00
Closed: Sun
Address:
36 Purvis Street
Pretty normal..usually more obvious towards the end of the second trimester or third trimester.



Posted in Moms Group
Re: Benefits outweigh the risks of mRNA vaccine?
Let's face it, short-term, there will always be outliers, side-effects, regardless of what vaccine you use, or indeed any medical treatment you apply in general, tried and true included. Clearly though, as of the here and now, statistically, the benefits of mRNA outweigh the risks.

But going .....



Posted in Beauty, Health & Fitness
Re: PR approval chances (applied in 2022)

Is it still necessary for me to keep ICA updated in my pending PR application since I will be receiving a renewed EP from the same employer? e.g. email ICA/etc.) In addition, my base salary will be modestly increased. Is it .....