Recommend an Agent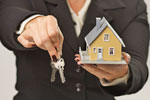 Make your home search simple, reliable and stress-free. Leave the tedious process to our recommended professionals, while you enjoy touring for a great home.
Property Agent Recommendation
Why you SHOULD have an agent to represent you?
Here's a few reasons why you should have a property agent to represent you:
The recommended agent will represent you and protect your interest
Avoid the pitfall of venturing into house hunting without anyone to represent you. The recommended agent shall be obligated to represent you and protect your interest, negotiate for a better deal, ensure the contract is reasonable, condition of the property is acceptable, etc.

Proven Track Record
They are experienced with proven track records of servicing expatriate tenants with after-sales service even after you move in.

Problem Solving
They will be able to recommend solutions to your home-related issues.

Find a Home in the Shortest Time Possible
Provide them with pertinent information pertaining to your needs and wants on your new home and they will be able to shortlist the most suitable location, apartment or house in the shortest time possible.

Their Commitment
Your commitment to them will equate to their commitment to you. They will know your likes and dislikes and thus be able to be more spot-on on what you need.

Stress Free
Spend your day with them so they can take you to the various viewings. Doing it all by yourself would mean you would need to take a cab or look at the maps for directions which can be extremely daunting and time consuming.

Familiarity
The apartments and locations are within their fingertips. Engage their expertise to find your dream home.

Minimize repetitive viewings
Viewing with them will minimize the chance of a repetitive viewing as they will verify the information before scheduling an appointment.

Enjoy the Process
Finding a home should be an enjoyable and stress-free experience.

It's Free if it's a 2-year lease and monthly rental above S$3,500!
You pay nothing for this service if it is a 2-year lease provided the monthly rental is above S$3,500! Service fee for the recommended agent will be paid by the co-broke agent representing the landlord / seller.
Palm Spring là phân khu cuối cùng của dự án Palm City được tập đoàn Keppel Land ra mắt trong năm 2020. Sau thành công của 2 phân cao tầng đầu là Palm Height(816 căn hộ được bán hết, sắp giao nhà) và Palm Garden(hơn 600 căn đã bán hết) tạo .....



Posted in 20's Club
Re: PR Application Notification

I heard if you inquire its high chance to get rejected.


:???: Please dont give info which may not be true.



Posted in PR, Citizenship, Passes & Visas for Foreigners
Quickbooks support phone number +1888-7888-057 support
You should need to know how Auditmeaning Quickbooks support phone number +1888-7888-057 is significant for you and what is the distinction between authentic client care and us. At that point you have to know when anybody faces inconvenience in utilizing Quickbooks bookkeeping programming, at that .....



Posted in Aesthetic Enhancement & Cosmetic Surgery
QuickBooks Customer Service Phone Number 1888-7888-057
QuickBooks is a bookkeeping programming that is administering the bookkeeping scene, attributable to its convenience and best specialized highlights. The group at QuickBooks Customer Service Phone Number 1888-7888-057 assumes a noteworthy job in wiping out all the undesirable issues that emerge in .....



Posted in Aesthetic Enhancement & Cosmetic Surgery
Re: Opening a bank account in Singapore as a EU citizen
No, you are wrong (again). Singapore banks do not only do it, they also do it automatically, as agreed in the CRS contract with the OECD from 2014. That means that a European state does not even have to ask for the information about the accounts of one of their citizens, they get it pushed to them .....



Posted in Relocating, Moving to Singapore