Recommend an Agent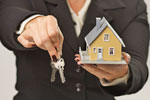 Make your home search simple, reliable and stress-free. Leave the tedious process to our recommended professionals, while you enjoy touring for a great home.
Property Agent Recommendation
Why you SHOULD have an agent to represent you?
Here's a few reasons why you should have a property agent to represent you:
The recommended agent will represent you and protect your interest
Avoid the pitfall of venturing into house hunting without anyone to represent you. The recommended agent shall be obligated to represent you and protect your interest, negotiate for a better deal, ensure the contract is reasonable, condition of the property is acceptable, etc.

Proven Track Record
They are experienced with proven track records of servicing expatriate tenants with after-sales service even after you move in.

Problem Solving
They will be able to recommend solutions to your home-related issues.

Find a Home in the Shortest Time Possible
Provide them with pertinent information pertaining to your needs and wants on your new home and they will be able to shortlist the most suitable location, apartment or house in the shortest time possible.

Their Commitment
Your commitment to them will equate to their commitment to you. They will know your likes and dislikes and thus be able to be more spot-on on what you need.

Stress Free
Spend your day with them so they can take you to the various viewings. Doing it all by yourself would mean you would need to take a cab or look at the maps for directions which can be extremely daunting and time consuming.

Familiarity
The apartments and locations are within their fingertips. Engage their expertise to find your dream home.

Minimize repetitive viewings
Viewing with them will minimize the chance of a repetitive viewing as they will verify the information before scheduling an appointment.

Enjoy the Process
Finding a home should be an enjoyable and stress-free experience.

It's Free if it's a 2-year lease and monthly rental above S$3,500!
You pay nothing for this service if it is a 2-year lease provided the monthly rental is above S$3,500! Service fee for the recommended agent will be paid by the co-broke agent representing the landlord / seller.
Now , go for hair cut also need to scan Safe Entry In and out.
Salon does not have the device to scan your NRIC.



Posted in General Discussions
Re: When do you think we can stop wearing masks?

A few people in a what few thousand people hdb block. I would still call it a small fraction, would it reach
You would need to relate it to some average of the fraction outside the estate at some given time period .....



Posted in General Discussions
Re: Looking for helpful gynecologist w/o attitude

Hi Suzysuzy,

Writing because I had the exact same experience! Whatever you do please do not go to Pacific Healthcare Dr Suphan.

I also went in regards to cysts, i had recently had surgery in the US for cyst removal and wanted to .....



Posted in Pediatrician, Obstetrician & Gynaecologist
Re: Completing stage 3 Singapore citizenship from overseas SG embassy
Hi, appreciate an evaluation of my chances. Thanks!

Primary Applicant
Age : just turned 21
Race : Chinese Malaysian
Gender : Female
Marital Status : Single
Education : Will be starting Uni in 2 months

Been a PR since birth, born and bred in Singapore. No income declared as I would be starting my .....



Posted in PR, Citizenship, Passes & Visas for Foreigners
actually honestly i don't like to install app much all along. I'm a person don't like to see my smartphone full of apps.

So far I only have apps related to work beside social media and some News app.

Till now I don't even install this safe entry app. Next ever since circuit breaker start, i .....



Posted in General Discussions